As you know, Americo is a newer carrier here at New Horizons. We've had a lot of agents jump on board, and we've seen a lot of outstanding successes right out of the gate.
However, we know there are a lot of agents out there who are thinking things like:
"I just don't want to add another Medicare Supplement."
"Americo is too new."
"I'll just wait to see how they do."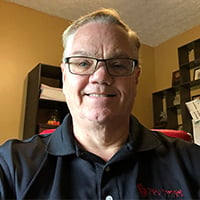 We understand your hesitations, so we decided to interview David Taul, a great agent here in Illinois who has done 11 e-apps with Americo so far.
---
Q: What makes Americo a unique carrier to you?
A: The e-apps give you an instant decision – this is extremely unique. You literally know the outcome while you're there in the house.
Q: How does the instant decision e-application work?
A: You fill it out just like you would any app. You don't have to list their prescriptions, because Americo automatically checks that. It takes 10 minutes maybe. You hit submit, and after a couple minutes or so, you have your answer back!
Q: There is a paper app available, but would you ever use it?
A: I see no advantage to doing the paper app whatsoever because you instantly know if the e-app is declined, and if it is, you can go somewhere else while you're still there with the client.
Q: What happens once the application is approved?
A: Once the app is approved, they issue it, send out the cards, the policy goes out the next day, and you're paid commission within a day or two.
With other carriers, and depending on how you're set up, it's usually the following Monday or something like that. But with this, it goes right into your account.
Q: How many of your applications have been approved versus declined?
A: None of my applications have been denied, but I do pre-qualify my clients a bit by looking at the prescription list. Go to the Americo website and look at the agent underwriting guide.
Q: Do you feel like anyone of any age and tech level could do this?
A: I'm 63, and the e-app is not difficult. Depending on your internet connection, there might be a little bit of a lag. One thing is that if you do make a mistake, the app could get declined and you have to start over. So just slow down and make sure you answer all the questions correctly.
Q: How do you feel Americo compares to other carriers in regards to monthly premium?
A: The only difference between Americo and the other carriers is just a couple dollars. We're not talking any big difference there.
Q: How do you feel about Americo being a new Medicare Supplement carrier with us?
A: Americo has been around for a very long time - just as long as the others. And their ratings are good. I just don't see a problem there.
---
Interested in giving Americo a go? Request contracting today.
You may also like reading this Americo Med Sup review by Russell Meskimen.