During the 4th quarter, you're going to be very busy seeing a lot of clients and prospects. We understand that many agents generally don't slow down to take care of anything other than the pressing Medicare needs. Plus, if you're selling MA or PDP plans, it's not always compliant to bring up other products during your appointment.
That's why we've gathered up 10 client leave-behinds you can take with you on your appointments. You can also mail them to clients if you prefer.
Originally published October 7, 2019. Updated September 14, 2020. Updated September 28, 2021.

After the craziness of AEP passes, you can go back to your client and address their needs, from single premium whole life to cancer to annuities and more.
Note: It is compliant to leave information behind with a client about any other products you offer. Just take caution to not talk about them during your sales meeting if you are selling Medicare Advantage or PDP.
You can download the full bundle of client leave behinds in this article here:
Why Use Client Leave Behinds?
Sometimes, you can't cover everything during an appointment – that's particularly true during AEP. A client leave behind allows you to introduce an idea to your client without diving into a full presentation right then.
Plus, if you're selling Medicare Advantage and/or PDP, you could run into compliance issues by pitching other product types not covered under your scope of appointment (SOA).
A great way to introduce new products and inform your clients about what you offer is to leave a flyer behind.
Related Reading: How to Prepare for AEP This Fall
---
1. Bank CD vs. Fixed Annuity Client Leave Behind
If you're looking for a non-branded leave behind, the Bank CD vs. Fixed Annuity flyer our team created might fit the bill.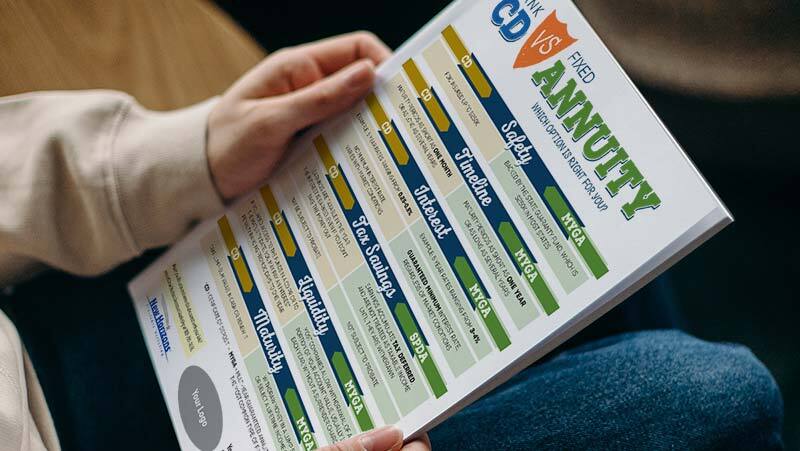 This leave behind gives an overview of how a bank CD compares to a Multi-Year Guaranteed Annuity (MYGA), and we go over the following categories:
Safety (both are generally safe)
Timeline/Contract Lengths (CDs can go shorter than MYGAs)
Interest (very compelling!)
Tax Savings (MYGAs grow tax-deferred – CDs are taxable)
Liquidity (both have surrender charges/penalties, though MYGAs often offer free withdrawals up to 10%)
Maturity (both can be renewed, or cash can be removed after contract)
This handout is customizable with your logo and contact information, so it's easy for them to get in touch without fumbling around for your business card.
No specific annuity carriers are mentioned on this handout, so you're free to recommend whichever company is the most competitive for your client.
Note: You must be an active producer with New Horizons to utilize our marketing customization services.
---
2. 2022 Exemplar Health Group Freedom MSA Flyer
With an HSA, the member is the one putting money into the savings account. But with a Medicare MSA? The carrier does.
Money talks, and for employers with big groups of retirees, a $0 premium option that also comes with a deposit speaks volumes. Plus, the street-level annual commission for a 200-person retiree group is over $50,000.
If you meet with any clients that own a small business or have any connections to retiree groups, leave this Exemplar Health Group Freedom MSA flyer behind!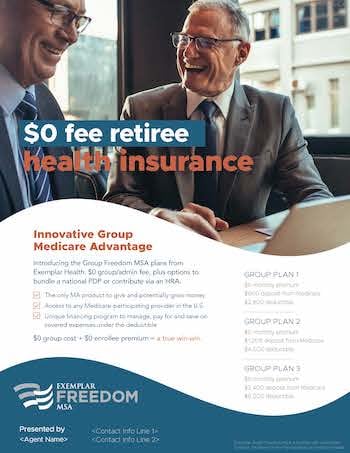 The $0 admin fee and $0 premium are compelling enough, but this product just keeps delivering with no networks, no copays, no prior authorizations, no referrals, and an annual deposit the member can use to save, spend on qualified medical expenses, or invest.
Please note you must be contracted and certified in order to use this marketing material.
---
3. SILAC Denali FIA Client Leave Behind
Fixed index annuities are a great option for clients who want to have the potential for higher gains without any risk of losing their principal.
SILAC's Denali product comes with some amazing perks, including an income rider and absolutely no fees. This product is our most popular annuity of 2021.
Again, the product has NO fees, so there's no way your client could ever lose money on their principal. The worst they can do is to stay steady if the stock market doesn't perform well.

---
4. SILAC Secure Savings Fixed Annuity Client Leave Behinds
SILAC offers a very competitive 5-year MYGA, and for clients who want a guaranteed interest rate, this 1-page handout might catch their eye.
As opposed to handing it out, you could also put it in a picture frame and display it on your desk.
When clients are meeting with you, the interest rate may draw their eye, and more often than not, you'll find that people actually ask you about it.
You can get a copy from the SILAC Annuity Portal, and we've also included it in our Client Leave Behind bundle for the 2021/2022 AEP.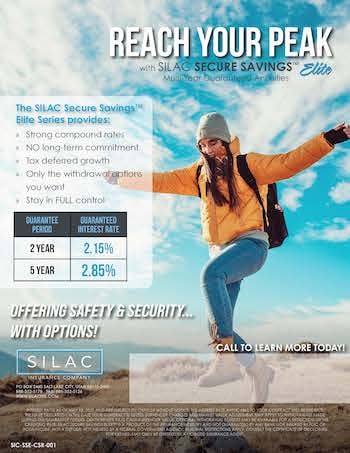 The Equitable Secure Savings Elite Consumer Ads have bullets for:
Strong compound rates
No long-term commitment
Tax deferred growth
Only the withdrawal options you want
Stay in full control
Even the 2-year rate is competitive at 2.15%. For clients who don't want to commit to 5 years right now, that 2-year is a great starting place.
Disclaimer: Rates change often. View current annuity rates on our website here. While we do our best to keep everything on our site up-to-date, if the current rates differ from the rates in the available client leave behind, please visit the SILAC Annuity Portal.
---
5. Final Expense Client Leave Behind
This final expense client leave behind is non-branded, and it goes through all the important statistics about final expenses.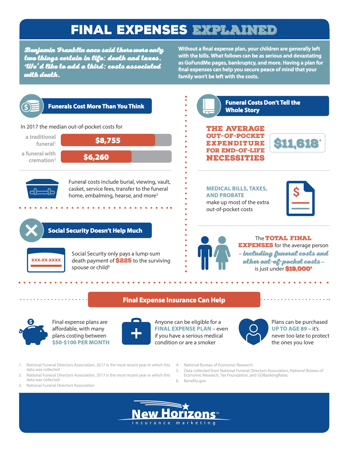 Some of the topics addressed on this flyer include:
The median out-of-pocket costs for a traditional funeral in 2017 is $8,755 (National Funeral Directors Association).
The average out-of-pocket expenditure for end-of-life necessities is $11,618 (National Bureau of Economic Research).
The total final expenses for the average person – including funeral costs and other out-of-pocket costs – is just under $19,000 (Data collected from National Funeral Directors Association, National Bureau of Economic Research, Tax Foundation, and GOBankingRates).
Social Security only pays a lump-sum death payment of $225 to the surviving spouse or child (Benefits.gov).
All of these stats (and a few more) are laid out neatly, and at the end of the flyer, some basics facts about final expense insurance are shared. It's a great progression and makes the case for making sure final expenses are planned for.
---
6. KSKJ Single Premium Whole Life Client Leave Behind
When it comes to Single Premium Whole Life Insurance, KSKJ Life has been our tried-and-true. We love their Single Premium Whole Life Insurance flyer* as it clearly outlines the excellent policy features:
$10,000 minimum premium amount
No monthly payments – you're fully covered with one single premium
Lifelong protection
Guaranteed cash values and death benefits
Issue ages 20-90
*Please visit the KSKJ Agent Portal as this flyer is different for each state; the one shown below is for Illinois.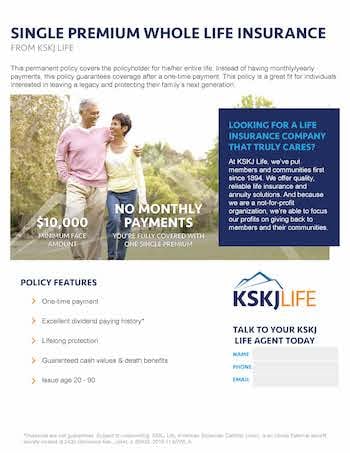 Many seniors also like the fact that KSKJ is a not-for-profit organization, and they focus on giving back to members and the community.
If you're not already offering single premium whole life... I'd strongly consider it. It's easy to understand, it fills a need for your client, and the compensation is very compelling.
---
7. Life with Long-Term Care Rider Client Leave Behind
The need for a long-term care plan is critical, but we all know that traditional long-term care insurance isn't as feasible as it once was.
Many insurance carriers have stopped offering the product altogether. If your client does apply, there's about a 50/50 chance they're approved, and if they do get the product, rate increases can really take a toll on their finances.
We love a life with LTC option, because it takes away most of those issues, and the best part is that your client knows the benefit will be used. Either they'll get long-term care benefits while they're living, or their beneficiaries will get the death benefit when they pass. That's a lot of peace of mind.
This client leave behind goes through all the important stats and facts with an emphasis on how life with long-term care can be a great solution.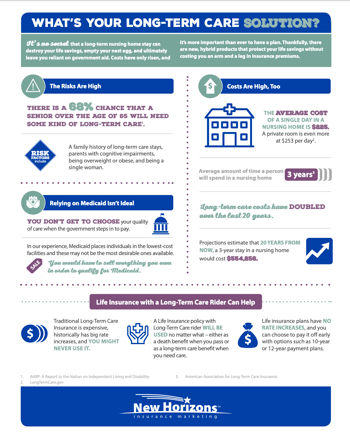 Stats mentioned include:
There is a 68% chance that a senior over the age of 65 will need some kind of long-term care (AARP: A Report to the Nation on Independent Living and Disability).
The average amount of time a person will spend in a nursing home is 3 years (American Association for Long-Term Care Insurance).
Projections estimate that 20 years from now, a 3-year stay in a nursing home would cost $554,256.
---
8. Cancer Insurance Client Leave Behind
The cancer insurance handout answers the question "Why is cancer insurance important?"
All of the statistics are from reputable sources like the American Cancer Society, the National Cancer Institute, and the Yale Journal of Biology and Medicine.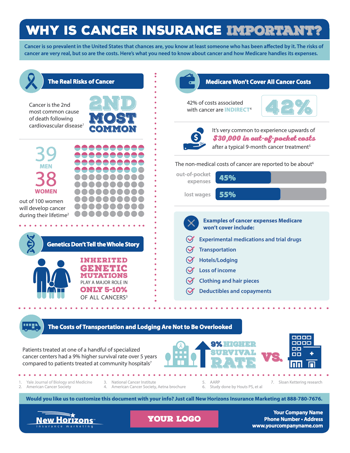 This "Why Is Cancer Insurance Important?" client handout outlines every facet of your presentation:
The real risks of cancer
How Medicare handles cancer costs
The truth about indirect cancer expenses
The information on this handout will certainly get your clients thinking, and as usual, this non-branded handout is customizable with your logo and contact information.
---
9. SILAC 2020 Interest Credits Flyer (Teton)
SILAC also produced an interest credits flyer to show clients just how appealing a Fixed Index Annuity can be. The flyer is showing real interest credits that clients received if they had a Teton policy issued on 8/14/2019.
I also want to point out that this date wasn't just cherry-picked for the great interest credits. We are consistently seeing clients get double-digit returns this year. Agents are telling us their clients are absolutely thrilled with this product line from SILAC!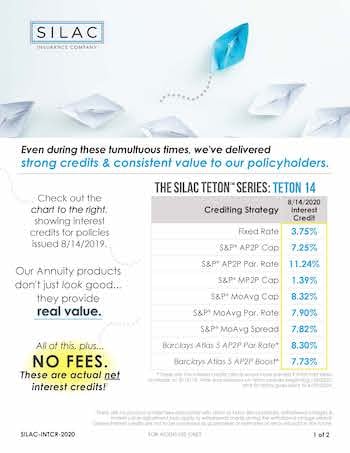 10. 2022 Lasso Healthcare MSA Leave Behind
Last but not least is the 2022 Lasso Healthcare MSA leave behind, which gives consumers a birds-eye view of the 2022 plan designs and product highlights.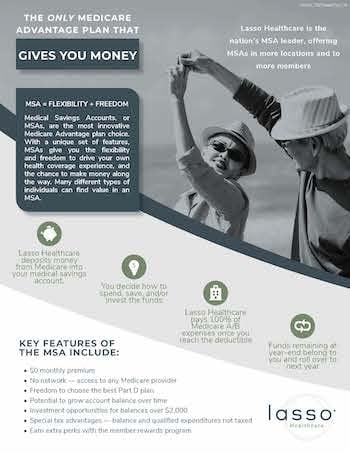 If you have any clients who are intrigued by the idea of an MSA but want to research more or think on it, utilize this leave behind. It's a no-pressure way to ensure your clients have the information they need to make an informed decision about their healthcare plan.
---
Conclusion
During the Medicare AEP, the last thing you want to do is stretch out an appointment and cover new products with a client. Plus, if you're selling Medicare Advantage and/or PDP products, you really can't talk about other product lines without violating compliance regulations.
Client leave-behinds are the perfect solution. They inform your client about what you offer and give them an opportunity to read through the information on their own time.
Don't forget to download the full bundle of leave behinds:
Thanks for reading, and good selling!