How many times do you run across a smoking client that says something like this: "I smoke, but I'm gonna quit…"
It happens all the time, and it really stinks, because there's no reward for good intentions – until now.
We just brought on Americo, and they have an incredible program for Final Expense life insurance called the "Quit Smoking Advantage." It's a program that actually gives smokers a chance by allowing them to get life insurance with Non-Smoker rates.
We've never come across any other product like this on the market, and we have a feeling that you probably have some clients that would love it.
This is particularly perfect for clients that get mad at the fact that smokers get a rate hike – now you have something to show them.
Get Appointed With Americo
How does the "Quit Smoking Advantage" work?
Americo has put together this Quit Smoking Advantage program to encourage clients to stop smoking.
Here's how it works: smokers can receive an Eagle Premier Smoker policy with Non-Smoker rates for the first 3 policy years. If, by the 3rd policy anniversary, they can provide evidence that they quit smoking for at least 12 months, their death benefit and premium remains level.
If they didn't stop smoking, the policy will automatically decrease the death benefit amount in the 4th year, but the premiums remain the same. If your client wants to keep the same death benefit, you'll need to call in to the home office to request that, and they will have a higher premium to pay.
You're probably wondering just how much the death benefit would decrease, so here's an example.
Let's say your client purchases a policy with a $10,000 death benefit. Their monthly premium would be $48.65. If they quit smoking by Year 3, all of that stays the same. If they don't, their death benefit goes down to $6,185.80 for Year 4 and after.
If they want to keep that $10,000 death benefit, their premium would increase to $76.30.
Do all types of nicotine count?
Yes – all forms of nicotine count. So, cigarettes, cigars, pipes, chewing tobacco, snuff, nicotine chewing gums, patches, or e-cigarettes would all count.
How do I quote this product?
You would run the quote for a smoker, and Americo's quoting system will quote the correct first 3 year rates. You'll also be able to see what the face amount would decrease to in Year 4 if your client did not stop smoking.
You will also be able to see what the premium would be if your client wanted to keep the same benefit amount and did not stop smoking.
To run quotes, go to quote.americo.com. Once you're there, you'll select your state and the product, which in our case is the Eagle Premier Series.

You'll then fill in the quoting information, and make sure to select the Smoking class, even though they're getting the Non-Smoker rates for the first 3 years.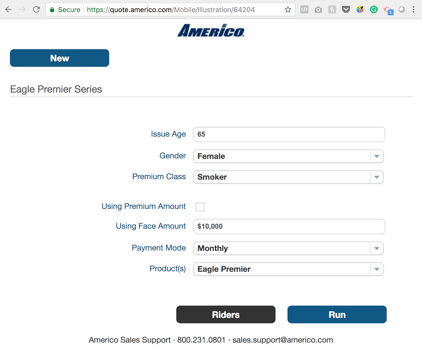 Then, you'll get the simple illustration that you can use with your clients, and they can see what the consequences of not quitting would be when the time comes.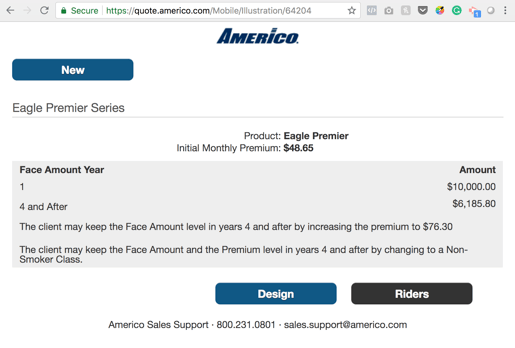 It really couldn't be any easier!
Note that on the New Horizons quote engine, you can quote the Non-Smoker rates, but in order to provide this illustration for the Quit Smoking Advantage product, you do need to run the quote via quote.americo.com.
How does the client verify they quit smoking?
To keep the Non-Smoker rates, your client must provide evidence that they quit using all nicotine products, and they must attest to the fact that they've quit for at least 12 months straight.
This also means that the earliest your client can provide evidence that they've quit smoking is on or after the first policy anniversary. It also means that they can't apply for a traditional Non-Smoker policy unless they've stopped smoking for a full year, but with this Quit Smoking Advantage option, it gives them the opportunity to get those Non-Smoker rates. It's really a win-win for everyone!
Anything else I need to know?
I think it's worth mentioning that clients really do like having the same company for multiple products rather than a myriad of different carriers.
If you can pair a Medicare Supplement with a Final Expense plan, doing both through Americo will be appreciated by your clients. Both of these products by Americo are strong, so I'd encourage you to consider it.
Additionally, the comp is high for this product. The e-app is an instant decision, and compensation is the next day.
A few more bullets on this product include:
Face amounts from $2,000 - $30,000
Available for issue ages 50-80
You can do an e-app demo to become familiar with it via your agent portal
As you can see, I'm extremely excited about this product, and I think your clients will be as well.
In case you missed it, here's a short video Jeff did introducing Americo. And if you'd like contracting, please get in touch with Ginny!
Get Appointed With Americo