Meet one of the largest producers and learn how you can become a million-dollar producer.
---
2020 has come and gone, and Michael Sams is Agent of the Year again. We thought it might be fun to have a little exchange and talk to Michael about how his year went and some tips he might have for other agents.
What was your product mix and growth like for 2020?
2020 was a big mix of annuity and Medicare Supplement, primarily. While we try to use a needs assessment to uncover additional needs, the Med Supp and annuity were big for me.
My production was up a little better than 50% over last year.
Here's a breakdown of Michael's production in 2020:
Fixed Annuity: $3,004,088
Fixed Index Annuity: $2,671,790
Medicare Supplement: $247,750
Single Premium Life: $100,000
Life: $3,398
Ancillary: $306
What's a regular workweek like for you?
I love to talk about working smarter and not harder.
I set up my renewal appointments to where you may have four appointments in a day, already scheduled for you, and you're meeting with those clients to make sure they're in the best place possible. We review their needs assessment and see if there are any additional needs to cover.
The biggest change for me was when I became diligent about working renewals. Every year, I get in front of my clients – at least once a year, sometimes twice because of AEP.
Working renewals along with doing a needs assessment for everyone – that's when everything really changed for me. I wasn't pushing Medicare Supplements anymore.
To be able to earn what I do, to work the hours I do, and to have the freedom I have – I wouldn't trade it for anything.
Are you doing face-to-face or phone appointments?
This year is definitely different.
Ideally, I do needs assessments across the table from the client. But this year, I'd go back and look at old needs assessments, and I'd do that over the phone primarily. I'd pull up older assessments and say, "Hey, we took care of these needs, but some we haven't been able to approach yet..." and I'd address it that way.
With that approach, I just can't help but feel like I don't have to sell anything. I just get to say, "Based on your needs assessment, this is what I'd recommend. There's a solution for your need."
Just provide the education.
I don't like the sales-y feel. So, to be able to provide education as to what they need and what the solution is... it's awesome. They can decide what they want.
How do you manage so many customers?
It comes back to – and it sounds a little redundant – but throughout the year, even when the clients don't need me or have questions, I stay in front of them.
When you do get to fourth quarter, everyone's Medicare Supplements are up-to-date. Their cross-selling opportunities are taken care of. So, I just break it up and work 12 months out of the year.
So many in our industry work really hard in fourth quarter and coast the rest of the year. So I even out that workload over the year. It has made a huge difference. I don't feel like I'm swamped fourth quarter.
Related: Start Your Own AEP
How are you finding new customers?
The two biggest lead sources for me are referrals and seminars.
Referrals come in just doing a good job by your client and not offering any kind of pressure on sales. When I get to help that person, they feel comfortable recommending their friends and family to me. They know I'm not going to pressure them.
Just recently, over the last year, I started doing seminars at my ranch.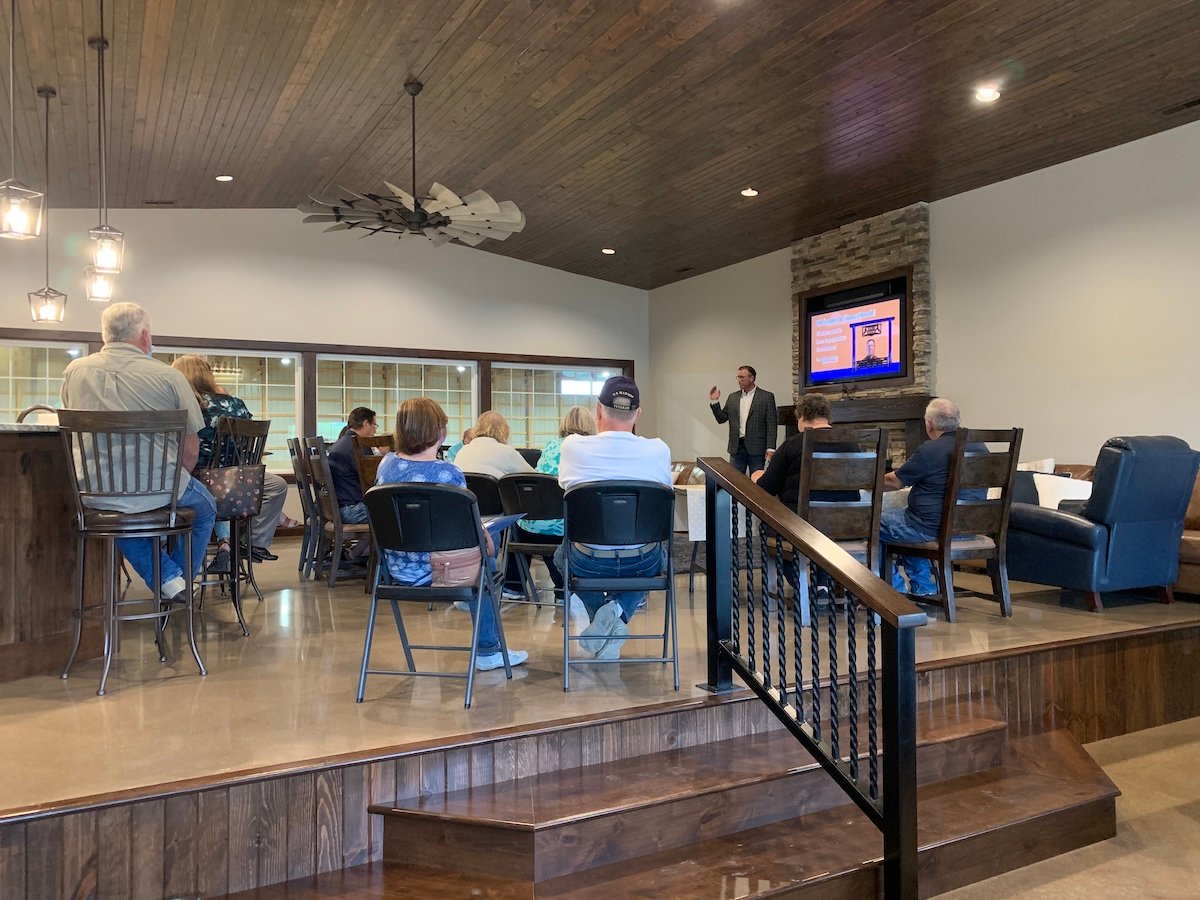 It's all about what you need to know for retirement along with some Medicare 101. It's a neat setting, and people want to come check it out and see the horses. At the same time, they can learn about Medicare and retirement.
There are new people that come through that.
Conclusion
The best advice I can give for a new person coming into the business is don't limit yourself with a product niche.
Come into the senior market and be super diligent about asking the right questions to uncover the client's needs, and then be able to provide solutions to those needs. That opens it up to where you rarely have a prospect that you can't help.
Be well-rounded with all products that serve the senior market.
---
Read more about growing your agency: