Medicare just redesigned their Plan Finder tool, and... it's quite different.
If you're anything like us, we found some of the updates pretty concerning, and it's easy for all of us to hit the panic button. However, as the old adage goes, when life gives you lemons, make lemonade.
That said, let's get into why the Plan Finder is being revamped, what the big changes are, and how to use the new system.
Are you new to Medicare Part D? Check out our comprehensive sales guide, How to Sell Medicare Part D.
What's the Deal with the Medicare Website Updates?
Not only is the Plan Finder tool revamped, but you'll notice that the homepage is updated, and your clients will notice that the MyMedicare.gov consumer portal has been given a refresh.
These changes are part of the Trump Administration's eMedicare initiative, which expands and improves on current Medicare consumer service options. This initiative was announced just before the 2018 AEP started, and the first changes are coming to fruition.
"Since day one, President Trump has been committed to strengthening the Medicare program—eMedicare puts his leadership into action by giving Medicare beneficiaries a simpler, more intuitive customer experience," CMS Administrator Seema Verma said (CMS).
The eMedicare initiative's goal is to modernize the online experience for patients, beneficiaries, and caregivers. There will even be a new webchat option in the Medicare Plan Finder tool.
You might've noticed a few months ago that Medicare released the "What's covered" app – that's also part of this initiative.
Man, if only Congress could get this much work done! Just kidding.
Big Changes From Old Medicare Plan Finder to New Medicare Plan Finder
While the actual experience of doing a drug comparison seems to be less confusing, and it's more visually appealing, there are some big changes that are giving us some heartburn.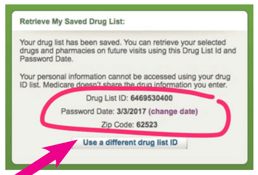 The first is the elephant in the room: no more Drug List ID.
In the old Medicare Plan Finder, you could jot down the Drug List ID and Password Date. This allowed us to come back to this step in the future without having to re-enter all of the prescriptions again.
And when you have a client with 25 meds... that was a big time saver.
With the new Medicare Plan Finder, that's gone.
There's a temporary workaround, which is to go to www.medicare.gov/find-your-old-drug-list and look up a client's drug list. You'll want to save that for future use, because this feature is only available through December 7, 2019.
A more permanent solution going forward is for the individual to create a MyMedicare.gov account. See the screenshot below – "When logged in, you can access & store your drug list."


The second big change was the lack of plan sorting options, but Medicare just updated their Find a Plan tool – thank heavens!
In the new Medicare Plan Finder, you now have 3 options for sorting Part D plan results:
Lowest yearly drug deductible
NEW: Lowest drug + premium cost
Lowest monthly premium
The best way to find the cheapest drug plan for your clients is to sort by Lowest drug + premium cost.

We are so relieved!
The New Medicare Plan Finder Tool: How It Works
Through the end of September 2019, you'll have access to the old Plan Finder in addition to the new version. To access the new version, just click the link in the green bar at the top of your screen.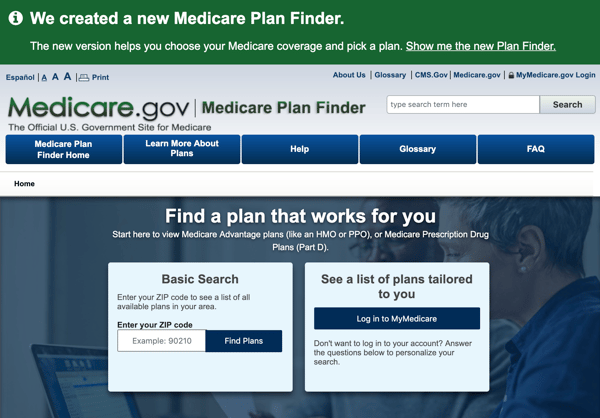 And when you do that, you'll be greeted with a surprisingly modern web page. For those us who have gotten used to the hectic, outdated design of the old Plan Finder... this is quite the breath of fresh air.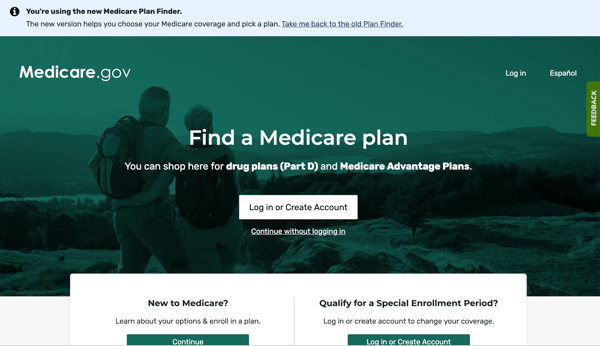 For the purposes of this tutorial, we'll click "Continue without logging in."
Next, we'll select "View plans. I know what type of plan I want." And for this walkthrough, we'll go forward with a Drug plan (Part D) comparison in our zip code.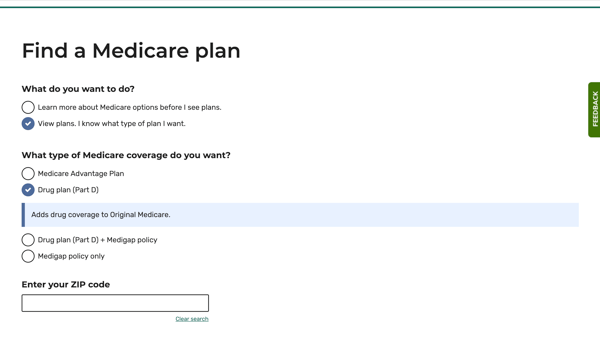 When you enter your ZIP code, you'll be prompted to enter your Medicare number (not required just to view plans, but it is required to enroll), date of birth, and whether or not you get financial assistance.
Once you complete that information, you'll be asked if you want to see your drug costs when comparing plans. We'll select Yes, and we'll also say that we fill our prescriptions at Both retail and mail order pharmacies.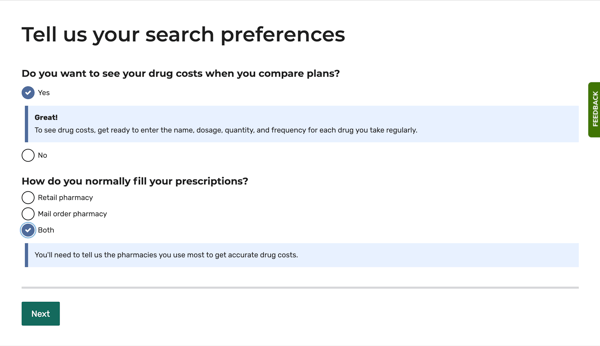 Then, you enter your drugs. We'll do some common drugs for this example.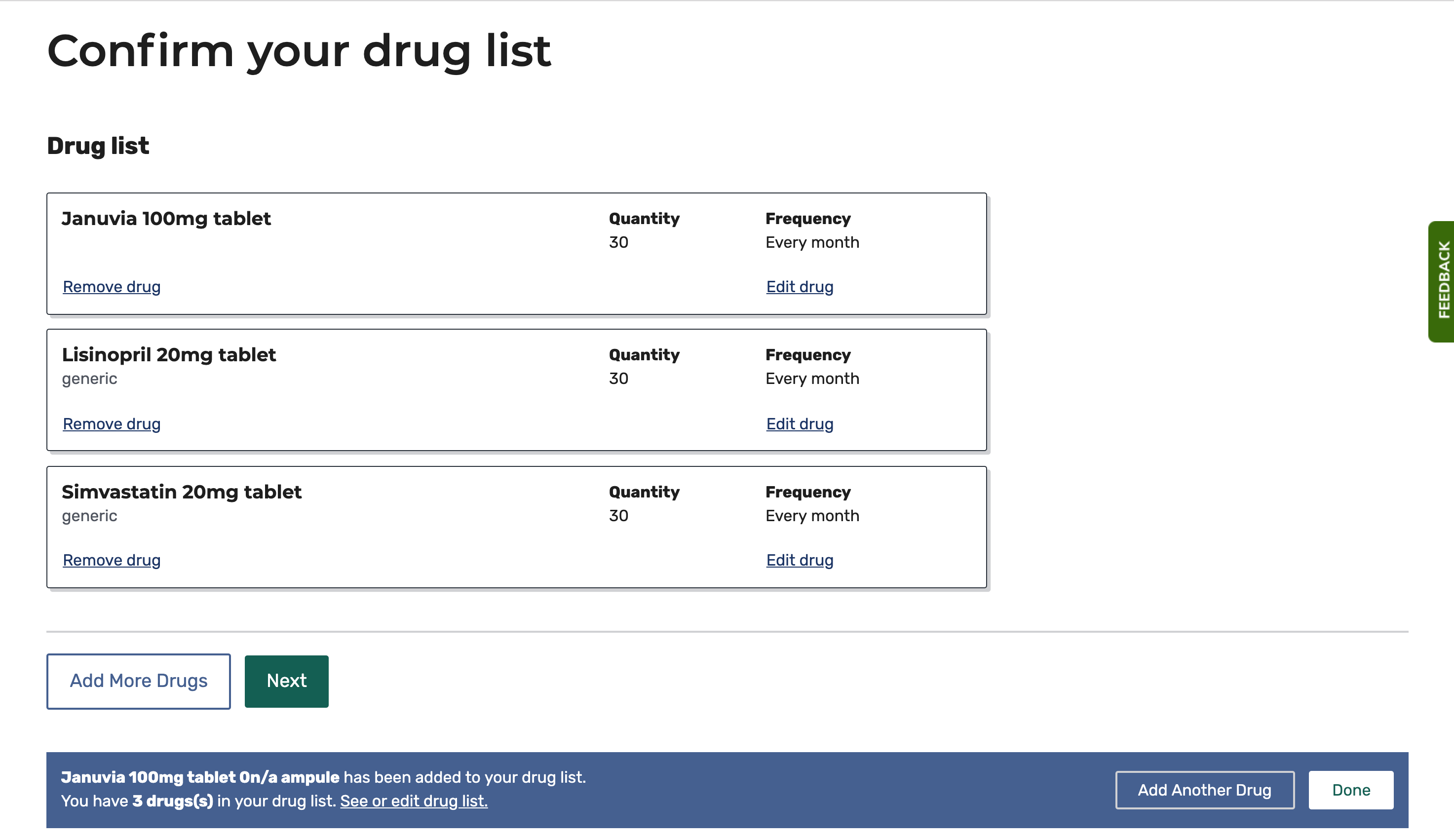 When you're done entering drugs, you'll be prompted to select up to 2 pharmacies (just like before).
Finally, we see the available drug plans sorted by lowest monthly premium.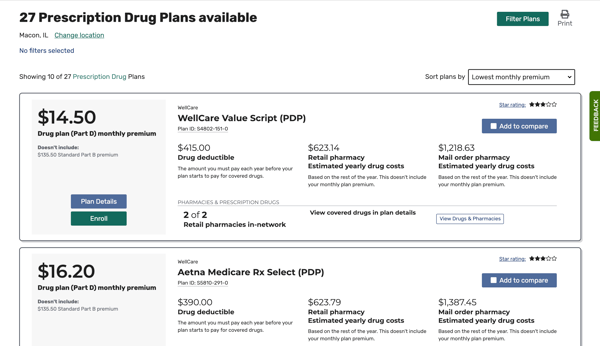 As we mentioned previously, we recommend sorting by Lowest drug + premium cost to filter the lowest cost plans to the top.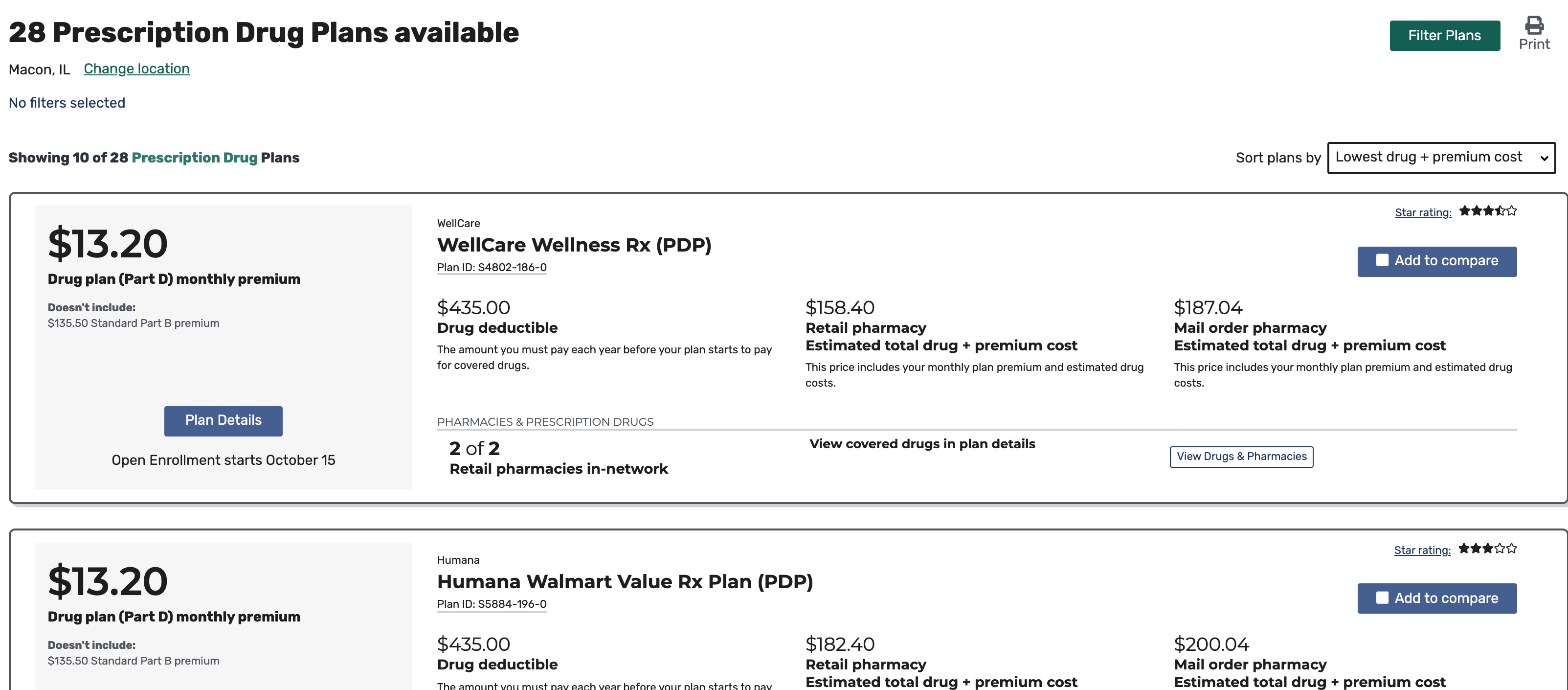 That's it! Good luck during AEP, and let us know how we might be able to help you!