The ease of use with the Lasso Healthcare e-app is what we'll go through today. As you'll see, the e-application is incredibly simple to use – it only takes about 10 minutes. My video walkthrough will also provide some additional information that'll explain the reasoning behind some of the e-app pieces.
I hope this helps you as you become more comfortable with the Lasso Healthcare MSA product!
If you're new to the Lasso MSA, here's where we recommend you start: What Is the New Lasso Medical Savings Account (MSA)?
How to Compete the Lasso Healthcare MSA E-Application
Step 1: Start at Lasso Healthcare's home page. (Go to https://lassohealthcare.com/)
Step 2: Enter the client's zip code and click "Enroll Online."
Note that the screen that pops up will make some automatic adjustments to the deposit and the deductible depending on the time of year. For example, if your client signed up for the entire year of 2019, they'd see a $6,700 deductible in Region 1 and a $2,520 deposit. If that same client signed up in February, they'd see a $6,280 deductible and a $2,100 deposit.
For every month that the client was not signed up for the MSA, the deposit and deductible will be reduced by $210 dollars.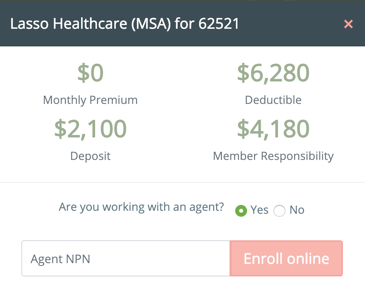 Step 3: Enter your agent number and click "Enroll online."
Now, you'll be redirected to the Lasso Healthcare, powered by Medicareful, e-application. On this page, the plan information will be pre-populated with the county and dollar amounts.
When you scroll down, you'll be prompted to fill in Medicare details.
Step 4: Enter your client's Medicare information.
You'll need the client's Medicare card to fill out this section. It's very simple and straightforward.
Once that's done, you'll scroll down and see a few more prompts.
Step 5: Check the appropriate box for "I'm applying for."
Step 6: Enter the client's personal contact information.
Here, you're just filling out some basic contact information like address, phone number, and email address.
Step 7: Go through the qualifying questions.
In order to be eligible for an MSA, you have to meet some simple requirements. These include things like residing in the U.S. for most of the year, not being eligible for Medicaid, etc. The only health question is whether or not the client has End Stage Renal Disease (ESRD).
The only question that does not have to be answered No is "Do you or your spouse work?"
Step 8: Choose the scenario that best described the Medicare client.
Are they in their ICEP? What's their requested effective date? You'll note that here.
Read more about when you can sign up for the Lasso MSA here
Step 9: Get an electronic signature.
In the signature area, you'll enter the client's social security number and type their name. This acts as the electronic signature.
Step 10: Submit the application.
Once everything is filled out, you click "Submit the Application." At the bottom, there are two PDF files:
Pre-Enrollment Checklist
Summary of Benefits
The checklist needs to be adhered to, and the summary needs to be left with the client. Once it's finished, you'll receive a confirmation number.
That's it! Ten minutes later, and you've finished enrolling your client in the Lasso Healthcare MSA product. Nice work!
Related content: