The Lasso Healthcare Group MSA is an affordable, benefit-rich Medicare Advantage product for employers of any size. If an employer has employees or retirees over age 65, they're eligible. As you'll soon discover, it's unbelievable what we can do for today's businessmen and women.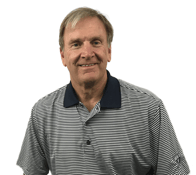 My name is Steve Spinner, and I have over 25 years of experience in the insurance business with a strong background in employee benefits. Medicare Advantage is something I'm very passionate about, which is why I work day-in and day-out to assist senior market agents in growing their MA business.
We're covering a lot of ground in this article, so feel free to jump around if you like:
---
Why a Group MSA, and Why Now?
In 2018, the individual Lasso Healthcare MSA came onto the market and has been expanding ever since. The Lasso Healthcare individual MSA is available in more states than any other MSA in the history of Medicare.
When the Group MSA released in the beginning of 2020, many wondered: why has there never been a Group MSA product before?
Healthcare costs are on the rise, and employers across America are struggling to offer health coverage to their retirees as well as working employees over 65. Group health care coverage is very expensive with a typical plan costing upwards of $1,000 in premium per month.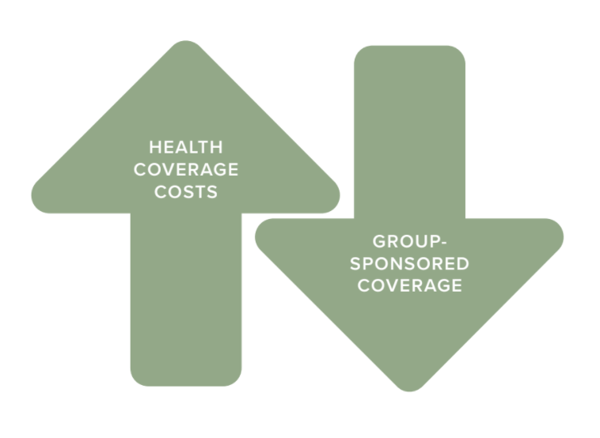 In addition, the benefits of group Medicare products leave much to be desired, especially when you compare them to individual Medicare products.
Lasso Healthcare set out to fix that inconsistency while also offering a group product that was affordable. Many employers have been able to cut their group retiree health plan premiums in half – or more – by switching to the Lasso Healthcare Group MSA.
---
The Opportunity
I don't think senior market agents are quite understanding the opportunity we have with this group product. This is going to be a very popular product.
We are really wanting to concentrate our efforts on two groups:
19 or fewer full-time (or equivalent) active employees of any age – in other words, there are under 20 full-time, active employees. For example, a small group with 19 full-time employees has 15 Medicare-eligible employees. Those 15 employees join the group MSA and each one also has a Medicare-eligible spouse and/or dependent that also joins the plan. The total enrollees for the group is 30. This is still an ideal group to work with, because there were less than 19 full-time employees.
Retiree groups of any size – in other words, I've retired from my company or organization, and they are providing some kind of healthcare benefit during my retirement.
We're not really focused on groups of 20 or more active employees, because there are some government restrictions there. An organization in general would have to have an entire medical plan with individual coverage. We can do it, but I don't think it's something that'll jump off the shelf right now.
I've been in the employee benefits space for over 25 years and I have never once seen a product that offers so many benefits to the employer and the employee. I have no hesitation in saying this is the single best product I have ever seen in the group chassis.
This Is a Game Changer
The Lasso Healthcare Group MSA will be a game changer for any employer if you get in front of them and present it. It will likely cut their premiums in half (or more), it will put dollars in the hands of their senior employees/retirees, and it offers unprecedented freedom to the beneficiary.
I will tell you right now there is not a small business owner in this country with an owner over 65 years old that wouldn't want to have a conversation about how to reduce his healthcare costs by a tremendous factor.
I simply cannot express enough the incredible opportunity behind this product.
You don't need any prior group health training,
this is the only group product of its kind in the marketplace today, and
you can sell this product to a "group" as small as two, and you ultimately only need one person to enroll.
Whether it's a local farmer, your local butcher, or a massive organization with thousands of retirees, this group product is going to be the answer to the rising problems employers with aging populations are facing.
---
Benefits to the Employers and the Employees/Retirees
With the Lasso Healthcare Group MSA, employees/retirees get all the benefits of the individual MSA product including:
An annual deposit
$0 premium to the beneficiary (by law – that can't change!)
No networks (can see any physician that accepts Medicare assignment)
Flexibility to choose your own Part D plan (no drug coverage bundled into the MSA)
$250 in health incentive awards (available every year, not just your first year)
Enhanced tax-free expense coverage
No looming pressure to retire
Employees under 65 also have the benefit of their group insurance premiums potentially going down as age banding and demographics go down. That's a nice unintended benefit.
The employer also gets a host of benefits:
Reduced coverage costs – employers can likely cut their premiums in half
Access to an educated, experienced workforce
Lower premiums for under 65 employees - relieves the claims experience on the group that's under 65 years old as age banding and demographics goes down
Huge value to beneficiaries – employers can be there for their hard-working employees/retirees when they need it the most
Nationwide plan coverage – available in all 50 states and D.C.
Several options – three plan designs available, plus a custom option if need be
Full support – dedicated account management, group billing capabilities, and more
Flexible enrollment mechanisms
---
How It Works
When looking at how the Group MSA works, there are four basic steps:
Lasso Healthcare deposits money from Medicare into the member's MSA savings account.
The member decides how to spend, save, and/or invest those funds.
Lasso pays 100% of Medicare A/B expenses once the member reaches the deductible.
Any funds left at the end of the year belong to the member, and they'll roll over to the next year.
If you're familiar with the individual MSA, this works exactly the same when the beneficiary goes to utilize it.
The enrollee can even use the deposit to pay for things that aren't covered by Original Medicare like dental, vision, and hearing – it just won't count towards their deductible.
In the group chassis, this plan design is so unique. What plan type takes the money Medicare gives, and shares it directly with the beneficiary? There's nothing out there like it.
Deposit FAQs
Q: Can I use the deposit to pay for other insurance premiums?
A: The only premium you can pay for using the deposit is Long-term Care (LTC) premiums. You cannot utilize the deposit for any other premiums. The deposit can be used for all co-pays, coinsurance, and deductibles.
This chart helps visualize that information: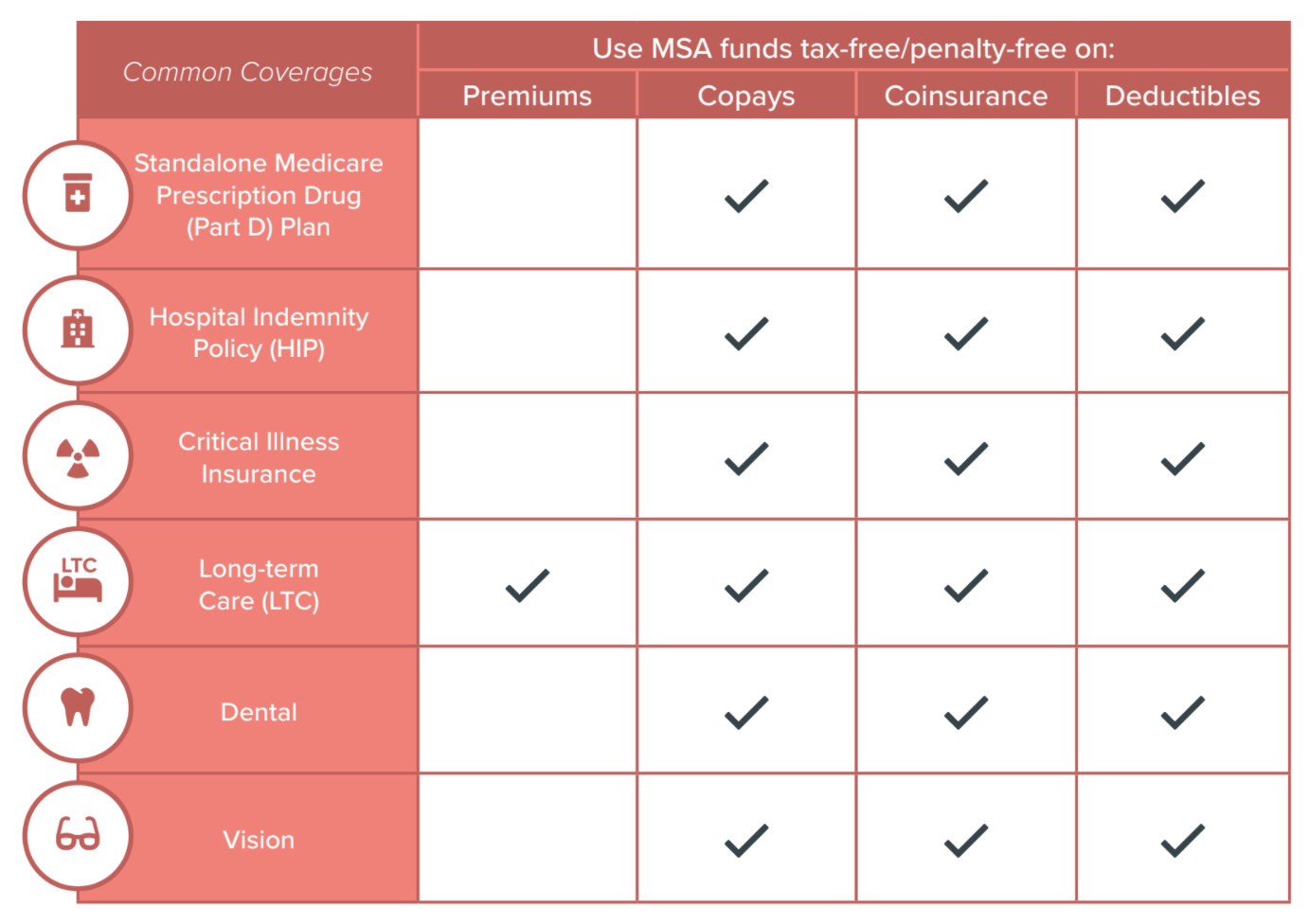 Q: Is the deposit prorated?
A: Yes, it is. When you look at the plan designs, you might notice that the deposit and deductible options are all divisible by 12. That's because it has to be divided and prorated depending on when you sign up. All MSA products operate on a January 1-December 31 policy schedule.
Q: What happens to the accumulated deposit funds when you die?
A: Deposit funds accumulated from previous years stay in the account and do not need to be returned. For the current year's deposit, CMS requires the prorated portion of that deposit be paid back to Lasso Healthcare.
If the member designated their spouse as the beneficiary, the MSA account and any remaining funds (minus the returned prorated portion of current year's deposit) pass to the spouse. The designated spouse can a) leave the account as a Medicare MSA, b) roll the funds into their own MSA account if they have one or c) change it, via a one-time change, to an Archer MSA.
If the member has a spouse, but did not designate them as the beneficiary, the remaining funds (minus the returned prorated portion of current year's deposit) are treated like cash/estate asset and passed through normal income/estate taxation.
If the member designated someone other than their spouse as the beneficiary, the remaining funds (minus the returned prorated portion of current year's deposit) are treated like cash/estate asset and passed through normal income/estate taxation.
If the member doesn't have a spouse and didn't designate a beneficiary, the remaining funds (minus the returned prorated portion of current year's deposit) are treated like cash/estate asset and passed through normal income/estate taxation.
Q: Can the deposit be used for over-the-counter drugs?
A: Yes! With the passage of H.R. 748 (CARES Act) on March 27, 2020, the previous requirement for medicines to be provider-prescribed in order to be "qualified medical expenses" has been removed. As this change is so new, it will most likely take time for these changes to be reflected in places like the IRS publications. Stay tuned on this exciting development.
---
Eligible Entities
On paper, the Lasso Healthcare Group MSA is available for the following entities:
Employers with 19 or fewer active full-time or equivalent employees who have one or more active 65+ employees
Employers with covered retiree populations
Associations and trade groups
Professional employee organizations (PEOs)
However, we are focused on two in particular:
19 or fewer full-time (or equivalent) total active employees
Retiree groups of any size
We can help groups with 20 or more total active employees, but it's an entirely different beast that I'm not sure we're ready for at this time. There are some government restrictions there that present some challenges.
I'd Start With the PEOs
Quite frankly, if I had to start a marketing plan, I'd start with the professional employee organizations (PEOs). A PEO does the payroll, files taxes, and pays all the premiums for an organization, and it sends one bill back to the employer with their fee tacked onto that.
When you talk to a PEO, it might be one organization, but they have 100 businesses that are always looking for ways to get a handle on their healthcare costs.
You Only Need One
I get asked often how many people have to be in a "group" in order to qualify for group health insurance, and the answer is two.
However, you really only need one person to ultimately enroll in the plan.
For example, we can have a group with two total employees where only one is Medicare-eligible. That one person can enroll in the Lasso Healthcare Group MSA.
Another example: we can have a group with 15 total employees. Say 8 of them are Medicare-eligible, but only one wants the product. That's fine – we can have that one person who ultimately enrolls in the plan.
A lot of agents hear that and then ask: what's the advantage of a one-person group versus just signing up for the individual MSA product?
There are a few components to this:
State availability
Enrollment timing
HRAs
If the individual MSA product is available in your state, it might be the better product to buy – I'm not saying it isn't. But unless you're just becoming eligible for Medicare, you have to wait until AEP to get the individual product.
The group MSA can be sold 12 months out of the year. It's also available in all 50 states plus D.C.
If I'm a business owner, although the individual product looks better, there are some things we can do with the HRA and tax deductions that will make a lot of financial sense.
Eligibility FAQs
Q: Is there underwriting?
A: In general, there is no underwriting for the Lasso Group MSA.
Q: If mom and pop are farmers and pay themselves W-2 wages with no other employees, is that considered a group?
A: Absolutely, and that's an excellent group of people for this product.
Q: Can this be used by retired clergy or retired teachers?
A: Yes, and this is exactly where it's going to shine the most. I see municipalities running with this. These organizations are highly integrated with their workforce, even in a retiree scenario – they feel an obligation towards that member. In my opinion, you can't offer a better product to any organization to put forward to their retirees than an MSA.
Q: Can spouses and/or dependents enroll?
A: The answer is yes, provided the group sponsors spousal coverage and the spouse/dependent are also Medicare-eligible and meet the eligibility requirements.
Q: Can a disabled dependent get on the Lasso Healthcare Group MSA?
A: Any disabled dependent under the age of 65 who is Medicare eligible is also eligible for the MSA product. Dual Medicare and Medicaid eligible or persons enrolled in Medicaid are not eligible to enroll in the MSA.
Q: What about veterans?
A: VA members are not eligible for this product. The government provides the VA benefit, and they also provide this MSA benefit, so it's seen as double dipping, and it's not allowed. Some veterans choose to disenroll from the VA in order to get this, but it's entirely up to the individual.
Q: Does FHEB include postal workers?
A: That's a question for the postal workers – I'm not sure. I'm betting they have something available to them that they might be able to bow out of. From what I've seen, not all medical products offered by the federal government come with a mandate that you have to use it. I believe you can disenroll from that and make yourself eligible for this MSA.
---
Plan Designs
Lasso Healthcare has put together three Group MSA plan designs right out of the gate. Here's a look at them: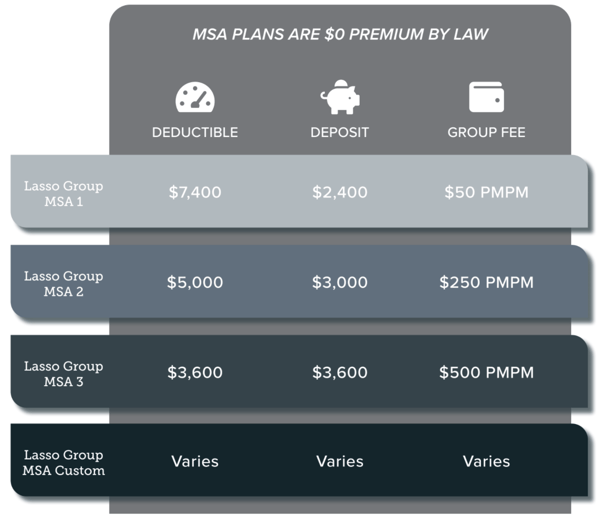 The per member per month (PMPM) is an administration fee to the employer. That monthly fee is on a sliding scale in relation to the deposit and deductible. The PMPM fee cannot be shared with the employee – it is strictly an employer expense, and that's by law.
We do have the capacity to put together a custom plan for the employer, but this is really for the larger (1,000+ size) groups. For example, what if the employer wants a $0 PMPM fee? That's possible. What if they want to match what they're currently paying in premium? We can figure that out. But we do need a sizable group in order to do this.
However, these off-the-shelf plan options are ready to go and will fit the needs of most employers out there.
Here's a 20-minute webinar we did talking through these plan design options.
Note: The plan design names have changed since this webinar – they are now referred to as Plan 1, Plan 2, and Plan 3 (not 50, 250, and 500 as mentioned in the webinar recording).
No Regions
As you can see from these plan designs, it's pretty simple. With the individual MSA, there are three regions with different deductibles. Those regions are county-based, so you may have a higher deductible in one county compared to another.
With the Group MSA, the deductible is the same everywhere – there are no regions. The plan designs are the same in every state across the country (all 50 states plus D.C.).
The deposit works just like it does on the individual side. That money is the beneficiary's – it rolls over from year to year, and if they leave the product, they get to take that money with them. It's just a wonderful opportunity.
Drug Coverage
By law, MSAs are not allowed to have a prescription drug plan included. The broker, in this case, has to take each individual person going on the Group MSA and go through Medicare.gov to put them on the best drug plan.
We really see that as a positive, because there's flexibility there to select a plan that has a compatible formulary.
That Part D premium can be also picked up through an HRA by the employer – we'll cover that here shortly.
---
Case Study: New Horizons' Own Group Plan
Here at New Horizons, our own group product costs $1,000 per month for a $1,500 deductible. That's $12,000 in premium per year!
Plus, the employee has that $1,500 deductible, and there are co-pays and co-insurance involved.
We can take $1,000 per month in premium, and even with the most expensive plan design, we can cut that in half.
Let's say we choose the most expensive plan design option, which is $500 per member per month. The deductible is $3,600, and the deposit is $3,600, so it's a wash. Not only have we cut our premiums in half, but the employee has zero out-of-pocket costs*, and in fact, they have the potential to really stack up these funds if they don't use them!
What an incredible opportunity we have, not only for our organization, but for the over age 65 employees in it.
*Only Medicare A/B expenses count towards the deductible, so if some of the deposit is used for other qualified medical expenses, like dental or hearing, it is possible the employee would have some out-of-pocket costs.
---
HRAs and the Group MSA
The Group MSA is $0 premium to the employee, which is great. However, the government still requires anyone 65 and older to pay the Part B premium. As we know, Part A will be zero premium in most cases. But the employee is going to be exposed to the Part B premium.
Read more: Medicare Basics for New Senior Market Insurance Agents
The good news is a lot of magic happens with a Health Reimbursement Arrangement, or HRA. This is an employer-funded health benefit that reimburses employees for out-of-pocket medical expenses.
The dollars the employer saves on the premium side of the equation can be used to help the employee with costs like:
Medicare Part B premium
Medicare Part D premium
The member responsibility, or the difference between the MSA deposit and the deductible (if there is one)
Many employers will have no problem contributing to the Part B and Part D premium when the Group MSA premiums are so cost-effective.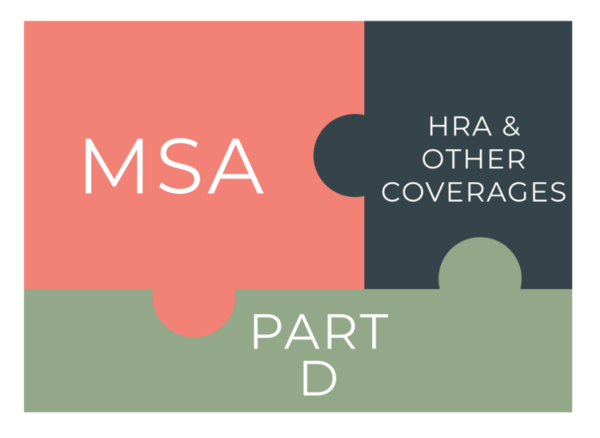 HRAs can be set up with TPAs – Third Party Administrators. I used to work with a TPA, and the rates are very reasonable.
---
Group Census
Whether it's one enrollee or a group with hundreds of enrollees, we need to fill out a census as well as a group select form when we're ready to implement this group product.
To access these, register and log into our website. Then, click on "Products" in the main menu. Select "Group MSA Plans" at the bottom of the dropdown. Scroll to the bottom of the page to view Documents. Click on "Enrollment Forms." Here's a quick walkthrough of that:
The census provides information about all the individuals in the group, including:
First Name
Last Name
Phone Number
Email Address
MBI
Part A Effective Date
Part B Effective Date
There are also seven knockout questions – if the answer is "Yes" to any of these, the individual is not eligible for the Lasso Healthcare Group MSA:
Do you live outside the US for 182 or more days during the benefit year?
Are you eligible for or enrolled in your state Medicaid program?
Are you receiving Medicare hospice benefits?
Do you receive benefits under the VA?
Do you receive benefits under the Department of Defense/TRICARE?
Do you receive benefits under the Federal Employees Health Benefit (FEHB)?
Do you receive health benefits under any other individual, employer, group or union plan?
We fill out a group select form in addition to the census, which gives operations the structure needed to set up the benefit design behind the scenes.
If you're doing more interest-gauging instead of actual enrollment, you can collect a census in the early stages to help flesh out eligibles and projected beneficiaries. Once the plan design is confirmed, you can continue on with the enrollment process.
Lasso Healthcare will be rolling out an online application capability sometime this year.
---
Marketing Materials
Lasso Healthcare has come out with great marketing materials right out of the gate:
Overview Presentation for Initial Client Meetings
One-page Teasers – options for group and broker-focused or enrollee focused
Social Media Ad Text and Images
You can access these marketing materials by logging into our website and visiting the Lasso Healthcare Group MSA page. Scroll to the bottom and view these materials in the Documents section.
Here's a video showing you how to access the marketing materials:
Finding Clients
If you're brand new to group products and aren't sure about how to find your first clients, here's what I would do.
I would get bruised up a little bit on the people you know. If you know business owners that are 65 and older, I'd call them up and say something like this:
"[Name], do you mind if I take 10 minutes to show you something I've been introduced to? It's brand new - the government has just tweaked some rules that allows us to bring a product to the field that I think you'll find advantageous."
I'd also focus on the PEOs like I mentioned earlier in this article. There are many PEOs out there that handle payroll taxes for businesses – I'd go and speak to them!
Also, speak to your CPA; they know business owners right now that would be interested in this.
If you need any help brainstorming marketing plans and ideas, give me a call at 888-780-7676 and I'd love to help you in any capacity.
---
Commissions
Comp is $20 per member per month for life (as earned). CMS requires us to have an as earned commission to this, so there's no advance.
During the first calendar year, the compensation is enhanced at $40 PMPM (as earned).
Comp Is Prorated
I want to just caution you that the comp is prorated. For example, if you start a group on October 1, you'll receive $40 PMPM for October, November, and December. Then it'll go down to $20 PMPM in January.
If you start a group on January 1, you get all 12 months at $40 PMPM.
This contract will always be a January 1-December 31 model. Everything will be prorated depending on how many months are left in the year, including the deposit and deductible.
---
Enrollment and Disenrollment Periods
The initial group setup can happen any time of the year with a benefit period that ends on December 31st.
This product is always from January 1-December 31st. If you sign up in the middle of the year, everything is prorated through December 31st.
Individuals can disenroll upon leaving the group or during November, which is the Annual Election Period.
Here's a chart to help visualize the timing of things: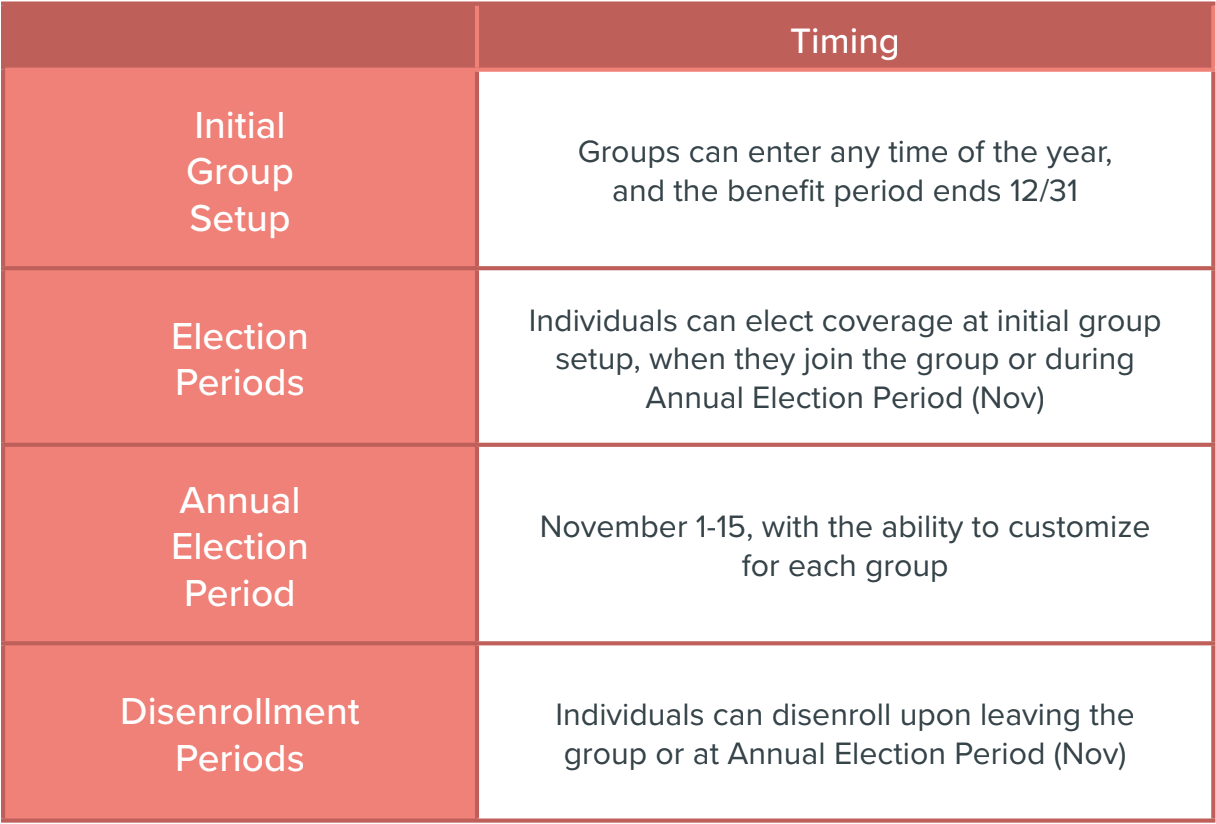 Enrollment FAQs
Q: Would employees over 65 have a choice to enroll, or is it mandatory for all 65+ employees?
A: If an employer has 19 or fewer full-time equivalents, they can say that this is the plan we've chosen.
Q: How do I do an application?
A: You can begin the process by filling out a group census. This helps give us a big picture of how many eligible enrollees we have. Then, complete the group select form. Lasso Healthcare will take you through the rest of the way.
Q: If the 65+ employee was already enrolled in Medicare Advantage or a Medicare Supplement, can they jump off mid-year and join in?
A: The answer is yes. It won't matter what plan they were on – if the employer is providing a group benefit with the MSA component to it, that employee can join the group policy.
Q: Are there enrollment restrictions for the group?
A: No – we can write it 12 months out of the year.
---
Webinar: Getting Started with the Lasso Healthcare Group MSA
Whether you're driving and want to listen or you just prefer to learn through video, this recorded webinar takes you through the basics of the Lasso Healthcare Group MSA.
---
Training and Contracting
If you're strictly a group writer, you are not required to become AHIP certified, but you are asked to pass a more extensive certification test.
If you want to sell this on a personal basis, you're required to have the AHIP as well as the group chassis certification. It's not that big of a deal, especially if you understand the individual Lasso Healthcare MSA.
If you own an individual license and are in good standing with Lasso Healthcare today, that will serve as a nationwide contract, so you can write the group MSA product no matter what state you're in. In other words, if you're an Illinois writer but have a group in Arizona, you can write that group in Arizona with no problem.
If you are already contracted to sell the individual Lasso Healthcare product, you're good to go for the group side after passing the group MSA certification exam. Lasso Healthcare is in the final stages of preparing that group certification exam and will be releasing it/notifying appointed agents shortly. If you're not contracted with Lasso Healthcare yet, click the button below to get started!
---
Conclusion
The Lasso Healthcare Group MSA brings with it so much potential. Everyone has an opportunity to win with this product – the employer, the employee, and the producer.
Employers are bound to save some dollars, the employee gets to enjoy the deposit, and the producer has an opportunity to earn a fantastic living.
Do the math on this, and a retiree group of 100 individuals can earn you $4,000 per month for the remainder of Year 1 and $2,000 per month each full calendar year after.
If you're intimidated by a new product category, please join me in my bi-weekly Group MSA webinars. We have different topics that range from beginner material to more advanced. I'd love to see you there, and as always, if there's any way I can help you succeed, don't hesitate for a second – call me or email me.
Good selling!