Lasso Plus HIP is Lasso Healthcare's new Hospital Indemnity Plan (HIP) designed to compliment the MSA perfectly. How? It helps offset the delta between the deposit and the deductible.
Article originally published October 21, 2019. Updated October 1, 2020 to reflect the MSA changes for 2021 as well as an updated state availability map. *For agent use only - not approved for use by beneficiaries.*
Without a HIP, MSA members are on the hook for all costs until they reach their high deductible. After that, Lasso pays for 100% of any Medicare-covered expenses.
For those who get nervous at the thought of being responsible for $3,000-$5,000 in a bad health year, a HIP can be a huge relief!
In our opinion, the Lasso MSA in combination with the Lasso Plus HIP is one of the most – if not the most – consumer-friendly products available in the senior health insurance space today.
Related Reading: How to Make a Sale to a Medicare Advantage Client: Hospital Indemnity Plans
What Is a Hospital Indemnity Plan?
A hospital indemnity plan, often shortened up to HIP, is a supplemental plan that helps pay for hospitalization costs. Hospital stays are one of the most expensive medical costs an individual can face.
According to Debt.org, hospital costs average out at $3,949 per day, and the average total hospital stay costs $15,734.
Now, that amount is going to be lower for individuals on Medicare, because Medicare is notorious for being rather cheap, and they set the amount they're willing to pay. It's usually a lot less – I mean, a lot less – than the provider actually bills. (View some examples here of billed amounts vs. Medicare-approved amounts.)
Regardless, a hospital stay isn't cheap no matter what. That's why hospital indemnity plans are so nice to have. It's not health insurance, but it makes your existing health insurance better.
What is Lasso Plus HIP?
Lasso Plus HIP is an optional, supplemental policy that helps pay for hospital expenses if your client is confined to a hospital, inpatient or under observation, for a covered accident or illness.
It's meant to be combined with the Lasso Healthcare MSA as it provides financial assistance in the member responsibility zone.

*Your client would also be responsible for paying their monthly Part B premium and 100% of any non-Medicare covered Qualified Medical Expenses (QMEs), via either their MSA bank account funds or out-of-pocket, before and after they reach the plan deductible. The deposit and deductible amounts shown above are full calendar-year amounts, based on a January 1 effective date. If your client enrolls for a partial calendar year, the deposit and deductible amounts will be prorated based on the month their coverage becomes effective with Lasso Healthcare MSA.
Lasso Plus HIP has the following features:
It's a cash benefit paid directly to the member
The member decides how to use the benefit payment
There's no deductible to meet
There's no network of providers
Additionally, most HIPs on the market pay a per diem – a set dollar amount per day – of hospitalization. Lasso's HIP pays the full benefit amount for each covered hospitalization stay, up to the maximum amounts.
Three Lasso Plus HIP Plans to Choose From
There are currently three HIPs:
Lasso Plus 4 (inpatient benefit is $4,000)
Lasso Plus 5 (inpatient benefit is $5,000)
Lasso Plus 6 (inpatient benefit is $6,000)
Here's a closer look at the benefits and monthly premiums associated with each HIP:

How Do Claims Work With Lasso Plus HIP?
Members can use the benefit payments for out-of-pocket medical expenses like hospital or provider bills, recovery bills, or even day-to-day living expenses. Essentially, the member can decide how to use the money.
The claims process has 3 simple steps:
Member receives care for a covered hospital stay
A completed claim form with documentation is submitted
They receive the benefit and decide how to use it
The member can keep their HIP as long as they pay their premiums on time and until they reach their policy maximum benefit amount.
What About Underwriting?
There is underwriting involved with the Lasso Hospital Indemnity Plan. In our opinion, it's really like a very (very) generous Med Supp app. While it is very generous, there are going to be some knockout questions on this app – no doubt about it.
Here are examples of questions on the application for 2020 (pulled from Illinois enrollment kit):
Are you currently pregnant or undergoing fertility treatment?
Are you currently confined to a hospital or nursing home, or has a medical professional recommended that you be hospitalized or confined to a nursing home?
Do you have a condition for which a medical procedure (including but not limited to surgery, organ transplant or joint replacement) has been planned or have you been advised by a medical professional that you should schedule such a procedure in the next 12 months?
In the past 12 months, have you received home health care, been bedridden, confined to a wheelchair, used oxygen or been confined in a nursing home or hospital?
In the past 12 months, have you been treated for or diagnosed with any of the following conditions by a medical professional:

Chronic obstructive pulmonary/lung disease (COPD), emphysema or chronic bronchitis?
Chronic liver disease, including Hepatitis C or cirrhosis?
Neuromuscular disorders, including Parkinson's disease, multiple sclerosis (MS)or myasthenia gravis?
Memory disorders such as Alzheimer's disease or dementia?

In the past 12 months, have you been treated for or diagnosed with diabetes by a medical professional that:

Requires use of 50 or more units of insulin daily?
Involved complications, including peripheral neuropathy, peripheral vascular disease, diabetic nephropathy or diabetic retinopathy?

In the past 12 months, have you been treated for or diagnosed with any of the following conditions by a medical professional:

Heart attack, stroke, transient ischemic attack (TIA), heart surgery/bypass and/or stent placement or heart failure?
Kidney failure or required dialysis?
Autoimmune disorders (other than AIDS or HIV), including ulcerative colitis or lupus?
Cancer?

In the past 12 months, have you received advice, treatment or counseling from a medical professional relating to schizophrenia or other psychotic disorders, bipolar disorder (manic depression), alcohol abuse or substance abuse?
In the past 12 months, have you experienced coughing blood, vomiting blood, passing blood through either bowels or urine, breast discharge, unexplained weight loss, a lump/growth/tumor anywhere on your body, a change in a mole or a bleeding mole?
In the past 12 months, have you received lab or diagnostic test results that a medical professional has indicated were outside of normal range?
In the past 12 months, has a medical professional recommended medical tests or exams that haven't been completed?
In the past 10 years, have you received treatment for or been diagnosed with any of the following by a medical professional:

Acquired immunodeficiency syndrome (AIDS)?
Human immunodeficiency virus (HIV)?
State Availability for the Lasso Hospital Indemnity Plan (HIP)
While Lasso has done an incredible job expanding their territory, the HIP is a brand new product, so it's not available everywhere just yet. However, it does have an impressive number of states under its belt so far!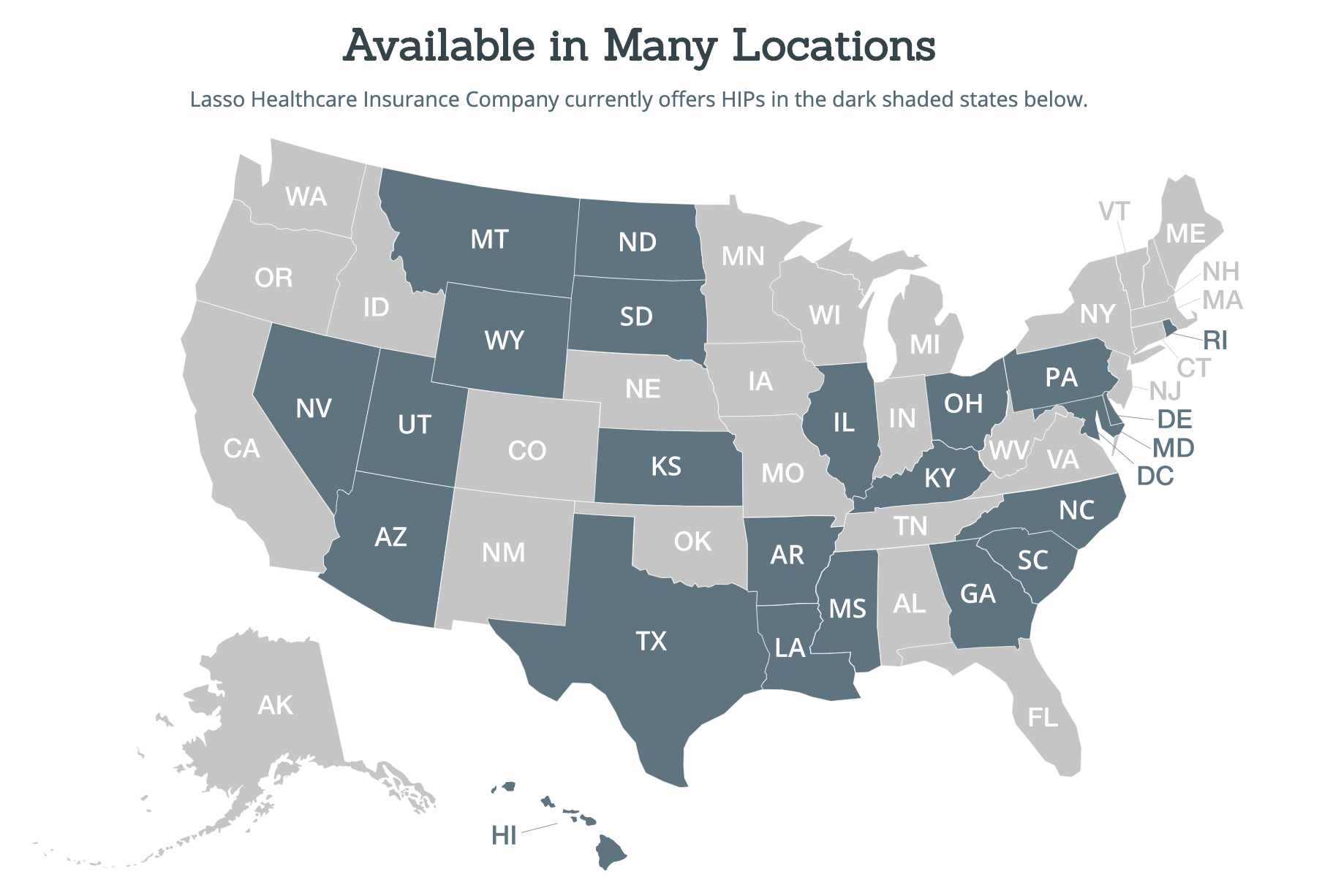 Frequently Asked Questions About the New Lasso HIP
This product is brand new, so there aren't a ton of questions yet, but here are some of the ones we've heard from agents. We have gotten some specific questions about underwriting, but we won't be able to speak on those until we get some experience with selling the product.
Q: If the policy is for seniors, why is there a pregnancy underwriting question?
A: We really don't know! We laughed at that, too!
Q: Are there renewals?
A: Yes, it's level. Renewals for life.
Q: Can you use the Lasso MSA account funds to pay for this HIP product?
A: No, you cannot.
Q: Is there an online app?
A: Yes – it's available as of October 15, 2019 on Lasso's website!
Q: If I buy the MSA today, can I buy the HIP later?
A: Absolutely!
Getting Contracted to Sell the Lasso Healthcare Hospital Indemnity Plan (Lasso Plus HIP)
In order to sell Lasso's HIP, you don't need to be AHIP certified. However, to sell the MSA, you do.
Since these products are meant to be sold in tandem, it makes the most sense to complete your Lasso appointment all at once.
Once you're AHIP certified for the year, you submit contracting, complete the Lasso certification exam, and you're good to sell the MSA and the HIP in your state.
We make the contracting process incredible easy (read about it here), and we'd love to answer any questions you may have.
When you click the link below (and are signed in), you'll be able to access your state enrollment kit along with a handy client leave behind! See you there!
Other articles you might like: