Getting contracted to sell the Lasso Healthcare Medical Savings Account (MSA) product is thankfully very easy.
Here's a quick overview of the Lasso MSA contracting process:
Make sure you're up-to-date on the AHIP
Send E&O insurance and a voided check
Fill out a PDF paper contract
Pass a short Lasso certification
Start selling!

AHIP, E&O, and a Voided Check
For starters, an MSA is technically a Medicare Advantage product, so you do need the AHIP. There's no getting around that. So to begin, you can send a copy of the current year's AHIP certificate to me.
In order to get contracted, you'll also need to send E&O and a voided check.
One thing to note here is that the voided check has to match your name. For example, when we signed up we signed up as "New Horizons", the check had to have New Horizons on it.
You can't be an agency and send a personal check with just your name listed. Sometimes, that happens. Usually when an agent is an agency, they have a checking account for their agency, and it's no problem.
At the end of the day, the account and the contracting names both have to match.
Filling Out the Lasso Contracting Form
With Lasso, it's a paper contract in the form of a PDF.
You don't have to print it or worry about scanning it, which is nice. The form is editable, so you can just click and type things in as you go.
When you're ready to get contracted with Lasso, just let me know and I will send you the PDF contract.
Technically, there's a link I can send, but sometimes people have issues with the link not working, so I do just send the PDF to you.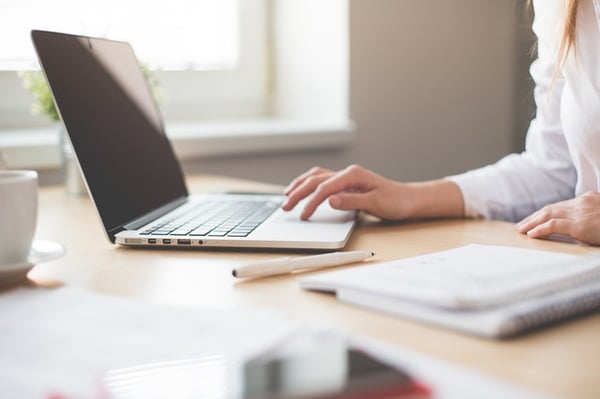 When you're ready to get contracted with Lasso, just let Ginny Dunker know by filling out this form, and she will send you the PDF contract via email.
What's Inside the Contracting Form
The contracting form has all the usual stuff in it. Lasso pays for agent/agency Resident State appointment fees.
You fill out all your information, including your appointment type, personal info, criminal background information, etc. The W-9 is included along with the 2019 commission schedule.
Once you fill it out, you just email it back to me.
I'll then review that paperwork and will make sure everything is filled out properly. Our top producers usually just make sure it's signed, and I assist them with completing the rest of the information.
If an agent gets a contract and isn't sure how to complete it, I can help them complete the contract.
It's a pretty simple process, and the agents are OK with it. I don't feel like Lasso contracting has a lot of issues.
Saving a Completed PDF Contract Properly
The only thing that can be confusing is that the contract is a PDF, and some people have a hard time saving it correctly. They often think they saved it, but I receive it back as a blank PDF.
So, here are a few tips to make sure that doesn't happen to you.
Make sure you've downloaded Adobe Acrobat, which is the program that allows you to open a PDF on your computer. It's free and can be downloaded on a PC or a Mac. Most computers come with it already installed, but just make sure you get it if that's not the case.
As soon as you open the PDF contract, click "File" > "Save As."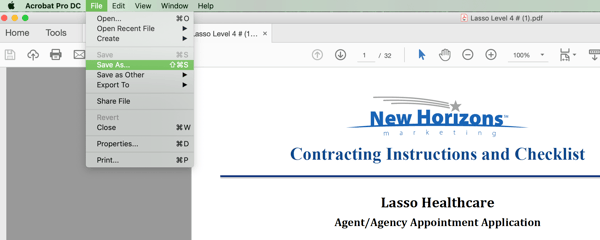 Be sure to "Save As" when you first open the Lasso contract. This will ensure you don't lose any of your work as you fill out the PDF. Need contracting? Call us at 888-780-7676.
Name the contract, preferably with your name in it, and choose where you'd like to save it.
Now, as you fill out the PDF with your information, every time you click "Save," the file is being saved properly.
This will ensure that you don't spend time filling out the contract only to lose all that information later.
Get the Lasso MSA Certification
Once I have the finished contract, I submit it, and it takes 3-7 days or so to get the certification link. That link is sent to me unless the agent is registered with Ritter through a different company, and they have access to Ritter. That can get a little confusing, but in general, I get the link and send it to you.
That email has a training manual attached to it and a link to get into the certification.
The certification is only around 30 questions, and it's very simple. It's really nothing to worry about. You have to get an 80%, and you have 3 chances to pass it.
There's no face-to-face training required.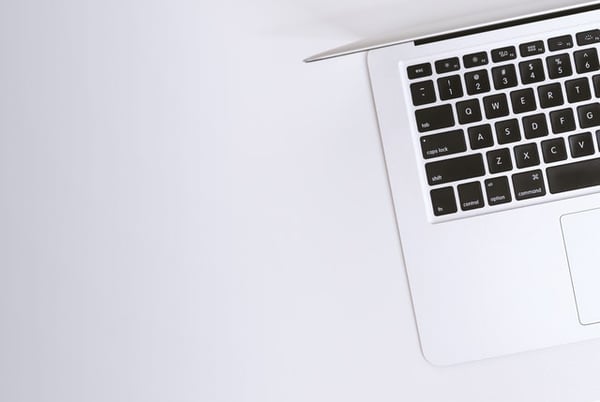 Once your state appointments are confirmed, you'll receive a welcome letter containing your writing number. Consumers turning 65 are excellent candidates for the Lasso MSA – contact Steve Spinner for more sales presentation tips!
After you pass the product certification test and your background check is completed, Lasso will process your state appointments. Once your state appointments are confirmed, you'll receive a welcome letter containing your writing number.
All appointed agents are supplied with 5 enrollment kits and presentation materials. You can always request more, or you can get these digitally and print them yourself if you prefer.
Get Contracted with Lasso Healthcare
Out of all the companies that we've launched, I feel that Lasso has been one of the simplest. The entire process is very easy, and the service is really great.
To learn more about the Lasso MSA, you can watch a series of videos Steve Spinner has created along with a variety of articles that outline some of the product specifics: