For independent insurance agents in Hawaii, the available Medicare health products aren't that great. If you're looking for the best option for your Medicare-eligible clients in Hawaii, we're rallying for the Lasso Healthcare MSA.
However, it's important first to understand why we're not too thrilled about the available Medicare Supplement or Medicare Advantage options.
Medicare Supplement Options in Hawaii
When you compare the Medicare Supplement options in Hawaii against what's available in the Midwest, for instance, there's really no comparison.
For example, in Honolulu, our quote engine shows five Medicare Supplement companies that offer a Plan F. In central Illinois, we have 30 companies to choose from.
Not only are there fewer Medicare Supplement carriers in Hawaii, but the prices are also a lot higher. Using our example, the most inexpensive Plan F in Hawaii is $141.23 while the most inexpensive Plan F in central Illinois is $117.95.
That's an annual difference of over $275 in premium!
In addition, the most inexpensive plans are few and far between. Only three of the six available Medigap plans are under $150. The rest come in with monthly premiums between $184-$339.
Long story short: there aren't many Medicare Supplement options for those living in Hawaii. That doesn't give independent Medicare agents a lot of wiggle room for saving seniors money or giving them new, better options.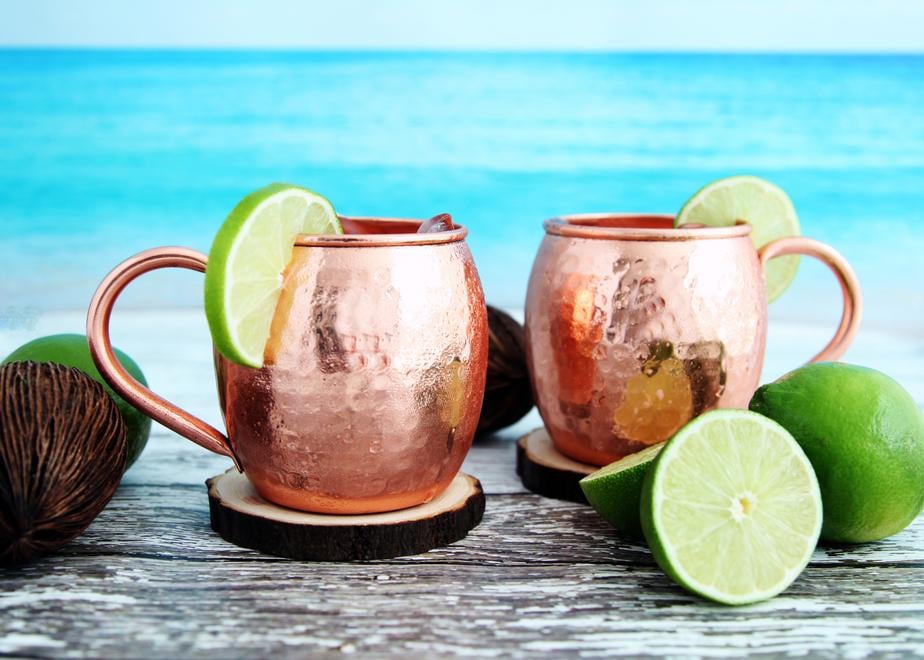 Medicare Advantage HMO and PPO Options in Hawaii
Medicare Advantage HMO and PPO plans aren't all that great in Hawaii, either.
According to new CMS data, the average number of Medicare Advantage plan choices per county is 39 plans in 2020. In Honolulu, Hawaii, the number of PPO and HMO plan choices is just thirteen. These thirteen plan choices only represent five insurance companies.
With out-of-pocket maximums averaging out at $5,376, it seems like we must be able to do better.
With the introduction of the new Lasso Healthcare Medicare Medical Savings Account (MSA), we believe we can!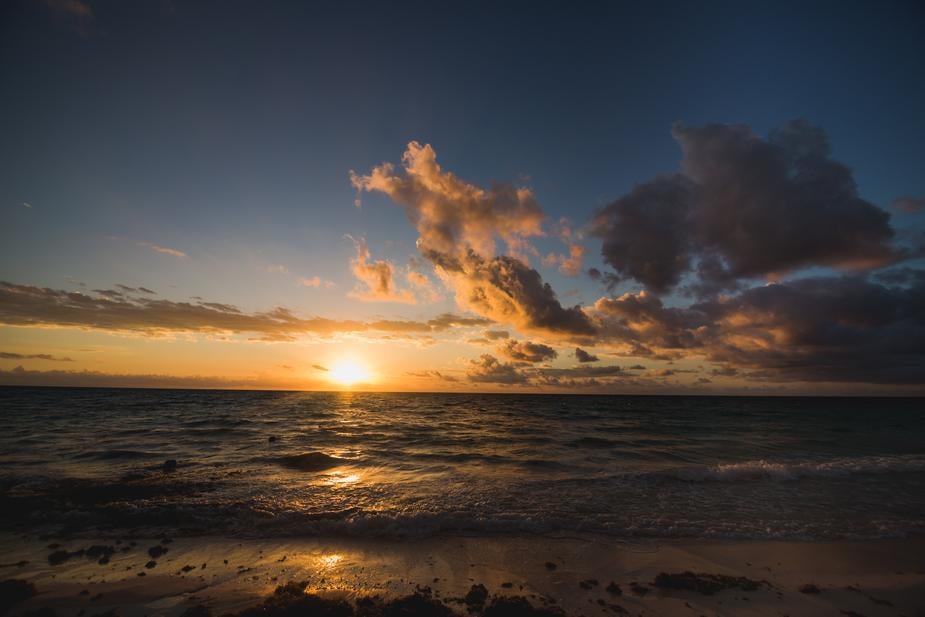 Lasso Healthcare MSA for Hawaii Agents
We believe the Lasso Healthcare Medicare Medical Savings Account (MSA) is the perfect product to offer as an independent insurance agent in Hawaii. (The MSA is technically a Medicare Advantage product, but it stands out in a few major ways.)
Without a strong Medicare Supplement market and lackluster Medicare Advantage HMO and PPO options, the Lasso MSA stands out as an ideal option for seniors.
If you're new to the Lasso Healthcare MSA, here's how it works.
Every year, Lasso Healthcare deposits a sum of money into the policyholder's special savings account. That money can be used for any qualified medical expense – tax-free.
If the policyholder doesn't use up all of the deposit, those funds roll over until the next year. At the end of the day, those funds are the policyholder's to keep. If they die, it goes to their beneficiaries.
A few other important parts of the Lasso MSA:
It's $0 premium
There are NO provider networks – see any doctor that accepts Medicare assignment
No drug plan included, which gives your clients a chance to select a Part D plan that fits their needs
It's a high-deductible plan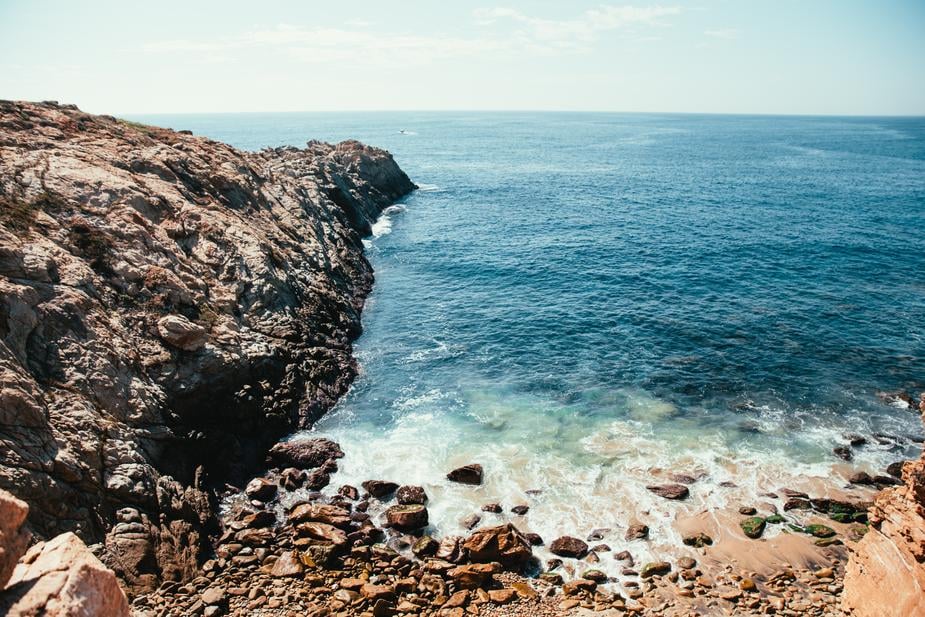 2020 Lasso Healthcare MSA Deposit and Deductible in Hawaii
The Lasso MSA deposit and deductibles change every year. For 2020, the deposit is $3,240 – that deposit is the same no matter which state you're in.
The deductible is split into three different regions:
Region 1 is a $7,400 deductible
Region 2 is a $8,400 deductible
Region 3 is an $9,400 deductible
For 2020, all of Hawaii is in Region 2 with an $8,400 deductible. This includes the following counties in Hawaii:
Hawaii
Honolulu
Kalawao
Kauai
Maui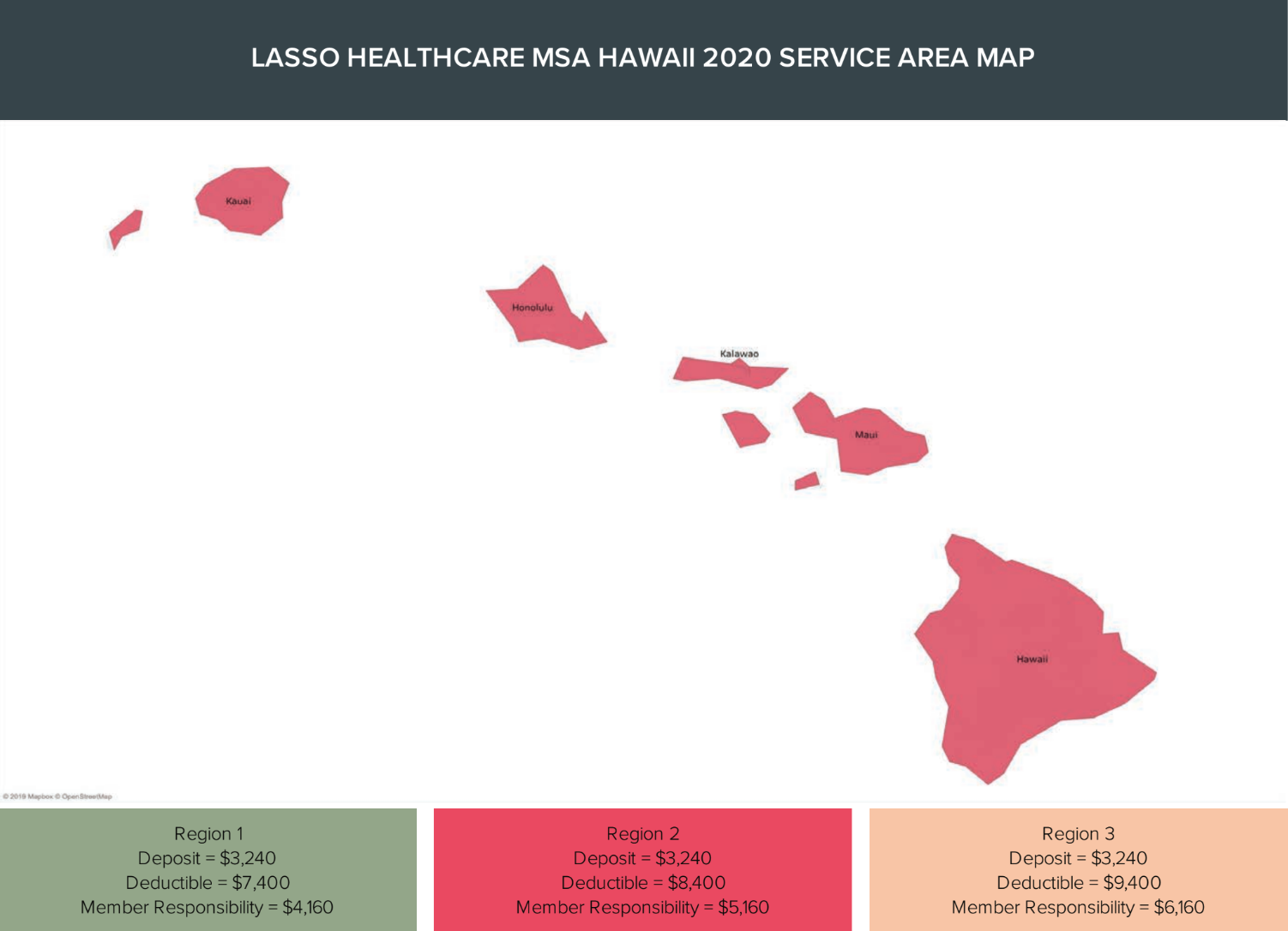 Why Choose the Lasso Healthcare MSA as a Hawaii Medicare Agent?
Compared to the majority of the available 2020 Medicare Advantage PPO and HMO plans in Hawaii, the Lasso Healthcare MSA beats them in several categories:
No provider networks
Lower member responsibility (out-of-pocket maximum)
Higher potential for financial growth
With the Medicare Advantage PPO and HMO options, you have to stay within your provider network. If any of your Hawaii clients travel to other states, the MSA is going to accommodate that whereas a typical PPO or HMO will not.
Additionally, we calculated that the average out-of-pocket maximum for HMO and PPO plans in Hawaii is $5,376. That's higher than the total member responsibility with the MSA – and that's if you have a really terrible year and use all of your deposit.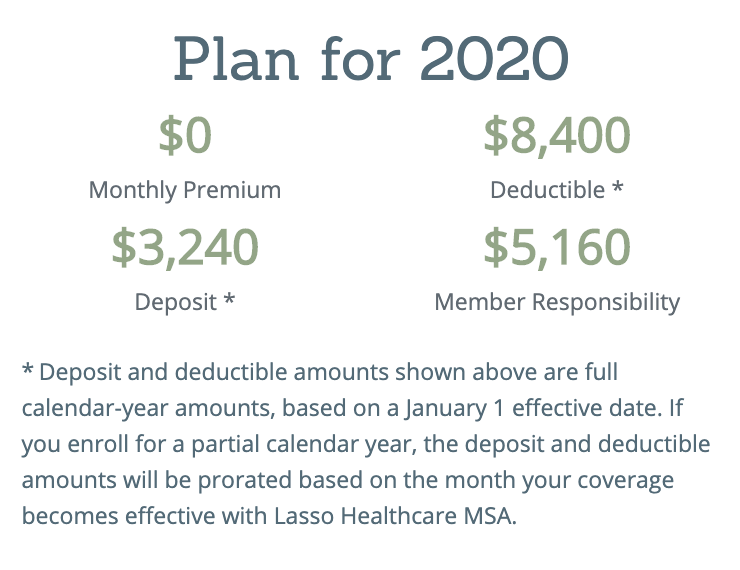 HMO and PPOs with lower deductibles (sometimes as low as $3,400) come with higher monthly premiums, and HMO and PPOs with higher deductibles (typically $6,700 or more) are generally $0 premium.
With the MSA, you have the benefit of both – $0 premium and a reasonable member responsibility.
Finally, Medicare Advantage plans don't give you money to use for qualified medical expenses! With the Lasso MSA, you have potential. If you don't use that money, it's yours to save, spend, or invest. That kind of growth potential is very appealing, especially for those seniors who are active and healthy and don't anticipate any major medical events.
We've done a lot of analysis of the Lasso Healthcare MSA versus Medicare Supplements, so we'll pop in a few links if you're interested in reading more on that:
Offer A Unique Product as a Hawaii Independent Agent
Because the Lasso Healthcare MSA is newer to the market, a lot of your competition probably isn't offering it yet. It does require some education to become familiar with it, but if you can get a jumpstart, you'll be able to set yourself apart in the senior market.
Not only are you offering one of the absolute best Medicare health products for seniors in Hawaii, but you're doing it before other agents have a chance to catch on.
We want to be your support system, so if you're need of product training, contracting, or marketing materials, please don't hesitate to reach out!
To learn more about the Lasso Healthcare MSA, start here: What Is the New Lasso Medical Savings Account (MSA)?
For contracting, click the button below:
And for marketing materials, download the 2020 Lasso Healthcare MSA marketing kit:
Good selling, and don't hesitate to reach out to myself directly for anything at all (email me or give me a call at 888-780-7676).