Most Medicare agents are very well aware that Medicare does not pay for long-term care, whether you're in a nursing facility or at home. In a skilled nursing facility, you can get up to 100 days of care, but after that, you're responsible for all costs (and you need to qualify for that 100 days of coverage).
That said, Medicare does offer some coverage for home health care.
The topic of home health care and Medicare has been a murky one for many agents because the rules about it are riddled with requirements and exceptions. We've weeded through all the fine print to bring some clarity on Medicare and home health care coverage.
Home Health Care Isn't Going Anywhere
Understanding the specifics of home health care and Medicare coverage is more important than ever before.
Home health care has been increasing in popularity over the last decade. For the first time in 2015, more money was spent on home health care than nursing home care (CNBC).
By 2034, there will be more adults over age 65 than children under the age of 18 (United States Census Bureau). The U.S. population is aging, and home health care is surging in popularity, especially when compared to nursing homes.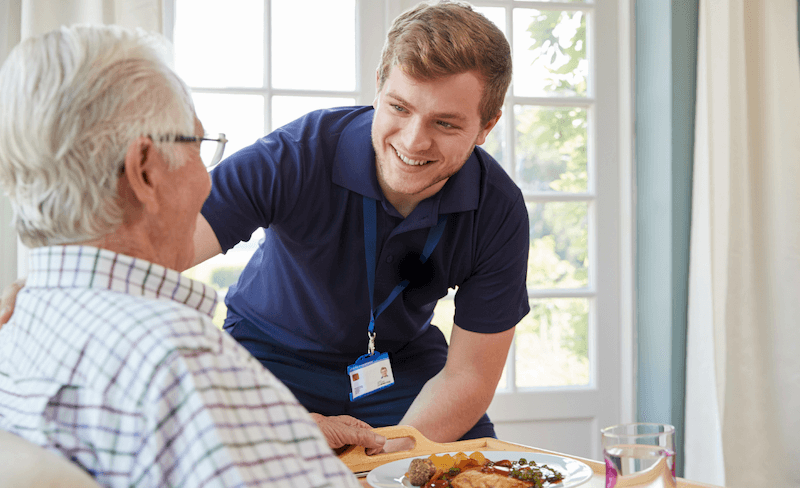 COVID-19 also impacted the shift to home health care, because hospitals needed to save beds for the severely ill. If a patient was healthy enough, they were likely asked to get care at home, not only to save hospital beds but to avoid the risk of contracting COVID-19.
The idea of staying in the comfort of your own home is really attractive, and some research (Bayada, Senior Living) is showing health outcomes and quality of life are better for people who get ongoing care at home.
The big question is: how will your clients pay for it?
Medicare Coverage of Home Health Care
Medicare's coverage of home health care is fraught with disclaimers and eligibility requirements.
First thing's first: Medicare will never pay for 24/7 home care. Medicare also does not offer home care coverage for help with activities of daily living (if that's all the patient needs).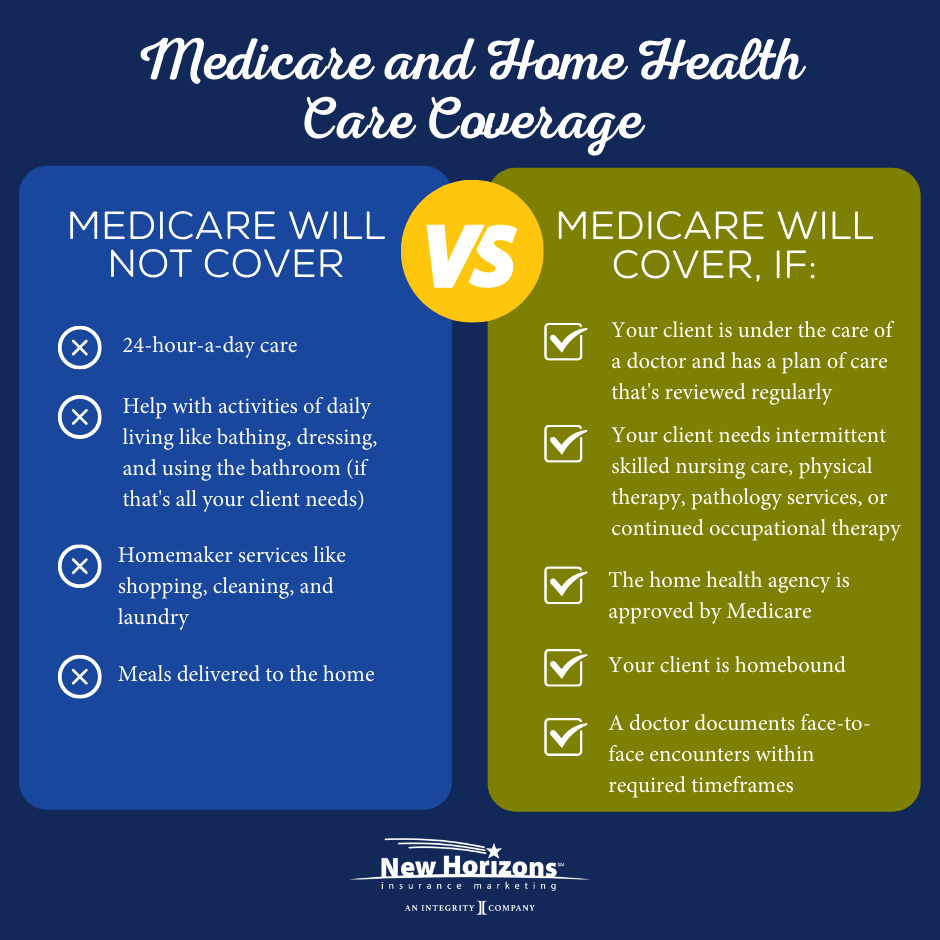 Medicare will only consider covering home care if it's part-time or intermittent, which is defined as:
Less than 7 days each week
Daily for less than 8 hours per day for up to 21 days
You also must meet ALL of the following requirements:
You're

under the care of a doctor

who created and regularly reviews your plan of care.
A doctor certifies that you need

intermittent skilled nursing care

(other than drawing blood).
A doctor certifies that

you need physical therapy,

speech-language pathology, or

continued occupational therapy services.*
The home health agency caring for you is

approved by Medicare

(Medicare-certified).
A doctor certifies that you are

homebound.
*These services are covered only when the services are specific, safe and an effective treatment for your condition. The amount, frequency and time period of the services needs to be reasonable, and they need to be complex or only qualified therapists can do them safely and effectively. To be eligible, either: 1) your condition must be expected to improve in a reasonable and generally predictable period of time, or 2) you need a skilled therapist to safely and effectively make a maintenance program for your condition, or 3) you need a skilled therapist to safely and effectively do maintenance therapy for your condition.
Home Health Care Costs with Medicare and a Supplement
If a person met all of these requirements, home health care would be covered under Medicare. Medicare pays 100% for home health care services and 80% of the Medicare-approved amount for durable medical requirement (dme).
If your client has a Medicare Supplement, their plan would cover the remaining 20% for approved dme, so they would only be subject to the Part B deductible.
Home Health Care Costs and
Medicare Advantage
If your client has a Medicare Advantage plan, their out-of-pocket costs will depend on their specific plan and network.
For example, a PPO may charge nothing for home health care services as long as they use providers in the plan's network. But using an agency outside the plan's network may come with a 35% coinsurance.
HMOs are even more strict, with many not covering any home health care services if the policyholder goes out-of-network.
The exact costs will depend on the specific Medicare Advantage plan. Be sure to double and triple-check the plan's network for your client if they are concerned about access to home health care!
Hear From a Home Health Care Agency
We also spoke to a home health care agency to understand straight from the source what Medicare will cover.
They explained:
"Our home care company provides skilled nursing and therapy visits to patients secondary to orders received from their personal physician. We then work in collaboration with the patient, family, and physician to design and implement an appropriate treatment plan. Medicare covers these services.

We do not provide personal care, sitter, or private duty services (non-skilled care) such as those that help with the activities of daily living (bathing, shopping, doctor appointments, companionship, etc.). Medicare does not cover personal care or sitter type of services."

How to Find Medicare-approved Home Health Care Agencies
If your client meets all of the requirements for Medicare home health care coverage, they need to find an agency approved by Medicare.
Direct them to the Care Compare tool from Medicare.gov. They can enter their zip code, city, or state and search for a list of available home health care agencies.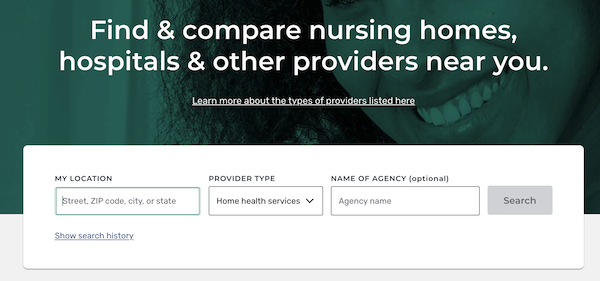 Once they see the available agencies, they can look at some of the data provided, including:
Quality rating: shows how a home health agency compares to others on measurements of their performance, like how often the agency began their patient's care in a timely manner or how often a patient got better at walking around. A rating of 3 to 3.5 stars means the agency performed about the same as most agencies.
Patient survey rating: asks patients (or their family or friends) about their home health care and if they would recommend that agency to someone else.
Offer Home Health Care Insurance
There's a 68% chance that a senior over the age of 65 will need some kind of long-term care. If your clients think they'd rather get care at home, it's important to educate them about Medicare's coverage limitations.
Thankfully, there are insurance policies available that are specifically created to help cover the costs of home health care.
These can be a great alternative to traditional long-term care insurance.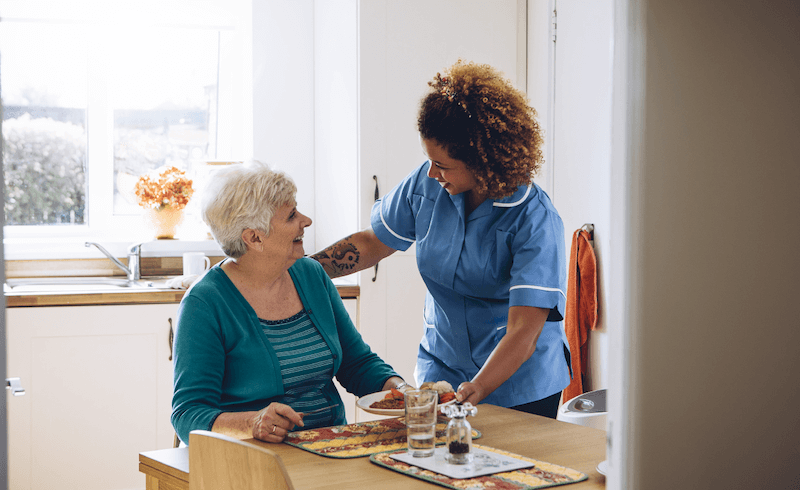 Wellabe Essential Care
Wellabe's Short-term Care policy has a home health care base benefit with flexible options to meet your clients' needs.
Applicants who want even more coverage to extend the amount of care they can receive can elect the Facility Care Benefit rider, which includes a 21-day bed reservation that pays a daily amount to hold a care facility bed during a hospital stay.
Download the Product Highlight flyer for more details!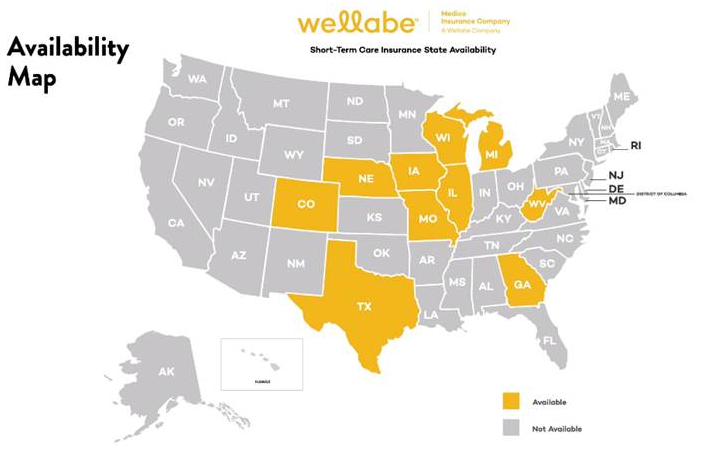 Check out all of our STC carriers for more information.
ManhattanLife OmniFlex
ManhattanLife's OmniFlex product, recently launched in 2023, is a revolutionary short-term care product with some very innovative benefits built-in.
For example, the product comes with a feature called Fast-50™ , which is a 1st-day cash benefit for paying a spouse, family or friends for their help. Yes, you read that right – you can pay your spouse or family for help!
There's also an optional home health care benefit with daily benefit amounts from $50-$300.
Download this flyer to see how OmniFlex is different from other STCi options on the market.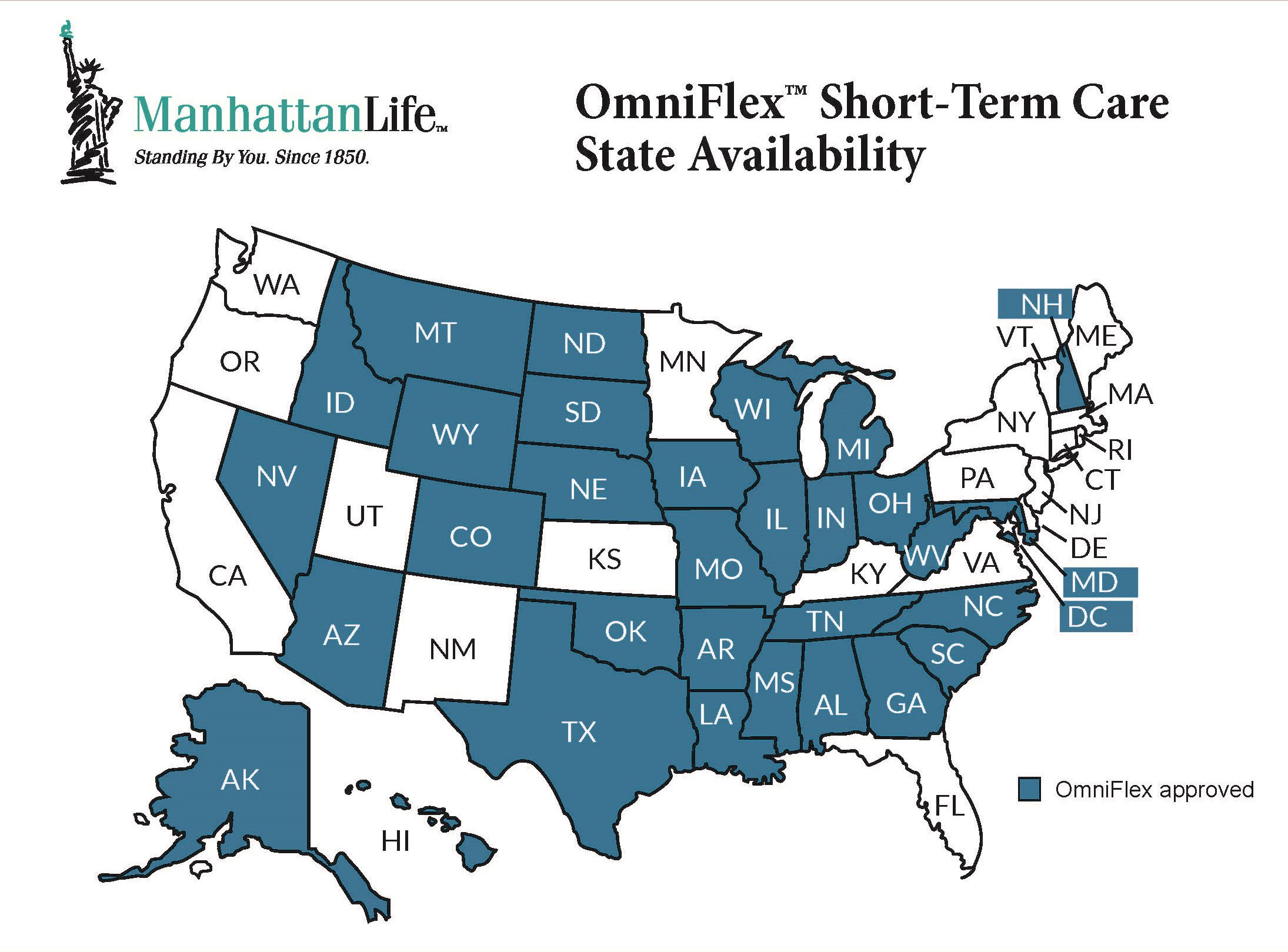 Aetna Short-Term Care
Aetna's STCi product has a home care rider with the following benefits:‍
Up to $1200 weekly maximum
Choice of covered weeks: 13, 26, or 52 weeks
Lifetime maximum equal to twice the number of covered weeks
This rider pays a benefit for each week you receive three or more professional home care service visits of at least one hour per visit in your home, provided you cannot perform two or more ADLs or you have cognitive impairment.
The Aetna Recovery Care product is available in all states except California, Connecticut, Florida, Kansas, Minnesota, North Dakota, New Hampshire, New Jersey, New Mexico, Pennsylvania, South Dakota, Virginia, Vermont, and Washington.
Medicare and Home Health Care Resources For Clients
If you have clients specifically interested in the rules about home health care and Medicare, here are a couple of resources you can share:
Conclusion
Given the choice, nearly 8 in 10 Americans would prefer to receive ongoing care in their own home. Plus, patient outcomes seem to be better for those who get care at home.
Since Medicare's coverage of home health care is very limited, consider suggesting a home health care policy or a policy that includes benefits for care at home.
To bring up the conversation with your clients, simply ask Question #6 from our Client Needs Assessment.
Good selling!
Related: 4 Sales Techniques Every Savvy Insurance Agent Uses