Most modern marketers will tell you that if you don't know where to begin, start with Facebook ads. And it's true – Facebook is one of the best places to advertise.
Here's why.
250 million people log into Facebook each day,
Ads are inexpensive, and
Ads are highly targeted.
This basically means that you can reach your ideal prospects without breaking the bank.
So, if you're a local insurance agent and want to reach the right people in your area, Facebook is a low-cost, effective way to start things off.
Here's what you'll need (we'll help you set these up):
A personal Facebook page
A Business Facebook page
A Facebook advertiser account
A Business Manager account
A website to send traffic to (don't have a website yet? Learn how to make one quickly here.)
It is possible to advertise on Facebook without a Facebook page, but it's not ideal. If you want to do this, you can learn how here.
Step 1: Create a Facebook Business Manager Account
Assuming you already have a personal Facebook account, it's time to create a Business Manager account, which is free to use.
To do this, sign into your personal Facebook page. Then, go to business.facebook.com and click "Create Account."

Here, you'll enter a name for your business and your work email address.
Note: If you don't yet have a page for your business, you can create one within Business Manager in the next section, or you can create one first by going here.
Move through the rest of the Business Manager onboarding steps by entering the rest of the required fields.
Step 2: Add a Facebook Page to your Business Manager
To add a Facebook Page to your Business Manager, open your Business Manager Settings. This is located on the top, right side of the page.
Click the "Pages" link in the left sidebar, and select "Add New Page."
Select one of the 3 options:
"Claim a Page",
"Request Access to a Page," or
"Create a New Page."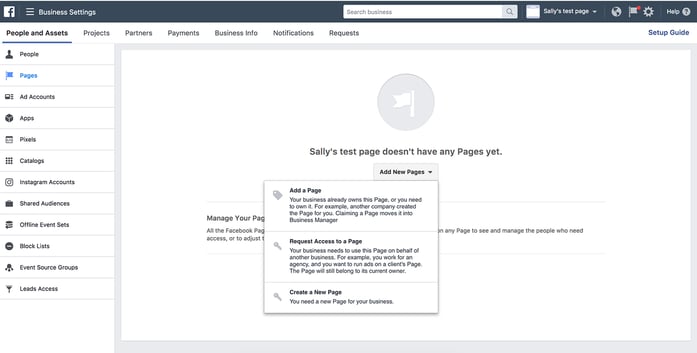 If you choose to request access or claim a page, enter the Facebook page name or the URL of that Facebook page.
If you choose to Create a New Page, go through the steps to create a new Facebook page.
Step 3: Add an advertising account to your Business Manager
To add an advertising account (or create one), open your Business Manager Settings (top right side of the page).
Click the "Ad Accounts" link in the left sidebar, and select "Add New Ad Account."
Here' you'll go through the same process as the last step by choosing one of the 3 options:
"Claim Ad Account,"
"Request Access to an Ad Account," or
"Create a New Ad Account."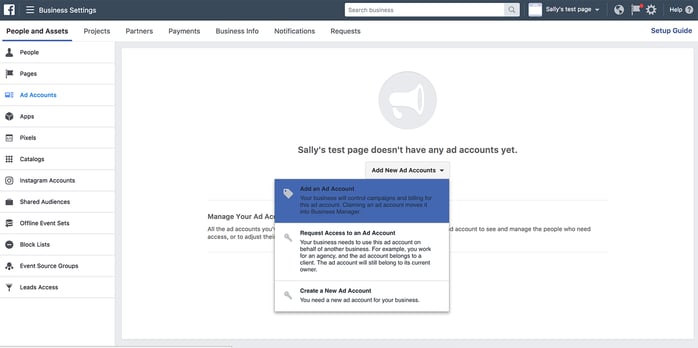 If you choose to request access or claim an ad account, enter the ad account ID that can be found by visiting Ads Manager. There, you'll click the Account dropdown menu. You should now see the ID number for your ad account.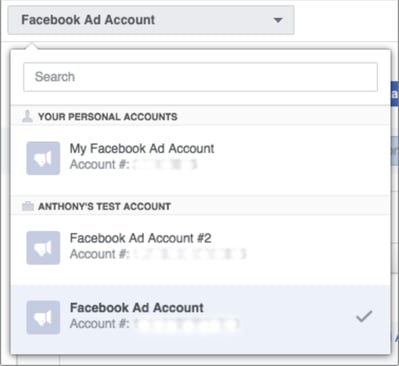 If you choose to Create a New Ad Account, go through the steps to create a new Facebook Ad Account.
Enter the Facebook ad account name (usually business name + Facebook ad account is fine), skip, and click done.
Before you can start advertising, you'll need to give Facebook additional account information and enter your credit card data.
Click "View Payment Methods" and add a new payment method on the next screen.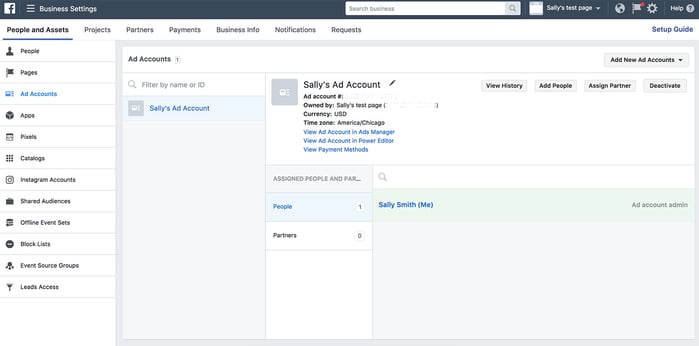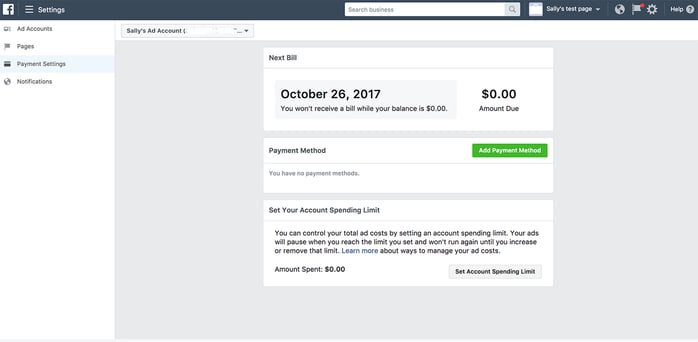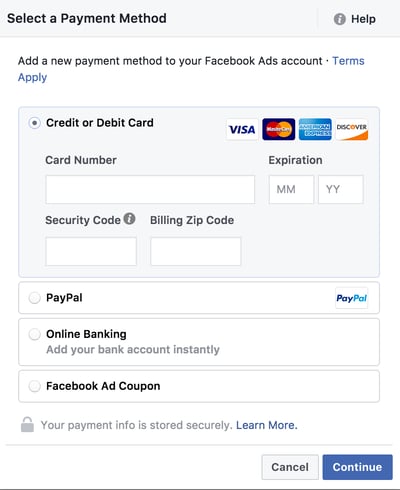 After all that work is done, it's time to create your first ad campaign.
Step 4: Start creating your first campaign
Open Business Manager at business.facebook.com.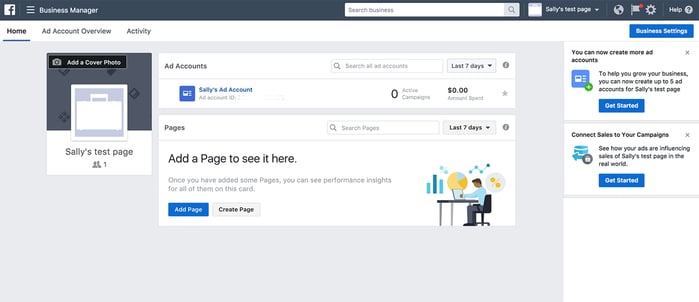 From here, you'll select the appropriate Ad Account and determine the goal of your campaign.
Awareness: If you want people to get familiar with your business name, create an awareness campaign.
Consideration: If you want to educate people throughout their consideration stage, create a consideration campaign.
Conversion: If you are looking to drive conversions, create a conversion campaign.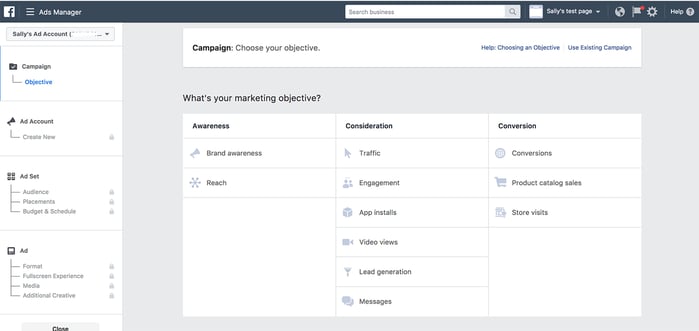 For this example, we will create a Consideration campaign, and we'll choose Traffic. This is a great campaign to choose if you want to drive more traffic to your website.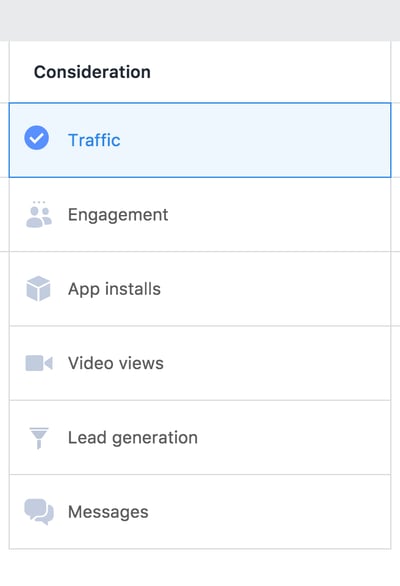 Give your campaign a name and click "Set up Ad Account."
Step 5: Determine your ad set and choose your audience
Next, you'll set up your ad set. This is where all of the targeting information is entered. Who do you want to see your ad?
Name your Ad Set – Ex: Ages 65+ in Mt Zion, IL (For this example, we'll call our Ad Set Location, Age, Radius.)
Choose to send traffic to your website and move down to the "Audience" section

Choose the city you are looking to target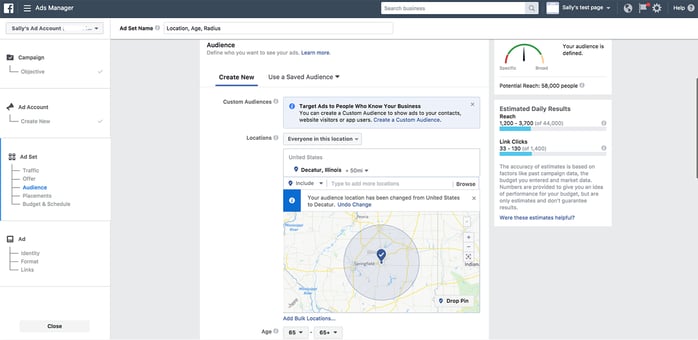 Define the age range and any exclusionary information necessary.
Click "Save Audience." (This audience will now be available to use from the "Use a Saved Audience" dropdown.)
Under the "Placements" section, you can choose where you want your ad to be displayed. Do you want it visible on Facebook only or on other sites also?

Step 6: Choose your budget
Next, under the Budget and Schedule section, select your daily budget. Facebook has daily minimums – usually $5.00 per day.
You can see how the Reach and Link Clicks on the right side of the page move according to what your budget is.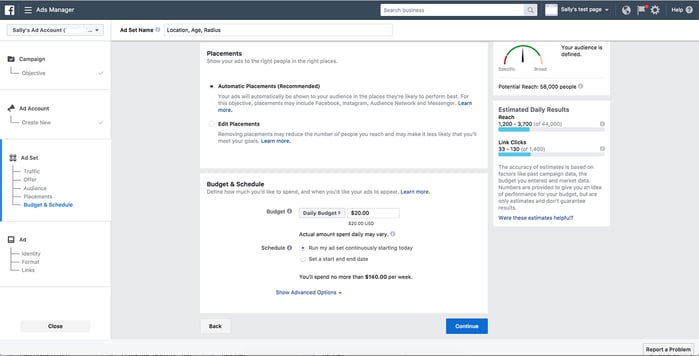 Step 7: Create your ad
Now, it's time to create your actual ad.
First, name your ad.
Then, you can either create a new ad or sponsor one of your existing posts. For this example, we will create a new ad.
Select your Facebook page under the identity section, and choose your ad format. We will select "Single Image" for this example.

Upload your image here.
Tip: The recommended image specs are as follows:
Image size: 1200 x 628 pixels
Image ratio: 1.91:1
To maximize ad delivery, use an image that contains little or no overlaid text (20% text is the maximum allowed. You can test your potential image by using this tool.)
A good place to start is to have an image with your logo or name only. The actual ad text can be entered outside of the image, within the Facebook Ad.
Enter or paste in your website URL. This will be the address of the page you want people to visit when they click your ad.
Next, enter your headline (40 characters).
Then, enter the corresponding text to explain what service or product you are promoting.
Select your "Call To Action." The option "Learn More" works great!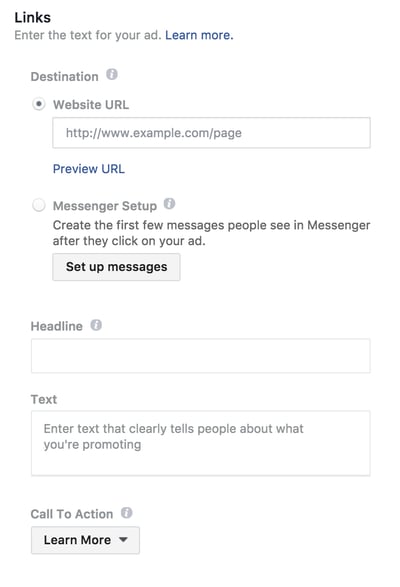 From here, you can either select "Review" to review your campaign, or you can click "Confirm" to place your order.

Make sure your payment information is entered, and voilà!
You will be notified by Facebook when your ad is approved and running.
Step 8: Monitor your ad's success
Depending on your goals and budget, you may want to check in on your campaign each day or let it continue to run until your traffic starts to go down.
After your ad has been running for a week or so, it's time to see how it's performing.
The Facebook platform is very powerful and has many tools and options. Because of this, it can honestly get very confusing. Facebook's Power Editor Platform will help you monitor the success of your ads, and we'll break down how to use it.
You can use Facebook's Power Editor to:
Review account results and trends on the Account Overview tab
Use new filters to customize the campaign items you see
Use new breakdowns to understand how your ads were delivered
You can review and confirm changes for individual campaign items
Changes are saved automatically so you can confirm them when you're ready
Create and export reports from any view

To get into the Power Editor, sign in to your Facebook account and click this link:
https://www.facebook.com/ads/manage/powereditor/manage/accounts.
You will see 4 different tabs containing specific information:
Account Overview: Information about your ad account

We will focus on this tab and the metrics included in the reports

Campaigns: Add and modify campaigns
Ad Sets: (used for adding and editing ad sets)
Ads: (used for adding and editing ads)
In the Account Overview tab, you will see metrics related to your ad campaigns.
This includes:
Link Clicks
Mobile App Installs

Number of mobile app installs (if applicable)

Post Engagement

Amount of engagement posts are receiving

Reach

How many unique viewers of your ad

3-Second Video Views

How many people have watched 3 seconds of your video (if applicable)

Website Leads

How many website leads have been received

Website Purchases

How many website purchases have been made

Website Purchases Conversion Value

Revenue received through website purchases (additional setup required)

Amount Spent

Amount spent on Facebook advertising

Unique Link Clicks

How many clicks have been from unique visitors
From this overview of your ad account, you can determine:
If you're spending the appropriate amount on ads,
If you're reaching the people you want to reach,
How many people are clicking on your ads,
If they're engaging with your ads,
And more.
In this example, we want to see if our ad is generating any engagement. We click "Post Engagement" and view the graph results.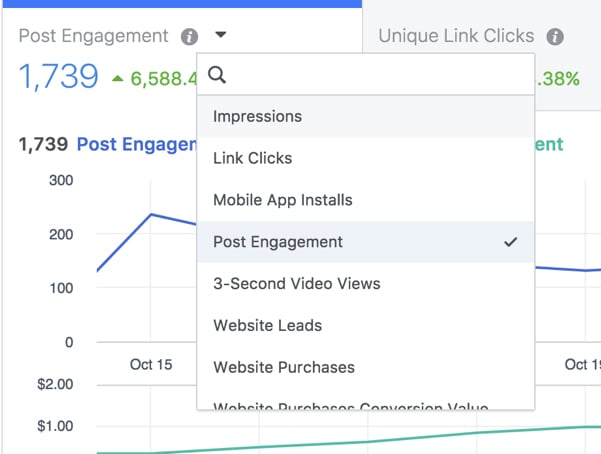 We can also click the next tab, "Unique Link Clicks," to determine how many people have actually clicked the link in our ad. As you can see in the following graph, you can also tell how your ad has performed over time. Is interest dying down or ramping up? How much is each click costing you?

If we go to the next tab, "Reach," we can see how many people have seen our ad. You might also notice the word "Frequency," which refers to how many times a person has seen the same ad.
Our frequency is at 2.44, which means that on average, the same person has seen this ad a little over 2 times. We like to see a frequency of 3-5. Anything more than 7, and people are seeing your ad too often – at that point, it's time to either pause the ad or change your audience.

Finally, the last tab, "Amount Spent," shows us how much we've spent on the ad so far. You can also see which days cost the most.

When you scroll down, you can also look at which ages and genders are responding to your ads the most. You can also see which times of day are the best to reach your target audience.

When you look at the location, you can see which countries are the most popular. In your case, assuming you're running ads locally, you'd want to see ads only in your region.


Keep a close eye on your ads, but don't make yourself crazy. We recommend checking it once a day at the most.
If you find that your ads aren't performing like you thought they would, we've put together a short guide that will help you improve them.
You're ready – it's time to start generating leads online! Good selling!