As an FMO, we're always looking for ways to support independent agents and help them grow their businesses.
That's one of the reasons we were so excited to become an Integrity Marketing Group partner. Our partnership allows us to collaborate with industry legends and offer more tools and resources to agents than ever before.
We're also able to support agents in new ways by integrating with Integrity's extensive infrastructure. So, what perks do you get as an independent agent?
Here are all the unique benefits our contracted agents are eligible for because of our incredible partnership with Integrity.
1. MedicareCENTER
MedicareCENTER is a powerful, easy-to-use system built to help senior market agents serve their clients better while boosting production and efficiency. It has evolved so much since its inception and is truly a powerhouse tool for senior market agents.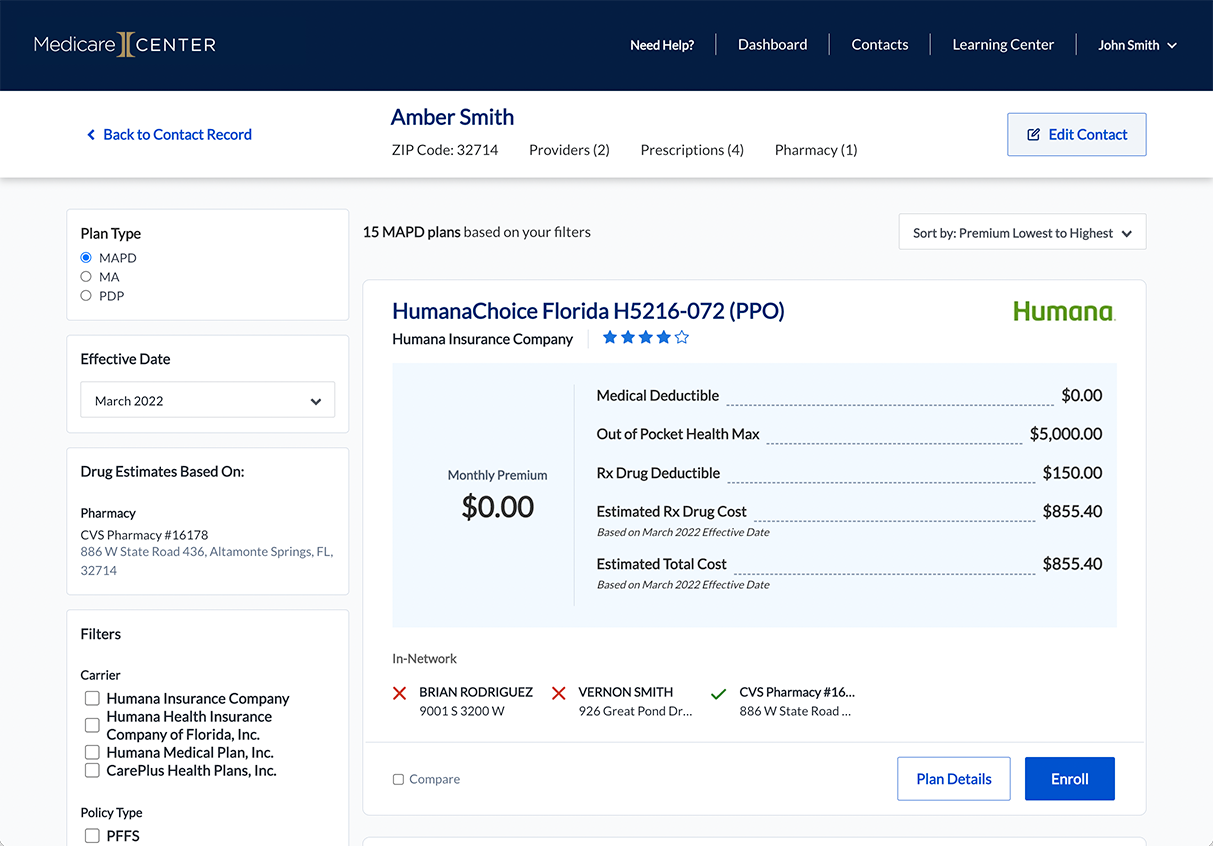 MedicareCENTER includes all of these features:
Call recording solutions
User-friendly CRM
Dashboards and reporting
Mobile apps
Lead management (via integration with LeadCENTER)
Side-by-side plan comparisons
Integrated quoting and enrollment for MA and PDP
Universal login – access MedicareAPP, MedicareLINK, CSG APP, and the CRM/Quoting/E-App system with one username and password
Easy-to-use interface
Insights from CSG, such as industry trends
Fully compliant and secure, protecting your information and following all CMS guidelines
In reality, this is a very expensive tool, but it's free to any agent who is contracted through New Horizons.
2. LeadCENTER
Need high-quality leads? Check out the new LeadCENTER, which integrates with MedicareCENTER.
In LeadCENTER, you can choose from a variety of lead types for multiple products (Medicare, final expense, etc.). These leads are sourced from a variety of channels including direct mail, social media, and search engines.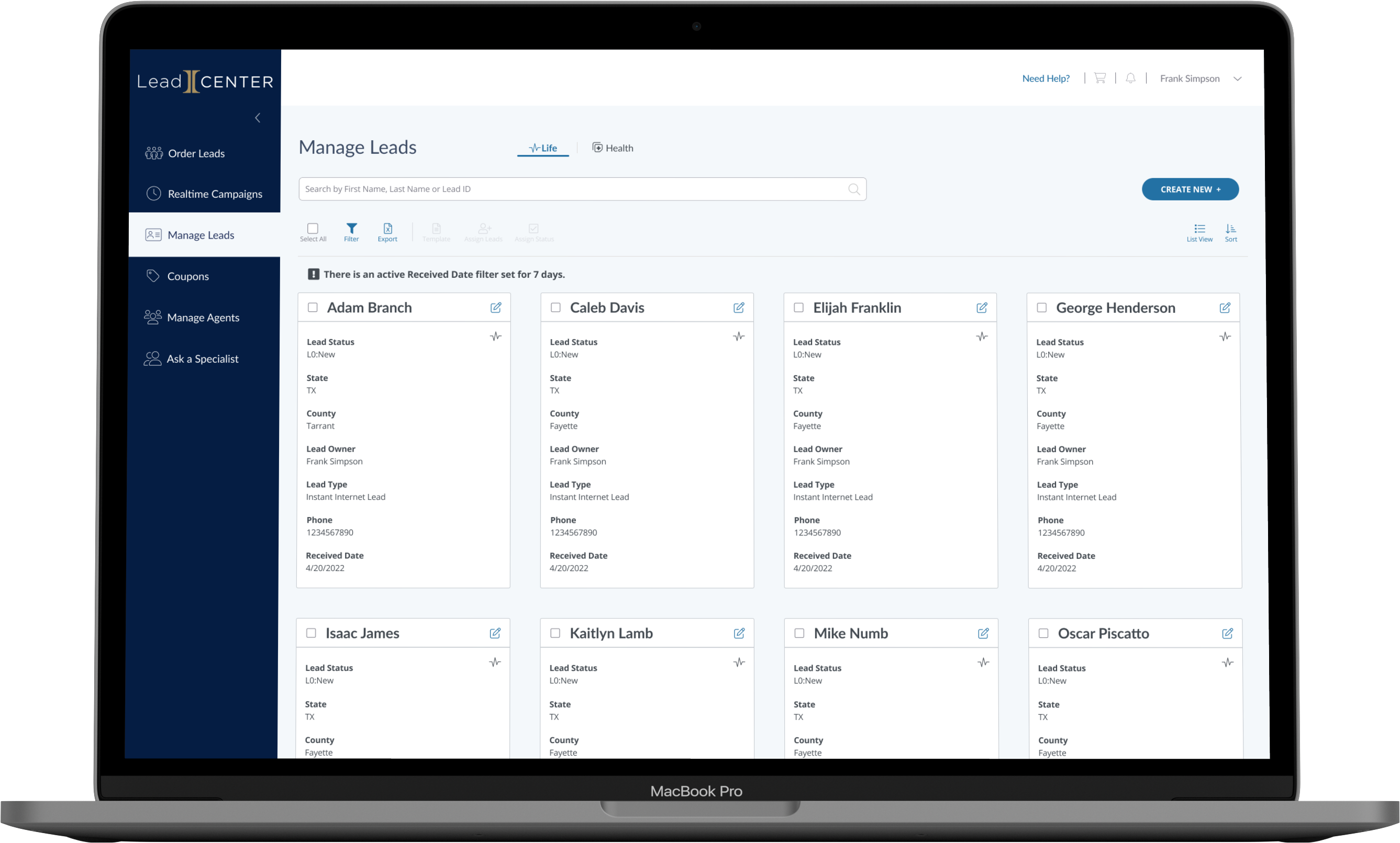 The best part is you can track all of your lead information using the built-in CRM. Leads are affordable, thanks bulk discounts and a "buy-per-lead" (BPL) model. Integrity LeadCENTER works directly with lead providers as well as their own proprietary sources to offer the newest and most exclusive leads nationwide.
As long as you are a contracted agent with New Horizons, you can get access to LeadCENTER. Your login is the same as your MedicareCENTER username and password.
3) CSG Trends & Insights
CSG Actuarial not only does quoting, but they provide agents with market data, too. In the past, these tools were very expensive, but now that CSG is an Integrity partner, you can access them all for no cost.
When you log into MedicareCENTER, click on CSG App, which is now under the dropdown when you click on your name.
You will be redirected to the full suite of CSG tools, including Market Pulse and Market Edge.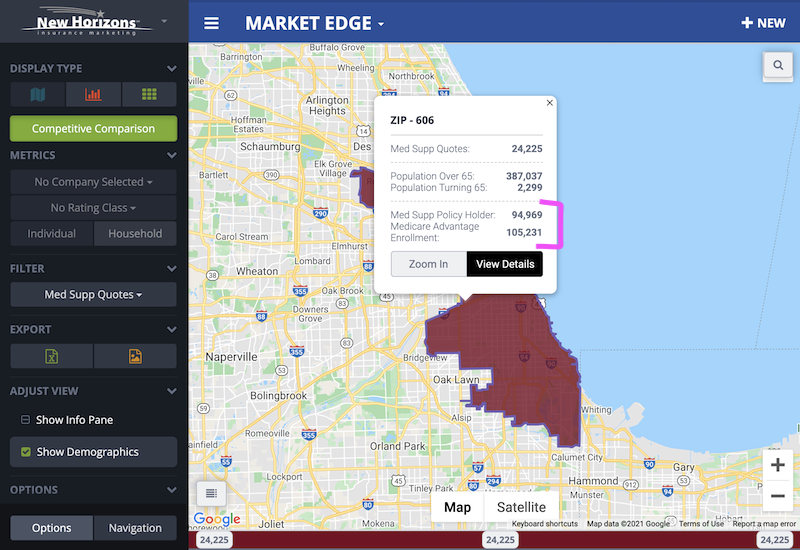 Check out our previous blog to learn more about these high-value tools: How to Use Market Edge to Find Hidden Opportunities In Your Market
4) Exclusive DEFT Research Webinars
DEFT Research is now an Integrity partner as well, allowing us to have quick access to key insights. When DEFT releases a new report that's especially useful for independent agents, we partner up and host a live webinar so you can get access to this valuable information.
These reports are very expensive, but thanks again to the power of the Integrity platform, you can learn from them at absolutely zero cost.

Check out our previous webinar recording with DEFT Research here.
5) Exclusive Industry Events
Integrity puts on some incredible events for its agents and agencies that bring us all together and allow us to learn from some of the best in the business.
In the past, we've enjoyed MedicareLIVE!, which prepared all of us for AEP. This one-day virtual conference featured the top names and experts in health insurance.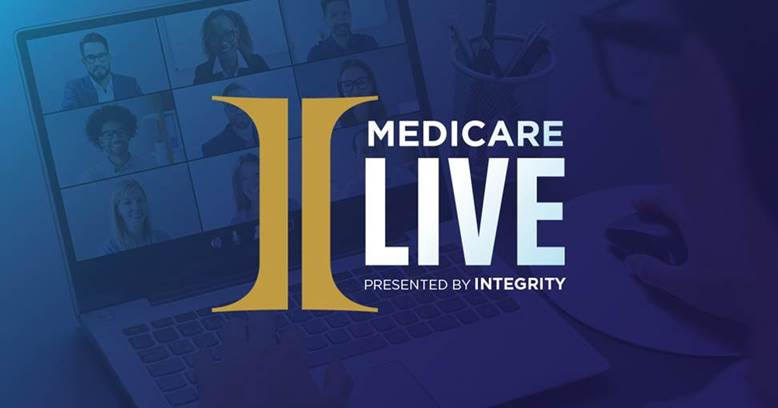 We've also had the opportunity to join in on a three-part Annuity Cross-Sell Training, hosted by industry leaders Doug McDermott, Sean Ruggiero and Mark Williams.
These exclusive industry events help all of us learn from the pros and truly feel like part of a bigger team and mission. We are all in this together!
6) Integrity-Exclusive Carriers
As an Integrity partner, we have access to carriers who choose to do business exclusively on the Integrity platform. Access to brand new carriers with innovative products and fantastic rates gives you the competitive edge you need to be successful in your market.
Exciting launches like Accendo/CVS Health, Lumico Medigap Solutions underwritten by Elips Life, the brand new look of Medico, American Benefit Life (ABL), and ACE Medicare Supplement are what help us stand out and stay very competitive.

There are even more exciting launches in the pipe that you can only get access to when you work with an Integrity partner. We are so excited to be on the platform!
Related Reading: Getting Started with New Horizons
7) Integrity-Exclusive Bonuses
Since you now have access to Integrity-exclusive carriers, you also have access to their incredible bonuses!
Some of the highest bonuses in the industry are coming from our carrier partners, helping you grow your business as you serve Americans every single day.
You can always visit our Contests & Incentives page to see what bonuses are going on right now.
8) Top Commissions
Thanks to our partnership with Integrity Marketing Group, we are at the highest level when it comes to commissions. Rest assured that no matter what product or carrier you're interested in, our organization can offer the absolute best commission available.
For specific commission information, simply give us a call and we'll verify your compensation level.
Read more about what makes us different: Why Us?
Related: How Do FMOs Get Paid?
9) Even More Marketing & Training Materials
Since our partnership with Integrity Marketing Group, we've gained access to the extensive marketing team at Thomas Arts. We've been able to rev up how many marketing materials we develop and make available to our agents.
We also have the ability to put everything through their fantastic compliance team, helping you have full confidence that you're abiding by CMS rules and regulations.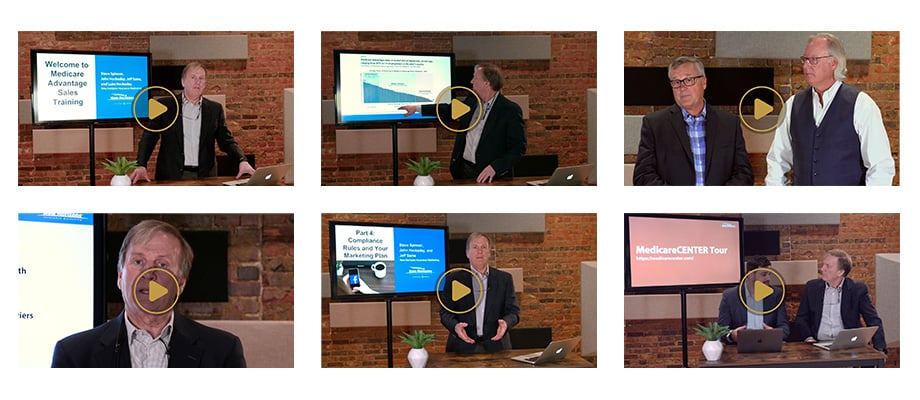 For example, since our partnership, we've worked with Thomas Arts to develop and update:
We always have more exciting marketing materials in the works and are excited to give you the tools you need to generate leads and nurture your existing clients.
10) CSG Consumer Quoter
As an active producer, you can get free access to the CSG consumer quoting tool!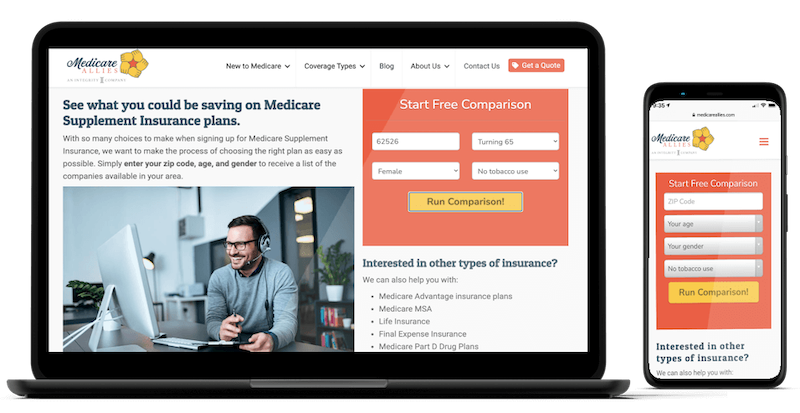 The CSG consumer quoter, built to turn website visitors into qualified Medicare Supplement leads, has a ton of great features:
Custom branded to match your website's look and feel
Website visitors can run their own Medicare Supplement quotes
Adding the HTML code to your site is easy
You choose which Medicare Supplement plan is your preferred default
You choose which carriers and states will appear
To get access to this custom tool, you do need to be an active producer (not just contracted). Our team will check your recent production to ensure eligibility for this service.
Conclusion
As a senior market FMO, we truly believe in the power and strength of the independent insurance agent. Consumers want that one-on-one personalized guidance and help, and our mission is to give you the tools and resources you need to do that efficiently and effectively.
From LeadCENTER, which helps you purchase high-quality leads, to MedicareCENTER, which is changing the way we work AEP, we are so proud to offer so many unique agent perks.
If you aren't yet doing business with us, reach out to us! We have a live chat available during normal business hours, give us a call at 888-780-7676, or schedule a product consultation to get personalized recommendations and guidance.
Good selling!