As an FMO, we're always looking for ways to support independent agents and help them grow their businesses.
That's one of the reasons we were so excited to become an Integrity Marketing Group partner. Our partnership allows us to collaborate with industry legends and offer more tools and resources to agents than ever before.
We're also able to support agents in new ways by integrating with Integrity's extensive infrastructure. So, what perks do you get as an independent agent?
Here are 7 unique benefits all of our contracted agents are eligible for because of our incredible partnership with Integrity.
1) MedicareCENTER
MedicareCENTER is powerful, free, and everything you need to increase your Medicare production.
In reality, this is a very expensive tool, but it's free to any agent who is contracted through New Horizons.
With MedicareCENTER, you can:
Enroll your Medicare Advantage, Part D, and Medicare Supplement clients from one convenient place.
Enjoy a single sign-on where you can access all of your carriers, quoting, e-applications, drug lists, and more with one username and one password.
Text scope of appointments, allowing you to complete this required paperwork in a fraction of the time, all while storing it conveniently and compliantly.
Increase your efficiency, because MedicareCENTER drastically speeds up your entire Medicare sales process, allowing you to serve more clients in less time.
MedicareCENTER also includes a simple CRM and a learning center with sales tips, remote working advice, tech guides, and more.
2) T65 Locator
Looking for Medicare leads but you don't want to break the bank? Our free T65 Locator helps you discover seniors turning 65 in your area. Just drag and drop the blue location pin to uncover sales opportunities anywhere across the United States.
With the T65 Locator, you can:
Reveal every senior turning 65

in the next 12 months – just drag and drop the blue location pin to expand and refine your search
Reach the T65 market before your competitors –

gain the competitive edge

you need in Medicare sales
Efficiently

send direct mailers and personalized postcards

to individuals turning 65 in your zip code without guessing their age or timeline
Get names and addresses for qualified senior leads

in your area at absolutely no cost
Make

personal connections

with local T65 prospects at the perfect time
Read more about how to use this tool here: How to Use the T65 Locator (and Why Agents Love It)
3) Exclusive Industry Events
Integrity puts on some incredible events for its agents and agencies that bring us all together and allow us to learn from some of the best in the business.
Now an annual event, MedicareLIVE! is THE premier insurance event to prepare you for AEP and make a huge difference to your business. This one-day virtual conference features the top names and experts in health insurance.
We're all looking forward to:
Opening Keynote

from Integrity Co-Founder & CEO Bryan W. Adams
Medicare Advantage Carrier Panel, including top carriers
Med Supp Carrier Panel

featuring top carriers
Consumer Insights

presentation by Deft Research
Women in Leadership

Panel Discussion, moderated by Integrity's Chief Marketing Officer Anne Wood
Cross-Selling Panel

featuring industry leaders
Agent Breakout Sessions

that will help you win at AEP this year
As an agent with New Horizons, you are invited to this virtual event – reserve your spot!
4) Integrity-Exclusive Carriers
As an Integrity partner, we have access to carriers who choose to do business exclusively on the Integrity platform. Access to brand new carriers with innovative products and fantastic rates gives you the competitive edge you need to be successful in your market.
Exciting launches like Accendo/CVS Health, Lumico Medigap Solutions underwritten by Elips Life, the brand new look of Medico, and American Benefit Life (ABL) are what help us stand out from the crowd.
There are even more exciting launches in the pipe that you can only get access to when you work with an Integrity partner. We are so excited to be on the platform!
Related Reading: Getting Started with New Horizons
5) Top Commissions
Thanks to our partnership with Integrity Marketing Group, we are at the highest level when it comes to commissions.
Rest assured that no matter what product or carrier you're interested in, our organization can offer the absolute best commission available.
For specific commission information, simply give us a call and we'll verify your compensation level.
Read more about what makes us different: Why Us?
Related: How Do FMOs Get Paid?
6) Even More Marketing Materials
Since our partnership with Integrity Marketing Group, we've also gained access to the extensive marketing team at Thomas Arts. We've been able to rev up how many marketing materials we develop and make available to our agents!
For example, since our partnership, we've worked with Thomas Arts to develop:
We have many more exciting marketing materials in the works and are excited to give you the tools you need to generate leads and nurture your existing clients!
7) CSG Consumer Quoter
Finally, the newest addition to our list of unique agent perks is free access to the CSG consumer quoting tool!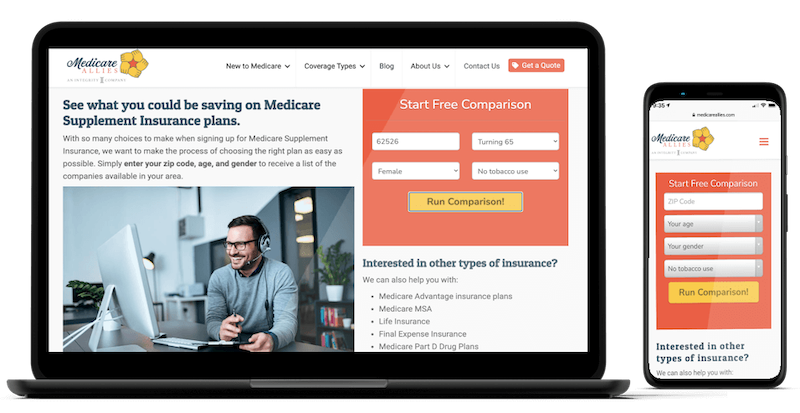 The CSG consumer quoter, built to turn website visitors into qualified Medicare Supplement leads, has a ton of great features:
Custom branded to match your website's look and feel
Website visitors can run their own Medicare Supplement quotes
Adding the HTML code to your site is easy
You choose which Medicare Supplement plan is your preferred default
You choose which carriers and states will appear
To get access to this custom tool, you do need to be an active producer (not just contracted). Our team will check your recent production to ensure eligibility for this service.
Conclusion
As a senior market FMO, we truly believe in the power and strength of the independent insurance agent. Consumers want that one-on-one personalized guidance and help, and our mission is to give you the tools and resources you need to do that efficiently and effectively.
From the T65 Locator, which helps you identify prospects near you, to MedicareCENTER, which is changing the way we work AEP, we are so proud to offer so many unique agent perks.
If you aren't yet doing business with us, reach out to us! We have a live chat available during normal business hours, give us a call at 888-780-7676, or schedule a product consultation to get personalized recommendations and guidance.
Good selling!