If you're a newly contracted agent with us, we want to extend the warmest welcome. If you're thinking about working with us, this video is for you.
We'd love to give you a quick tour around to show you who we are and the resources and tools we have for you.
Watch this video to meet our staff and get a tour of the most helpful areas on our website:
---
Blog & Resources
If you haven't really explored our blog yet, we encourage you to take a look around. We have over 400 in-depth articles on a variety of subjects.
Plus, when you visit our blog page, you can filter the articles by category. Just click on the topic you're interested in, and you're good to go.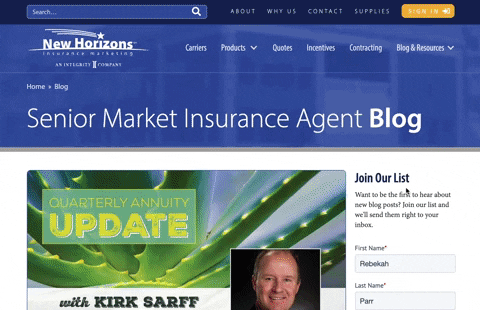 Some of our most popular categories include Medicare Supplements, Annuities, Marketing, and Sales Tips.
Announcements
For time-sensitive updates, check out our Announcements page. Anytime we get a notification from a carrier, we post it here. From product launches to rate increases, it's all right here.
You don't have to jump from portal to portal to find this stuff, which is nice.
We also have a texting option – just fill out the form on that page to be texted every time there's a new announcement.
Webinar Calendar
We've just revamped our Webinar Calendar where we post all sorts of events and webinars from a variety of vendors and carriers.
From product training to sales tips, you're able to browse upcoming webinars and see if something catches your eye.
Carriers often hosting webinars include Aetna, Accendo, SILAC, and Medico.
New Horizons events will appear in a yellow highlight.
Marketing Materials
Our marketing materials are incredibly popular! We have marketing assets for all kinds of product lines, including LTC, Med Supp, Medicare Advantage, Annuities, and more.
Our most popular materials include the final expense leave behind, life with LTC letter, and Med Supp and Part D postcard and email template.
If you're a contracted agent with us, we'll customize any of them for you for free.
At the bottom of each sheet, we'll put your contact info, logo, headshot – just let us know what you want on it, and we'll be happy to help!
Training & Tip Sheets
We have developed a ton of training programs and tip sheets for independent agents in senior market sales. You can access these on our Training & Tip Sheets page.
We've recently come out with several training hubs:
We're working on an annuity training hub as well. Be sure to subscribe to our newsletter to get notified!
Incentives
On our Incentives page, we've compiled every carrier incentive we can find. If a carrier is having a trip or bonus program, we list it here.
We also make a point to compile Medicare Supplement cash bonuses, and we update that tip sheet quarterly.
Product Pages
Our product pages are incredibly in-depth – use them as a resource!
We share why each product is unique, state availability, quick access to the carrier portal, current incentives, and more.
Check out CVS Health/Accendo's Medicare Supplement page as an example.
Quoting Tools
Be sure to register and sign in to our website. Then, you'll have access to our quoting tools. If you're appointed with us, that access is free for life.
Our quoting tools are powered by CSG Actuarial, and they offer quotes for Med Supp, Med Advantage, Final Expense, Hospital Indemnity, and Dental.
T65 Locator – Free Turning 65 Leads
Looking for Medicare leads but you don't want to break the bank? Our free T65 Locator helps you discover seniors turning 65 in your area. Just drag and drop the blue location pin to uncover sales opportunities anywhere across the United States.
This tool is free for any agent who is contracted with us!
MedicareCENTER
Also, be sure to check out MedicareCENTER.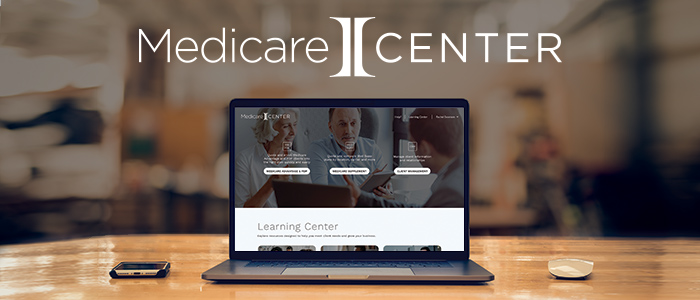 It's a must-have system for agents who sell Medicare Advantage and PDP. It offers enrollment tools, text scope of appointments, a CRM, universal login, and more.
We also have webinars about how to use this tool – you can learn everything you need to know on our MedicareCENTER page.
CSG Tools
E-apps, data analysis, quoting tools, competitive analysis heat maps, and an exclusive website plugin to capture Med Supp leads.
It's all available to contracted agents at no cost to you.
New Horizons Staff
Finally, we want you to know who your points of contact are when you work with us.
Here's a brief introduction to the different departments in New Horizons:
Don't be shy – reach out to us when you have questions or need help! You can reach out directly to our staff members above, or you can start a website chat during regular business hours (8 a.m.–4:30 p.m. CT).
We can't wait to help you – that's what FMOs are for!
Website Tour Webinar Recording
Conclusion
There you have it! Again, we want to welcome you to New Horizons.
If you ever need support or help, you can call us at 888-780-7676 or start a chat on our website during regular business hours. Thank you so much for working with us, and we look forward to making your job a heck of a lot easier.
Related articles: