Disclaimer: Interest rates change often. This article will be updated on a quarterly basis, but rates may change between those updates. At any time, you can review current annuity rates here, and you can download our 5-Year Annuity Tip Sheet, which is updated regularly, here.
---
There haven't been any massive shifts in the annuity landscape over the last quarter, but perhaps a small difference is stability. Fixed annuity rates aren't jumping around quite as much – for the most part, rates are holding the line.
Join me for a quick quarterly annuity update, including an exciting new update to our website that you won't want to miss.
New to Annuities? Where to Start
Before I get into the updates for our existing producers, I wanted to share a message to any agent who has never sold an annuity.
Start with one carrier and one product. Don't get contracted with five different carriers and try to learn all the products they offer – just start with one!
If I had to pin one down, I'd choose either the Liberty Bankers 3-year plan or the SILAC 3-year plan.
These are clean, 3-year plans with set rates that are very competitive. Plus, these two carriers are very easy to do business with, and they have excellent service. That's where I'd start every time.
Read our latest annuity article: 3 Med Supp Agents On Why They Cross-Sell Annuities
Short-Term MYGAs Are Still Hot
As we head into the third quarter, we're still seeing that shorter-term MYGAs are very competitive. Some 3-year rates overshadow the 5-year rates, which tells us companies aren't getting out too far ahead.
It's a great time to talk to clients about their money, particularly for agents who have never written an annuity and clients who have never had one before.
You can get into a short term for a very competitive rate around 5%.
FIA Renewals Are Coming In
In the FIA market, caps and par rates have held firm. We're also seeing some renewals come in now that have shown nice gains.
I have agents that share those with me, and their client's annual statement shows that they're enjoying some gains in their accounts. That's all very encouraging news.
All in all, even with the stock market's volatility – and as of today, it's really going down – our market has been pretty darn stable.
Carrier Delays Have Slowed Down
The carrier delays we experienced over the last few months have subsided.
Summer is usually a slower time, and most of our carriers have had a chance to catch their breath and process business a bit better.
Check Out Oceanview
We have added a new A-rated carrier to our portfolio called Oceanview. Oceanview is not new to the market, but they're new to us, and it's definitely a carrier worth looking at.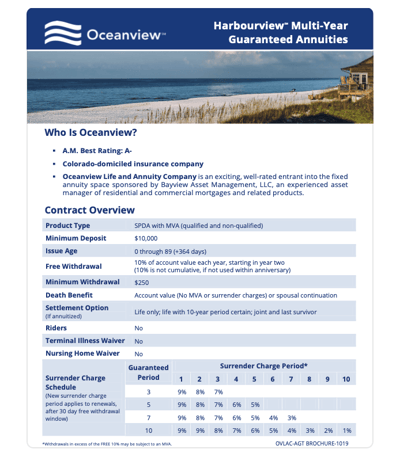 Check out their product highlight sheet
Their rates are very good, and a huge selling point is they have some built-in features. Their rate includes the 10% free withdrawal and full account value at death for the beneficiary. Those two items right there are all-inclusive, and they're a big deal for clients.
I know it takes time for agents to get used to a new name that we introduce, but this is a carrier we should all be looking at more.
New Annuity Rates Tool
Our marketing team is always working on creating new materials and making annuity sales easier for all of us.
The most exciting update from the past quarter is a brand new annuity rates tool! (You must be signed in to access this page.)
This tool allows you to quickly see rates and product information for our most popular fixed annuities. It's also sortable so you can quickly see which products have the highest rates.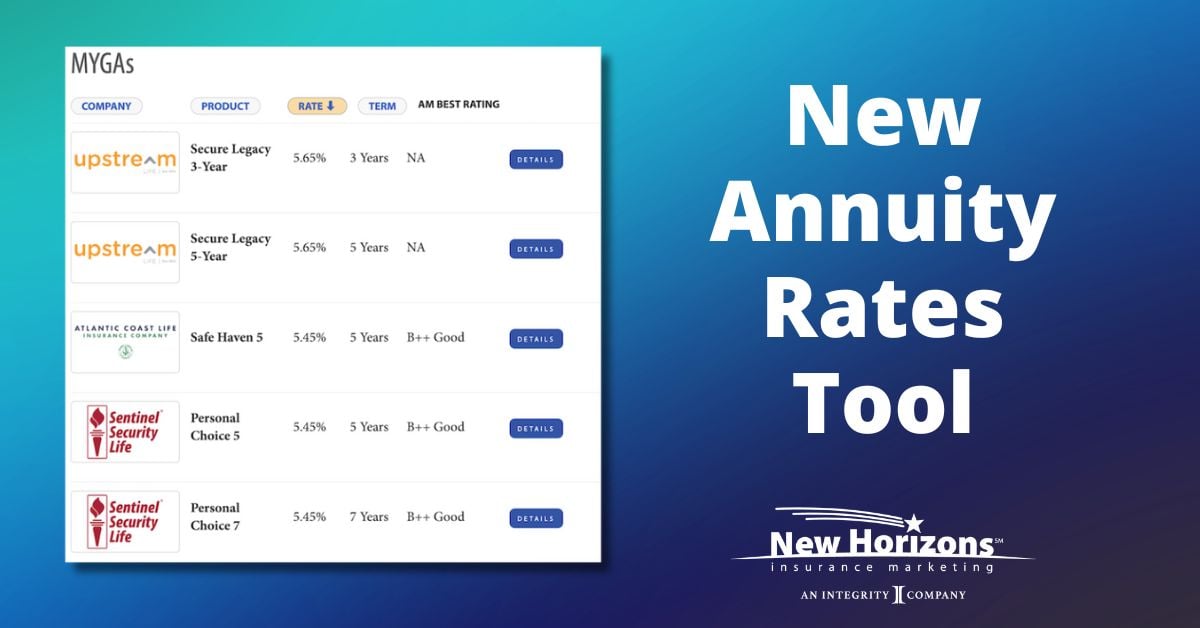 Future Outlooks
As we inch towards the AEP, I don't foresee any big changes in the annuity industry.
While we don't know the future, I feel like we're in a "hold-the-line" atmosphere. That's what I'm seeing, anyway.
Time will tell.
Conclusion
It sounds like a sales pitch, but I mean it – there has truly never been a better time to start selling annuities. These rates are incredible.
Start with one or two carriers, get very comfortable with them, and go from there.
You can set up a call with me by clicking on the banner below, and I'll help you get started: