Many of our most successful senior market producers offer annuities to their clients. It's a very lucrative product to offer, and we're passionate about how much it helps our target market.
If you're thinking about dabbling in annuities, June – Annuity Awareness Month – is the perfect month to start.
With the help of the marketing team here at New Horizons, we've gathered up 8 easy marketing ideas to help you join the larger conversation going on about annuities. Plus, most ideas are free to implement!
You Don't Need to Be an Expert to Start
Before we get into our 8 annuity marketing ideas, I just want to reiterate that you don't need to be an annuity expert to start offering annuities to your senior clients.
Check out our annuity training hub so you're coached up on the basics, and lean on me (Kirk Sarff) for support! I'll even get on the call with you during your first appointment to help you through it.
Our FMO is passionate about relationships and service, so please know that you can start offering annuities right now, and you won't be in this alone.
1. Add a Simple Line to Your Email Signature
Every independent agent sends email, and annuities are often sold to existing clients who know, like, and trust you.
What better way to draw attention to the fact that you offer annuities than by adding it to your email signature?
It can be as low-tech as a simple phrase, like "June is Annuity Awareness Month – ask me about no-fee, competitive interest options!" or as high-tech as a button to schedule an annuity consultation with you on your calendar.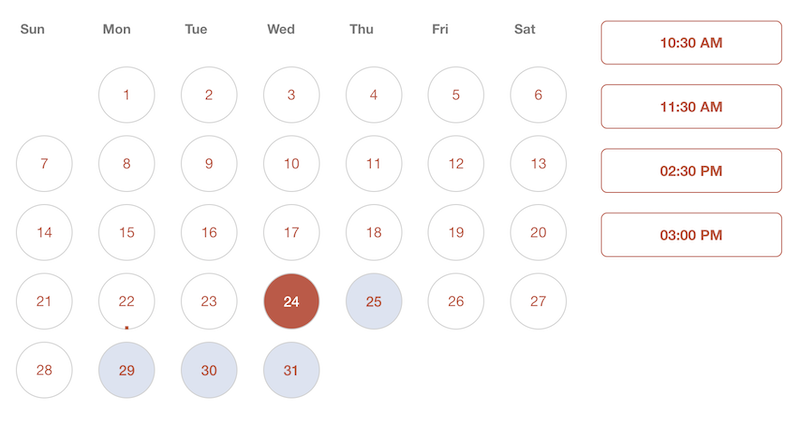 You can learn more about appointment setting software here.
2. Add an Annuity-Focused Slide to Your Lobby TV Monitor
If you have an office with any kind of lobby or entryway (that has a TV), add an annuity-focused slide to it!
In our local agency, we have a slideshow going that features fun Medicare facts, products we offer, the history of our agency, and anything timely – like Annuity Awareness Month in June.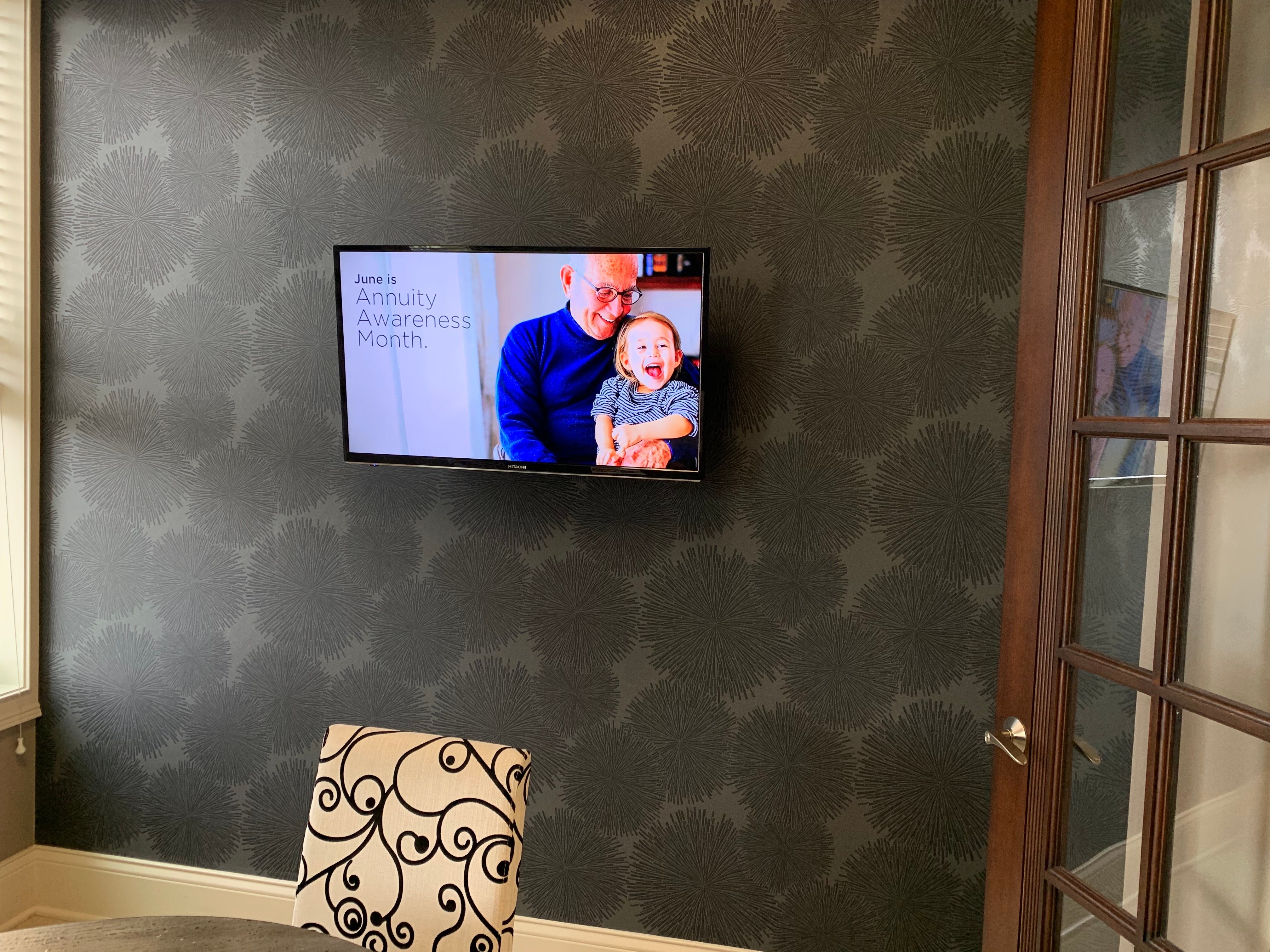 It's a nice way to educate our clients and give them something to look at while they're waiting for their appointment.
Note: We used one of the social media images found in the below marketing kit:
3. Give Your Clients an Annuity Flyer
Even if you don't plan to talk to a client about annuities during an appointment, you can send them home with a flyer highlighting annuities.
We've created a Bank CD vs. Fixed Annuity Flyer you can customize with your contact information and logo.
This handout covers the differences between low-interest bank CDs and the more competitive rates of fixed annuities.
You can put this poster in your office, hand it to clients during an appointment, or include it in your policy delivery process.
4. Spread Annuity Awareness on Social Media
Take advantage of pre-designed social media assets to join the annuity conversation during Annuity Awareness Month.
Facebook posts, LinkedIn posts, and quick start guides are included to help you get set up on social media and start spreading the word about annuities.
I recommend scheduling all of your Facebook posts ahead of time so you can get your posts for the whole month done in less than 5 minutes.
Go to your Facebook page and click on Meta Business Suite.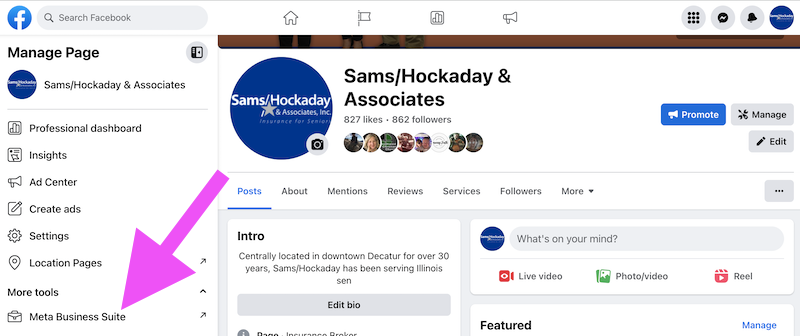 Then, click on Planner.

Now, you can schedule all of your Annuity Awareness Month posts!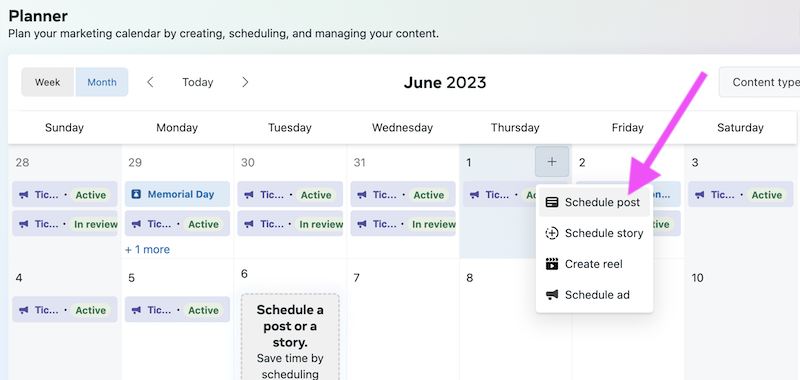 Related Reading: The Ultimate Guide to Selling Annuities In the Senior Market
5. Add a Timely Intro to Your Email Newsletter
If you send an email newsletter to your clients, consider including a timely introduction that calls out Annuity Awareness Month.
Here's a sample introduction you're welcome to copy and paste:
Dear <First Name>,

June is Annuity Awareness Month, a time of year where we focus our attention on the important role of annuities as part of a secure retirement savings plan.

I offer many types of annuities that have no fees, competitive interest rates as high as 5%+, safety of principal, and even options for lifetime income. Simply reply to this email if you're interested in learning more about annuities.
6. Change Your Zoom Virtual Background
If you do any virtual appointments with clients, consider changing out your Zoom background to call out Annuity Awareness Month.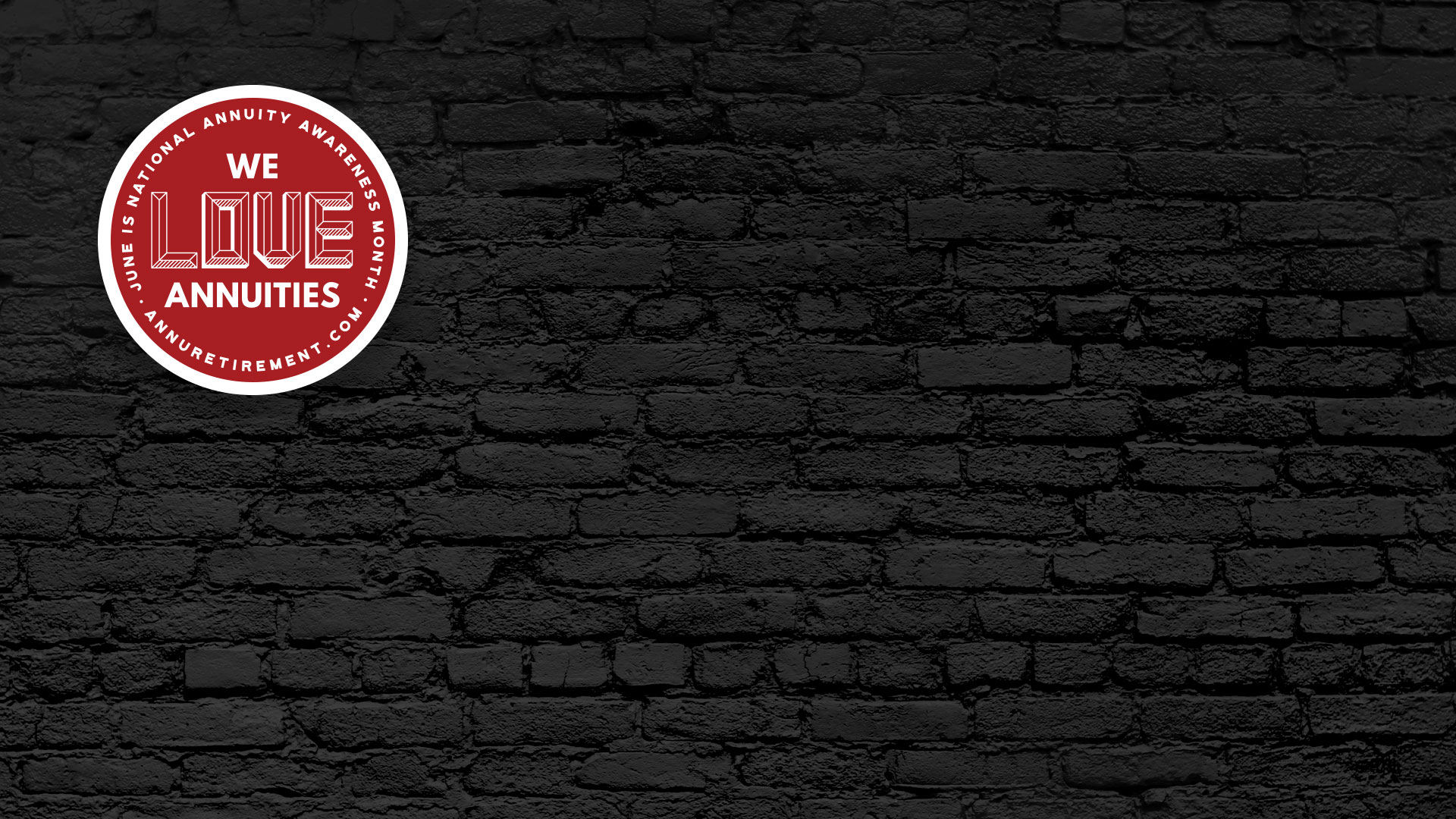 It's an incredibly simple marketing idea that takes about 30 seconds to implement.
First, download one of these three Zoom backgrounds provided by the Coalition for Annuity Awareness:
Here's how to add your new Zoom background:
Open your Zoom desktop app and sign in.
Click your profile picture and click "Settings."
Select "Backgrounds & Effects."
Add your image by clicking the plus icon and clicking "Add Image."
Select your image.

7. Update the Text on Your Website's Homepage
If you have a website, change out the text on your homepage for the month of June.
For example, if your homepage typically says something like, "We Make Medicare Easy," replace it for the month of June to say, "June is Annuity Awareness Month."
You can also join the world of AI to brainstorm different eye-catching headlines (not all are perfect, but it'll give you some new ideas):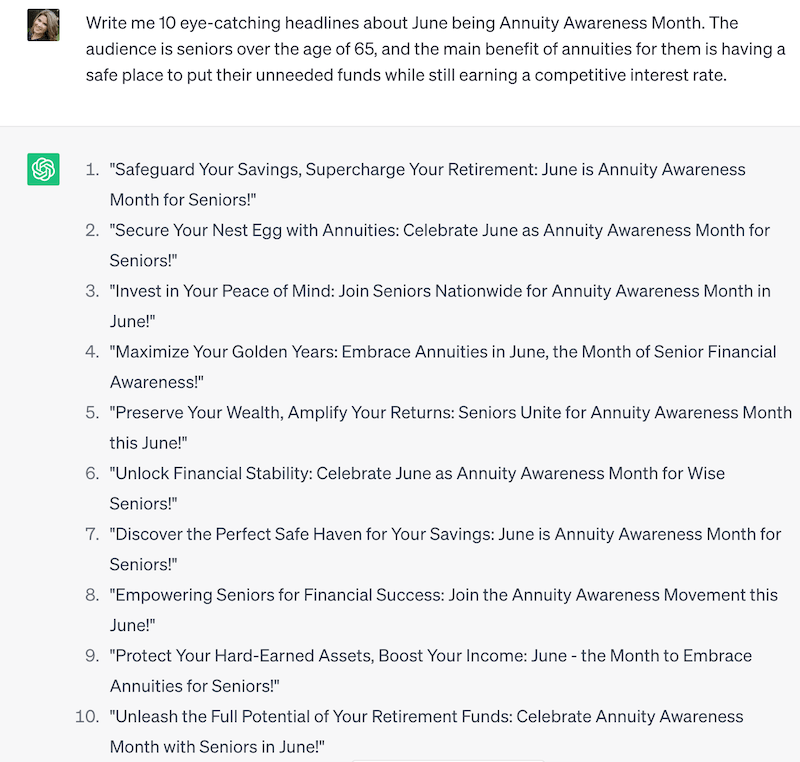 Updating your website is a fast and easy way to stay relevant and let your visitors know you offer annuity solutions. You could also share a post on Facebook about Annuity Awareness Month and pin it!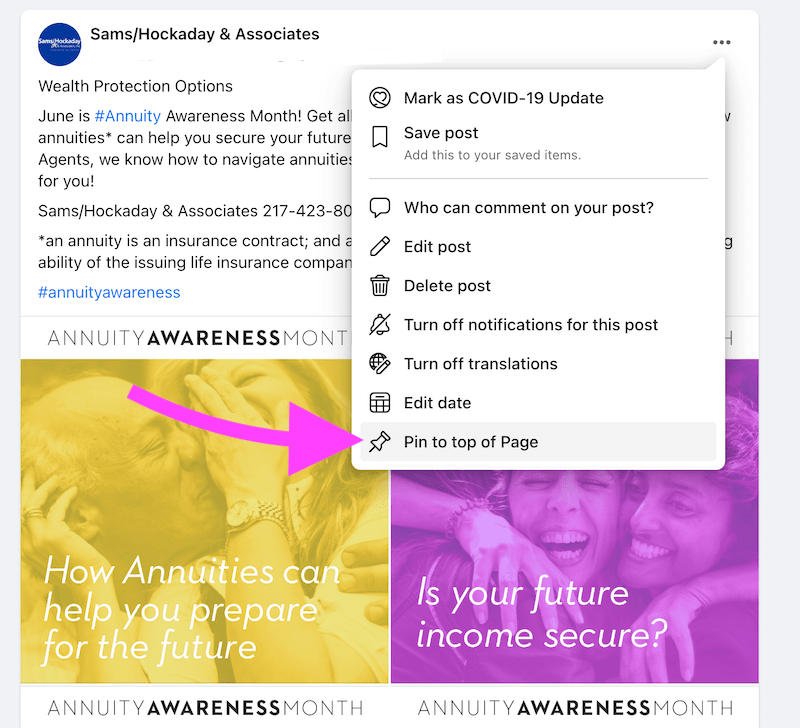 8. Browse the Toolkit from the
Coalition for Annuity Awareness
In 2015, the Coalition for Annuity Awareness launched AnnuRetirement, an impartial, informative website consisting of positive and accurate messages regarding the features and benefits of annuities available free to the public.
This website includes several resources for industry professionals, including a toolkit for use with consumers.

The toolkit includes flyers, a booklet, a presentation, posters you can hang in your office, tons of social media graphics, and a social media profile frame.
Bonus Tip: Embrace Questions 9 and 10 on the Client Needs Assessment.
Talking about money and investments with clients can intimidating, but the Client Needs Assessment makes it a lot easier.
If you aren't already, during the month of June, challenge yourself to embrace Question #9 and Question #10 on the Client Needs Assessment.:
Are you satisfied with the present rate of return on your investments?
Do you have a 401(k)?
These questions are the perfect lead-in to educate your clients about the advantages of a fixed or fixed index annuity.
You can learn more about the assessment and how to tackle these questions here: The Ultimate Guide to Cross-Selling
Conclusion
Take part in annuity awareness month this year!
Clients will see annuities mentioned everywhere, and if they are going to get one, they should get it from YOU!
Need to learn more about annuities before you start selling them? Check out our free annuity training hub: