Insurance technology is evolving rapidly. While captive P&C agents and agencies are accustomed to more advanced tools, the senior insurance market has a little more catching up to do. I'm specifically talking about the independent senior market agent or broker.
Originally published February 25, 2020. Updated April 12, 2022.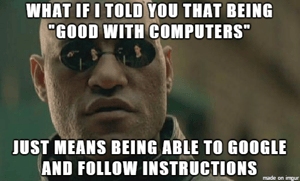 You've done just fine up to now without being a techie, or "good with computers," so why should you care now? Why not continue using paper files and sticky notes?
The whole point of implementing new technology is to make you more efficient, and to make it easier for your clients to work with you.
As daunting as technology can be, there are dozens of software solutions out there that can help solve some of your business problems, including ones you may not even be aware of.
Table of contents:
A Brief Word of Wisdom About Adding Tech to Your Business
As someone who loves asking "what does this button do?", I'm constantly checking out new technology offerings, so I do want to address one thing: resist the urge to chase shiny objects!
It's very easy to get excited about the latest and greatest technology available. However, one thing I've learned over the years is that what's here today may not be here tomorrow. Plus, adding too many new tools all at once can become more of a chore than a help.
What I want you to take away from this insurance technology guide is that there are ways to solve common pain points in your business. Without technology, our own operations would be disorganized and hectic. However, realize that you don't need tech for absolutely everything.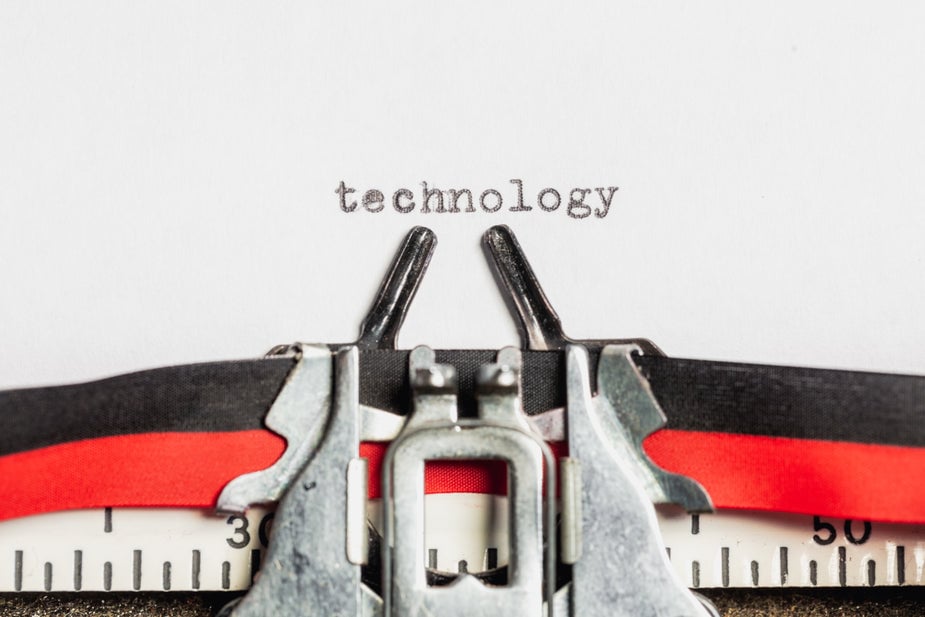 Start with a problem you have, or an opportunity you recognize. If I add this tool, how will it help me, my business, or my clients?
As your business grows, you may find that implementing new technology saves you a ton of time and allows you to do what you do best: sell insurance.
Before we jump in, I'd like to point out that I always try to choose tools that offer good integration options. This is not that important at first, but over time as you add tools, it'll pay huge dividends when your CRM, website, and lead vendor can all connect to each other, for example.
---
Use a
CRM

to Digitize Your Customer Database

While implementing a Customer Relationship Management (CRM) system or an Agency Management System (AMS) is potentially the biggest change in how you run your business, it is also the most valuable change you can make.

If you aren't familiar with CRM software, I'm referring to software where you store client information, such as:
Contact info
Policy info
Notes
Reminders
Documents
Even copies of email communications
I won't go too much into why this is so important – you can read about that here if you like. If you still rely on paper files, there's going to be a lot of work upfront to set up your CRM, but once it's done, your job gets easier. It becomes trivial to find information about your clients and their policies. At this point, you can start letting your CRM remind you of important dates and tasks, like renewals and birthdays for example.
Rather than flipping through files and folders, you type a client's name into your CRM and all their info appears on-screen. All those papers you keep around can instead be scanned into the system and stored for instant access. You don't have to file them, you don't have to buy more folders, and you don't need anymore file cabinets.
There are literally hundreds of CRM systems out there, though most are targeted to the masses. A general purpose CRM can work fine, but I'd recommend looking at one specifically made for insurance. I'm writing this under the assumption that you are willing to invest in your business. Unless you're completely new to sales, you should be able to afford $30-$100 per month for a system that will improve your efficiency.
We recommend AgencyBloc as a robust solution that's purpose built for life and health agents. Another great option is using the simpler CRM built into MedicareCENTER, which is free to any of our producers. It's not as powerful as AgencyBloc, but it's definitely a great option for agents with smaller books of business or who are just starting out and want to save on tech costs.
Read more: Best CRM Software for Insurance Agents In the Senior Market
If you don't have a budget for this yet, or you need help gathering and digitizing all your customer information, you could start with our Customer Spreadsheet Template. However, this is only a tool to help you transition from paper to a database.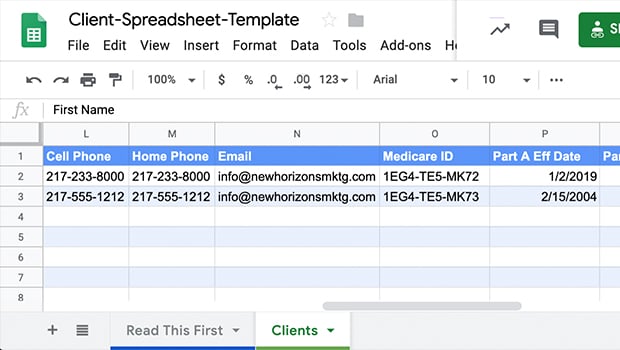 Using a CRM is going to give you the most bang for the buck and can provide massive value to your business.
---
Use
Quoting & Enrollment Tech

to Increase Efficiency

Running quotes and filling out applications makes up a large chunk of your day. Thankfully, there's some incredibly powerful tech that can help you increase your efficiency and help more clients.

MedicareCENTER, an all-in-one CRM, quoting tool, and enrollment platform was released right before the 2020 AEP season. It has evolved so much since then and now includes the power of CSG, the industry-leading quoting tech.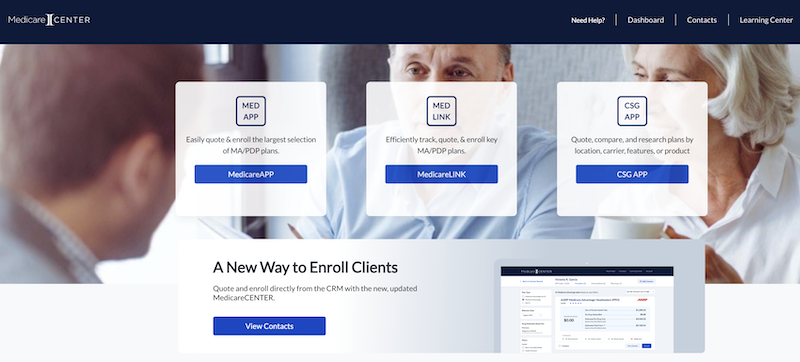 MedicareCENTER is the most powerful solution built to make client engagement, tracking, quoting, enrollment and follow-up simple and seamless.
Oh, and another huge bonus? MedicareCENTER is a single sign-on, meaning you don't need to log into different carrier portals to enroll clients anymore. One login. One password. That's a huge time saver in itself!
Here are a few testimonials from agents who have embraced MedicareCENTER:
"I personally was able to reach record numbers on both MAPD and PDP applications, and I attribute much of this to MedicareCENTER." –Chase Gruening
"The most important thing was being able to text the Scope of Appointments (SOAs). That was huge." –Luke Hockaday
"AEP is such a hectic time, so it was a relief to have the MedicareCENTER so I could sign my clients up quickly and make the process more efficient." –Patty Gogerty
"I was able to write 7 in-person individual applications [in one day], and could have easily scheduled another 4-6 appointments. Even the customers who I was not able to text or email the Scope of Appointment to, I was able to have them complete a paper Scope and upload it in no time before completing the application. Everyone is loving how they are getting confirmation numbers." –Carrie (Markus) Beckmann
---
Use
LeadCENTER

to Purchase High-Quality Leads

Looking for Medicare or life insurance prospects?

LeadCENTER lets you search leads in exactly the part of the country you need, choosing between Internet, Direct Mail and Social Media leads. Your leads are ready to use immediately after purchase.
With LeadCENTER, growing your business is simpler than ever with:
TCPA compliant and exclusive leads
County-based heatmap searching
Management of existing leads
Lead notifications
Immediate access to new leads
Integration with MedicareCENTER
Plus, LeadCENTER is officially integrated with MedicareCENTER, our powerful CRM, quoting, and enrollment platform. Now, you can set up campaigns in a few quick steps to get fresh leads delivered right to your MedicareCENTER CRM.
---
Create a
Website

to Build Online Credibility

What's the first thing you do when you hear about a new company, or restaurant, or meet someone? Most of us Google it to find out more about it.

This very likely happens with your prospects already – they search for you online after hearing about you. What do they find? Go ahead! Type your name, or your business name, into a search engine and check out the results. Whether you have a website or not, you're probably seeing info scattered across several sites and directories. Is it even accurate?

I'd argue that if you didn't have a website in 2010, you were behind the times. If you don't have one in 2022, what's holding you back? In the eyes of many of today's consumers, if you don't have an online presence, you don't exist. A website is an indicator of credibility.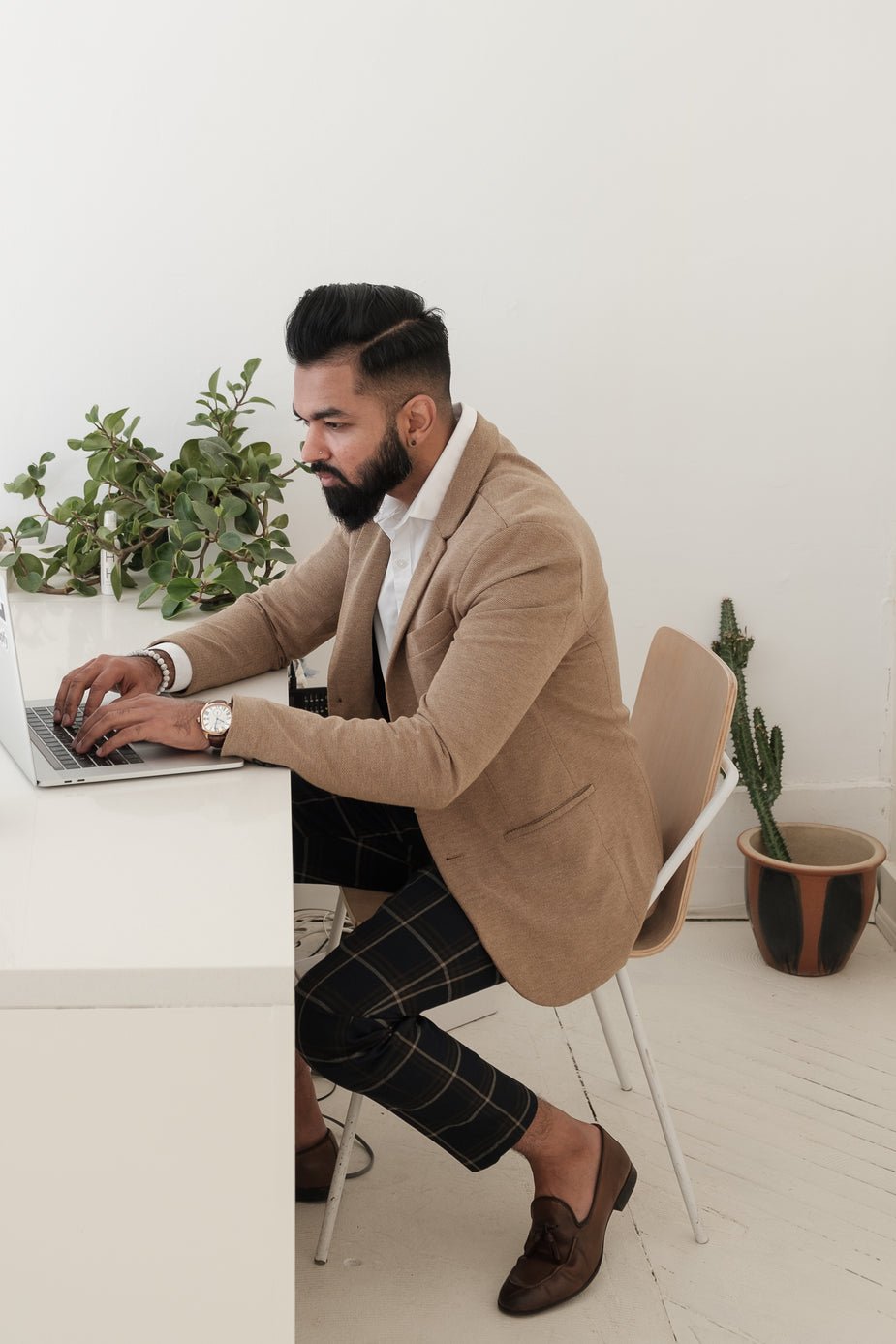 Now, this whole area can be overwhelming and confusing, so if you're just getting started, you have two basic options:
Do it yourself
Pay someone to do it for you
If you want to do it yourself, and knowing you aren't a website designer, I'd advise staying away from Wordpress, Drupal, Joomla and the like. Instead, use a simple website builder platform such as Wix, Weebly, or Squarespace. These are simple, point-and-click interfaces where you don't have to know too much to accomplish a simple website.
The risk of going the DIY route is that you end up wasting too much time trying to figure everything out. In my opinion, you're better off paying someone to build your site for you.
We recommend checking out AgentMethods. They build great insurance websites that are attractive, easy-to-use, and help you bring in more clients. Active producers with us can even save a bit – just mention that you work with New Horizons!
For more information on creating and maintaining your agent website, check out these articles we've written:
---
Use Communication Software to Get Referrals, Reviews, and Happier Clients
There are a number of touch points where agents should be reaching out to clients, not just for the sale itself, but for regular, ongoing communication. After all, the No. 1 reason that clients leave their agent isn't price – it's that they never hear from their agent!
Agents can reach out using email, phone calls, texts, birthday cards, or in person. But as a book of business grows to hundreds of clients, this gets difficult to manage. At that point, why not look for technology solutions to partially automate your outreach?
Rocket Referrals is a unique service, in that it packages several tasks into a neat little package that works really well as a whole.
First, Rocket Referrals can

connect to many CRMs

. For example, when you get a new client, that info can be sent to Rocket Referrals, where their system recognizes it as a new client.
Then, they send a welcome email to your client, from you.
Next, they send an optional welcome card in the mail, again, from you.
When your client's birthday rolls around, a birthday card goes out. The cool thing about their cards, is that they look like they're handwritten, even though they are not. If there are two letters next to each other, like the l's in "Bill" or the m's in "Tammy" they are slightly different. And there are over 20 typefaces to choose from.
After that, they send out a "Net Promoter Score" email. You've probably seen these from companies at some point, where they ask how likely you are to refer the business to a friend or colleague. Your client chooses between 1 (low) and 10 (high), and based on their selection, they are either asked what you could do better, or what they liked about your service.
And then, the magic happens. If someone enters what they liked, what they have essentially done is written a testimonial. The system then asks, if it would be okay to share that, either anonymously, with name, or not at all. This works beautifully - it can lead to getting hundreds of testimonials!
Rocket Referrals then asks your client if they'd be willing to share their comments on social media. If they do, they are telling every one of their Facebook friends about their experience with you.
Finally, and this doesn't all happen at once, they are asked if they'd be willing to share a review of your business on either Facebook or Google. This is a marketing goldmine for a small agency, and can help move you to the top of the search results due to good reviews.
And this is all happening in the background, so all you have to do is check in every once in a while. We use Rocket Referrals and highly recommend it, but again, there are los of communication software options to choose from.
---
Use a Mileage Tracker App for Your Taxes
If you primarily do in-home appointments, tracking your mileage is a must! There are dozens of apps out there that work for this, but there's one that I've personally used that is affordable and simple to use, is MileIQ. You simply drive, and it tracks your path using your phone's GPS.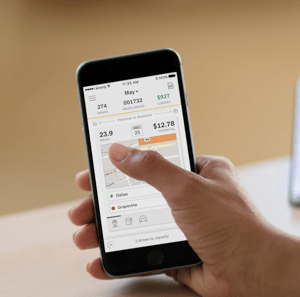 Once you've stopped moving, a notification pops up, asking you to classify your trip as business or personal. You can add other details as well, such as who the meeting was with, but it's so easy to do. You can download reports any time and email them to your accountant or just total the business miles if you do your own taxes.
If you have a newer vehicle, you might also check to see if the manufacturer offers a mobile app. Some of these apps include a "recent trips" feature that works similarly to MileIQ, as well as remote start and door locking, so that may be an option worth checking, depending on whether there's a subscription fee.
We've written another post about mileage tracking, so be sure to read How to Track Mileage for Independent Insurance Agents for more details.
Further Reading: The Ultimate Tax Deductions Checklist for Independent Insurance Agents
---
Use Video Conferencing Software for Meeting Clients Remotely
More agents are choosing to sell over the phone, but sometimes a face-to-face meeting can add so much trust and credibility. That doesn't mean you need to physically sit down with your prospects.
Online meetings are getting easier all the time. There are so many options out there, from Facetime to Skype to Google Hangouts, but our favorite by far is Zoom.

Zoom is free for the basic plan, and that is likely all you'll ever need. You download the app on your computer or phone, send your client a link, and they can meet with you. Obviously, this is easier for some people than others, so if your client doesn't even use email, this is not going to be a good option. But for your T65s who are just retiring, it's possible they may have already used this type of software at work.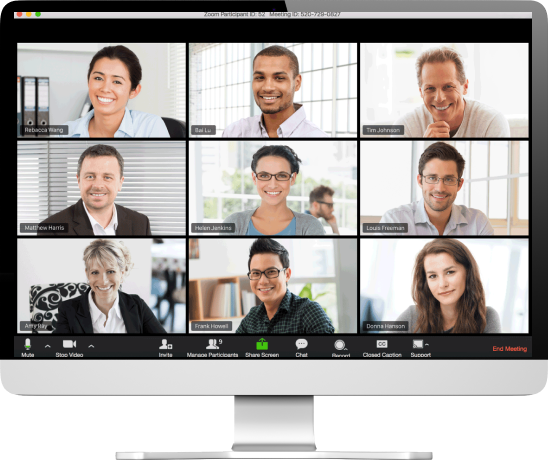 Zoom works on most devices and is relatively easy to setup compared to other systems. If you'd like to give it a try, just hop on one of our webinars.
Further Reading: The Ultimate Guide to Selling Insurance Remotely
---
Use a Digital Calendar System
Chances are you already have a calendar, but are you using it and taking advantage of the features it offers?
Most of us have one or more calendars, like Google Calendar, Outlook, Office 365, or Apple's Calendar app. To really get the benefits of a calendar, I recommend choosing one that ties into your current or desired workflow. For instance, if you use Gmail, then Google Calendar makes more sense for you.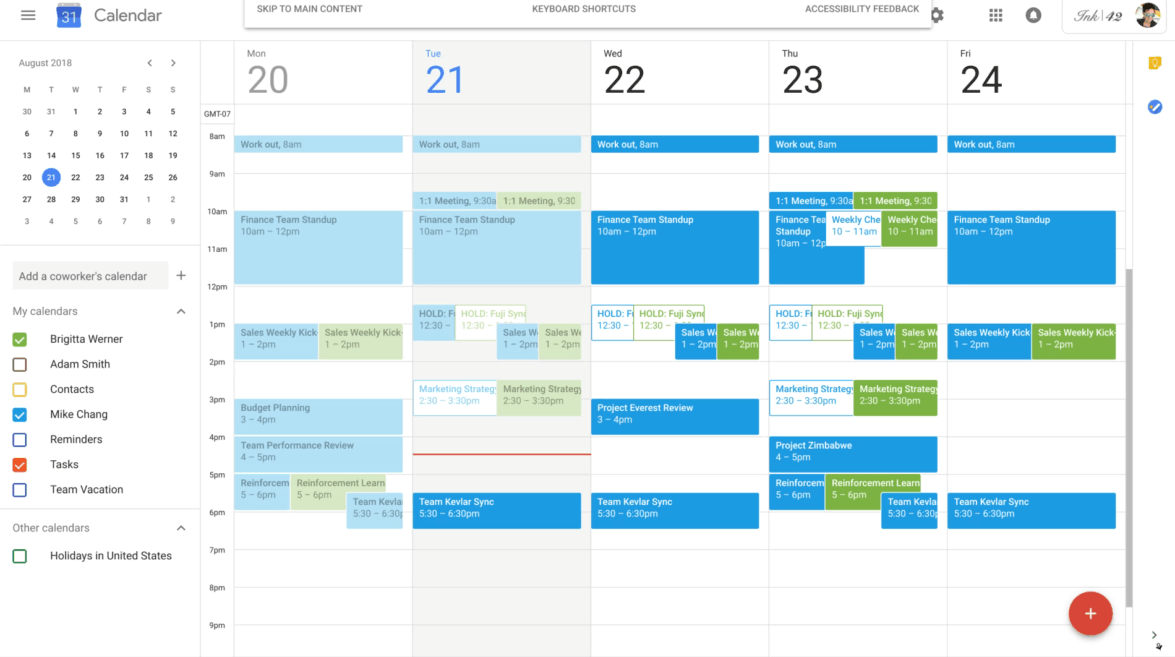 Again, I always try to pick a system that can easily connect to other systems, and I feel like Google's tools are best in class in that regard. That's important, because as you add other tools, you don't want to manually copy info from one to the other. For instance, your CRM may be able to display appointments or dates on your Calendar, or your scheduling software can check your availability.
Learn how to add events/appointments, and add your clients to appointments. They'll get a reminder on their phone if they accept the invite, so it cuts back on no-shows.
You can also set reminders, whether it's a client followup, rate change info, prepping for AEP or anything important to you. Using a digital calendar can be a huge help in keeping you organized.
---
Use Appointment Scheduling Software So Clients Can Set Meetings Online
If you have a website or a Facebook page, you can make it easy for clients and prospects to schedule an appointment with you. There are several different tools that do this, and some CRMs, such as Hubspot, have this built-in.
We use one called Acuity Scheduling, but Calendly is another popular option.
You can direct people to the scheduling system by including a link in your email signature, or linking to or embedding the scheduler on your website or Facebook page.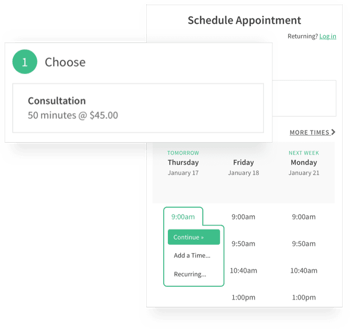 It works like this:
Connect the scheduler to your calendar (Google Calendar for example), and then block off the times that you want to make available for clients to request appointments.
When you turn it on, the system checks your available times.
Then, it checks to see if you have blocked off any other appointments or events.
Whatever is left is displayed on your scheduler as available time slots for clients to choose from.
If someone requests a meeting, they enter their information and select the date and time. Next, that time is blocked out on your calendar, and you get a notification via email and/or text message, and your client does too. Some systems allow you to set followup reminders as well, so nobody forgets their appointment.
If you work with someone who sets your appointments, this can all work in tandem, so there's no double-booking.
---
Conclusion
The goal of tech is to make your life easier. If you can spend some time upfront learning a new tool that will make you more efficient going forward, isn't that worthwhile?
Take a few minutes and identify any day-to-day tasks that you don't enjoy. Once you find those opportunities, search around online to see what pops up; then, see if they offer a free demo so you can play around with the system a little. Or, schedule a demo with the software company and they can show you an overview of how their system works.
Finally, after you've decided to add a tool, learn how to use it, and stick with it. Having a tool that you never use is a waste of time and money. Happy hunting!