10 Site Owners Share Their Experience with Lead Generation, Actual Sales, How They Set It Up, Email Integrations, Testimonials, and More
A few weeks ago, we shared our intensive study of 50 independent agents' websites. We learned a lot of interesting things, like which CMS is the most popular (Wordpress), and that only 2.8% of independent insurance agents have an effective website.
But at the end of the day, we know you're wondering one thing: do I really need a website?
We decided to consult fellow agents and marketing experts to see if their website is all it's been cracked up to be.
Here are their stories.
1. Garrett Ball, Independent Insurance Agent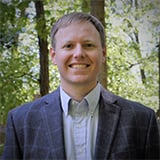 Garrett Ball is the Owner & President of Secure Medicare Solutions, Inc, which is a national, independent Medicare insurance brokerage. He's been in business for over 10 years and has worked with thousands of Medicare clients.
Here's a snapshot of his website: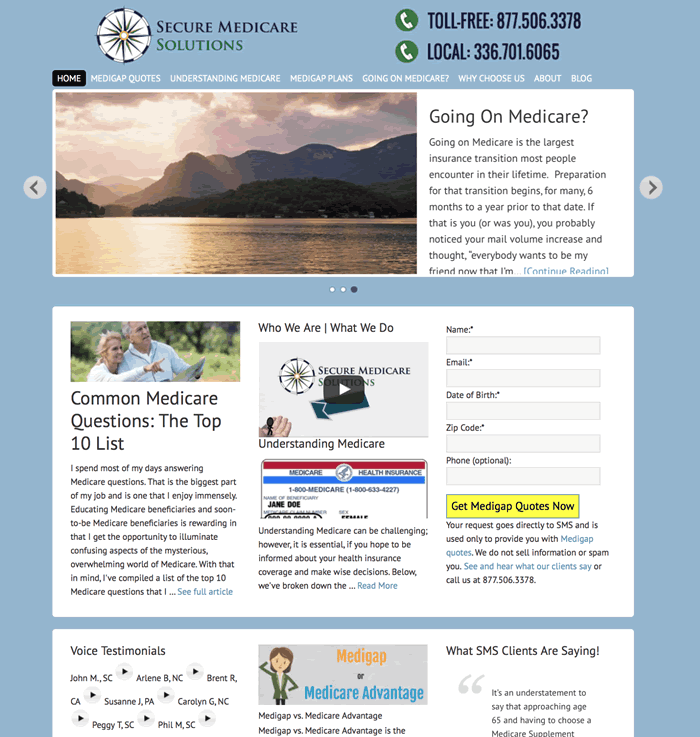 It was 2008 — Garrett's 2nd year in the insurance business. He was on a 2-hour drive home after an appointment that was on the other side of the state. It was on that drive that he realized he needed to come up with some way to reach more people and make more money.
And that's when he decided to set up his first website.
Immediately after starting the site, it became his primary source of leads. Now, his website serves as his only source of non-referral leads.
Garrett explains, "There is certainly time involved with operating a website, but the financial investment is relatively small."
To start his site, Garrett set up Wordpress as his CMS platform. He says that to set up a site, it costs nearly nothing, other than the purchase of premium themes, which ran him about $150.
At the end of the day, he says that starting a site shouldn't cost you more than $100 per year. He did pay to have one of his sites redesigned, a $500 investment, but he explains that this isn't mandatory.
He also says that the costs of his sites are immediately offset by not having to pay for leads. His website has allowed him to serve a national client base instead of only his surrounding areas.
The focus of his online presence is not to make money, however. He explains,
"The focus of my websites has always been to be education-first, with the primary goal of explaining the parts of Medicare that are confusing or unknown.

I think that has allowed me to have more loyal and persistent clients, because they start out our "relationship" viewing me as an expert who is here to help, not a salesman who is here to sell."
As far as an emailing system goes, Garrett has tried several over the past 10 years. Currently, he uses a system called MailerLite. "It's very basic but does what I need it to do. I also use my CRM, Radius, for emails to clients."
For clients, he sends a quarterly newsletter. In that newsletter, he usually includes:
2-3 articles about topics related to Medicare,
1-2 articles of general interest, and
1 small article about what's going on with him or his agency.
For prospective clients that have opted in to receive emails (see image below), Garrett sends periodic updates on what is going on with Medicare, pending legislation, potential changes and other Medicare-specific information.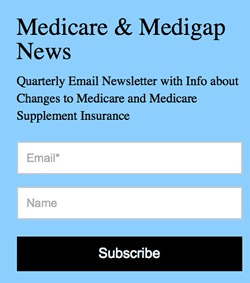 Garrett believes that in order to have an effective site as an insurance agent, you must have the following elements:
Education-focused content
FAQ page
Testimonials
A highly visible phone number in many places on the site
One thing that struck me while looking at Garrett's site is not only how many testimonials he has, but the fact that he has them in audio. I, of course, wanted to know how he made that happen, and he explains: "In the last 2-3 years, I've set up a Google Voice account through which I can accept voice testimonials. In my client newsletters, I ask for reviews and give out that phone number."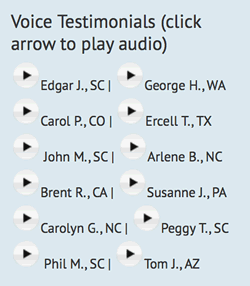 So, did all of Garrett's hard work pay off in the end? Here's what he has to say:
"I simply cannot imagine what my business would be like today if I had not made the decision to go 'online' 9 years ago. It was the best decision I've made in my business by far.

I would not still be in insurance if I was having to drive around and do in-home meetings to make sales. Going the online route may not be for everyone – some people may be better equipped to do in-home meetings – but for me, it has completely changed my business and my career path.

Now, I can work from anywhere, at any time, sell insurance nationally, and get business done efficiently."
You can see Garrett's work at http://securemedicaresolutions.com and https://65Medicare.org.
2. Michael Quinn, Independent Insurance Agent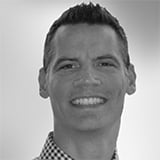 Michael Quinn is the Owner of LifeInsuranceBlog.net. The site is designed to help consumers learn about life insurance, compare rates, and apply online. His entire business model was built around having a website.
Before he got into insurance, he was working in an industry that required face-to-face contact. He ended up feeling trapped by the brick and mortar business model, and he craved freedom.
After a long conversation with his brother in law, an insurance agent, he decided that an online business selling insurance was a no-brainer.
Through his site, he's been able to increase his lead volume, the number applications submitted, and the total number of policies in force each and every year.
He didn't have any hand-holding, and he quite literally taught himself everything he knows. He chalks it up to his laser focus and intense determination. He also had the help of mentors: "I found other agents who provided some initial guidance, and from there, it took off."
Here's a snapshot of his site: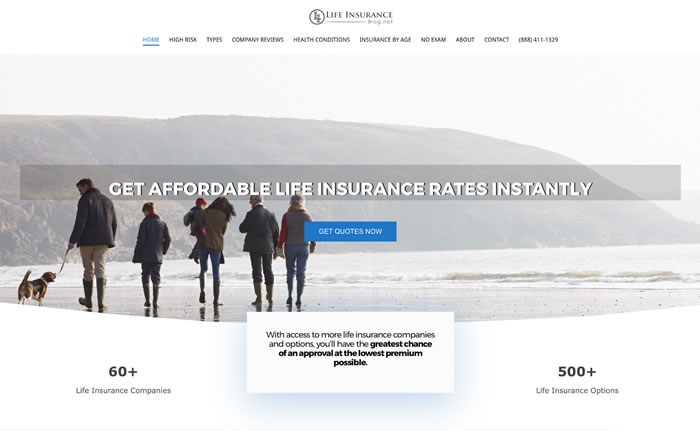 When Michael set it up, he purchased web hosting, a URL, an email autoresponder, and lead capture software.
Now, in terms of costs, a website URL lands around $10 dollars a year.
Web hosting can vary greatly, but Michael says that you can always start with budget hosting, which will cost you around $3-6 per month.
For his life insurance website, he uses NinjaQuoter so his visitors can get free life insurance quotes. That software runs at about $19 per month.
Email Autoresponders and newsletter systems also vary in cost, but he uses GetResponse for about $15 per month.
"We send an autoresponder email immediately after a visitor submits a Call to Action (CTA). The autoresponder is specific to that CTA and provides them with additional content."
Here are a few examples of CTAs on Michael's site.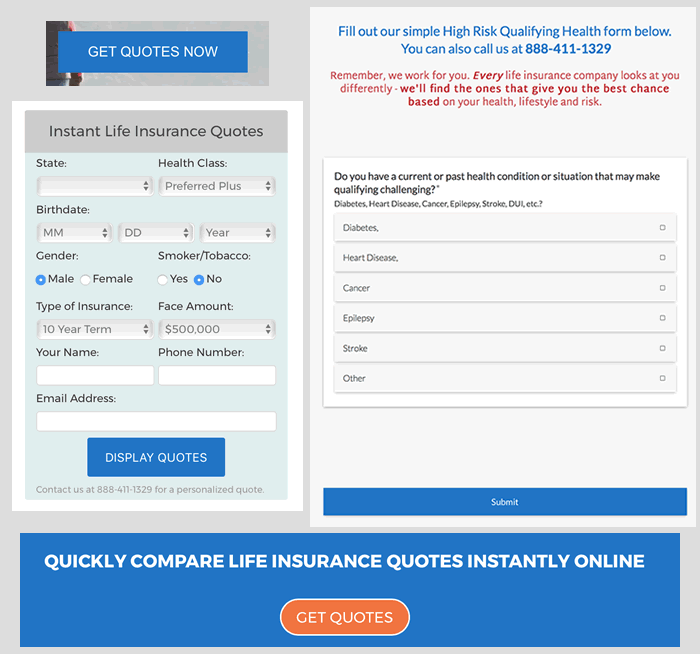 For his outgoing emails, he says that the frequency of the campaign is specific to the insurance niche. For example, with this particular life insurance website, the user will get an immediate autoresponder and an additional email for the next few days.
Michael believes that the following elements are vital to having an effective insurance site:
About Us page
Contact Us page with a contact form
Testimonials
A strong CTA that's above the fold (in other words, you don't have to scroll down to see it)
Request a Quote form/button in the sidebar of every page
Michael says that he will typically request testimonials with new clients. He simply sends out an email request to new clients.
When I asked him what things might look like if he never built a website, he said, "That's easy. I wouldn't have a business!"
3. Adam Hyers, Senior Market Insurance Agent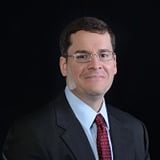 Adam Hyers specializes in senior market insurance. He started his insurance agency, Hyers & Associates, in 2002, and his business actually began with his website. He explains, "I thought it would be a better way to connect with consumers who would be interested in the products and services I offer."
There's no question that his site has helped him garner leads. He spends a lot of his time writing articles and working on the site in the hopes of bringing in new consumers. Over the years, he's seen a lot of those prospects convert into clients.
Here's a snapshot of his site: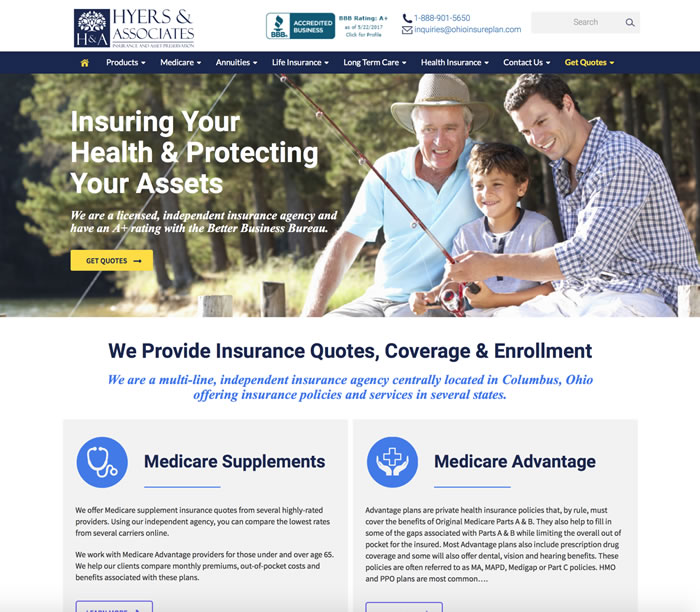 Adam works with website designers for the overall architecture, but he adds much of the content himself.
He explains that the focus of his business is his website, so it has been and continues to be an investment: "Costs are ongoing, but I've spent a few thousand dollars on mine through the years. Of course, this can be done for less, but my focus is website marketing first."
MailChimp is Adam's preferred email system, and he tries to send a quarterly newsletter to his list. His emails are informative — his focus is education.
To have an effective site, he says that the following are absolutely necessary:
About Us Page
Contact form(s)
Anything that gives you credibility like a BBB rating or testimonials
Pronounced phone number and email
Call to action buttons
Adam asks for testimonials, but some of his clients will volunteer them if he's done an exceptional job for them. He explains, "I just ask them if I can post their words on the site or if they'd like to write something on Google."
Adam's agency is reliant on his website to nurture prospective customers and to bring in leads. He says, "I'm honestly not sure if I'd be in the insurance business at all without my site."
4. James Pollard, Advisor to Insurance Agents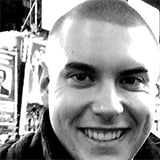 James Pollard is a sales and marketing coach for financial advisors. He knew he needed his website The Advisor Coach before he even started his business — he calls it the business' foundation.
As soon as you visit his site, you get the sense that he's very tech savvy, and there are multiple calls to action that grab your attention. Here's a snapshot of the home page.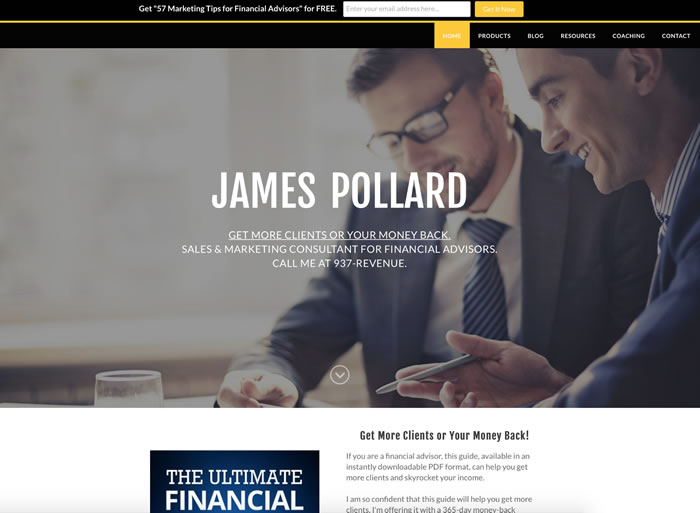 James explains that his site has helped him get more leads and make more money in a few different ways:
"One is by capturing leads 24/7. Another is by serving as an introduction and first impression to everyone that researches me before reaching out. A final way is by continuously running split tests. I'm able to improve conversion rates."
You'd think that such a sophisticated site would cost a fortune to put in place, but James recalls that he got started for 99 cents. He explains, "I bought the domain name and used a free trial of a hosting service. I figured that if I couldn't make the money back during the free trial period, it wasn't worth it."
James uses Drip for his email needs. His method of collecting prospects' email addresses is pretty complex, so here's the gist: He has several different funnels set up, because he has several different places where visitors can opt-in.
Here are some of those opt-ins: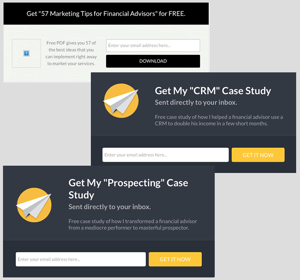 So, if someone opts in to the marketing one, the person will get emails about marketing. If they opt in to the others, they'll get emails about that topic. James explains, "I start off by sending one email every single day for 3-5 days, and then slowly space out the emails to every two days, every three days, and so on."
In James' eyes, the main element you need to have a successful site is a way to capture contact information. "In my opinion, that's the most important thing. If you are not capturing website visitors, you are leaving money on the table. Plain and simple."
As far as testimonials go, James doesn't solicit for them. The only place he mentions something of this nature is in his "thank you" page, where he tells clients that he looks forward to reading their success stories.
Without his website, James says his business would be nonexistent. He explains, "Running my business would be too much hassle and too frustrating without a website to streamline most of the process."
5. Alan N. Canton, Independent Insurance Agent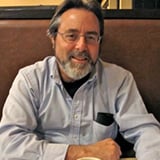 Alan Canton runs his insurance company, A.N. Canton Insurance Services, out of California. He also owns a web design business, so for him, a website was a no-brainer.
However, Alan takes a very different stance on the purpose of his website than pretty much every other person in this article. He doesn't care about getting leads from his site, and he doesn't care about showcasing testimonials.
To him, the purpose of his site is to close the deal. His site is built to reaffirm existing prospects that he's honest and capable of selling insurance. To get leads, he uses direct mail, cold calling, and networking.
He also believes that clients couldn't care less about the actual insurance policy. What they do care about is the integrity and honesty of the salesman, and that's what his website conveys.
Here's a snapshot of his site: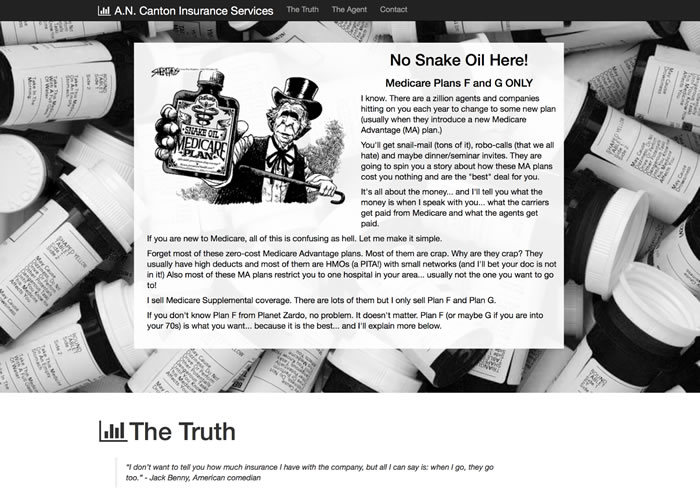 Alan says things like, "I'm not going to 'snow' you with a lot of hype and sales bull-%$#@" and "Forget most of these zero-cost Medicare Advantage plans. Most of them are crap."
The goal of this straightforward approach is to be refreshingly honest, and he even explains why he doesn't use happy-looking images on his site:
"I don't have 'happy pictures,' because buying insurance is not a day in the park. Some insurance agents believe that they can manipulate clients with warm and fuzzy pictures and then con their victims into buying a plan from a carrier that the agent gets the highest commission on.

Choosing insurance of any kind is serious business and that's how I treat it. No romping Golden Retrievers here!"
His site is set up using the free Bootstrap framework http://getbootstrap.com/ along with http://fontawesome.io. He explains, "Since it is static, using a CMS like WordPress would be overkill."
His web hosting is via Pair.com, which costs him about $6 a month.
Alan also doesn't bother much with sending emails, as he believes those in the Medicare market tend to equate all emails with spam. However, he does send one email per year during the holidays, and that's when he asks for a referral.
The website essentials, according to Alan, are quite simple:
Verbiage about why prospects should buy from you
Your value proposition (without too much detail)
A picture of yourself
Without a website, Alan believes he'd be out of business.
While it doesn't generate leads, his site closes the deal for him. He explains:
"If I can get a prospect's eyeballs to my site after pitching them, most often they contact me and say they want me as their agent.

I don't sell Medicare Supplement insurance. I sell me."
6. Amanda Goldman-Petri, Founder and Marketing Geek at Market Like a Nerd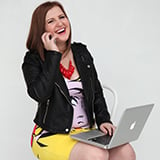 Amanda Goldman-Petri is the Founder and Marketing Geek at Market Like a Nerd. She teaches entrepreneurs how to maximize their business with the least amount of effort. She knew she needed a website before she even started her business.
Her previous career was as a project manager for a website development company. She was blown away by the amount of leads they generated from their site — without a ton of marketing.
It was clear that without a website, she would be leaving a lot of money on the table.
Amanda's website has helped her generate both leads and sales, but it wasn't always that way. Her first site didn't generate many leads. It was more of a "business card" with the emphasis being on information only.
After that experience, Amanda learned how to intentionally design her site to make sales happen. Now, her main focus is moving visitors into her mailing list, where she monetizes them later.
Here's a snapshot of her site: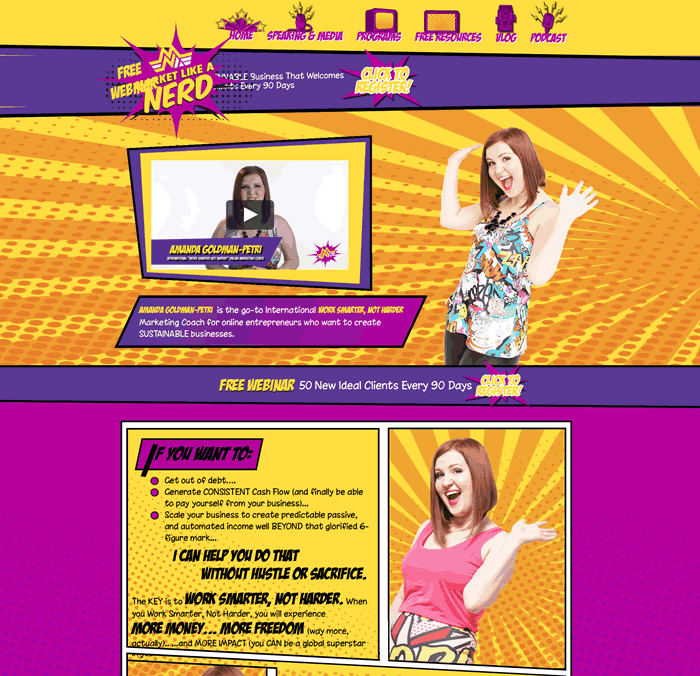 Amanda paid $5000 for the branding strategy, done for you Web TV show videos, and the mock up. She then paid around $500 for the actual development. She also paid $750 to a photographer to take brand photos for her site.
The email marketing is a huge part of Amanda's strategy, so she uses more sophisticated software — InfusionSoft. She sends 1-2 emails per week to her mailing list when she comes out with new vLogs and podcasts. When she's in a full-on launch, she sends 5-10 emails in one week.
In her opinion, a successful website needs to have:
Authority Content
List Building Content
Amanda explains, "Authority Content will elevate you as an expert so that your visitors see you as an influencer in your niche and want to work with you."
That includes things like:
vLogs,
podcasts,
as seen on logos,
case studies,
testimonials,
your number of followers,
certification/education or awards logos, and
speaker's reels.
Here are some examples of this on Amanda's website: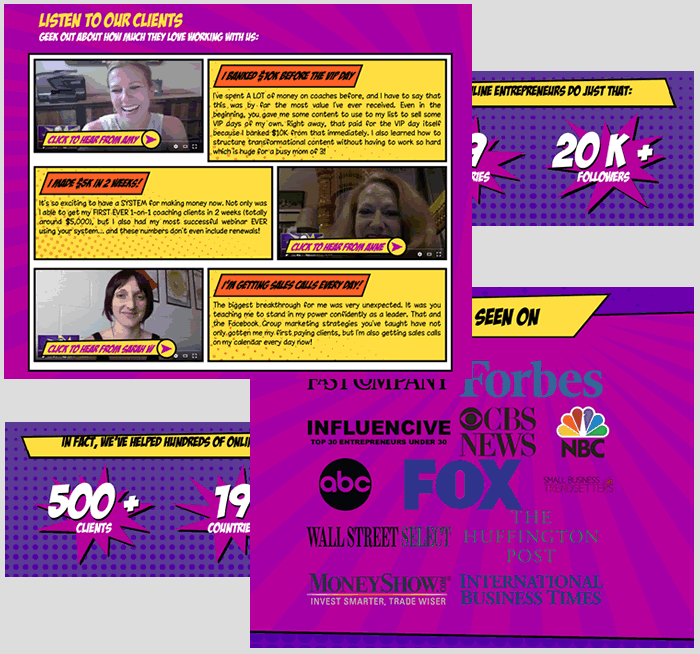 List Building Content will move your visitors from the website into your mailing list. This includes:
calls to actions,
ads throughout your site for free gifts, and
having them link out to an opt-in page where they can give you their name and email address in exchange for the gift.
Amanda uses testimonials to her advantage, and she gets them from both customers and other influencers. She has an entire page dedicated to them.
Amanda believes that she'd still be thriving if she didn't have a website, but it would've been a lot harder, and it would've taken a lot longer. To her, a website is like a shortcut:
"If I never had a website, I'm sure I could have made it work as I'm an excellent marketer. But it would've taken significantly longer.

I wouldn't have had the brand recognition and authority that I have now. I would not have had as many opportunities as I have, and I would not have people flocking to me to interview me, have me on their stages, and collaborate."
7. Aaron Lin, Web Design Agency
Aaron Lin is the Managing Director at Ignitive, a web design agency. He says that having a website was the first thing his team took care of.
And it paid off — Ignitive's website was what got Aaron's team their first client. In fact, to this day, almost 80% of their new leads are generated solely from the website.
Aaron explains that making sure they get ranked well on Google has brought them their success:
"Our marketing campaigns are typically search engine oriented, so we don't have to dabble in conjuring creative digital campaigns to attract new clients.

In short, it has absolutely made us money, and it continues to generate a sustainable number of leads for us through our strategic efforts in SEO."
Here's a snapshot of the site: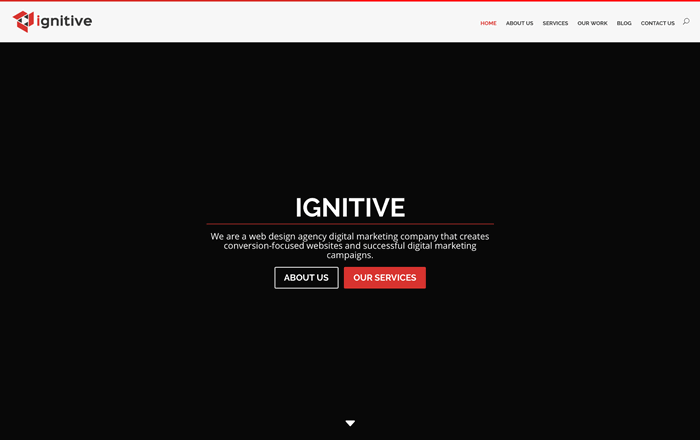 The website is built in WordPress, which has arguably become the industry standard for small business websites. (I'd also like to point out that in our study of 50 agent websites, WordPress was the most popular CMS.)
A new website can end up costing thousands, especially if your needs are complicated and out of your element, but Aaron saved some major cash by designing this site on his own. He says, "All it cost was a premium theme (we purchased the Developer license for about $70)."
Aaron and his team are big fans of Aweber Email Marketing. He explains, "They have a very intuitive user interface, making campaign creation a breeze. My only complaint would be the aged-looking templates for sign-up forms, but it's nothing that can't be fixed with a little bit of knowledge in web design."
Emails are sent nearly every day from the Ignitive team. Every new subscriber goes through a funnel of 9-10 autoresponder sequences. And every email is specifically crafted with a clear call to action.
In-between those sequences, they're also sending out industry-related tips and tricks to nurture those leads and build the relationship.
According to Aaron, most business owners stop at the basics when it comes to website must-haves:
Home
About
Services/Products
FAQ
Testimonials
Contact
But he says that this is the bare minimum. "I would encourage business owners to beef up the content on their websites by creating sub-pages. For instance, your Services page could include several sub-pages explaining each service category in excruciating detail."
Here's how he does this on his site: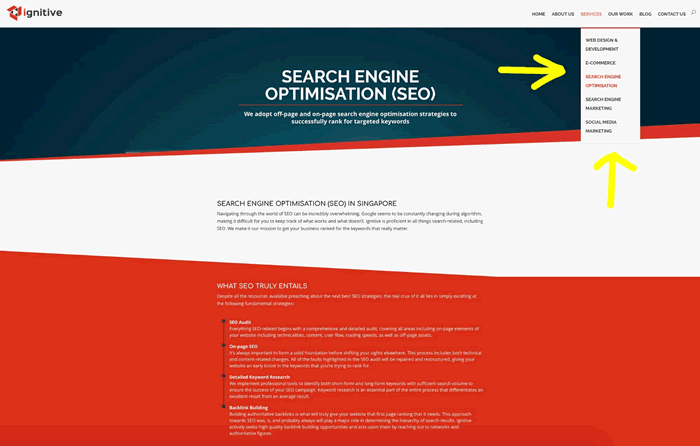 The reason for doing this is to help you rank higher on search engines, your conversion rates will go up, and your prospects will be able to do a little more research before making a final decision.
He also recommends that you think out-of-the-box. For example, if displaying your prices isn't the norm in your industry, he believes this is a big opportunity to differentiate yourself. Displaying prices shows a sense of trust, and it helps you stand out from the competition.
Testimonials also play an important part in Aaron's website strategy. The secret? Just ask.
Here's what Aaron and his team do:
"We'll give our clients a call after their project's launched, and we ask them if they would be open to answering a few survey questions over email.

We've never gotten a 'no' from a client – not once. This notifies them that they'll receive a questionnaire about their experience working with us, making them more likely to take time out of their busy schedules to type out something nice.

After we receive their response, we'll review it and ask for permission to publish it on our website."
Aaron says that without a website, everything would be a complete mess. The ability to acquire customers online has been a game changer.
He understands that a lot of business owners think that internet is over-hyped, or that there's too much competition. His response?
The numbers don't lie. His company is just one of the thousands of others offering web design services – and yet they've continued to create profitability year after year.
He believes that even if you're on the fence, it's worth exploring. Without it, you'd never know what your growth potential could've been.
8. Akiva Leyton, Marketing Company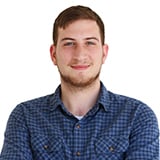 Akiva Leyton is the Project Manager at Falcon Marketing LLC, a web design company. Akiva and his team help tons of business owners create and maintain their websites, including — you guessed it — insurance agents.
From the beginning, Akiva knew that a website, and a really impressive one at that, was essential for his business. He says that there's no doubt the site has helped get more leads, which translates into more money.
Here's what his lead strategy is: consumers are directed to his site from their Google search. That ensures that the consumers are already interested in his services. He says that the internet is a whole new ballpark, because you can target your ideal consumers.
He explains, "Instead of placing an expensive billboard in Downtown LA, and hoping that interested parties drive by and see our billboard, we can directly target interested consumers looking for services similar to the ones we offer online."
This helps his team save marketing money on leads. The best part is that all of the leads are relevant, which is hard to get through offline marketing methods.
Since Falcon Marketing's site was created by its own developers, Akiva says it's pretty hard to put a pricetag on it. Actually, it's hard to put a pricetag on any site. The websites he offers to clients range anywhere from a few grand to almost $100,000. Don't freak out yet — that pricetag only reflects sites that are extremely complex and require loads of complicated features.
Akiva says that his team revamps their site constantly to keep up with industry trends. Here's a snapshot of it: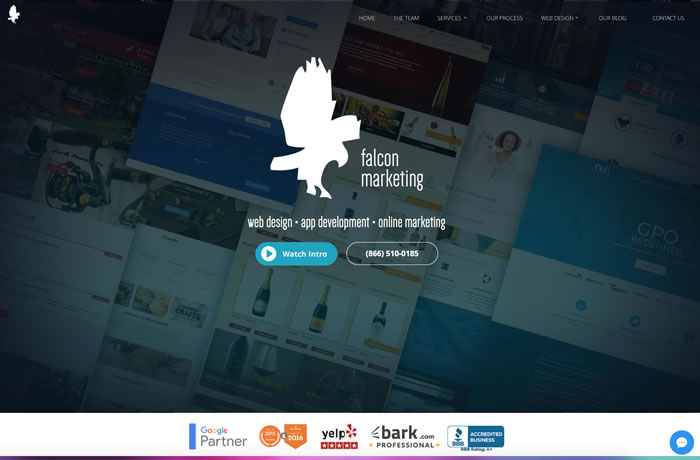 His site is laser-focused on making sure prospects understand the process. The homepage goes through what exactly Falcon Marketing does, how the process works, and multiple examples of their past work.
There are also multiple call to actions — the site is truly optimized to get as many leads as possible.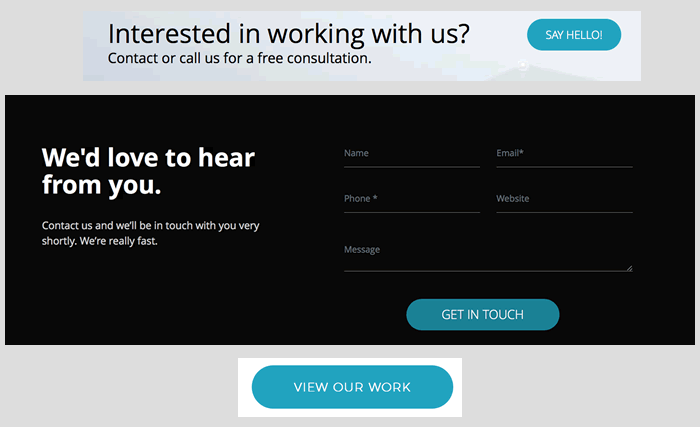 Akiva says that there's no email system currently set up, but that it's in the works. His clients often contract him for marketing services, so for those clients, he uses MailChimp to send 2 emails per week to their lists.
The content of those emails is determined by the business owner. Akiva says that most clients like to send out holiday specials as well as limited time deals and promotions.
Websites are not a one-size-fits-all ordeal, but there are some common threads that every business owner should weave into their website plan. Akiva explains:
"Every industry requires a different kind of website. In my opinion, though, each website for whatever purpose should feature an impressive landing page that shows what the company does, how to contact them, and why they are a reputable choice. More than that really just depends on the business."
Without a website, Akiva says that Falcon Marketing wouldn't exist. He even says that a website that's not visually impressive would be just as bad. He explains, "In our business, a website is absolutely necessary in order to display our prowess in our industry and sell our services."
But, he believes any business can benefit from having a great website. The internet is full of information, and if you aren't part of that database, you're missing out on potential sales.
Akiva says that cost shouldn't deter you from going online: "A website pays for itself, so there is really no excuse not to have one."
9. Lauren Pawell, Founder of Bixa Media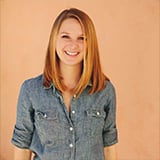 Lauren Pawell is the Founder of Bixa Media, a company dedicated to helping entrepreneurs get more online leads. Lauren knew that a website was her first step to starting her business. She explains, "As a solopreneur, I needed a 24/7 salesperson that could work for me."
Here's a snapshot of her website's home page: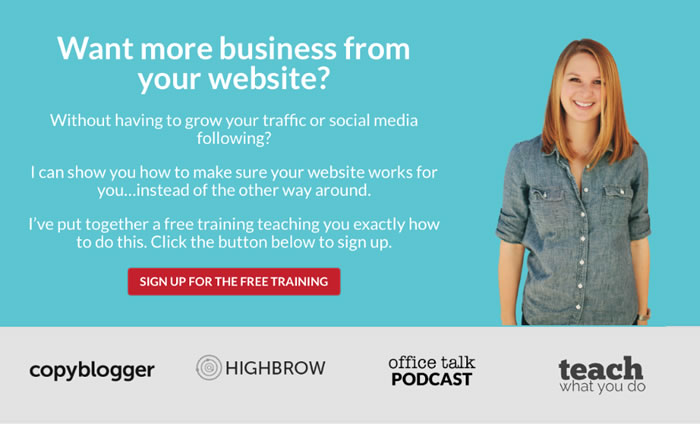 Lauren set up her site by herself using WordPress. She says that it didn't cost her much to get things going, but that's because she was already knowledgeable about starting a website. She says, "Typically, you can find websites for anywhere from $300 to $30,000. It's important to work with a provider who understands what it means to create a website that generates leads… which is far different from any old website."
Her site is designed to capture leads, as you can probably tell from her homepage. On the screenshot of her homepage alone, we see 5 different CTAs.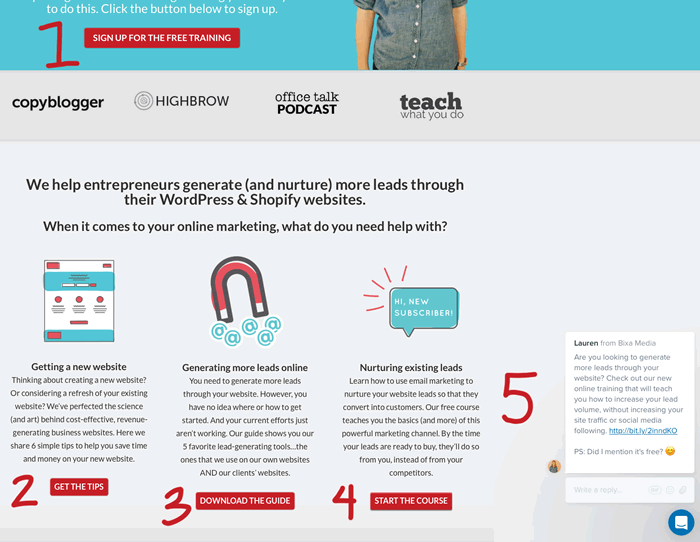 They all are very action-oriented — sign up, get, download, start. The chat screen is like the cherry on top, as people are more likely to respond if you ask a question.
All of the call to action buttons are designed to capture emails.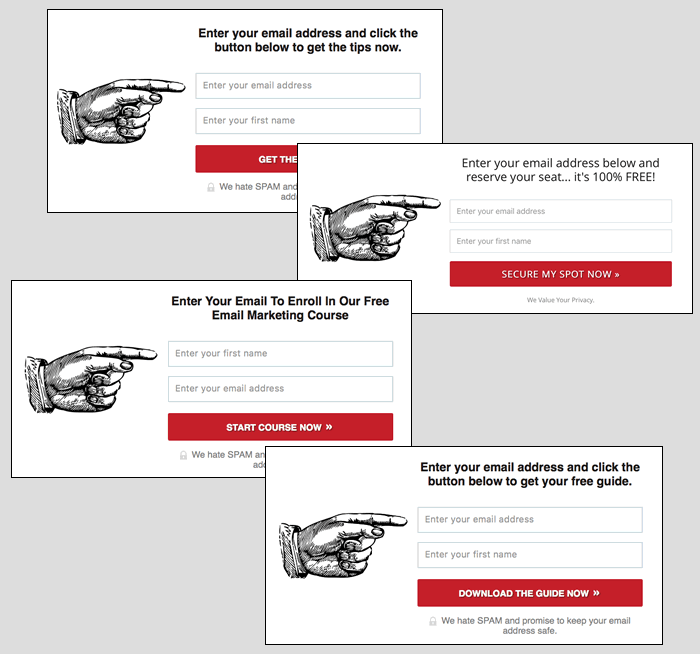 For Lauren, email marketing is a really important part of the process. She says, "Without email marketing, I wouldn't be able to nurture any of the leads that my website generates. It'd be like having a PB&J without the J."
When she first started out, she used Mailchimp, but she has since switched to Drip.
All of her subscribers receive educational content that's specific to her niche. She sends out those emails 1-2 times per week.
To have a successful website, Lauren recommends that you have the following features:
A lead qualifying form
Compelling educational content that demonstrates your authority
Testimonials to serve as social proof
She says that the easiest way to get testimonials is to simply ask.
Without her website, Lauren says her business wouldn't exist.
10. Peterson Teixeira, Marketing Expert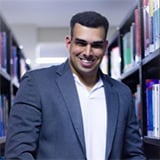 Peterson Teixeira is a marketing and business expert and runs his website Peterson Teixeira. He's had a website since day one, because he realized that most consumers will research a product before buying it.
He explains, "Every consumer who wants to know more about a product or service that they heard about from someone will immediately search for the company's website before buying."
And to him, it's not just about having a website for its benefits — he says there's a real negative effect of not having one. "You're instantly labeled as a 'business dinosaur' or someone with a weak credibility."
He says his website has helped him to get more leads and make more money. Here's a snapshot of what his site looks like: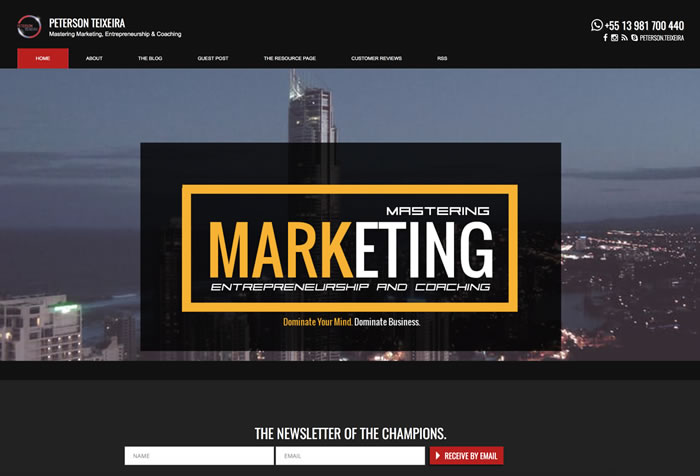 He started out by purchasing a premium website template here: https://themeforest.net/. He then hired a professional web designer to redesign his site and give it a unique look. Finally, he hosted it, and it all cost around $5,000.
He explains that the redesigns were the expensive bit, while the premium template didn't cost more than $100.
While Peterson does have a MailChimp account set up, he's not giving email marketing priority. He explains, "I'm building a chatbot (a clone of myself) that I can plug-and-play on Facebook Messenger, Kik, Twitter, Skype, Telegram, Slack and other marketing channels. They're giving way
better ROI, since you can figure out a lot of personal info about your customers within minutes of interaction."
He used to send about 1 email per week to his email list, but that's currently on standby.

Peterson believes that the following elements are crucial for a great site: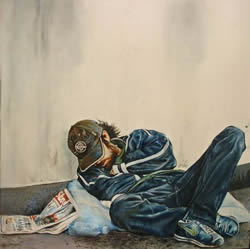 Testimonials
Contact Form
Chatbot Form
Resource Page
I don't use a FAQ page, because my focus is on building it inside my chatbot, but it's also useful to have one
I asked Peterson what his business would look like if he never set up his website. He sent me this photo:
So, there you have it! All 10 of these contributors swear by their website, and as we make our way into the digital age, it seems like it's a mistake to not embrace these changes and roll with the times.
If you have any questions or need help getting started, please send us a message. Our marketing team is more than happy to help!