If you're planning to sell Medicare Advantage and/or Part D prescription drug plans, you'll need to pass the required Medicare + Fraud, Waste, and Abuse (MFWA) training and exam offered through AHIP.
For first-timers, it can be a particularly challenging test, covering a wide range of topics such as Medicare eligibility, marketing and enrollment rules, plan types, and FWA.
Fortunately, there are many resources available to help you prepare for the exam, including AHIP study guide PDFs and printables. In this blog post, we'll explore some of the best AHIP study guides available and offer tips for using them effectively.
AHIP Is Open-Book
The AHIP exam is open-book, so you can definitely reference study guides and different print-outs to help you through it. A big advantage to saving study guides on your computer is you can do a document search for different words or phrases.
Do you need to brush up on a question about SEPs? Open your study guide and search "special enrollment period." This makes referencing your materials a whole lot faster than sifting through paper copies.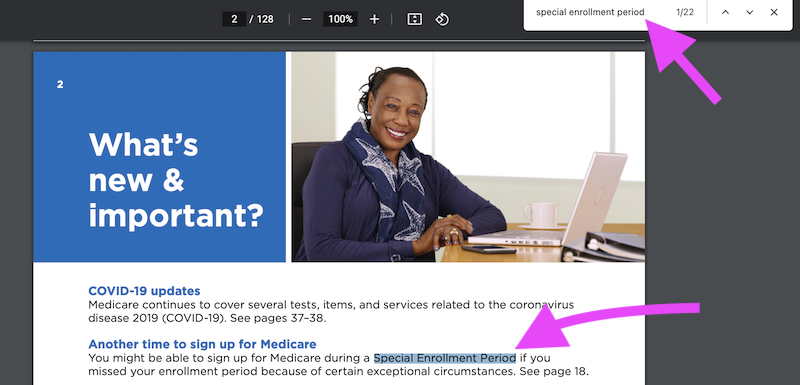 But what study guides or references should you be saving?
AHIP Study Guide
Our team has been taking the AHIP for many years, and the very best study guide is a compilation of the review questions in the quizzes.
The majority of the questions on the final exam are exactly the same as the questions from the review quizzes.
Even if you get an answer wrong on a quiz, you'll see commentary about why your answer was wrong, which is a huge help when you study later on.
Turn your review quizzes into a study guide by saving them as a PDF.
Click on "Print" – use the "Command+P" shortcut on Mac and "Control+P" on Windows – and adjust the settings to "Save as PDF."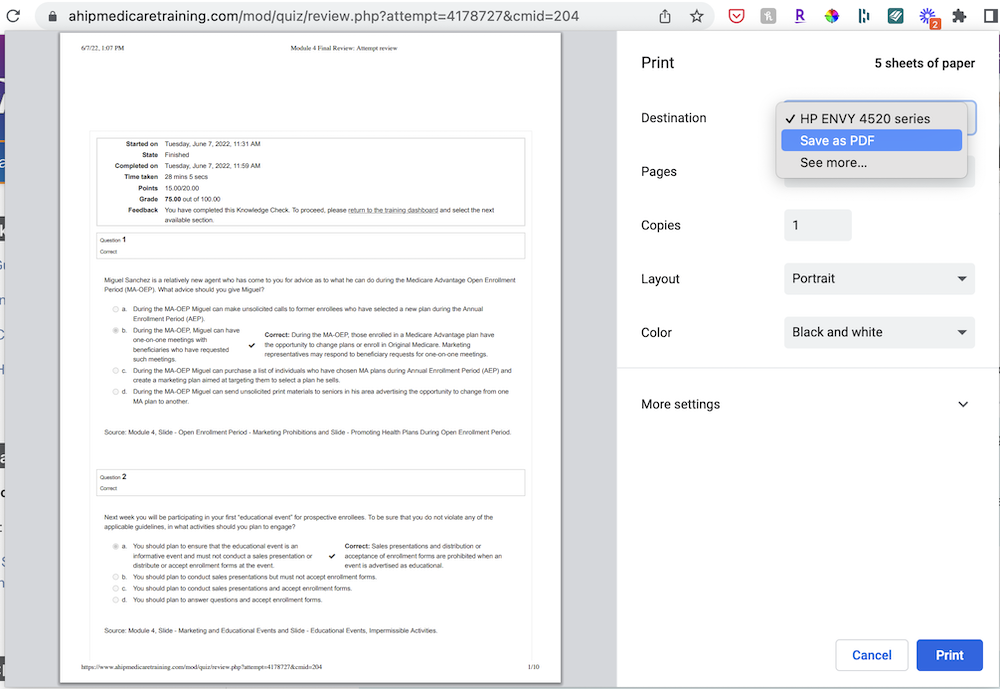 You can do this for each quiz as you go through the training modules. Another perk of saving these as a PDF instead of printing out hard copies is you can search the document for different words as you take the exam.
Other Printables & PDFs for AHIP Studying
There are some other documents you might want to print out or save to your computer.
The AHIP covers the following topics:
The basics of Medicare
Different types of MA and PDPs
Eligibility and coverage
Nondiscrimination training
Marketing and enrollment
Fraud, waste, and abuse
With that in mind, I would suggest utilizing the following PDFs:
Don't print all of these – you'd run out of printer paper. But save these as PDFs or just keep the tabs open in your browser. That way, you can search the document if you get stuck or want to study a particular topic more.
If you still can't find what you're looking for, check out the Medicare Publications page. You can search any keyword, and Medicare will scrub all of its available PDFs and show you the options that contain that word.

The search tool isn't foolproof, so if you can't find what you're looking for, remove your keyword and click search to view all of the available publications from Medicare.
Conclusion
There you have it! The best AHIP Study Guide you'll ever have is a copy of the review quizzes as you go through the AHIP training modules.
In addition to that, utilize the PDFs and resources from the Centers for Medicare & Medicaid Services and the U.S. Department of Health and Human Services.
You don't need to memorize everything, but if you get stuck, do a quick document search to help you brush up. Let us know if you have any suggestions in the comment section below!