If you're an insurance agent looking to scale your agency, you can't hide from CRM software. Customer Relationship Management (CRM) software helps you keep track of information to take great care of your clients.
A CRM allows you to:
Pull a quick list of upcoming renewals

Find out who's taking a rate increase next month

Send happy birthday emails automatically

Pull up your notes from last year's appointment
If you have trouble falling asleep at night because you're afraid of forgetting something, you need CRM software. It stores all of the important stuff so your brain doesn't have to.
In this article, we're going to help you understand the value of a CRM system, when you should get one, our vote for the best CRM software for insurance agents, and even some free options if you're on a tight budget.
Why Get a CRM?
Your client calls you asking you why their drug costs at the pharmacy shot up astronomically this month.
What do you do?
Glance through the 200 sticky notes all over your desk, the wall, and the sides of your computer
Acknowledge that your heart rate just shot through the roof as you look at the rising pile of yellow legal pads with hard-to-read handwriting on them
Look at your filing cabinets and curse under your breath that you swear you will organize those sometime soon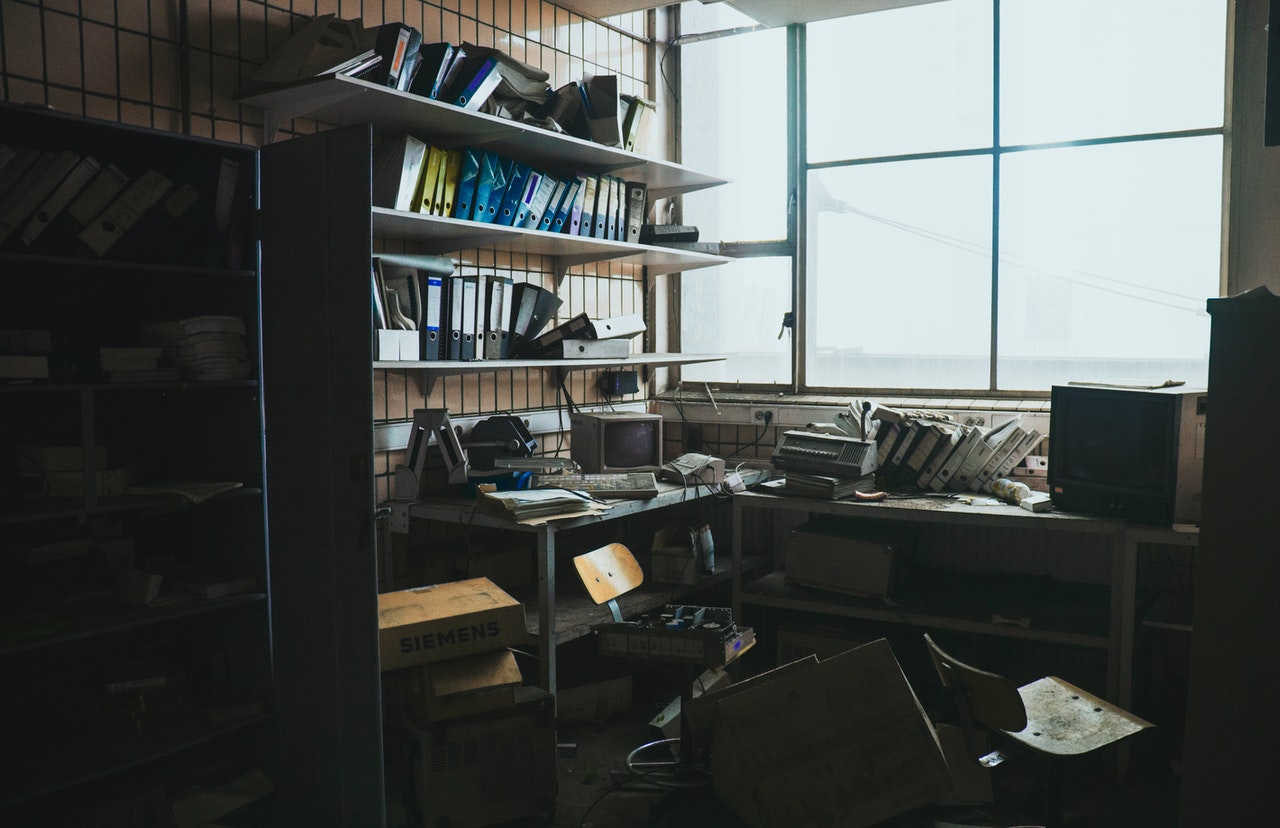 It's no way to work. Heck, it's no way to live!
CRM software allows you to simply type in the name of your client and immediately see:
Notes you left from your last appointment

A list of their prescription medications

A PDF of the Part D plan illustration you uploaded during the last AEP
Within the minute, you can remind your client they entered the donut hole this month, and their out of pocket costs will drop dramatically in 8 weeks.
You can't do that with sticky notes, legal pads, and filing cabinets.
CRM software reduces your stress by cleaning up all the paperwork lying around your house, it helps you communicate with your clients at critical times, it saves you time, and it increases the value of your book of business when you're ready to sell it.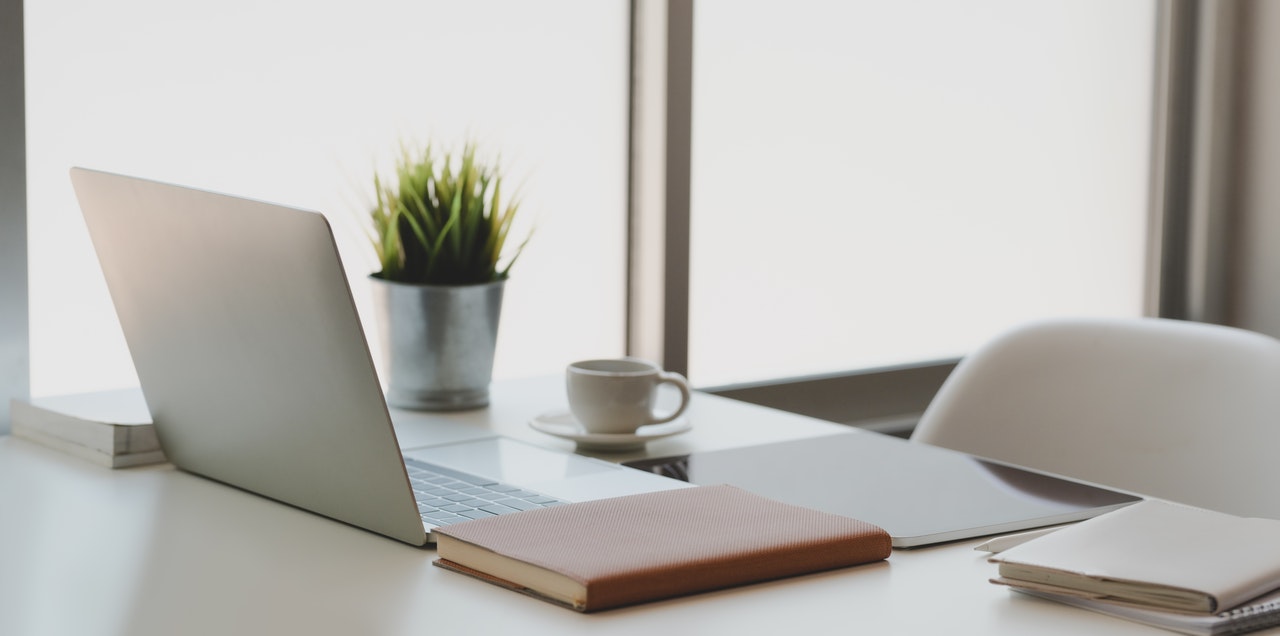 Some agents will probably always rely on file cabinets and folders, claiming it's just as good as a CRM anyway.
However, when one of your core Medicare Supplement carriers takes a big rate increase, how will you quickly know which clients are affected? How will you preserve that business?
Also, the filing cabinet doesn't travel well. What if a client calls you and you're not in your office at that very moment? CRM software solves all of this by allowing you to gather the information you need when you need it, wherever you are.
When Do You Need a CRM?
You can handle doing things manually for the first 50 clients or so. But shortly after that, you'll probably start feeling frantic, and at the very least, things are going to slip through the cracks.
It's not a bad idea to use a CRM from the get-go. Yes, it's an expense, but it's a colossal pain to enter all of your client's data when you could've been using the CRM all along.
Once you have an established book of business, it can take weeks – even months – to enter your client's information into the CRM correctly.
If you want to do things manually as you get up and running, use Excel to keep things organized. Most CRMs allow you to import an Excel file, making it a lot easier to go digital later on.
Consider starting with a spreadsheet template we created – you can import this kind of spreadsheet into your CRM when the time comes.
What Is the Best CRM For Insurance Agents?
There are a ton of CRMs floating around. I haven't seen any published numbers, but I'll just go out on a limb and say there are probably thousands of CRM softwares on the market.
Some of the most popular CRMs out there are generic. You're meant to customize them based on your needs. Examples include HubSpot, Salesforce, and Zoho CRM.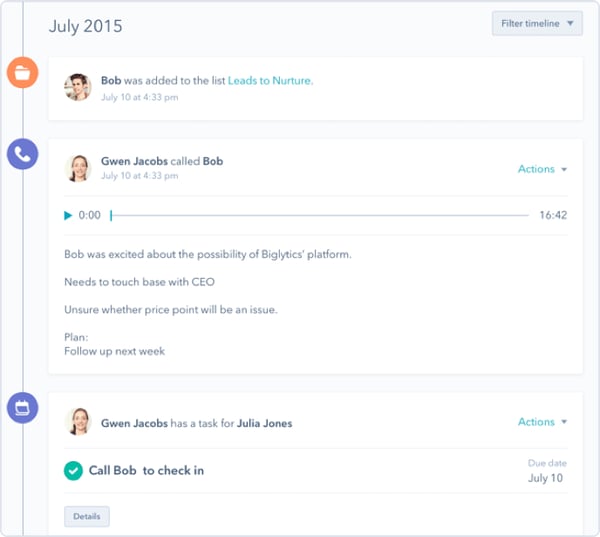 Here's an example of the HubSpot CRM, which helps you manage and organize your clients. This view allows you to monitor interactions with your contacts over time.
There are also industry-specific CRMs like AgencyBloc or Radiusbob, which are made for life and health insurance agents.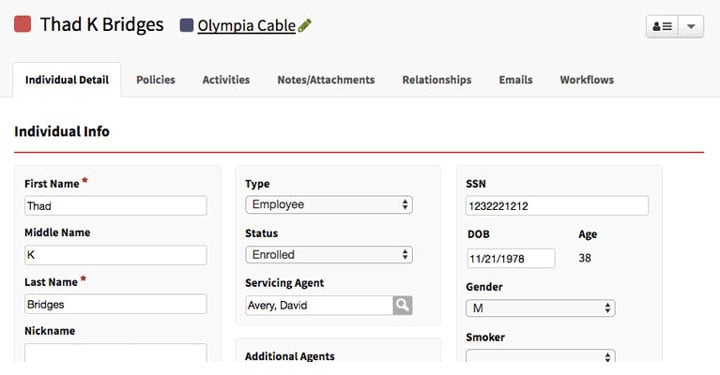 Here's an example of AgencyBloc, a CRM built for insurance agencies. This is a view of a client's contact record, which houses all of their information, their policies, attachments, documents, email communications, and more.
We're going to take a closer look at AgencyBloc and Radiusbob here for two reasons:
We did all the researching and shopping around for our own insurance agency, and we settled on AgencyBloc.

Choosing a life and health CRM is so much better than a general CRM that you have to customize – it's much more "turn-key."
But don't feel like you're cornered into choosing either of these options.
Agents use all kinds of CRMs happily, including Capsule, Zoho One, Shape and Agile. Shop around and check out the demos and free trials. Choosing a CRM can be somewhat of a commitment because migrating all of that data elsewhere can be a pain!
AgencyBloc – Best CRM For Insurance Agents
When we were looking for a solution for our own local agency, we ended up settling on AgencyBloc. In our opinion, AgencyBloc is the best CRM for insurance agents.
There are so many features in AgencyBloc that are specific to what we need. There's no need to come up with workarounds to make the software work for us.
AgencyBloc is the #1 agency recommended management system built for life and health insurance agents.
You can track and manage your clients, prospects, policies, carriers, and commissions in the software, meaning you can go paperless.
Allison Babberl, Marketing Content Specialist at AgencyBloc, explains automation helps agents stay in better contact with their clients. Using Automated Workflows and triggers, you can send out communications automatically, saving you a lot of time.
Whether it's three months before their 65th birthday or the months leading up to a policy renewal, AgencyBloc makes sure no client slips through the cracks.
Another helpful feature in AgencyBloc is how easy it is to locate and access documents.
"Our clients love how they can drag and drop client documentation into AgencyBloc to help them go paperless and ensure they have all of the necessary information even when they're on the go," Babberl explains.
AgencyBloc's pricing starts at $65 per month, and there is a free trial.
Radiusbob
Other than AgencyBloc, Radiusbob is probably the second most popular CRM that's specific to insurance agents. Some agents hate it and others love it – strong opinions come with the territory. So just make sure to do a demo before you make any decisions.
Radiusbob has a free trial, and pricing is based on the number of users:
$34/mo for one user

$68/mo for two

$149/mo for five

$292 for 10
Features included are unlimited leads and clients, email marketing, commissions, file storage, screen sharing, E&O license tracking, and some texting and phone calling capabilities. If you have at least two users, you also get access to agent recruitment and lead distribution.
Several integrations are available, including Google Apps, Office 365, AgentMethods, Direct Mail Manager, and Twilio.
When thinking about managing your customer relationships, Radiusbob helps by keeping you organized. Each lead and client has its own history, reminders and tasks, notes, and file storage. You can also import emails.
The calendar view allows you to see what's coming up so you stay on track.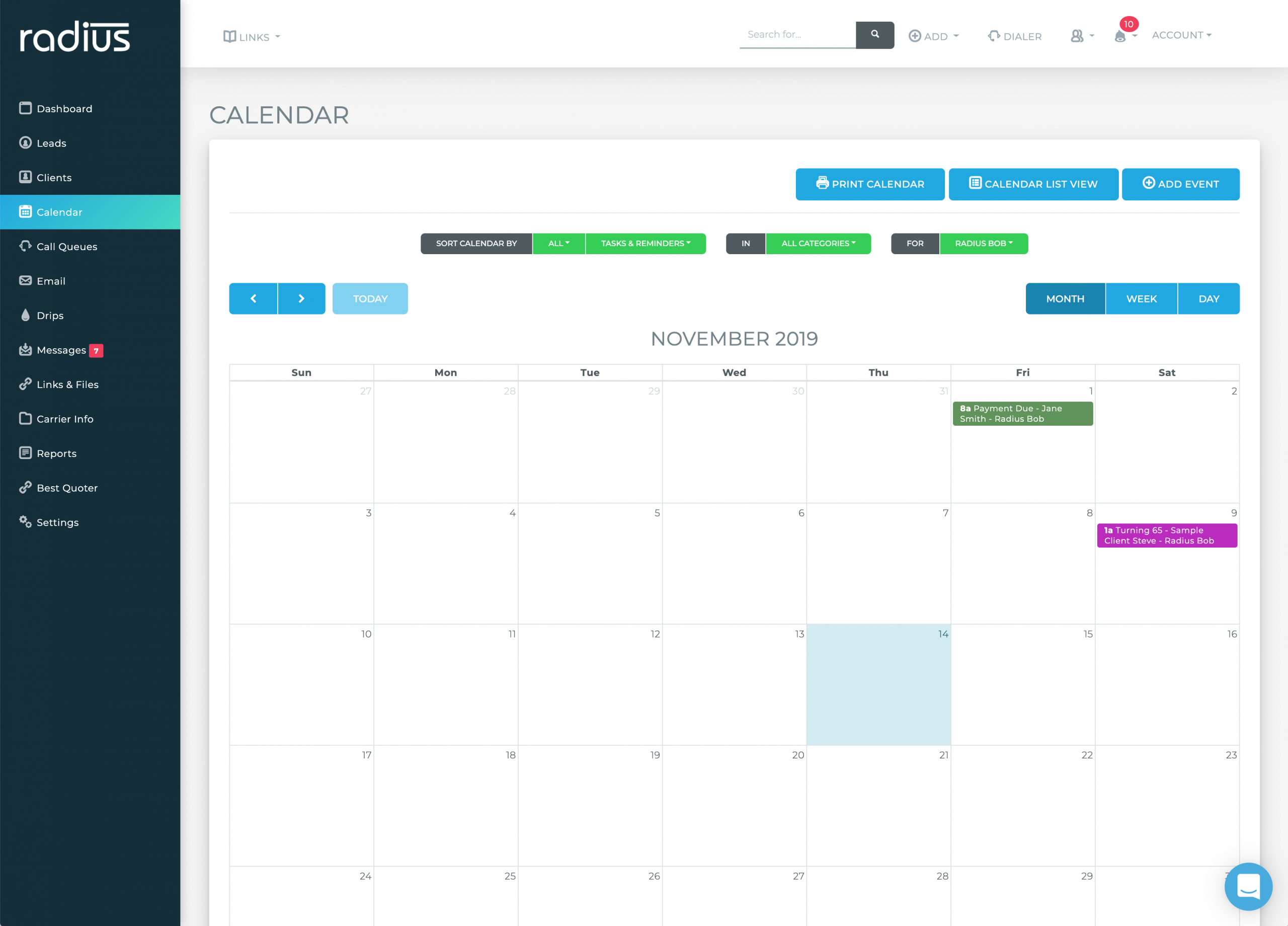 Using Radiusbob ensures you won't miss another policy renewal or waste money on leads that don't get nurtured.
Free CRM for Insurance Agents
There are free CRM options available, and most of them are "light" versions of the real thing. The features you have access to are limited.
AgencyBloc pricing starts at $65 per month and RadiusBob starts at $34 per month. Ask yourself if you could hire someone for less than $100 per month to do what CRM software can do. I'll just tell you: you can't.
Agents can save up to 10 hours per week easily when they use CRM software. I think that's well worth it.
But I get it – if you're just starting out, you may want to begin with a free option or test out the waters to make sure a CRM will be valuable.
Some free CRM options include:
HubSpot

– plans can get very expensive, but the free version stores your contact information, allows you to track emails, and offers live chat for your website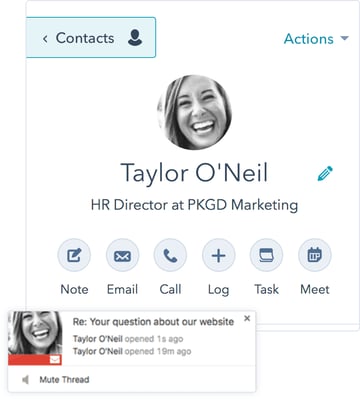 Here's an example of a contact record in HubSpot. You can also see the email tracking features in the lower left, which tells you when a contact opens your emails.
Zoho CRM

– the forever free plan allows for three users, leads, documents, and mobile apps; plus, upgrading to the paid plan is only $12 per month (paid annually)

Here's a look at the contact management feature in Zoho CRM, which helps you keep track of your interactions and turn prospects into clients.
Capsule CRM

– the free version has basic features for up to 2 users and 250 contacts; you get custom fields, sales opportunities, cases, tracks, task management, and a visual pipeline; upgrading to the paid plan is only $18 per user per month

Here's a look at Capsule's quick search feature, which allows you to find anything you're looking for across the entire CRM, like a phrase used in a note or email.
If you're set on starting with a free option, I'd personally begin with HubSpot. My second choice would be Zoho CRM. These may not be specifically made for insurance agents, but they're the next best thing.
Anything is better than that filing cabinet collecting dust in the corner of your office.
Ultimately, it's whatever solves the problem, but as you grow, it starts to make more sense to get something specialized. That's why we chose AgencyBloc and have been loving it ever since.
Conclusion
Once you've chosen a CRM and have moved over all of your data, you'll feel a massive sense of relief.
It does take some time to set up all of your processes, especially if you want to do automations or workflows. But it's a short investment of time in the beginning to enjoy loads of time back once it's up and running.
CRM software can also be a huge stress relief during AEP. You're so much more organized, which is critical for the busiest time of the year.
If you have any questions about CRM software, leave them in the comments below. We do monitor all comments and reply back to them, so don't be shy!