*For producer use only. Not for use with the general public.*
One of the most viewed pages on our website is the DVH insurance page. We were sort of confused, because not many agents go crazy about selling it (or so production says).
What we discovered is that consumers were actually searching for dental insurance.
That's right… consumers were landing on the New Horizons website looking for more information about Dental, Vision, and Hearing insurance.
And then we realized… if consumers are frantically searching for dental policies, and our agents aren't selling much of it… there's a huge opportunity here that we're not taking advantage of.
And then, like an angel appeared from the sky, Chris Kolowich, a Mutual of Omaha Account Representative, visited our office to teach us about – you guessed it – dental insurance.
Whether you think dental insurance is a waste of your time or not, it's what people are searching for. And you know the saying… give the people what they want!
Without further ado, I'd like to welcome Chris to the New Horizons blog. He's going to give us the scoop on:
Why everyone and their mother is Googling dental insurance
The product details for Mutual of Omaha's dental plan
How the e-app works
How incredibly EASY it is to generate an instant quote
Which dentists your potential clients can use
Customized marketing materials you are free to use
Common FAQs to prepare you for tough client questions
---
Hey there! My name is Chris Kolowich, and I'm the Account Manager at AIMC, Mutual of Omaha.
The big question is: why is there so much interest in dental insurance?
The fact of the matter is that there's a huge need for it in the senior market. Why?
Medicare doesn't cover most dental services
About 74 million Americans don't have dental coverage (about 23% of the entire population)
76% of seniors say they plan to visit the dentist within the next year
So… people need it, and they can't pay for it.
That explains why dental insurance is one of the most popular ancillary product sales for Medicare-eligible clients.
What are the benefits for the dental plan?
Now, before we get into some fun stuff, like how simple the e-app is and how you can get instant quotes (faster than Jimmy Johns), I need to give us a good base.
Here's a high-level view of the dental insurance plan from Mutual of Omaha:
Issue ages: 19-99
Guaranteed Issue (GI) with only 2 questions on the e-app
Unisex/Community-Rated
375,000 dental provider locations in-network
And here are the benefits for the preferred policy and the protection policy:
| | Mutual Dental Preferred Insurance Policy | Mutual Dental Protection Insurance Policy |
| --- | --- | --- |
| Annual Deductible | $0 per year for preventative services; $50 per year for basic and major services | $100 per year |
| Preventative Services (2 cleanings per year and X-rays) | 100% | 100% |
| Basic Services (Fillings, extractions, emergency treatment) | 80% | 50% |
| Major Services (Crowns, root canals, dentures, periodontics, bridges, oral surgery) | 50% | 50% |
| Annual Benefit | $1,500 | $1,000 |
| Lifetime Benefit for Implants | $3,000 | $2,000 |
| Out-of-Network Benefits | Charges are paid at the 80th percentile of the average cost of service in the customer's area. Customer then pays the difference to the dental provider. | to the in-network discounted fee schedule, meaning a dentist can balance-bill the customer the difference. |
If your client is also interested in vision insurance, there's an optional vision rider. This costs $8.28 per month (Nevada is the exception with $7.73).
The vision rider provides a reimbursement benefit that pays up to $50 each year for an eye exam and up to $150 every 2 years for glasses or contacts (6-month waiting period).
Which states are approved for the dental plan?
The following chart shows which states have been approved and which states and pending approval.
Unfortunately for our Illinois guys, it isn't approved yet, but Indiana, Iowa, and Missouri (among others) are going strong.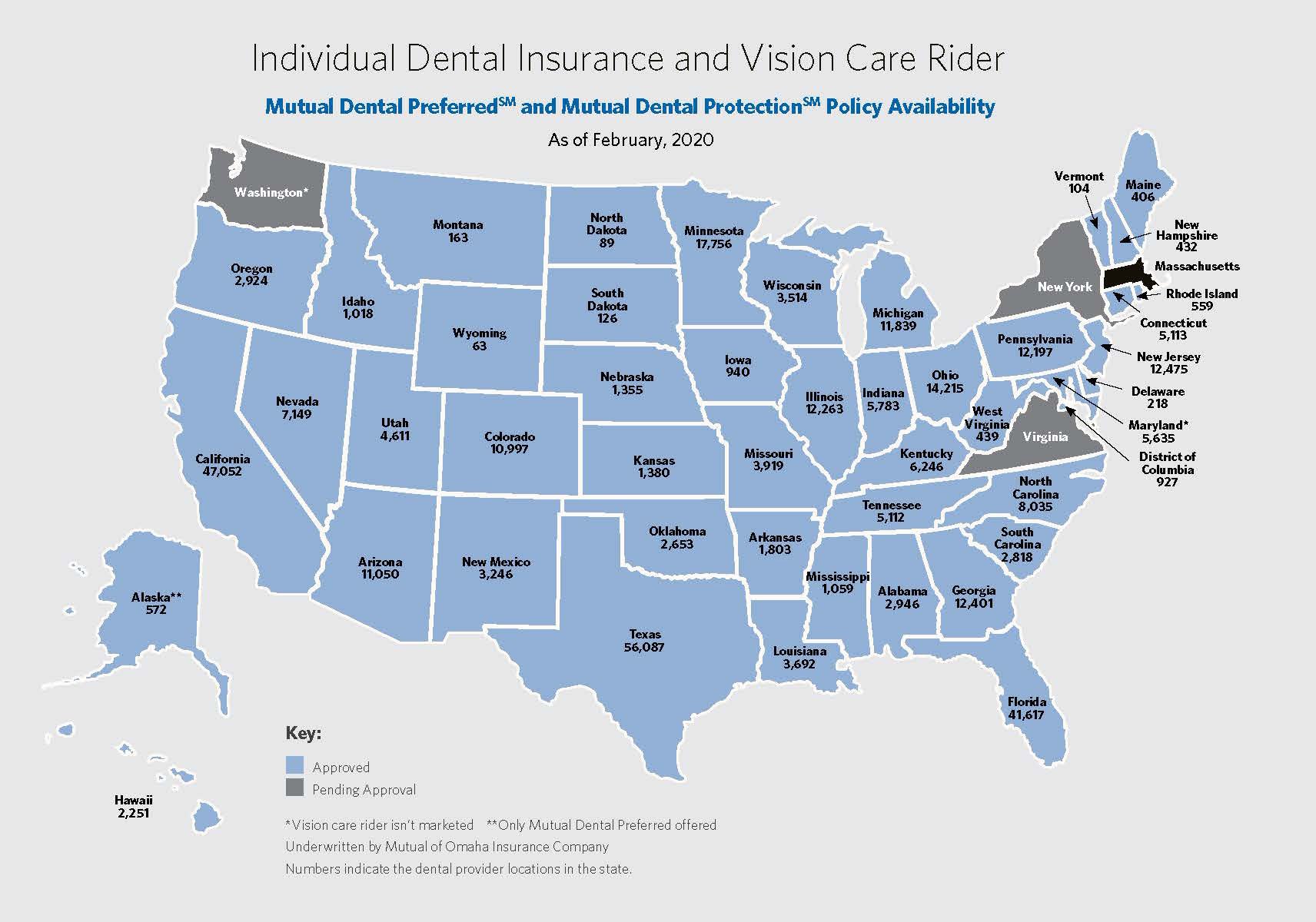 How does the e-app work?
The e-app is incredibly easy to use, and it's even more seamless if you start a dental e-app after completing a Med Supp e-app.
I'll show you how. When you finish a Mutual of Omaha Medicare Supplement application, you'll be directed to a Thank You page. On this page, you can transition directly into the dental plan.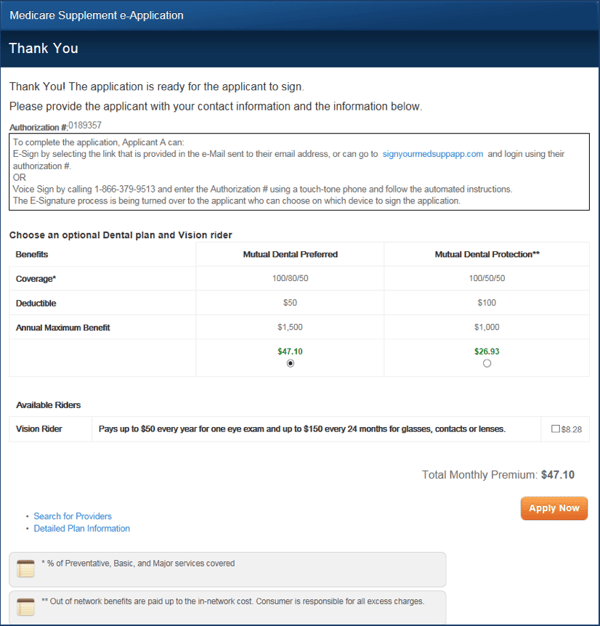 When you click "Apply Now," you'll be taken to a page where you can finish up the preliminary details.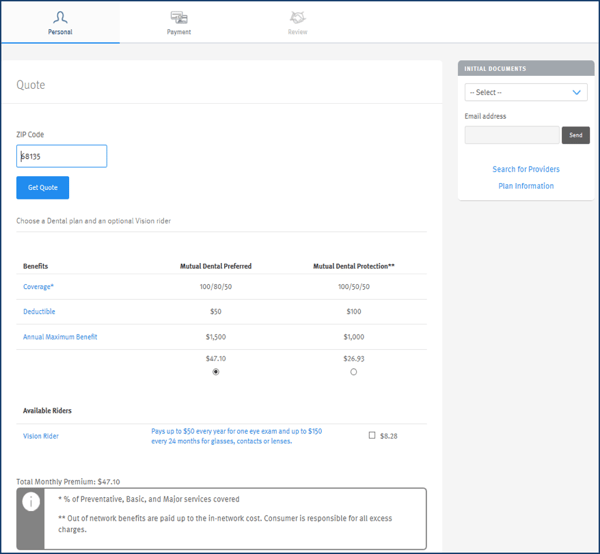 Then, you'll go through and fill out the personal information.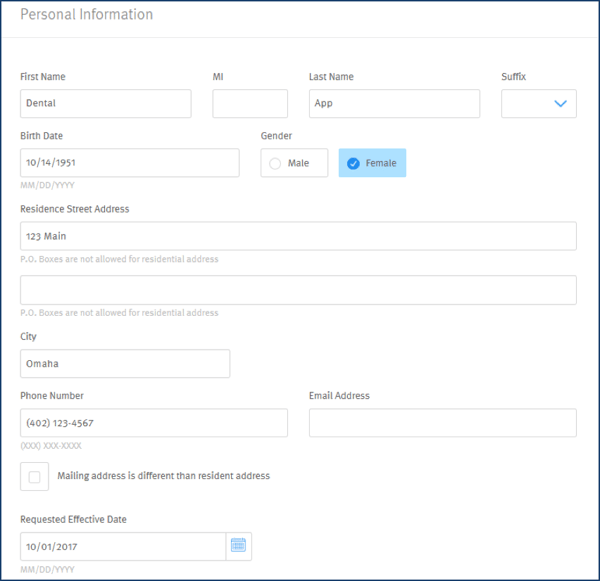 The next page will ask if you want a temporary ID card – we recommend choosing "yes" – and which city and state your client is in.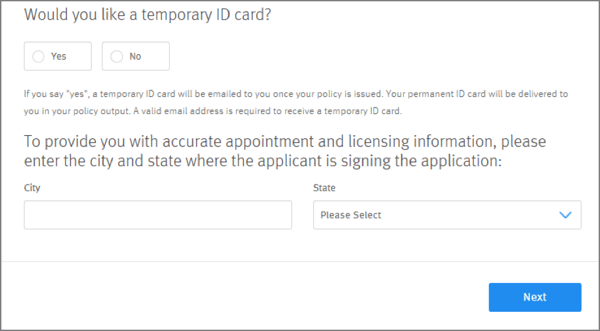 Then, you'll go through the payment information…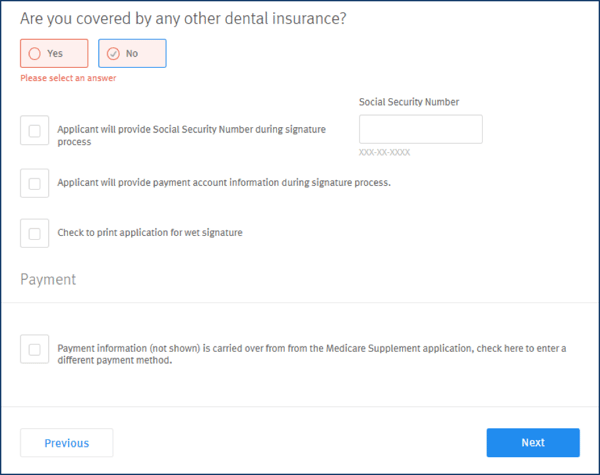 …your producer information…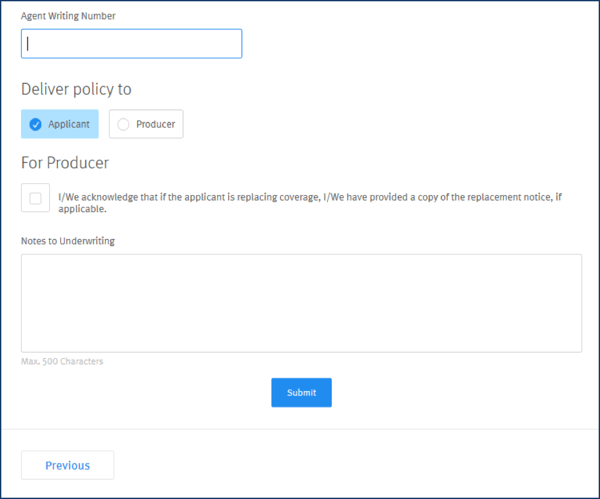 ...and the Authorization Number as well as client signature options.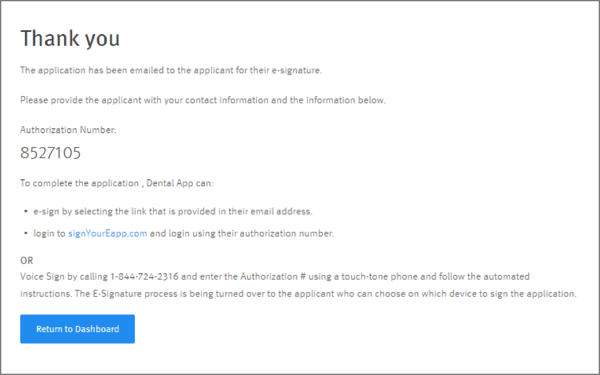 For the signature options, you can choose:
E-signature
Voice signature through IVR
Wet signature
You can choose to do a paper app if you like, but the e-app process is much easier.
How do I get instant quotes?
Mutual of Omaha has a mobile app available on the Apple app store and Google Play that gives you instant quotes at the tap of a button.
Simply search for Mutual of Omaha and select Quotes for Sales Professionals.
You can also watch the Mutual of Omaha Dental E-App Tutorial video on our product page.
Which dentists can the client go to?
The Mutual of Omaha plan has 375,000 dental providers in network.
You can see which dentists are available in your zip code by visiting www.dentistsforme.com/mutualofomaha.
What marketing materials can I get?
Selling dental insurance is easier than ever with the help of some free marketing materials. Get access to a customized consumer brochure along with a consumer prospecting letter by ordering the materials at 1-800-693-6083.
What common questions will clients ask?
The worst situation is when a client asks a question, and you don't know the answer! That's why I've compiled a list of Frequently Asked Questions.
Q: Can clients learn the cost of a dental service in advance?
A: Yes. With a pretreatment estimate, consumers will know in advance if the service or procedure their dentist recommends is covered by the policy. They will also know what to expect to pay. To request a pretreatment estimate for services over $200 and over, call 1-800-775-1000.
Q: Is there a waiting period for dental services?
A: There's no waiting period for preventive and basic services. This includes cleanings, X-rays, fillings, extractions and emergency treatment. Major services (crowns, dentures, bridges, root canals, periodontics and full-mouth X-rays) require a 12-month waiting period before benefits are received.
Q: Is this guaranteed renewable?
A: Yes.
Q: Do you accept credible coverage?
A: Not at this time. We are not accepting proof of credible coverage to waive part of the waiting period for major services.
Q: Do you have family plans?
A: Not at this time.
Q: Will premiums go up?
A: Premiums won't increase due to any change in individual health. However, rates may change if we make the same change to all dental policies or vision benefit riders of the same form issued to all persons of the same class.
Q: How could I request to have a dental provider added to the network?
A: Call 1-855-218-1466 to request to have a dental provider added to the network.
Q: What happens on claims once Mutual of Omaha has paid their share for the year (calendar year max is met) – does the client receive the negotiated rate on additional in-network services/procedures, or is the dentist allowed to charge whatever they wish?
A: After the calendar year maximum is met, the client would still receive the negotiated rate for in-network services/procedures.
Q: Is there a maximum amount for major services that can be allocated to the maximum benefit amount? For example, a $1,500 calendar year maximum benefit amount but only $1,000 of that can be from major services?
A: No. The calendar year maximum benefit amount is for all services combined. For example, if client only receives major services, but they hit the $1,500 (or whatever their policy maximum is), those major services will max out on the calendar year for all other services.
Q: If a customer goes to an out-of-network dentist provider, how does the claim process work? Does the customer need to submit the claim themselves?
A: The out-of-network provider may or may not complete and submit the claim to Mutual. If the out-of-network provider does NOT submit the claim, then the client would need to submit the claim themselves. The client can obtain claim forms from our website as shown on the Policy Schedule.
How do I get appointed?
Getting appointed is easy! Visit the Mutual of Omaha Dental Plan page and fill out the contracting form. You can also click the link below: