The Capitol Life Medicare Supplement has taken off in 10 states, including Michigan, Texas, and North Carolina. New states are constantly rolling out, and as of October 30th, it's available in Illinois, Tennessee, and Iowa!
Now that we have some experience under our belt with this new product, we can't express enough how excited we are about this venture.
---
Transcript...
Red, Yellow, and Green Underwriting System
The new red, yellow, green underwriting system just can't be emphasized enough. In fact, the fastest app on record is just 57 seconds! Overall, the initial response from the field is overwhelmingly positive.
Jason Ferguson, CMO, put together an e-app tutorial that will walk you through how to do the Capitol Life e-application.
If you still need to complete contracting, Ginny Dunker is the key contracting person for you in our office.
Great Rates and Bonus Program
Beyond the underwriting system, the great rates are key, and Capitol Life is within the Top 3 in most states – if not the Number 1 spot.
There's also a cash bonus that pays out $500 for every 5 issued and paid apps between October 30th and November 30th. On top of the cash bonus, you'll receive a 1,000 piece mailing for every 5 apps you send in. For example, send in 10 apps and get a $1,000 cash bonus and a free 2,000 piece mailing!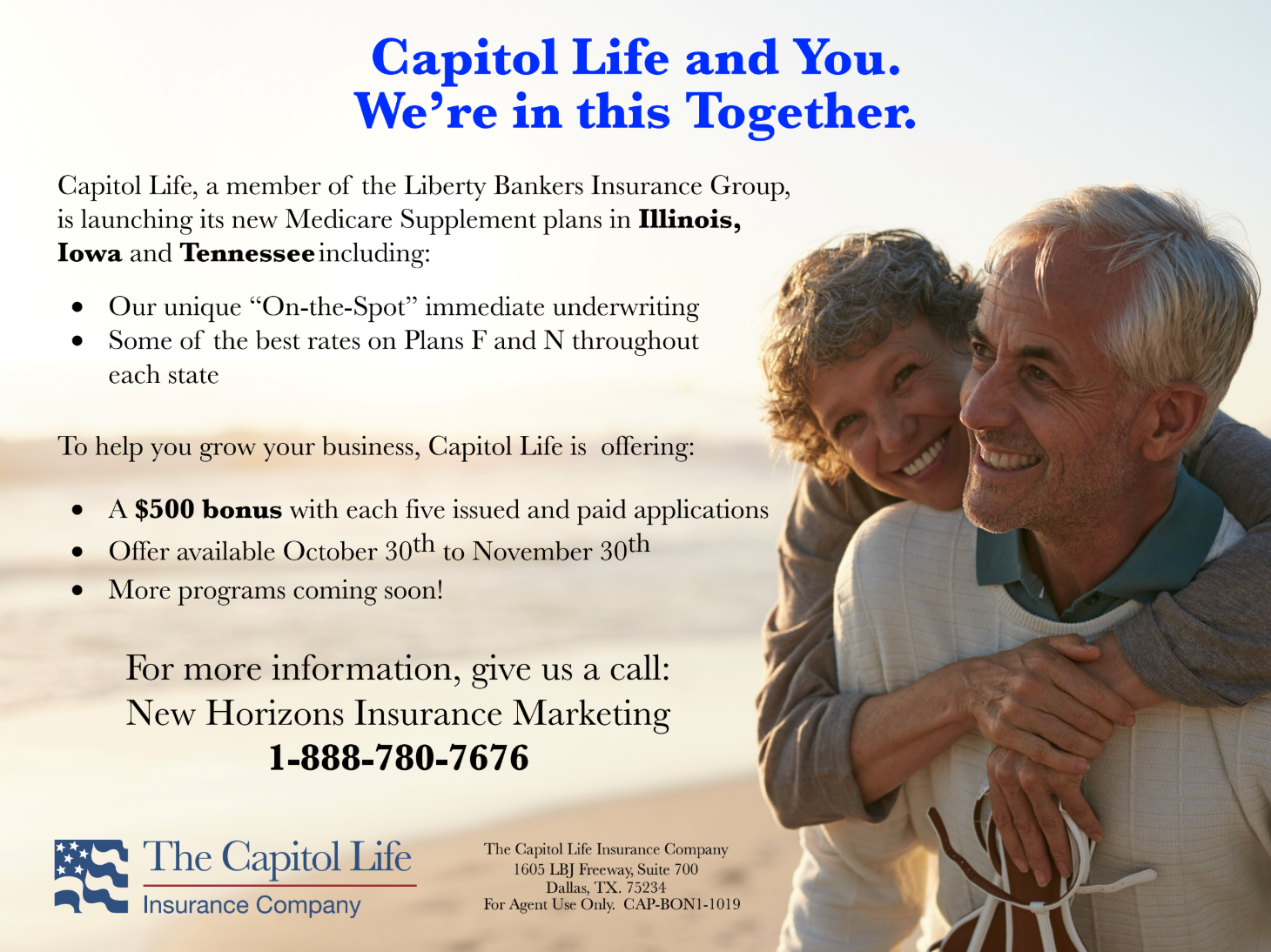 In addition, the 2020 incentive trip will be announced soon, which your production will count towards. There's an amazing history of marketing trips here, such as Madrid, Hawaii, and Norway – this is a trip you don't want to miss!
Great Support
Here at New Horizons, we have a direct relationship with Capitol Life, which means the communication process is that much easier if you have any questions or concerns. We also have great support from the home office to our organization.
Capitol Life is a company you want to have at your disposal. Be sure to get your contracting started today by giving us a call at 888-780-7676 and asking for Ginny.