Medicare Supplement household discounts (HHDs) can be a great selling point with consumers, but they can also be a huge pain for agents.
Every company has a different discount percentage with different qualifications and variations by state. It's frustrating, but we've helped simplify things with a special cheat sheet.
Here's your agent guide to Med Supp household discounts.
What's a Household Discount?
Medicare Supplements often have a household discount (HHD) available for individuals who live in the same house as someone else. Some companies require you to be married, while others require you to be married and each have a Medicare Supplement with the same company.
The exact HHD qualifications vary from carrier to carrier, and the rules also vary by state.
An average household discount is around 7%, but some carriers don't offer any discounts while others go as high as 20%.
Learn more about Med Supp sales here: The Beginner's Guide to Selling Medicare Supplements
Why Do Carriers Offer a Household Discount?
The thought process behind household discounts and their qualification requirements is that people who live alone are more likely to have higher insurance claims than those who live with someone else.
According to the National Institute on Aging, social isolation and loneliness is linked to higher risks for a variety of mental and physical health conditions:
High blood pressure
Heart disease
Obesity
Weakened immune system
Anxiety
Depression
Cognitive decline
Alzheimer's disease
Death
On the other hand, people who engage in activities with others have a sense of purpose, maintain their well-being, and tend to live longer.
By offering a discount, or incentive, for living with another person, the insurance company is more likely to have fewer and less expensive claims.
How to Apply HHDs In Our Quote Engine
If you want to apply a carrier's HHD in our quote engine, it's as simple as checking a box.
First, sign into our website and open the quote engine.
Then, enter your quoting information as usual (zip code, age, gender, plan type, etc.).
Here, you can also choose whether to apply the household discounts or not.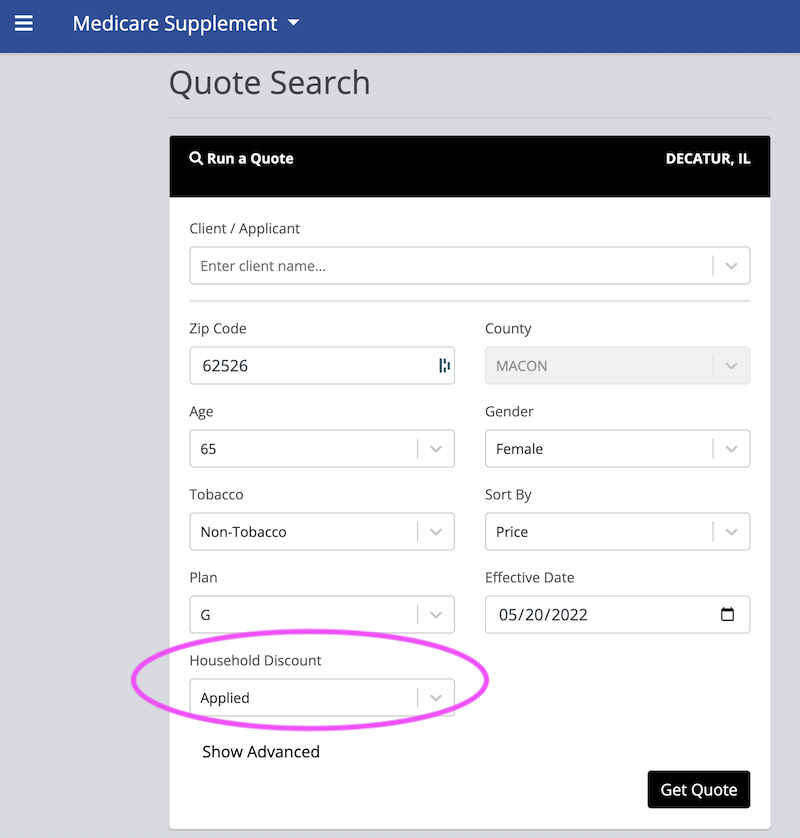 After you run the quote, on the left side of the screen, you'll see the option to check and un-check "Apply Discounts." This allows you to toggle the price list easily.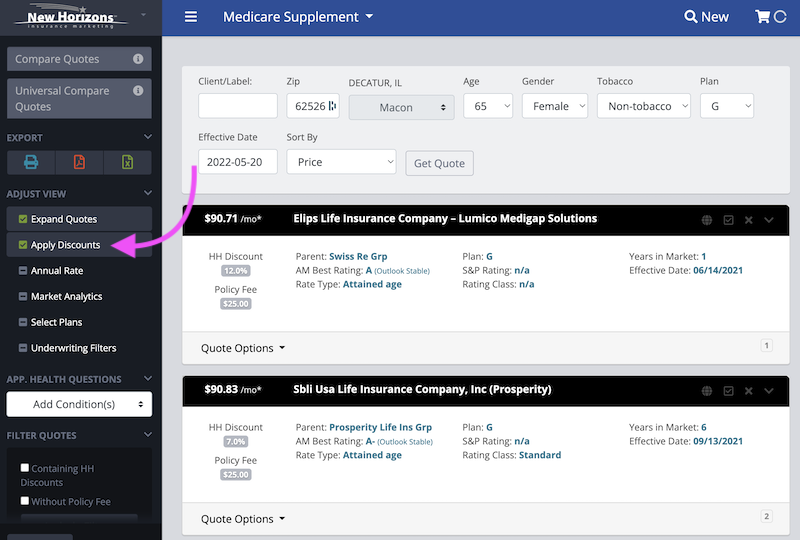 You'll also see the option to Filter quotes that contain a household discount.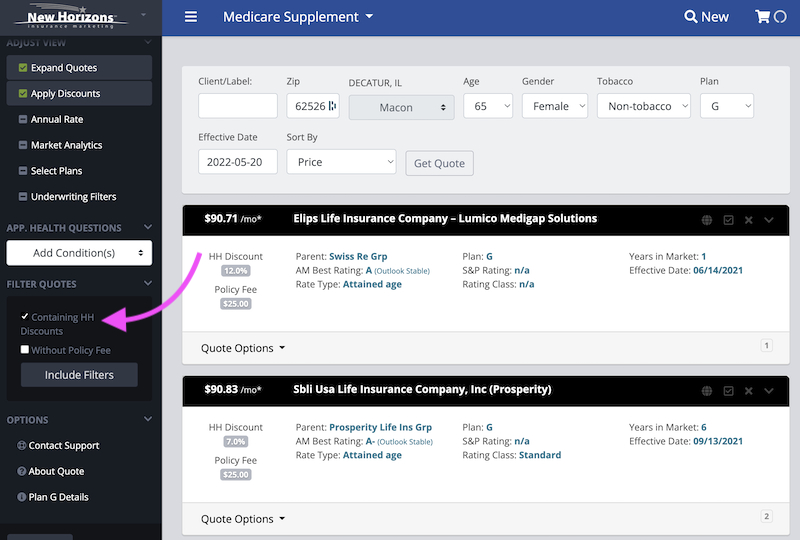 Finally, you can quickly see the household discount percentage underneath the price.

Household Discount Variations
One of the hardest parts about comparing Med Supp quotes for clients is that household discount requirements vary from carrier to carrier (and state to state).
In our quote engine, you can check a box that applies the household discount to all of the Med Supp quotes. But your client may not qualify with each carrier, making it hard to do a true price comparison.
Here are some examples of how HHD requirements can vary:
Must reside with someone who also has a Medicare Supplement policy with the carrier
Must reside with your spouse, or, for the last 12 months, have resided with an adult who is 60 or older
Must reside with someone at least 18 years or older
Must reside with someone at least 50 years old
Must reside with your spouse, civil union partner, or domestic partner, or, for the past 12 months, resided with at least 1 but no more than 3 other household residents
With some carriers, you can qualify for the HHD just by living with someone else. You don't even have to married, and the other person doesn't need to have a policy with the company. But this isn't the case in all states.
Some states have regulations that make HHD requirements more strict.
Use the Household Discount Cheat Sheet
To help you quickly browse through the different HHD requirements in your state, be sure to utilize our Household Discount Cheat Sheet. We list the company, discount percentage, and requirements for all of the most popular Medicare Supplement carriers.
We currently have cheat sheets for the following states and continue to add states based on requests:
Alabama
Arizona
Arkansas
Georgia
Idaho
Illinois
Indiana
Iowa
Kansas
Kentucky
Michigan
Missouri
Montana
Nebraska
North Carolina
Pennsylvania
South Carolina
Tennessee
Utah
Wyoming
Household Discount FAQs
Q: What happens if the spouse or partner dies?
Many household discount disclaimers state that the discount will only remain in effect if both individuals live together and have a Medigap plan with that company. If one person cancels their policy or moves out, you lose the discount.
However, some companies do state that the exception to this rule is death. Here is how one company explains the rule: "Your household premium discount will be removed if the other Medicare supplement policyholder chooses to terminate his or her Medicare supplement policy or no longer resides with you (other than in the case of death)."
It's best to check the specific rules for the carrier in question.
Q: Where do I go to find household discount requirements?
In most cases, you get more information about household discounts in the Underwriting Guide or state-specific Sales Kit.
If you need help finding or downloading forms, please contact our office!
Q: Why are HHD rules different from state to state?
It can be frustrating to learn different HHD rules for all the carriers, let alone different rules from the same carrier depending on what state you're quoting.
Medicare Supplement rules and regulations are set on the state level (not federal), so in many cases, the requirements listed for a HHD are based on what the regulations are in an individual state.
As an example, Illinois used to require both spouses/partners to have a policy with the carrier in order to qualify for a household discount. Then, a few years ago, they modified that legislation so that carriers could offer more lenient eligibility requirements.
Carriers do set their own HHD eligibility requirements, but in many cases, it's guided by what different states allow.
Q: Do Med Supp carriers offer consumers other kinds of discounts (besides household)?
If you have a client who lives alone, you may be able to offer them other kinds of discounts, depending on the carrier.
For example, National General offers a whole line-up of Med Supp discounts:
‍‍Roommate discount – 7%
Household multi-plan discount – 10%
Activity tracker discount – 5%
Annual payment discount – 10%
Dental discount: combine NatGen plans and save 10% on dental
So, even if your client doesn't qualify for their roommate discount, they could save an additional 10% just by paying annually.
Conclusion
Household discounts can be a great value-add for your senior clients, but keeping track of the requirements for each carrier can be a hassle.
Be sure to download our Household Discount Cheat Sheet to make the job easier. We update this regularly when new carriers come out or requirements change.
Good selling!