Life insurance is not only a great way to increase your income, but it's a wonderful solution for senior-aged clients.
Of senior market insurance agents who make over $200,000 annually, the vast majority (79%) sell life insurance products (2021 State of the Senior Market Independent Agent Report).
Life insurance isn't just for young people with families. It's an excellent tool for seniors over age 60, but the trick is finding out the why: why does this prospect need life insurance, and what product would serve that need best?
Do they need help covering final expenses?
Do they want to leave an inheritance to their children?
Do they have any outstanding debts they want to ensure aren't passed on to a loved one?
That's what we're uncovering in this article today. Here are 5 simple questions to ask life insurance prospects who are around retirement age.
Always Start With the Client Needs Assessment
You don't need to memorize questions or practice a slick sales pitch to sell life insurance. Just use the Client Needs Assessment, and when you get to Question 7, follow the prompts and jot down notes!
You'll know within a couple of minutes if your client needs life insurance and what type will serve their needs.
The Client Needs Assessment takes a holistic approach to serving your senior-aged prospect, so it's not just focused on life insurance. It'll uncover needs for long-term care insurance, cancer insurance, annuities, and more.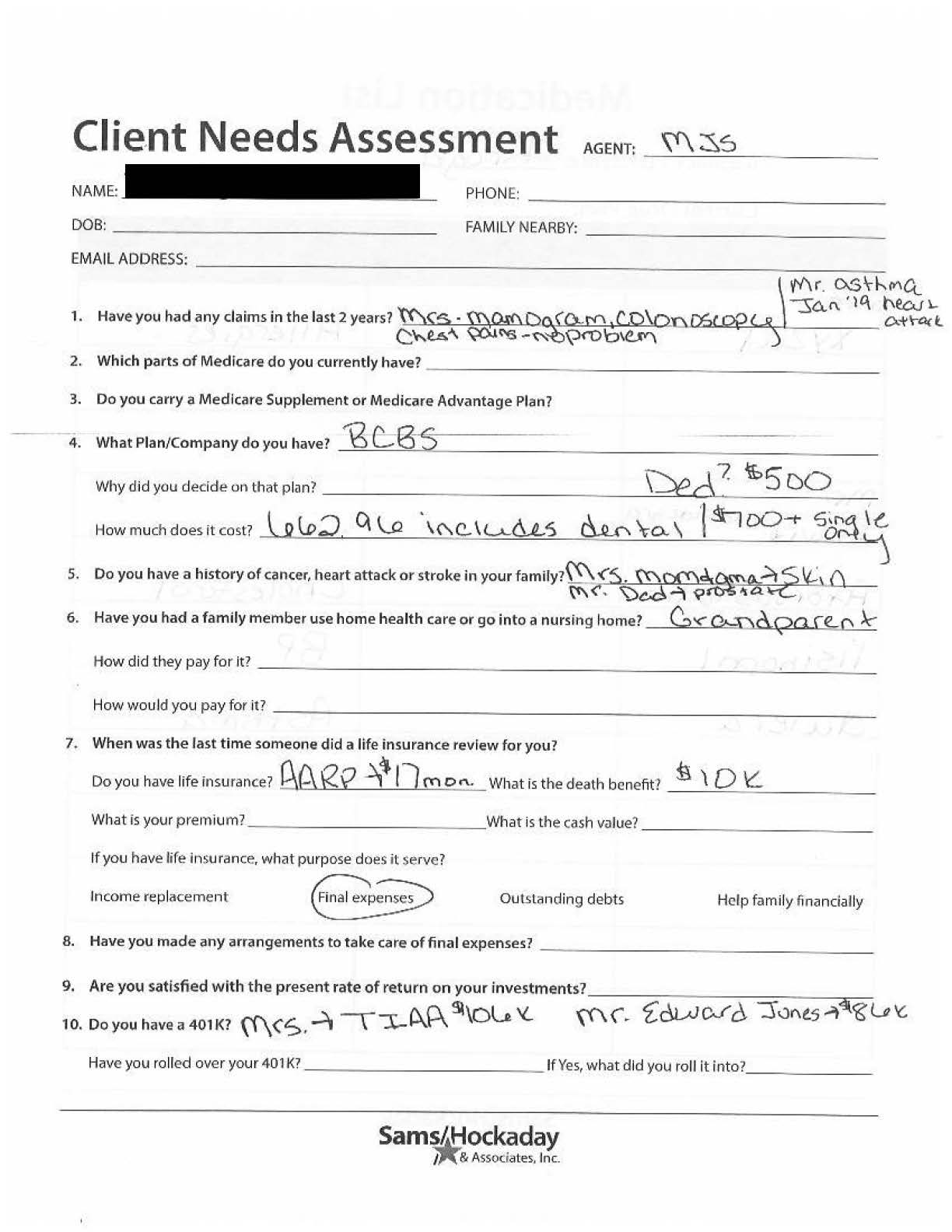 It also uncovers all needs upfront, so you never go back to a client on a future appointment and recommend something new out of the blue.
You can tell your client the first time you meet with them what products they'll need. You may not tackle them all at once, but they know upfront what you're recommending, and you never look like a greedy salesman just trying to earn another buck.
Question #1: Do you currently carry any life insurance?
Many prospects you meet with will already have some kind of life insurance coverage. That's why we start the life insurance conversation with a simple, straightforward question: do you currently carry any life insurance?
It's the first question you should ask any life insurance prospect that's retirement-aged.
All you're really looking for here is a "yes" or a "no."
If they say yes, you'll be asking some follow-up questions to determine what they have and why:
What is the death benefit?

What is your premium?

What is the cash value?

If you have life insurance what purpose does it serve?
The four purposes for life insurance after age 60 include:
Income replacement: replacing your income for those who are dependent on it while you're living.
Final expenses: allocating funds for your funeral and end-of-life medical bills.
Outstanding debts: ensuring your loved ones don't get stuck with a mortgage, credit card, or car loan (less common with older clients, but definitely possible).
Help family financially: passing your wealth along to children or loved ones upon your death.
Another potential purpose for life insurance after age 60 is passing along your wealth to a charity, but these four life insurance purposes typically cover your bases.
From here, you can determine if their death benefit is sufficient for the purpose, and you can beef up their coverage if needed. You may also be able to get them a better life insurance policy than what they have now, so consider offering a free policy review.
If your client doesn't have any life insurance, it's time to figure out if they need some.
Question #2: Does anyone currently rely on your income?
Typically, this question will apply to married couples: does anyone currently rely on your income?
If the answer is yes, a natural follow-up question is: do you have a plan to replace that income upon death?
If the client has no income replacement plan, and the spouse wants to keep the same standard of living, a life insurance policy is a great solution.
You can roll into product recommendations from there, and if you're not sure what the best fit is, you can rely on Kirk Sarff in our Life Insurance Department. You can learn more about how he can support you in our free e-book:
Question #3: Have you made any arrangements to take care of final expenses?
It takes some education to learn just how expensive a funeral can be, and if your client doesn't have a Plan A, Plan B isn't a great one.
We see it all the time – the family is quickly trying to pull together funds, and a GoFundMe page is sure to follow. It's not the legacy anyone wants, and final expense insurance is a great, inexpensive solution.
Start the conversation with your life insurance prospect by asking: have you made any arrangements to take care of final expenses?
The conversation will flow naturally from there, and if they have made some arrangements, ensure they have enough funds set aside. A lot of people underestimate the average cost of a funeral.
Question #4: Do you have any outstanding debts, such as a mortgage or car loan?
Oustanding debts are a lot less common among the senior crowd, but it's still possible. We rarely sell term life insurance to people over age 60, but if a client has a mortgage or another loan with a timeline attached to it, a term product is a perfect fit.
Ask that client: do you have any outstanding debts, such as a mortgage or car loan? If they do, ask them who would be responsible for taking on those debts if they passed.
Matching up the term life insurance death benefit to their outstanding debt can give that client a plan – and some peace of mind.
Question #5: Do you want to pass any of your wealth to your family after death?
Life insurance is a great way to pass wealth on to family after you pass. If this is something your client would like to do, ask: do you want to pass any of your wealth to your family after death?
If the answer is yes, talk to them about life insurance options. Kirk Sarff, Director of Life Insurance Sales, can also help you determine which life insurance company and product type is the best recommendation for that client.
Occasionally, an annuity can also be a good option as it avoids probate.
Bonus Question: Have you had a family member use home health care or go into a nursing home?
Life insurance with a long-term care rider attached is becoming one of our most popular long-term care solutions. If your client has no plan for long-term care costs, a life insurance product may actually be their best solution.
---
Upcoming Webinar on June 17, 2021: Life Insurance w/ LTC Rider Product Training
---
Ask that client: Have you had a family member use home health care or go into a nursing home?
If yes, ask them how that family member paid for it. Then ask how they'd pay for it. It may not sound like a traditional life insurance question, but it gets the conversation started.
A hybrid life insurance policy with a long-term care rider added on can cover multiple needs; plus, a client can pay off the policy in 10 or 12 years.
Conclusion
Talking to prospects about life insurance isn't difficult, especially when you have the Client Needs Assessment as a guide.
Don't forget to lean on Kirk Sarff for illustrations, product recommendations, and policy reviews. He can be your right-hand man in serving your client with the product that will fit their needs and budget the best.
What questions do you ask life insurance products over age 60? Let us know in the comment section below!