Are you planning to sell Medicare Advantage or PDP products during the 2020/2021 Annual Enrollment Period (AEP)?
Steve Spinner, Director of Medicare Advantage Sales, shares what you need to know as you get situated for this fall including some interesting stats, changes for 2021, and the introduction of MedicareCENTER.
---
Getting Ready For AEP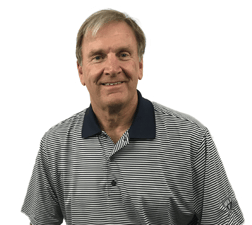 My name is Steve Spinner, and I'm the Director of Medicare Advantage Sales here at New Horizons Insurance Marketing in partnership with Integrity Marketing Group.
Here's what we need to know about what's going on during AEP.
We're within 60 days right now of being ready to go for our October 15-December 7th annual journey through the Medicare Advantage and PDP space.
A lot of the Medicare Advantage plans are very similar to last year, but of course, there are a few changes. The annual notice of changes are going out in the next 30 days or so.
Many things are going to be changing from the standpoint of less and less face-to-face as we're going through COVID-19. We're definitely moving toward more telephonic and online enrollment.
Related: What Agents Need to Know to Prepare for AEP During COVID-19
We're also happy to announce all of our contracted agents will have access to a powerful tool called MedicareCENTER.
Medicare Advantage Facts
Here are some interesting facts to know about the Medicare Advantage world.
About 60% of all Medicare products sold across the country today are Medicare Advantage.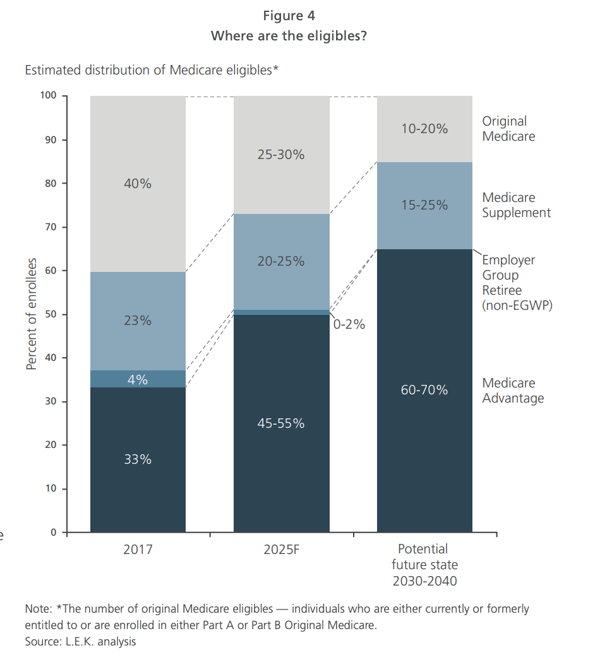 Medicare Advantage is sold more often than Medicare Supplements. In 2017, we see that Medicare Advantage accounted for 55% of all Medicare products sold. This chart also illustrates the projections – Medicare Advantage is only getting more popular, and producers need to get on board before they're left behind. Chart source: LEK
It's increasingly becoming more and more a part of the fabric as people decide what healthcare products and strategies they'll utilize to take care of their health going forward.
We know that by the year 2030 – a scant 10 years – 50% of the entire marketplace is projected to be Medicare Advantage (if not more).
It's going to be very important that you hone your skills and know these products. More and more people are asking questions about MA as an alternative option. Their neighbors have this product, and it's becoming a more viable product in the marketplace.
Pay Attention to $0 Premium PPOs
If you have any $0 premium PPO products in your county, I would strongly suggest that you get in touch with one of them and be ready to sell for that particular product.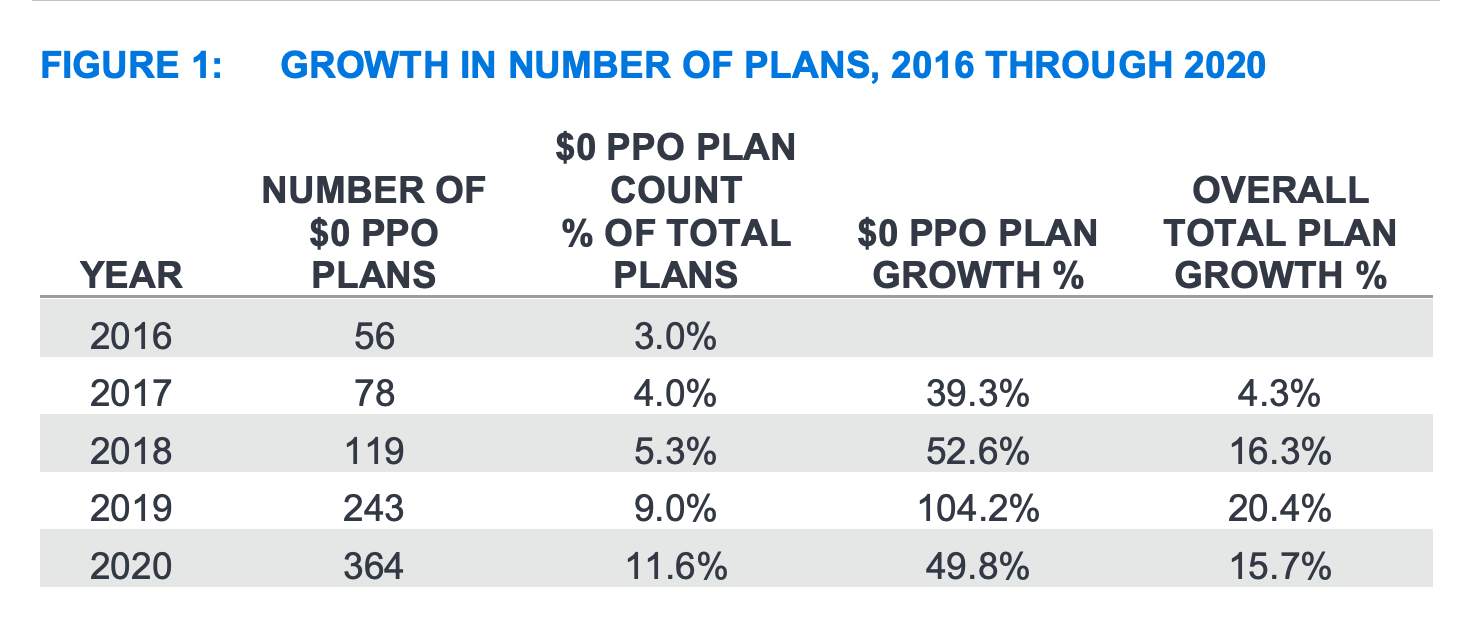 In recent years, $0 PPO enrollment is growing over three times faster than the total MAPD market. Source: Milliman White Paper, April 2020
PPOs, or preferred provider organizations, offer the most flexibility when it comes to choosing a doctor, choosing a hospital, or choosing a lab. If you have one available in your county, make sure you're very familiar with it. Get contracted with it, and be in a ready to sell position.
To request Medicare Advantage contracting, select your carrier here and fill out the contracting form. To request PDP contracting, select your carrier here and fill out the contracting form.
If you don't see the carrier you want, please email Ginny Dunker, Contracting Specialist. New Horizons has contracts with all the major Medicare Advantage players, such as Aetna, Humana, UnitedHealthcare, the Blues, and many regional carriers. As you know, compliance rules are very strict for publishing information online, and we don't yet have approval to post information from all of these carriers on our website.
Medicare Advantage Changes for 2021
Some of the changes happening in the MA world involve ESRD, out of pocket maximums, and expanded telehealth coverage.
ESRD Changes
The only medical question in the past has been end stage renal disease (stage 4 kidney problems). The 21st Century Cures Act amended the Social Security Act to allow all Medicare-eligible individuals with ESRD to enroll in MA plans beginning January 1, 2021.
Simply understand the ESRD question is going away, making underwriting even more favorable.
Expanded Maximum Out of Pocket
The 2021 maximum out of pocket, or MOOP, limit is being expanded to $7,550 (it was $6,700 in 2020). This is pretty much due to the fact that this ESRD question is going away. It's a very expensive proposition.
Better Telehealth Coverage
Finally, expect better telehealth coverage moving forward. CMS Administrator Seema Verma said in an earlier press release:
"CMS's rapid changes to telehealth are a godsend to patients and providers and allows people to be treated in the safety of their home. The changes we are making will help make telehealth more widely available in Medicare Advantage and are part of larger efforts to advance telehealth."
CMS is giving MA plans more flexibility to count telehealth providers in certain specialty areas such as:
Dermatology

Psychiatry

Cardiology

Ophthalmology

Nephrology

Primary Care

Gynecology

Endocrinology

Infectious Diseases
This flexibility encourages plans to enhance their benefits to give beneficiaries access to the latest telehealth technologies and increase plan choices for beneficiaries who live in rural areas.
Read More: 10 Reasons You Should Seriously Sell Medicare Advantage
Introducing MedicareCENTER
We're proud to announce the introduction of MedicareCENTER, a revolutionary tool that's available to all of our agents thanks to our partnership with Integrity Marketing Group.
MedicareCENTER is a cutting-edge system that will change the game for agents who sell MA, Med Supp, and PDP products.
Here are a few quick highlights:
A robust Client Relationship Management (CRM) system
The ability to text clients compliantly
Access to the latest enrollment and quoting technology
A single login for multiple carriers from any device, anytime
Extensive Learning Center full of guides, tips and materials
This will be a very integral piece of your weaponry when it comes to understanding how we can do things over the telephone or digitally. It'll make your job as easy as possible.
Be on the lookout in the next couple weeks for more information and training!
"MedicareCENTER will allow me to tackle the Medicare Part D comparisons and enrollments much easier than I've done in the past. In the past, I've provided a free service to take care of my clients. Now, I get to embrace this awesome new system." –Michael Sams
"MedicareCENTER will make this AEP much easier. We'll have access to all the carriers for prescription drug plans as well as Medicare Advantage. Now, we can not only help our customers, but we can get paid for what we do." –Luke Hockaday
Don't Forget Your AHIP!
If you plan on selling MA, MAPD, and PDP plans this fall, be sure to complete your AHIP. We've put together a list of discounts offered by different carriers, which you can view here: 2020 AHIP Certification Discounts.
Conclusion
We're looking forward to the fall AEP this year. The introduction of MedicareCENTER is very exciting and I can't wait to see how it eases up the stress of the enrollment period.
The atmosphere will be different in the midst of COVID-19, but I know we can make it through. If you have any questions, please put them in the comment section below!