LeadCENTER is an exclusive tool that allows you to purchase high-quality Medicare and life insurance leads. It integrates with MedicareCENTER and helps you not only buy leads but manage them afterward.
If you're intrigued by this exciting new tool, we'll show you around and help you get started.
Webinar Recording
We did a webinar on this topic where Anna Patrick at LeadCENTER walks us through the software and explains what everything means.
Feel free to watch that if you're more of a visual learner! It'll also be very helpful for troubleshooting if you run into any roadblocks as you set up your account.
What is LeadCENTER?
LeadCENTER lets you search leads in exactly the part of the country you need, choosing between Internet, Direct Mail and Social Media leads. Your leads are ready to use immediately after purchase. You can also set up realtime campaigns that allow you to get live phone call transfers on Medicare, Medicare Supplement, or Medicare Advantage leads.
With LeadCENTER, growing your business is simpler than ever with:
TCPA compliant and exclusive leads
County-based heatmap searching
Management of existing leads
Lead notifications
Immediate access to new leads
Integration with MedicareCENTER
Be sure to check out these helpful flyers and fact sheets:
How to Get Access to LeadCENTER
As soon as you're contracted with us here at New Horizons, you'll be able to get access to LeadCENTER. Perhaps the easiest way to get started with LeadCENTER is by logging into your MedicareCENTER account.
If you don't yet have a MedicareCENTER login, you can register for one using your National Producer Number. When you get contracted with us, we sent your NPN to the technology team, and that allows you to get automatic access to the platform when you register.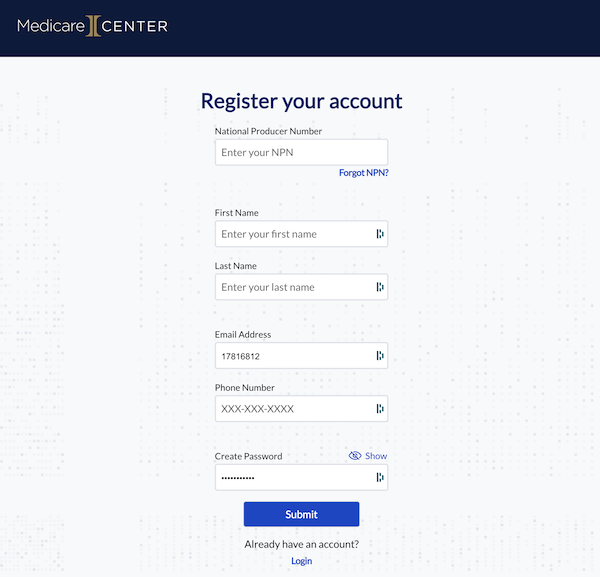 After you sign into MedicareCENTER, you'll have the option to switch over into LeadCENTER. Plus, any health leads you purchase in LeadCENTER will automatically transfer over into your MedicareCENTER account.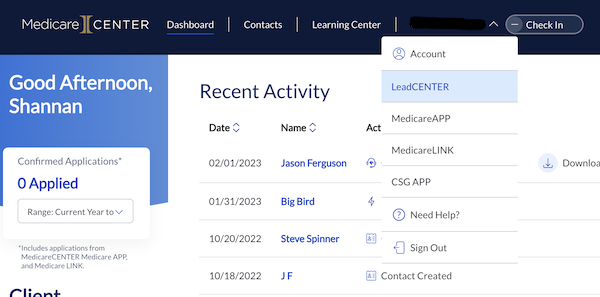 That integration is a huge time-saver!
Set Up a Payment Method
Once you're logged into LeadCENTER, you'll want to set up a payment method. That'll allow you to purchase leads or set up real-time campaigns.
Then, you have the option to either order leads or set up a realtime campaign.
How to Order Leads
On the left side of the screen, click "Order Leads." You'll see a heat map on the screen that lets you know where the highest concentration of available leads are located.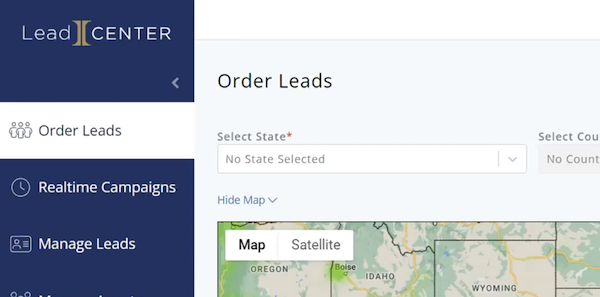 The most leads are going to be in highly populated areas as well as areas that have a high concentration of Medicare-aged beneficiaries.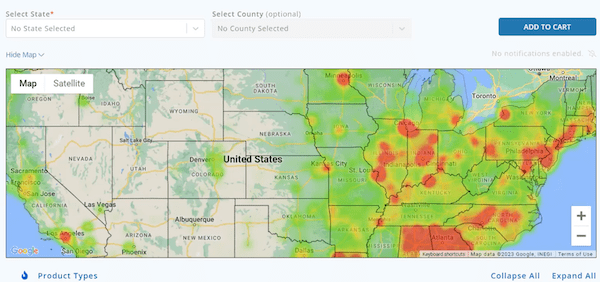 Under the map, you'll have the option to look at Life or Health leads.
Lead types
You'll see lots of different lead options underneath each choice. You can read more about what these lead types mean in this flyer: Lead Types Explained
The most important thing to look for when buying leads is if they're exclusive or shared:
Exclusive leads: Only you are purchasing this lead
Shared leads: Leads are sold to two or more agents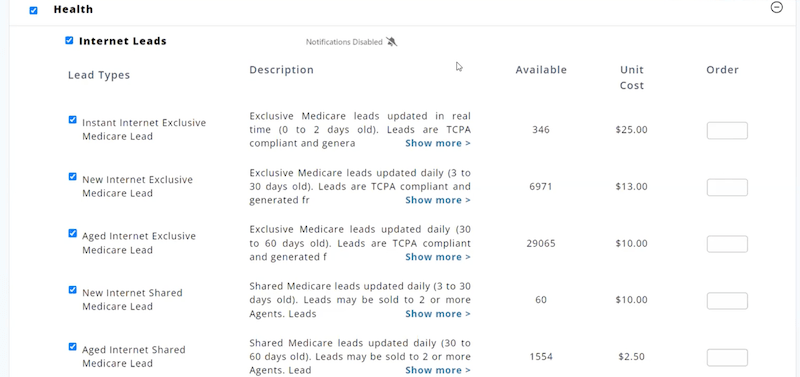 Where do the leads come from?
The leads available in LeadCENTER come from about a dozen different lead vendors. Our team has seen some examples of what the website pages look like for health leads, and they're generic Medicare pages with a form where the person can request more information.
Rest assured all leads are TCPA compliant, and if you get a "bad" lead, there's a refund policy in place.
LeadCENTER refund policy
LeadCENTER will refund you or offer lead credit under the following scenarios:
the lead's phone number is disconnected
the lead's age is not what they originally indicated
you've received multiple leads of the same lead type with the same phone number within 30 days
Choosing leads by location
Above the map, you'll have the option to select a state. You can also drill down by county, but when you get that specific, there may not be that many leads available. This is definitely location-specific.
Once you decide the area you want to purchase leads in, you'll look at which lead types are available and enter how many you want in the order box. When finished, scroll up, and above the map, you'll click "Add to cart."
If there aren't any leads in your area, or you want to know when new leads come in, you can set an alert. You'll get an email and a notification in your LeadCENTER account when new leads arrive.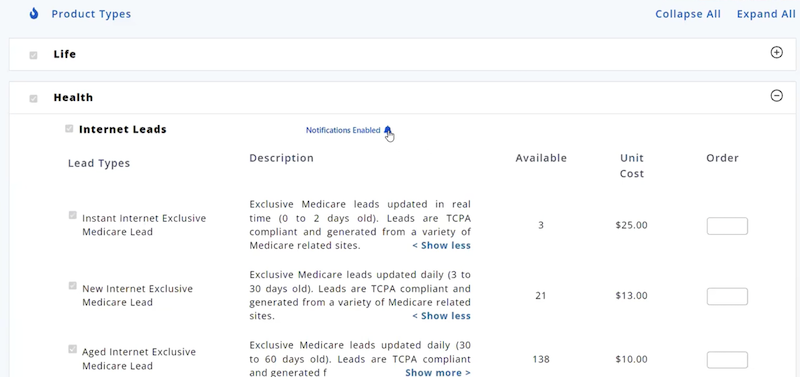 Buying leads
When you're finished adding leads to your cart, click the shopping cart at the top of the screen. Here, you can review the leads you're going to purchase. You can also enter a coupon code.
Make sure you follow us on Facebook to see any current LeadCENTER discounts!
Then, click "Proceed to payment." You'll need to review the LeadCENTER Terms of Use, and then you can finish your purchase.
How to Manage Your Ordered Leads
To manage your leads, click on "Manage Leads" on the left side of the screen.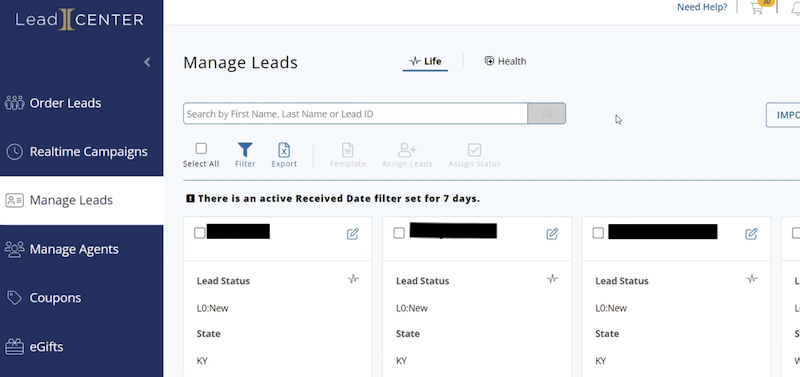 Here, you'll see all of the leads you've purchased. You can search for a lead using the search bar, and you can filter the leads using the filter icon beneath the seach bar. Some agents filter out by the status of the lead or by location.
If you want to export the leads out of the system, you can do that by clicking the "Select All" button and clicking "Export."
Viewing an individual lead
When you click on a lead, you can view all of that lead's available information. You also will want to change the Status under the Lead Details section so that the lead isn't resold (this only applies to life leads).
Within LeadCENTER, you have the ability to add notes and reminders for life leads.
For health leads, you'll want to manage the lead within MedicareCENTER. There's a handy link right on the lead that will lead you to MedicareCENTER in a new tab.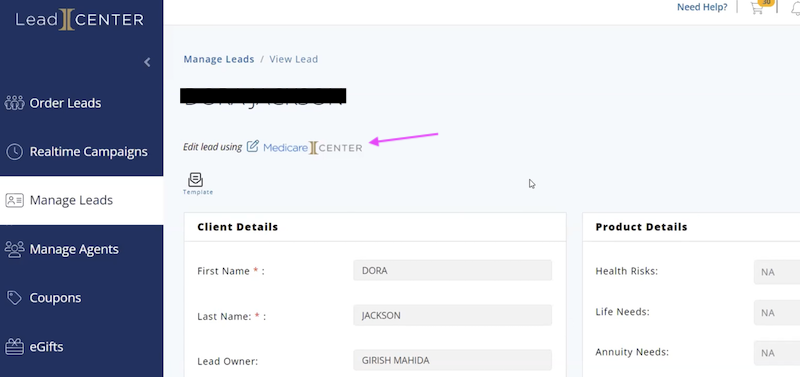 Now, you can work that lead right from MedicareCENTER. You can easily send your scope of appointment and call the lead here, ensuring the call recording is stored right in the platform.
Importing leads
If you have your own leads that you want to import into LeadCENTER so you can work all of your leads in one place, there's an Import button available.
Realtime Campaigns
Realtime campaigns allow you to recieve leads as a person is requesting more information.
To start, create a Campaign Name and select your campaign type.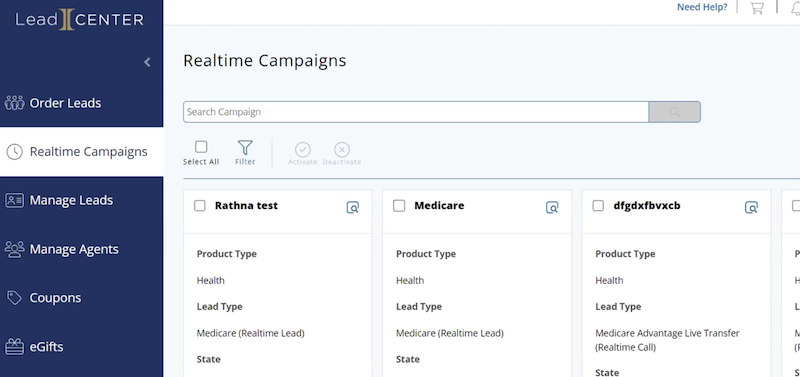 Campaign types
There are two types of campaigns available:
Call: the person called into a call center or vice versa, and they need to be transferred to a live insurance agent.
Data: a person is on the internet and wants an insurance agent to contact them right now – you get an email with that person's information.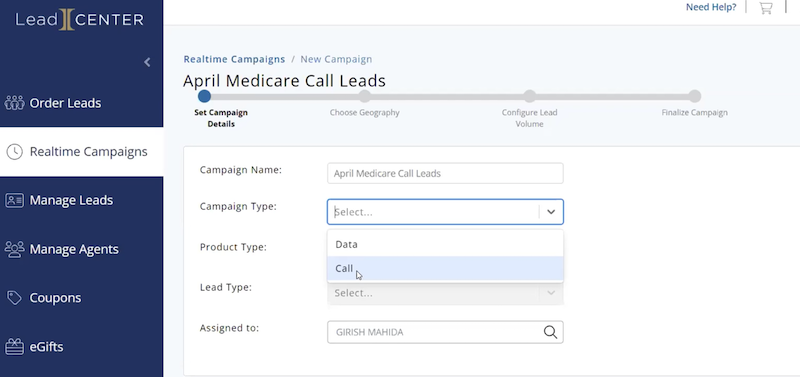 Then, select your product type (health is the only option currently available).
Lead types
Finally, select your lead type. There are currently three lead types available:
Medicare: the person isn't sure what they want or need – they need a little education and help making an informed decision.
Medicare Supplement: the person has indicated they are interested in a Medicare Supplement.
Medicare Advantage: the person has indicated they are interested in a Medicare Advantage plan.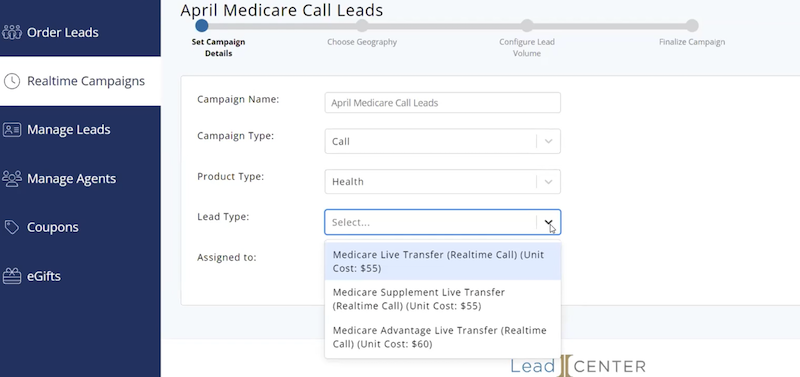 When you're done, hit Next and choose the areas you want to get calls from. The smaller you go, the fewer realtime leads you'll recieve. You can select up to 5 states per campaign.
Finally, select how many leads you want per week. You can also set a daily cap.
Review your campaign information, add the LeadCENTER phone number to your phone so you don't miss any live transfers, and confirm your payment method. After your campaign is launched and activated, give the team 48 hours to notify the lead vendors that you are ready to accept live leads.
LeadCENTER FAQs
Can I order T65 leads?
You won't know if leads are T65 when you order them – they're just Medicare leads. However, when you an order a lead and view it, it may have a date of birth available, which will let you know the age of the lead.
Can I order ACA leads?
LeadCENTER doesn't currently work with any ACA lead vendors. This is a feature that LeadCENTER hopes to add in the future.
Are DNC or not interested leads refunded?
When a person is filling out a lead form, they are giving an agent permission to call them. If they say they don't want to talk to the agent, we'd recommend contacting LeadCENTER support to see if it would qualify for a refund.
Is there a discount for ordering large quantities?
There is not a discount currently for ordering leads in bulk. However, there are occasionally discounts available for different lead types. We post these promotions on our Facebook page.
What's the maximum number of leads you can get for Realtime Campaigns?
There is a maximum of 100 leads per week with Realtime campaigns.
Can I buy leads and assign them to downline agents?
Yes, LeadCENTER can set you up as an admin and put your agents in the system. That way, you can purchase leads and assign them to your downline agents. There will be a "Manage Agents" tab on the left side so that you can review the leads and any lead progress.
Can I use LeadCENTER if I don't work with any Integrity partners?
Right now, LeadCENTER is exclusive to Integrity, so you need to be contracted with us or another Integrity partner to use it.
Conclusion
LeadCENTER is a great way to get high-quality leads in the Medicare or life insurance space.
If you have any additional questions about how to use LeadCENTER to grow your business, drop them in the comments below!