*Disclaimer: FOR AGENT USE ONLY - Cannot be distributed to the public or used in any customer solicitation.*
It's that time of year again, where PDP enrollment goes wild and we all kick it into high gear. Wellcare has pretty much stolen the show this year, but let's dive into the details.
Originally published October 8, 2019. Last updated October 16, 2023.
Part D Changes for 2024
The maximum Part D deductible for 2024 is $545, up from $505 in 2023.
Some of the biggest changes coming to Part D are a result of the Inflation Reduction Act (IRA), which was signed into law in August 2022. Part of this act targets prescription costs and other pricing issues facing Medicare beneficiaries.
Here's a quick summary of some of the most impactful changes that have gone into effect already and that will go into effect in 2024:
Shingles vaccine is free starting January 1, 2023 (lots of other vaccines will also be free but this one was the most notable)
Copay for 30-day supply of Part D-covered insulin will be capped at $35 (January 2023 through the end of 2025)
Starting January 1, 2024, Part D members that enter the catastrophic phase will have no additional out-of-pocket costs for the rest of the year
Starting January 1, 2024, Part D plans can't increase their premium more than 6% per year
$2,000 out of pocket maximum starts January 1, 2025
"Smoothed" cost sharing starts January 1, 2025 (spreading out cost-sharing payments over the course of the year)
Price negotiations on expensive drugs with no alternatives begins in 2026
Expensive Drugs Price Negotiations
The first 10 prescription drugs that will be subject to price negotiations are:
Eliquis
Jardiance
Xarelto
Januvia
Farxiga
Entesto
Enbrel
Imbruvica
Stelara
Fiasp; Fiasp FlexTouch; Fiasp PenFill; NovoLog; NovoLog FlexPen; NovoLog PenFill
The maximum fair prices for these first 10 drugs will go into effect in 2026.
If all goes well, your clients should experience much lower out-of-pocket costs if they have prescriptions for any of these 10 drugs.
You can read more about the Inflation Reduction Act here and you can read more about the price negotiations for these first 10 prescription drugs here.
Most Competitive 2024 Part D Carriers
As always, everything is based on your location, but the star of the show in 2024 is Wellcare.
Wellcare's $0 Premium PDP
For 2024, the showstopper prescription drug plan is Wellcare's Value Script.
On average, monthly premiums for the Value Script plan will be among some of the lowest offered by Wellcare at less than $1, with 16 states offering $0 premiums.
In our area, Wellcare's Value Script is the only $0 premium PDP, with the next lowest premium coming from SilverScript at just under $10.
New for 2024: Integrity Exclusive: Wellcare Broker Support Pilot Program
This plan isn't just great for new enrollees, though – more than 500,000 existing members will experience lower cost-sharing in 2024 due to formulary improvements.
All of Wellcare's drug plans feature a $0 Tier 1 benefit for prescriptions filled at preferred pharmacies. For 2024, preferred retail pharmacy networks will include Walgreens, CVS and select grocers. A robust network is expected with more than 60,000 total pharmacies.
Plus, as we all know, PDP plans will continue offering preventive vaccines for $0 and insulins for $35 maximum per month.
Cigna
Another PDP carrier that caught our attention for 2024 is Cigna.
Cigna Healthcare brokers in good standing that are properly contracted will be able to sell any of their three PDPs and receive commission for their sales efforts.
Cigna is offering three standalone Prescription Drug Plans (PDPs) for 2024, available in all 50 states, the District of Columbia and Puerto Rico.
All plans have $0 copay options for select medications purchased through preferred home delivery.
Cigna Saver Rx:

This economical plan includes lower premiums, low copays and savings on generic drugs.
Cigna Secure Rx:

Available to serve customers wanting basic protection and those with a low-income subsidy.
Cigna Extra Rx:

Provides a high level of coverage with a robust drug list, a large pharmacy network, a low deductible, plus special savings with gap coverage.
Plus, Cigna keeps expanding each and every year.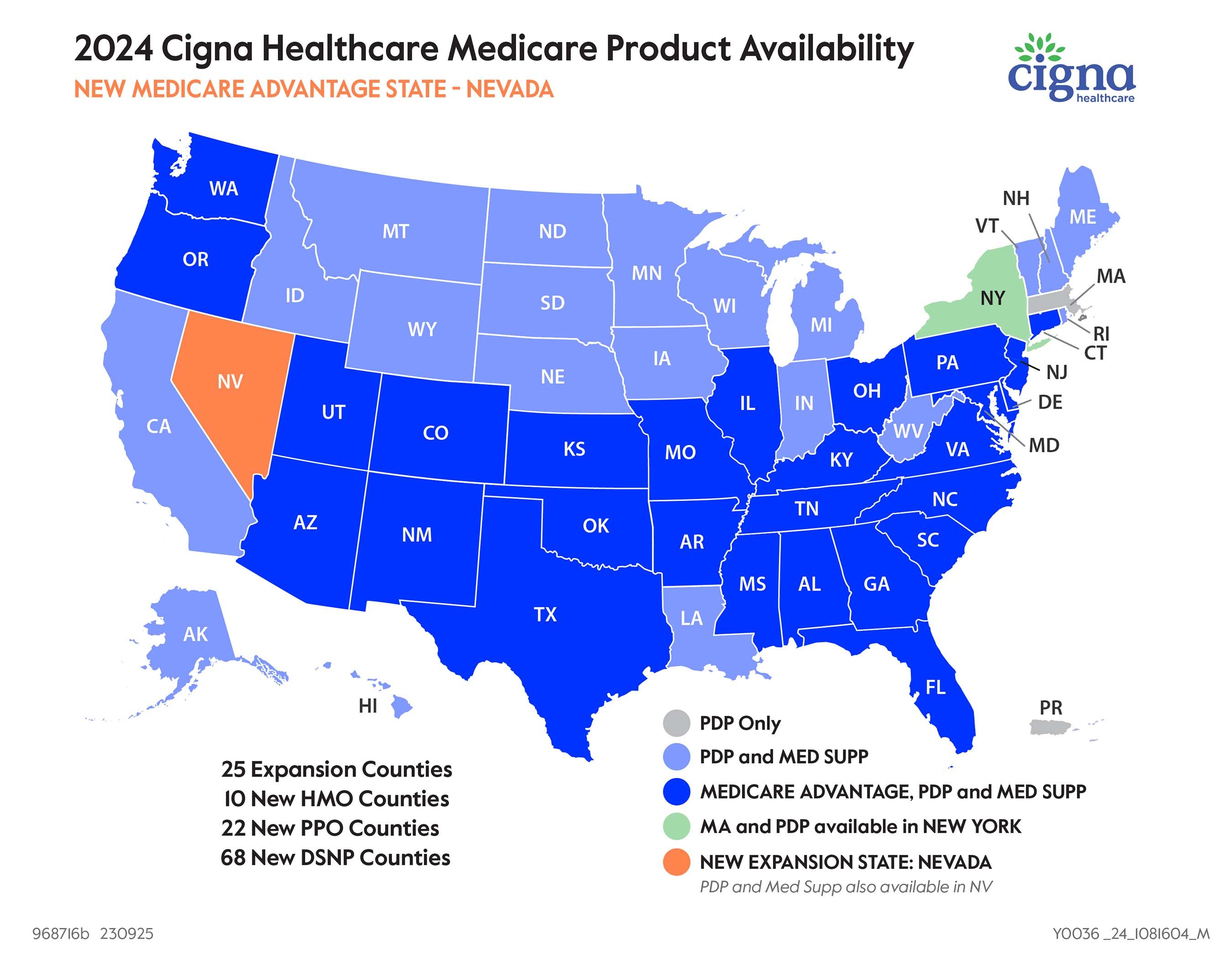 ---
MedicareCENTER Updates
If you haven't registered for MedicareCENTER yet, do that now!
You can quote and enroll your clients right in MedicareCENTER.
There are also some big updates for this AEP, all thanks to Ask Integrity, a new, AI-powered digital assistant for agents:
Call Summary Feature: Did you know you can get in-depth Call Summaries from previous client calls, delivered on-demand before your next appointment?
In-the-moment AI Prompts

like Specialist Recommendations personalized to client history and preferences, so you can find the right plan for each situation
Secure Client Data Storage

that gives you and your clients peace of mind
Client Information Summaries

to help you to know every client better, no matter how long you have worked together
There have also been some updates to help you stay compliant, including:
Scope of Appointment updates

Pre-Enrollment Checklist requirements

TMPO disclaimer updates

Compliant communications requirements
Learn more about MedicareCENTER here.
Conclusion
For 2023, Wellcare and Cigna are going to be excellent Part D choices for many of your clients.
Make sure you get contracted and register for a MedicareCENTER account if you haven't already.
New to Part D sales? Check out our comprehensive sales guide, How to Sell Medicare Part D.