Social media. It's downright awesome. Why?
It doesn't cost you very much money,
it gives you a direct way to market your business, and
it connects you with your customers.
Social media has this crazy power to turn potential clients into actual clients.
It sounds too good to be true, but a social media page can help develop trust and a sense of expertise with people who've never even met you.
What if I told you that you're losing 25% of potential clients?
A study by Accenture found that 25% of consumers read customer reviews and comments on social media when making insurance-buying decisions.
On top of that, research by LIMRA, the world's largest association of life insurance and financial services companies, discovered that 93% of life insurance companies had social media programs in place.
Of course, you're not an insurance company. And the fact that most of them have a social media presence doesn't mean it's easy.
That's why I come to you with 5 completely free and tested hacks that can make social media management much more… manageable.
Grow your first followers
After you create your Facebook Page, your next step should be to invite all of your Facebook friends.
All of them.
After that (because people tend to ignore page invitations), a good idea is to draft a personal message about your page. Include why it's important that they support you, encourage them to like the page, and send it off your contacts.
You can also ask them to invite their friends. That way, when you can afford to spend money on Facebook ads, you will have a large enough audience to market to.
On Twitter, it can be a little bit easier to start gaining a good amount of followers. A high number of people and businesses that use the platform are trying to grow their followers by following other accounts and expecting them to return the favor.
Once we took notice of this habit, we immediately tried to use it for our advantage and saw great results. With minimum effort and zero budget allocated there, we saw the number of our followers grow by a thousand in just one month!
Of course, we didn't do that without help; there are some free tools out there like Statusbrew that can help you with managing who to follow and unfollow.
Because you can rather quickly see some traction there, it can boost your confidence while Facebook likes might go up at a very slow pace.
To get the same number of followers on Facebook was a constant and expensive struggle. Without ads, the best I could do was 10 new likes per week.
I think the main difference is that in Facebook, "like" means I want to see your content, while in Twitter it can also mean "let's connect!"
Schedule your posts
The biggest problem agents have with managing multiple social media accounts is lack of time.
Who has time to not only craft up a post, but to make sure it's worthwhile? And to do that at least once a day?
The good news is that not many businesses these days do. A good chunk of us are using tools such as Hootsuite, Buffer, or MeetEdgar to schedule posts on our behalf.
It's also a good idea to create a posting schedule like this one from CoSchedule: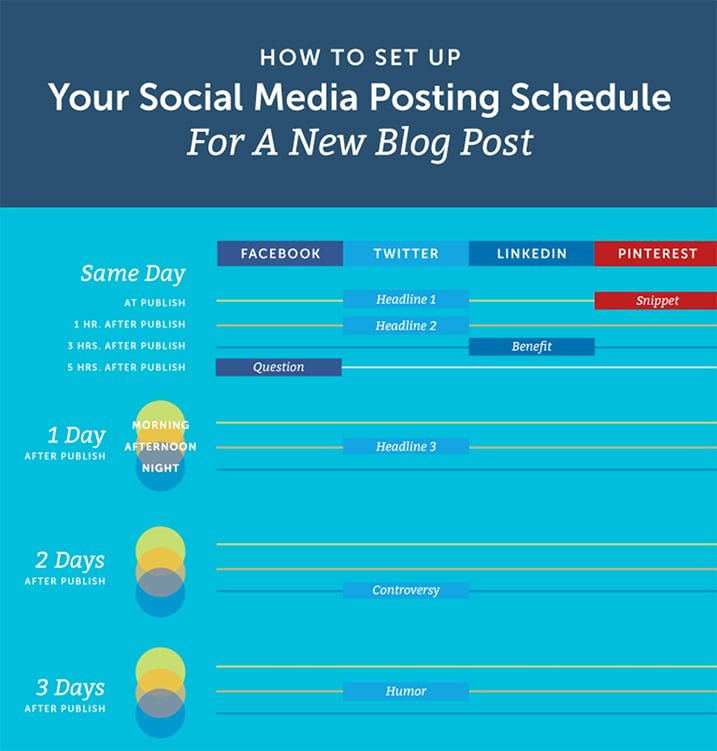 This process will help you
grow your traffic,
make the time you invest into writing blog posts totally worth it, and
actually help you save time while getting organized.
While automation can be a huge time-saver, it may give you the idea that your work on social media is done.
Social media is like a living organism: your online presence must be nurtured daily before you start seeing any significant growth. Don't stop paying attention to new comments and messages.
Guest blog
Online content is definitively the way to go for modern marketers. And if you're an insurance agent, you better believe that you're a modern marketer.
One thing we do here at Megaventory is to write guest posts for related companies' blogs. We've seen great results doing this.
We get in touch with businesses whose products we use and offer to write a short case study on how we use their products and how they have helped us achieve better results in a related business areas.
Those companies usually have a high number of social media followers. Therefore, when they post about Megaventory, we get an immense traffic boost compared to the actual work this strategy needs.
If you're looking to drive more traffic to your social platforms or your website, it can be worthwhile to reach out to insurance-related companies and leaders. Getting your voice out there establishes you as an expert.
As we all know, insurance is the type of product that people don't necessarily need right away. You never know — 2 years down the line, you may get a client that heard of you from that blog post back in '15.
Participate in forums
A non-traditional social media platform that we love and suggest hands-down is Quora.
It's a budget-friendly strategy, and the content created there stays in the spotlight. A large number of trials for Megaventory.com have actually been generated on that platform.
We've also had an odd number of trials come in from a minimal presence we maintain in sites like Reddit and Stack Overflow, which was an unexpected surprise with good return (compared to the effort spent).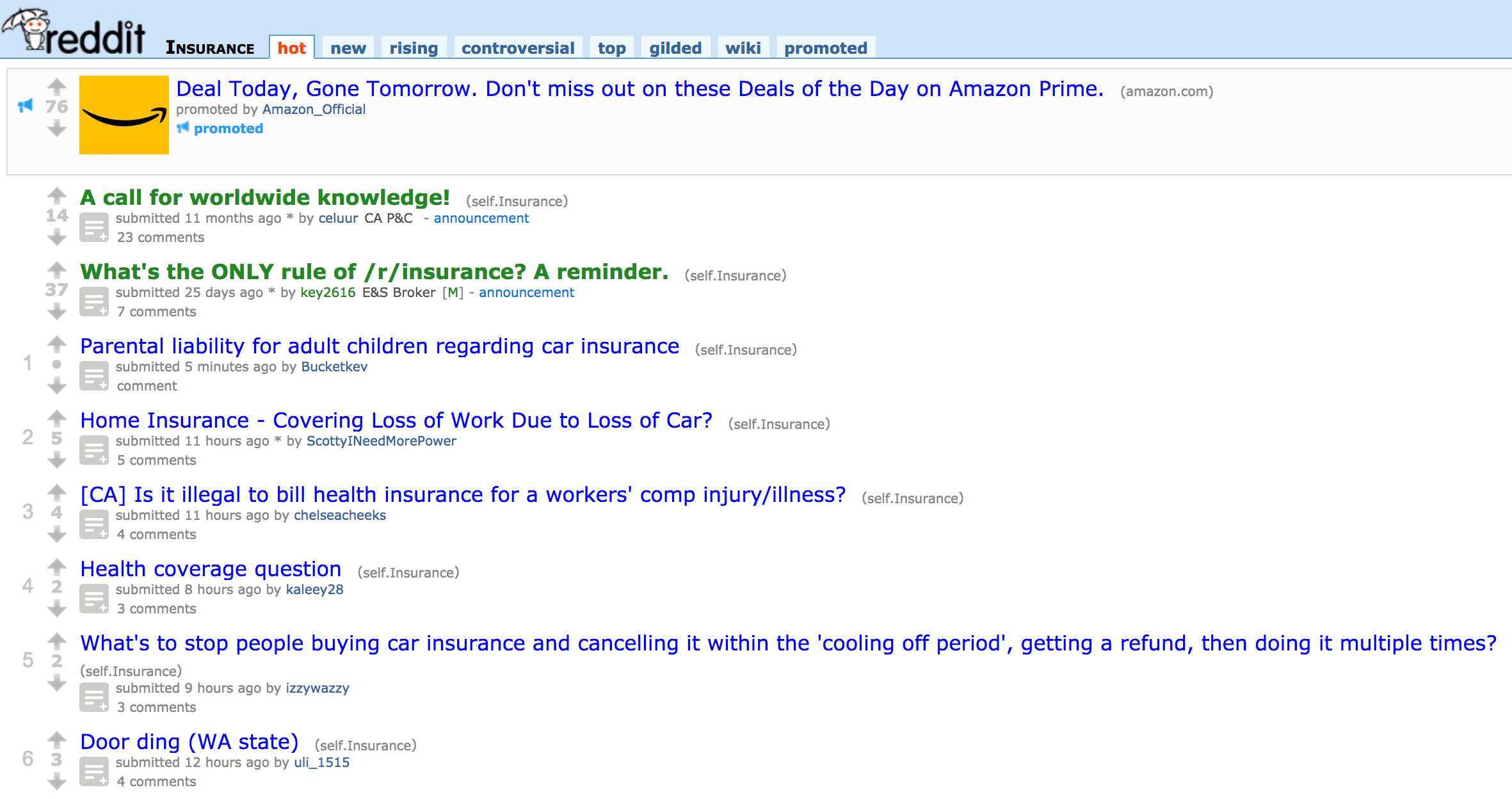 Keep in mind, though, that such uncommon channels require particular care to avoid one's presence being moderated out of the community, especially in cases such as Stack Overflow.
Focus on education first
We have found that the best way to market your business, especially through a blog, is to give priority to informative and educational content.
Don't just talk about yourself and what you do. Some of our most viewed articles are the more educational ones. You can then share these articles on your social media platforms to bring in prospects.
For example, an ERP (Enterprise Resource Planning) guide, which we created some time ago, still brings us a significant number of trial accounts. This guide explains how software can help small businesses keep track of data and run reports on that data. The best part about this guide is that it lands our website on the first page of Google results when people are searching for ERP guides.
The same method can be applied to the insurance industry, and it can bring you great results.
If you don't have time to write educational or informative content, you can always hire freelance copywriters to help you. You can post a job on Upwork or network with copywriters on LinkedIn.
Sometimes, it can be as simple as sending a few topic ideas and some bullet points about them. A few days later, you have a ready-to-publish article!
If you aren't sure what you should write about or would like some pointers, feel free to contact Rebekah, the Copywriter for New Horizons.
Having an active presence on social media is a big part of your business. With these tools, having the time to actually take advantage of its benefits can finally be a reality.
Eirini Kafourou handles communications for Megaventory, the online inventory management system that can help small businesses synchronize stock and manage purchases and sales over multiple stores. Connect with them on Facebook, Twitter or LinkedIn!
Please connect with New Horizons on Facebook, Twitter or LinkedIn as well.