What's your process for dealing with the death of a client? Help us help each other by leaving a comment at the end of this article.
If you work in senior insurance sales, dealing with the death of a client is something you're going to face at some point.
It's never easy, but knowing what to expect and perhaps hearing how I handle it will help you when that time comes.
---
Want to learn more about improving your customer service? Check out An Insurance Agent's Guide to Mastering the Senior Market Client Relationship
---
Knowing When Your Clients Have Passed Away
There are two ways to find out when a client has died. The first is to be proactive by checking the obituaries every morning if you can. The second is to find out through a family member. We'll go through those two scenarios so you have a better understanding of how to handle them.
Check the Obituaries Every Morning
One of our awesome staff members checks the obituaries every morning when she gets in. She's well-versed of who our clients are, so she recognizes when one of our clients is listed.
I understand this may not apply to all of our agents out there, but if the majority of your clients live in your area, this is definitely something you or your assistant can do each day.
From there, she calls the applicable insurance companies and lets them know they should stop bank withdrawals. There are certain policies where you can do that without needing a death certificate – just let the carrier know the date of death.
In most cases, any unused premium will also be refunded. So, let's say your client pays semiannually. If they died 3 months into the pay period, they'd be refunded the other 3 months that they'd already paid for. If your client was paying monthly, you'd need to check with the carrier on any potential refunds.
Other policies like life insurance and annuities require a copy of the death certificate and you'll need to fill out the beneficiary information, but we'll get into that shortly.
A Family Member Notifies You
If you're not able to check the obituaries every morning – perhaps you're a one-man-show and don't have the time, or your clients live in multiple states/areas – you're probably going to be notified by a family member.
The best way to handle that phone call is to start by saying, "I'm so sorry to hear that, let me take care of everything I can."
From there, we're going to handle the death claims for the family.
How to Handle Death Claims for Your Clients
The first thing you want to do is pull up all of your client's policies. I use AgencyBloc, which makes this process really easy.
Example of a Client's Policies in AgencyBloc (Not a Real Client - Demo Only)

From there, I let the family member know which policies would require a copy of the death certificate. If a death certificate is needed, I ask the beneficiary to come in to my office.
(Note: Life insurance and annuities will require a copy of the death certificate while policies like Medicare Supplements and cancer plans won't.)
Certain companies do require different documents. For example, KSKJ requires you to have a copy of the beneficiaries driver's license. Not every company requires that. On the beneficiary claim form, it'll tell you exactly what you need.
Example of the KSKJ Life Annuity Form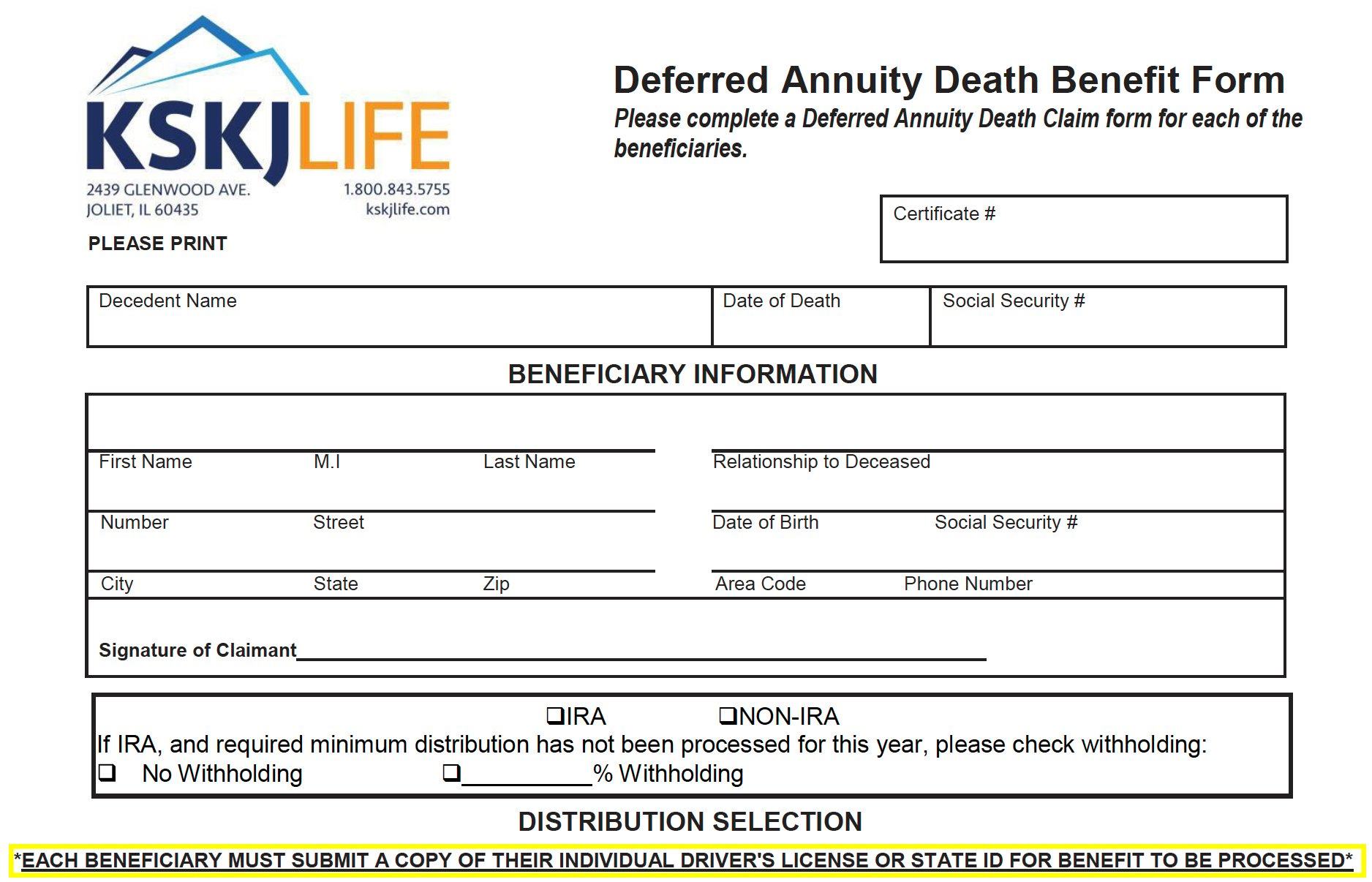 Then, the beneficiaries will decide how they want to receive the money.
I recently had a client pass away, and his wife and two kids came in. We had Sentinel and KSKJ. In that case, we did a spousal continuation for the wife, but the kids wanted the money right away, so we just filled out a claim form.
In order to get the forms you need, you can always contact us. You can also access the forms on the carrier's website or by calling the carrier to receive it by mail.
Helping the Beneficiaries Handle New Money
If the beneficiaries just inherited a decent chunk of money, they're going to need a plan for what to do with it.
We have products we can help them with, and you're in a great position to assist them with it.
Approach this with great care as the family is going through a lot right now. You want to make sure your help is perceived as actual help, not some sales strategy.
You can learn some tips on rolling over money into annuities and presenting them in these articles:
How to Give Your Condolences
I personally don't do anything by way of a sympathy card.
Most of the time, the family is dealing with a lot. They have to get something for the funeral home, they have to figure out what to do with the house, they have to make this or that arrangement…
Simply doing a death claim for the family means a lot. We've gotten so much feedback from clients that we've made their lives so much easier by taking care of that for them – even though a death claim is a pretty easy process for us.
I'm not saying that taking care of the claims takes the place of a sympathy card, but I feel like that service leaves our clients well-satisfied.
What's your process for dealing with the death of a client? Help us help each other by leaving a comment below.