When you start thinking about retiring, selling your book of business is one of the best perpetuation plans. You get paid on the valuable asset you've built, and if you choose the right buyer, your customers will continue getting excellent service.
But who exactly is the "right" buyer?
Here are a few reasons to consider your FMO when looking for someone to buy your book of business.
1. You'll likely get a higher valuation.
If you decide to sell your book of business to your FMO, you're almost guaranteed to get a higher valuation.
If an agent has their appointments through us, we can simply afford to pay more for that book of business. We're already earning an override on their policies, and we certainly don't want to lose that. We have a stake in your business!
So whoever your primary FMO is, I'd highly encourage you to reach out to them first.
We can purchase any book of business as long as the policies are individually underwritten, guaranteed renewable, and have a vested future commission. For example, we can purchase books with Medicare Supplement, Medicare Advantage, any ancillary products, Long-Term Care, or Life Insurance policies.
Annuities are a bit trickier – I'll talk about that a bit towards the end of this article.
Currently, we don't provide valuations on Property & Casualty (P&C) or underage health insurance (ACA) books of business.
While we do want to acquire more books of business, I love just talking to an agent that's considering retiring. Even if we aren't a good fit, I can help you navigate the process. There's absolutely no obligation and nothing to lose if you reach out to us to chat about it.
2. We have resources to service your customers.
Many FMOs that want to acquire an agent's book of business have built an entire infrastructure to service those customers.
In our case, we have a full (and growing!) support staff whose job is to service customers we've acquired. They give a warm welcome to each and every customer, and they also do annual reviews and plan comparisons during the AEP.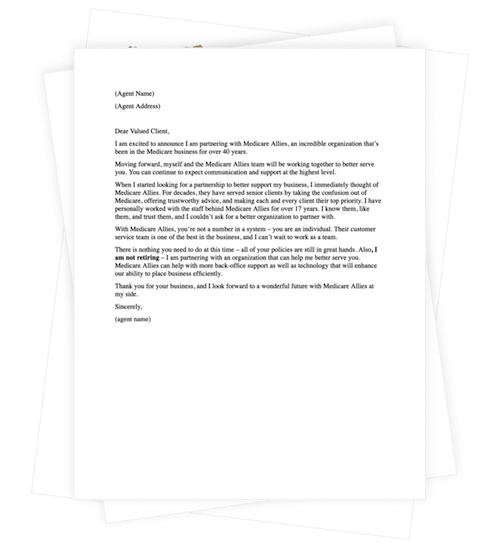 We have an entire library of document templates we've created to communicate with your customers right before and after the sale. Once you're happy with the messaging, we put it onto your letterhead and orchestrate the mailing.
If you want to know that your customers are going to be treated well, selling to your FMO is really a fantastic choice.
There are some outfits out there that do not service customers after the sale, so just be mindful of that as you do your research.
Related content: Succession Planning 101
3. We have a proven track record.
How many of us go online and look for reviews or testimonials before making a big decision? I know I do.
It helps that we've bought over a dozen books of business, and we've even done interviews with some of these agents so you can hear from them first-hand.
More testimonials:
It's so much easier for your clients to trust us, too, because there's a proven track record there. We're not just some guy down the road – we're a reputable organization with a full staff. That can help your customers feel a lot more comfortable with the transition.
4. It's a simpler transition.
Your FMO already has great relationships with your carriers, which makes the entire transition a whole heck of a lot easier.
It takes around 2-3 months to sell a book of business us (from start to finish). But the one thing that can really delay things? Getting carriers to assign commissions to us.
If we have a great relationship with your carriers, it can make that process a lot smoother.
Read more about that in this article: The Best (and Worst) Times of Year to Sell Your Insurance Business
5. We're set up to do this!
Finally, the simplest reason to sell to us is that we're set up to do this! We have a staff and a system in place to handle the entire transition when you're ready to retire and exit this business.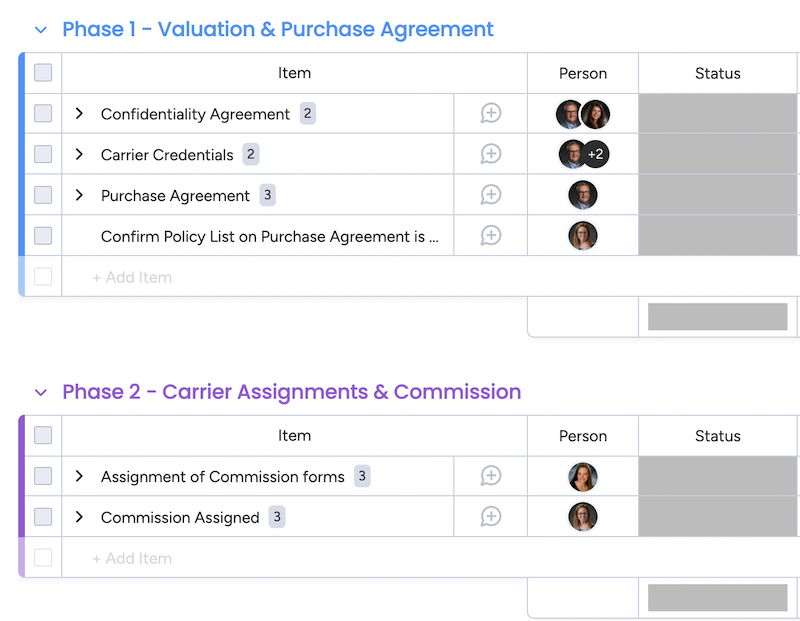 A behind-the-scenes look at the first two phases of our process (out of five) when purchasing an agent's book of business
If you aren't doing business with us, I still recommend checking with your primary FMO – they also may have the ability to buy your book of business.
When Your FMO Might Not Be the Best Buyer
Selling to your FMO isn't always the right fit. There are a couple of reasons your FMO might not be the best buyer for you.
One example is if your book of business is all or almost all annuity business, we really can't put a valuation on it. Annuities don't have a vested future commission, but we know these blocks of business have value. The value is in the potential down the road, and we just can't realistically purchase it.
We still want to talk to you about it, though! We can get creative, like paying a commission to you on any annuities we can renew down the road.
So just reach out to us if you're in this situation and we will try to help and guide you.
Conclusion
I'll just be frank: if you want to retire and sell your book of business, we want to buy it.
This is a huge initiative for us right now, and we're hungry for that business! We hope to be your first call when you decide it's time to call it quits.
Don't forget to schedule your discovery call if you want to chat about the process or get a zero-cost valuation.