Everyone needs a cancer plan. Why?
Half of all men, and one-third of all women will develop cancer at some point in their lifetime (American Cancer Society).
While Medicare does help cover the medical costs related to cancer, we all know what Medicare doesn't cover: anything non-medical.
When you actually look at the expenses of a cancer patient, you'll see that about two-thirds of all costs are non-medical.
You have things like:
Experimental medications and trial drugs
Transportation
Hotels/Lodging
You have twice the chance of survival if you go to a research facility — most of us don't have a research facility in our backyards.
In this article, we'll cover how to realistically bring cancer plans up to clients, which carriers we offer and the corresponding product details, and how to close the sale.
Sales Techniques
The hardest part is bringing up the conversation.
But the easiest way to do this is to ask a question:
Do you have a history of cancer in your family?
This question is taken right from our Client Needs Assessment, so as long as you're doing this assessment on every client, you'll never forget the question.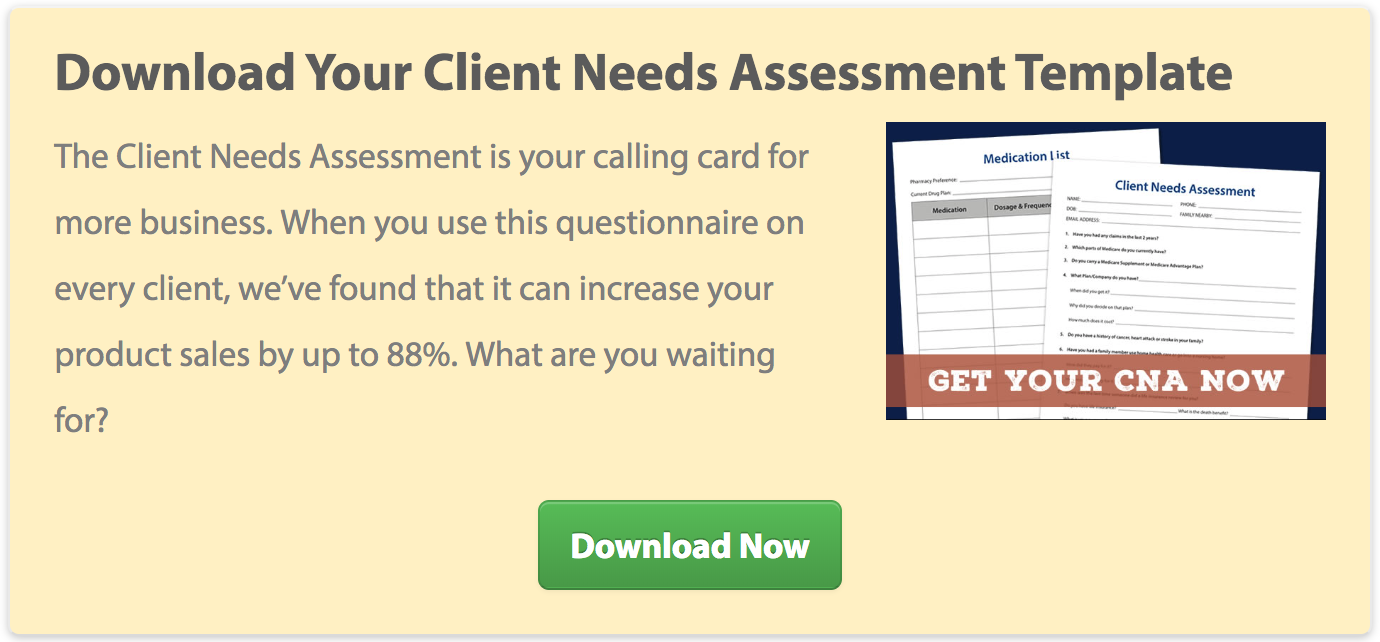 Once you get the conversation going, let them talk. Hear their situation, and many of the times, you'll see that they're building the need for you!
Which brings us to the next point — you have to build the need. Recite those statistics from the American Cancer Society — ½ of men and ⅓ of women are diagnosed with cancer.
Remind your client that ⅔ of cancer-related costs are non-medical, which means Medicare won't cover it.
Another great option is to pair a Medigap Plan G and a Cancer plan. This combination is almost always cheaper than a Plan F, but you get to tell your client that they have even more coverage, for less.
Carrier Specifics
The carriers we currently represent are Aetna, Medico, Standard Life, United National Life, and Mutual of Omaha.
Here is a chart comparing them:
| | Aetna | Medico | Standard Life | UNL | Mutual of Omaha |
| --- | --- | --- | --- | --- | --- |
| Waiting Period | 30 days | 30 days | 30 days | 30 days | 30 days |
| Benefit amount | $5,000 - $75,000 | $10,000 - $25,000 | One monthly rate for specific benefits in OLC | One monthly rate for specific benefits in OLC | $10,000 - $100,000 |
| Issue ages | 18-89 | 18-79 | 18-75 | 18-79 | 18-79, 18-54 (term) |
| Guaranteed renewable? | Yes | Yes | Yes | Yes | Yes |
| Covers internal cancer? | Yes | Yes | Yes | Yes | Yes |
| Covers malignant melanoma? | Yes | Yes | Yes | Yes | Yes |
| Covers other skin cancers? | No | No | Yes | No | Yes |
| Eligibility requirement | No cancer in past 10 years | No cancer in past 10 years | No cancer in past 5 years | No cancer in past 10 years | No cancer ever |
Here are a few product highlights and observations:
Aetna and Medico's product are the most similar in structure as well as what they do cover.
Both Standard Life and UNL have an extensive Outline of Coverage that explains exactly what is covered, and up to what dollar amount. These are not lump sum policies.
Mutual of Omaha actually offers an option — lifetime coverage or term coverage. Note, though, that you are no longer eligible for term coverage at or after age 55.
While going through each carrier's underwriting guides, it is noteworthy to know that UNL does not cover experimental drugs, procedures, or treatment methods.
Also, please note that when a policyholder goes on claim and receives a lump sum, it is not considered taxable income.
Closing the Sale
We recommend presenting your client with three price options for three different benefit amounts. With Standard Life and UNL, there's only one monthly price, so this wouldn't apply, but with the other three carriers, this is the best sales method.
Most of the time, the client will choose the middle option.
Make sure that you don't start with price — build the need and present the information before you mention the price points.
Don't forget to download the Client Needs Assessment — this will help you bring up the conversation naturally.