If you go to Google and search "medicare insurance," you'll probably see a few ads at the top of the screen. Then, you'll spot a section titled "People Also Ask" and a little map with three or so businesses listed – this is known as the Local 3-Pack.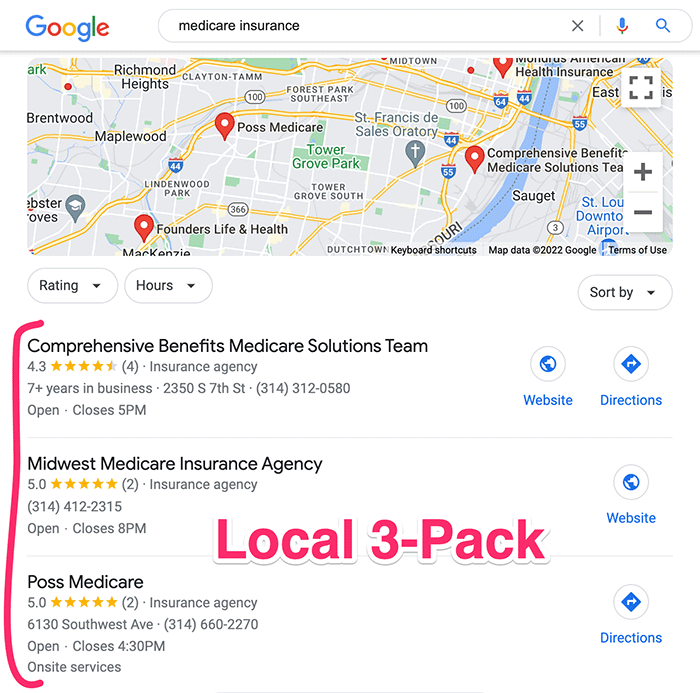 What you see here depends on a number of factors, such as what city (or even which part of the city) you are in when you search and whether you're at a desktop computer or your smartphone.
If you or your insurance agency aren't in that 3-Pack, you need to be.
I'm going to walk you through how to create your Google Business Profile, which will increase your chances of being listed in that Local 3-Pack. Plus, it only takes about 30 minutes!
---
What's a Google Business Profile?
Google Business Profile is Google's free business directory platform. This was formerly known as Google My Business, often referred to as "GMB," but in late 2021, it was rebranded as Google Business Profile (GBP).
Twenty years ago, the Yellow Pages were the place you had to be listed, and as online directories became more popular, we moved our listings there instead. Now, Google Business Profile is the single most important tool you can use if you want your insurance agency to be found online.
When someone searches for Medicare insurance, prescription drug plans, life insurance, annuities, etc., your listing can appear on the Google Search results page in the "map pack," the "3-pack", and on Google Maps itself.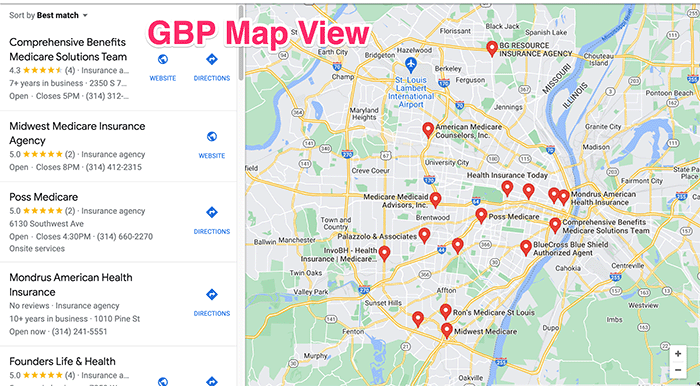 Additionally, many other directories and tools use Google as the primary source for their information. So, adding your info to GBP can spread it to other locations on the internet.
In addition to a directory listing, GBP also includes customer reviews, a messaging tool, an incoming call log, and reporting.
The available reports can let you know:
How many people found your listing online
How many looked you up on the map
How many asked for directions to your office
How many called you from your listing
GBP even includes the ability to add updates, almost like a mini blog, with photos.
Further Reading: Marketing 101 for Independent Insurance Agents: 17 Ways to Successfully Generate More Leads
Why Do Agents Need a Google Business Profile?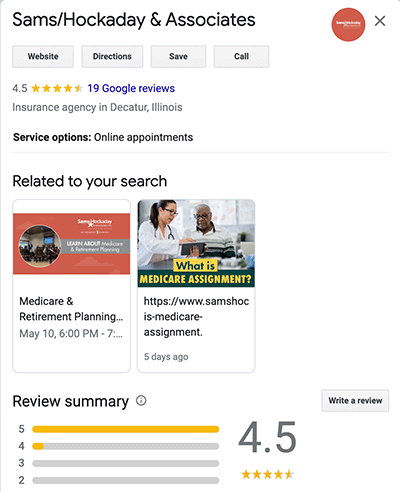 You need a Business Profile for the same reason you once needed to be in the Yellow Pages – because that was where people looked. Today, people start looking on Google, so it makes sense to be listed there.
A Business Profile is far more robust than a Yellow Page ad or listing. You aren't limited to a few lines of bare bones text, or even a 2-inch ad. Here, you can add just about anything you like, and you can add more over time. In fact, you're encouraged to do so.
If you search on Google for "medicare insurance" and don't appear in the Local 3-Pack, do you see your competitors?
If you were in the shoes of a prospect doing that search, would you keep digging or contact one of the top 3?
Of course it depends, but most people select the top listings as a starting point, and that's why you need to be listed there.
How to Claim or Create Your Insurance Agency's Google Business Profile
Before you get started, there are a few things you'll need to have on hand:
A headshot
Photo(s) of your office
Your logo file
There are a few other pieces of information you can add later, too.
You will need a free Google account. If you don't have one, you can get one at accounts.google.com. You don't need to create a gmail.com address if you click on "Use my current email address instead."
If you do have a Google Account, sign in at google.com/business and click the button that reads either "Manage Now"or "Add Business" – this depends on what you see.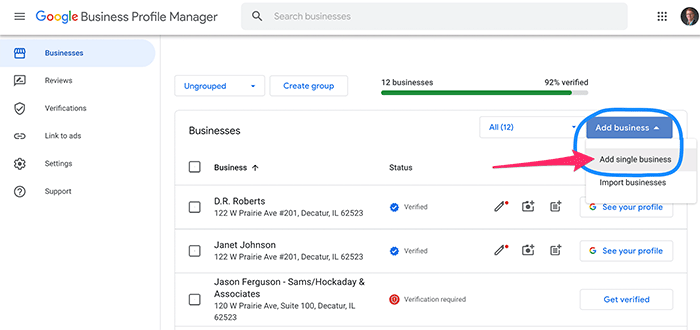 Next, you'll want to search for your business by typing in the name of it. As you type, you should see a list of businesses appear. Select the business to continue.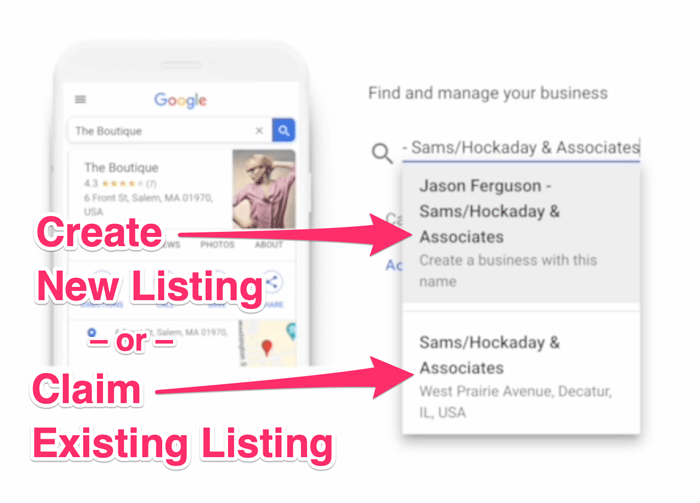 If your business appears but has not been claimed, you should see the basic listing and a blue button labeled "Manage Now." Follow the instructions.
If your business appears but has already been claimed, you'll see a button labeled "Request Access." Pressing this will email the person who originally claimed the listing and ask them to give you permission to edit it.
If your business doesn't appear, click "Add your business to Google." Add your business name using proper capitalization and punctuation. For example, don't use "bob smith insurance" if your legal business name is "Smith Insurance Agency, LLC."
For the business Category, in most cases you'll want to enter "Insurance agency," since that is one of the predefined categories available. As you start typing a category name, Google will suggest categories that match. You can add secondary categories later.
Build Out Your Agency Profile
Once you get access to the new or claimed listing, you can start adding or editing your business info. Update every bit of information that you can, as this can help your listing's visibility if it's thoroughly completed.
Contact Info
If you need to correct your business name for any reason, you can do it now. If your company name is entered correctly, you can then move on to adding secondary categories.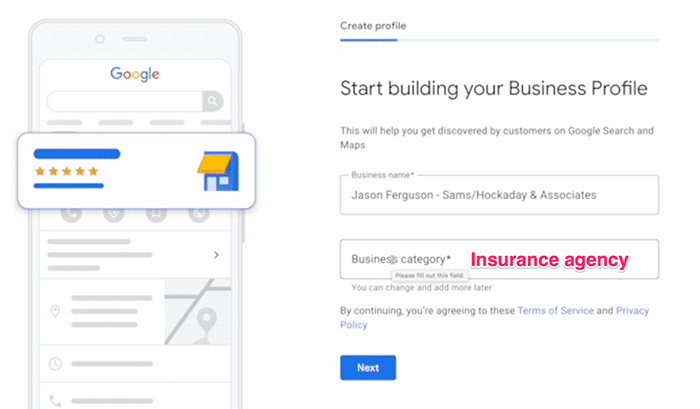 If your primary category is "Insurance agency" then you can add more, such as "Insurance broker", "Life insurance agency," and so on. If you don't offer something as a standalone service, then don't include it. For instance, if you don't do auto insurance, skip that category.
Location or Service Area
What you enter in this section depends on your unique situation. Are you a one-man show, working from home, or do you have an office people come to?
Related: 8 Medicare Agents Answer: Do You Need an Office Space to Sell Insurance?
If you work from home and either do phone sales or travel to see your clients, you have the option of not showing your address. Instead, you may choose a service area by entering neighboring city names, zip codes, or entire states.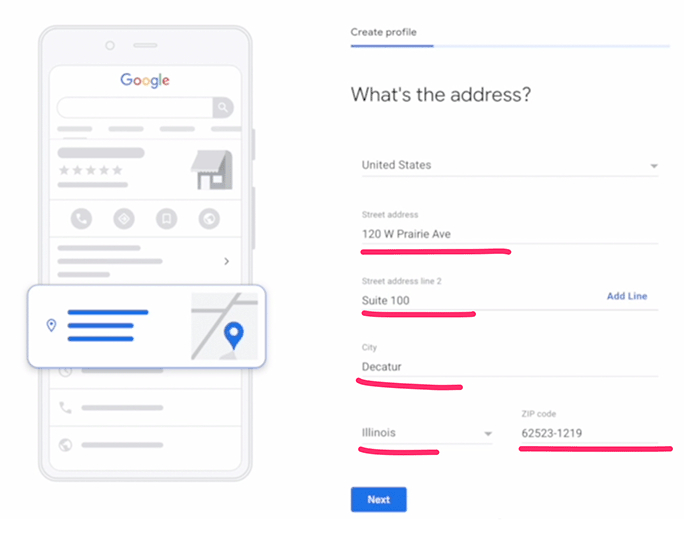 If you do have an office, you'll enter your address. You may see an option to move the pointer on the map and fine-tune where it appears.
Business Hours
Enter your normal business hours next. If these change seasonally, you can always come back and update them. If you have special holiday hours or you're closed, you can enter those dates and times as well.
Google will send you messages occasionally to ask about whether you are open on upcoming holidays, so you should always click the link in those emails to verify or enter new hours as needed.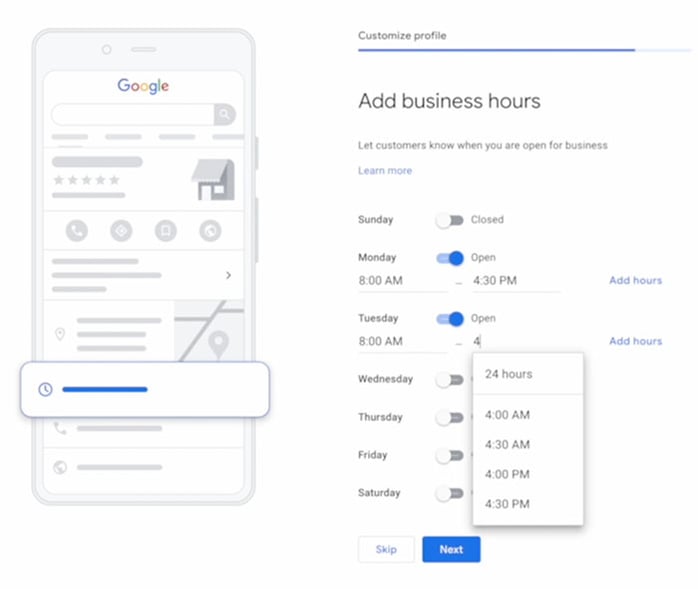 Web Links
​​Be sure to enter your website address. If you offer online appointment scheduling on your website, link to that page in the "Appointment links" field.
Related: No Agent Website? Do This Today
Business Description

Next, you can add your business description. Per Google's instructions, this is where you can "Describe your business to customers on Google."
Try to avoid phrases like "in business for 10 years," since that will need to be updated every year. Instead, use this space to explain how your agency helps clients, what makes you better than your competition, and perhaps some basic history.
Services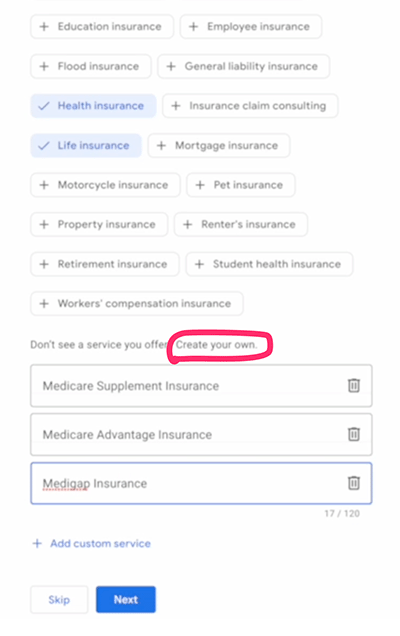 Under the "Services" heading, click the pencil to add more services. Here, you can add as many as you need. Over time, based on what people search for before clicking your listing, Google and other users may suggest categories. You always have the option to accept or reject those suggestions.
Here is where you can add items like:
Medicare Supplement Insurance
Medigap
Medicare Advantage Insurance
Life Insurance
Final Expense Insurance
…and so on.
Logo and Photos
You'll want to upload your logo since it will be visible on Google Maps and Google Search, on both desktop and mobile devices. The recommended size is a square, at 250 px tall, 250 px wide.
The Cover Photo can make your listing stand out, too, and the recommended size for it is 1080 x 608 pixels.
For other photos, shoot for 720 px tall x 720 pixels wide. You can upload images of your building interior and exterior if applicable, your headshot, and staff or producer photos.
If you need a graphics tool to resize or edit your photos, a simple and free option is Canva.
Related: How to Design a DIY Brochure For Your Insurance Agency Using Canva
Verify Your Ownership
Before your listing can go live, you have to prove to Google that you own or represent the business you claimed or created. In most cases, Google does this by sending you a postcard with a code. The postcard should be delivered within 5 business days, and you simply log in to your profile and enter the code.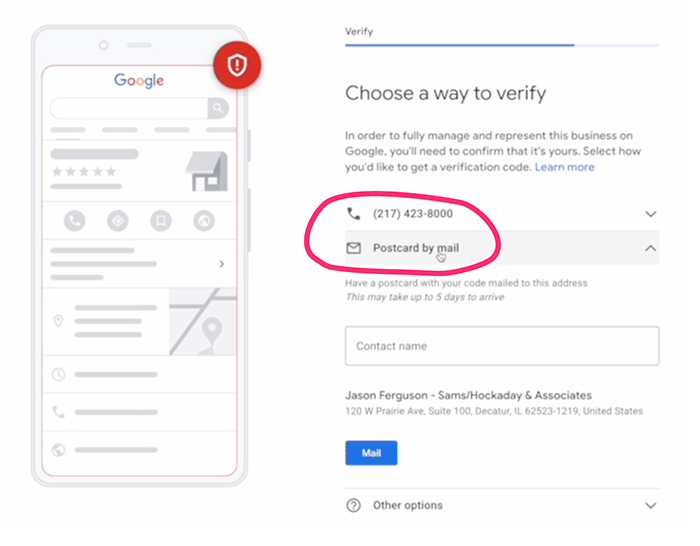 In some cases, you may see the option to receive a phone call with the code, or even an option to verify via email, though this is rare.
You may continue to edit your listing info and photos in the meantime, but your listing won't be shown to the public until you have completed the verification step.
Google Business Profile Features
Your profile is far more than just a directory listing. GBP offers several features you can use to market your shop and interact with your customers and prospects.
Posts
The "Post" tool lets you post a few different types of updates, including:
Offers
What's New
Events
Products
These appear similar to short blog posts and can include photos, descriptions, and buttons.
If you have anything newsworthy, include it here. If you have a new product to offer, create a post about it. If you created a new blog post on your website, add a summary and link to it using the What's New option. If you're hosting a seminar, create an Event post with title, location, and dates.
Using the posts feature will display your latest post right on Google's search results and maps pages.
Reviews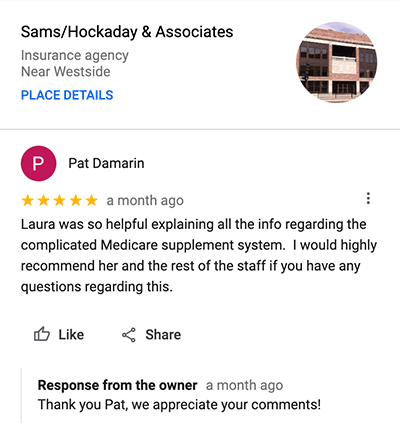 After your listing is live, you may see reviews start to trickle in if you do nothing. On the other hand, if you create a process to request customer reviews, you will start getting more of them consistently.
Whether you get two or 200, I highly recommend you respond to each and every review. If a customer gives you a positive review, thank them!
If it's a negative review, don't get nasty with them. Respond professionally. This will be seen by the public, so keeping your cool pays off.
Related: Video: How We Got Over 500 Testimonials (Hint: You Can, Too)
Messaging
Messaging is an optional feature of your profile. If you turn this on, people can message you from your listing.
This makes it easy for customers to contact you, but you should only use this if you're willing to install the Google Business app on your phone and can respond quickly.
Related: 60 Seconds Could Be Costing You Thousands: Why Speed to Lead Is Critical In Insurance Sales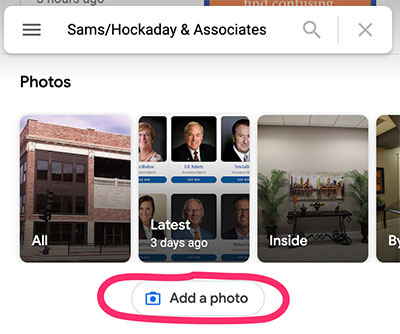 Photos
You should have uploaded some photos when you set up your profile, but don't stop there.
If you like taking pictures, this is the perfect thing to upload on a regular basis. This could be you posing with your clients, places in your community, new team members, or whatever makes sense for you.
Reports
When someone finds you on Google, there are a few things they can do:
Ask for directions to your office
Click your number on their phone to call you
Click the link to your website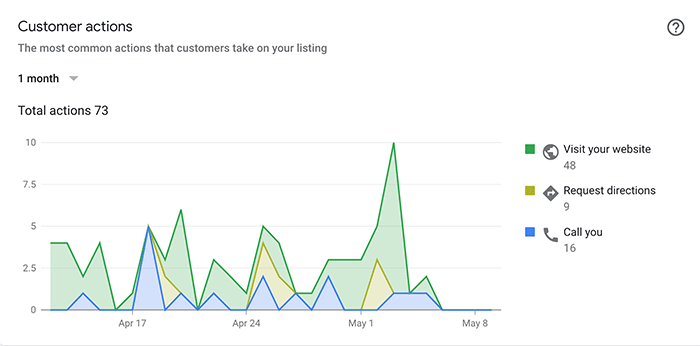 Google reports on all of these in real time, so you can view the "Insights" page to see how many calls were made to your office from the listing, how many people requested directions, and so on for a given timeframe. This is all useful information for any business owner.
Adding Staff
You don't have to manage all of this yourself. If you have office staff you can delegate this to, then there's an option to invite them to access and manage your profile. This is better than giving them your username and password, because if they leave the business, you can just remove their access.
If You Have Multiple Producers
If you run an agency and you have multiple agents, you might consider setting up profiles for each one. There are pros and cons to doing this, so give it some thought before jumping in.
The risk of doing this is that it can detract from your main agency profile. For instance, you may have a popular producer with a large, active social network, and his profile may get more attention than the agency's. That's not necessarily bad, but you may want to focus on the main profile.
Additionally, creating lots of individual profiles is a maintenance headache, so you may want to only do this if you have a full-time person to handle it, or if agents can commit to managing their own profiles.
A potential advantage of doing this is that it's possible to crowd out some of your competitors if you have multiple active listings. But simply having the individual listings doesn't guarantee that they'll be in the 3-Pack.
If You Have Multiple Locations
If you are an agency with multiple physical offices, Google Business Profiles can support multiple locations. If you want to use this feature, be sure to verify your primary location first, before adding secondary locations. There are a few tools in the GBP platform to make managing your locations easier, such as the ability to group them all together and give other people access to manage your location profiles.
When adding a location, you'll want to enter your business name and all other appropriate info identical to your primary location, so use the same categories and upload the same logo file. The exterior photo will be different of course, as will the phone number and address.
Be aware that any reviews that come in are location specific – they are not collected for your business as a whole. Google says that the customer experience can vary between locations, so they collect them separately.
On a similar note, any updates you post will have to be done for each location, so this can become a chore.
Conclusion
A Google Business Profile for your insurance agency is one of the most important tools you can use for being found online.
GBP is free, easy to use, and has features that your shop can take advantage of today. The only thing required of you is setting aside a few minutes each week to add any news, answer reviews, and update your holiday hours.
Good selling!