Ah, the wonderful referral. There's no better – or inexpensive – way to grow an insurance agency than to be thriving off of referrals.
Word of mouth marketing is a tried-and-true way to find new clients, and it's also one of the most convincing. Research from Nielson tells us that people are 4 times more likely to buy when referred by a friend.
In fact, 84% of consumers say they trust recommendations made by family, colleagues, and friends about products.
Even if the referral isn't an actual handoff – some clients prefer to remain anonymous – it's still a free (or almost free) way to find new leads. You really can't beat it.
Also, fun fact: of agents who make $200,000 or more per year, 80.95% said their #1 lead source is referrals or word-of-mouth.
Check out more details in our Annual Report:
So, how do you go about making the plea for a referral? We've gathered up several suggestions from the sales pros here at New Horizons. You're in for a real treat!
Referral Idea #1: Do the Columbo Close
To be fully transparent, John Hockaday, Principal here at New Horizons and former insurance salesman, hasn't asked for a referral in decades. However, his preferred referral-asking strategy is timeless.
The Columbo close is named after the homicide detective in the 1970s television show Columbo.
The detective would ask all these non-direct questions, and as he was leaving, he'd spin around and say, "Oh, by the way," and he'd hit them with something else.
See it in action here:
John explains that this approach was his bread-and-butter.
"People think these things are spontaneous, but they're not," he explains. "You turn around and say, 'You know, I almost forgot... can you give me a few names of your buddies? I'm here in the area and I'll stop by."
Don't make a big deal of it. You're all packed up, the clients are happy, and as you're leaving, you catch them off guard with a quick request.
In his opinion, it's the most non-threatening and most casual attempt at asking for a referral.
Related: The Ultimate 7-Step Onboarding Process for New Clients
Referral Idea #2: Blame It On Your Spouse
Luke Hockaday, Director of Medicare Supplement Sales and also a personal producer, explains that he likes to make it fun to lighten up the mood.
"I say, 'My wife has a shopping problem, and I need all the help I can get,'" he jokes.
Works like a charm, and that's really all there is to it!
Referral Idea #3: Give a Small Gift
Jeff Sams, CEO & Principal and former insurance salesman, says that his father was one of the very best at sales.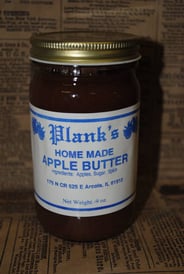 His lucky charm was apple butter.
Jeff explains that he'd give his clients a jar of apple butter and say, "Hey listen, when you're eating this on your toast in the morning, think about me and see if you can come up with anyone I can help or go see."
Jeff says his father was the No. 1 buyer of apple butter from Plank's! "His Cadillac would be sitting down in the back because it would be jam packed with apple butter! All I can tell you is it worked," he says.
Referral Idea #4: Make Your Client Feel Needed
John says another line he used to use all the time was based on the fact that everyone wants to feel needed. "Most seniors are that way," he explains. "For the most part, everybody wants to help you if they like you."
John would start by saying, "Hey, I really need your help." Then, he'd make the ask: "I really need some new customers in this town. Do you have any friends I could maybe stop in and see or call?"
John says if you start out with the plea, most clients will love to help.
Jeff used to say the same thing with his clients by asking if there's any chance they could give him some help. They'd say, "Help with what?"
Jeff would reply, "I just need a little help finding people in your location. I didn't know if you knew anyone that could help me out."
Jeff says he never uses the word "sell" – just the word "help."
Referral Idea #5: Tell Your Clients You're In a Contest
Jeff says sometimes, he'd let his clients know that he's in a contest. "I'd tell them that if they have any family members that might need the same help, I'd love it if they could help me out."
It might sound a bit forward, but Jeff swears he'd be getting phone calls a few weeks later. "My clients were calling to ask if I won the dang contest!" he laughs.
Those clients really felt like they were a part of it.
Referral Idea #6: Ask When They Say Thank You
Taylor, a producer at our local agency, explains that for almost all of her clients, she's been able to save them money, and of course, the client doesn't pay anything for an agent's services.
"When they thank me for saving them money, or if they're new and ask what they owe me, I just say the biggest compliment you can give me is by sending your friends and family my way so that I can do the same for them!" she explains.
She also sends little notecards to some clients with extra business cards in them for them to pass out.
Read more: How to Create Professional Insurance Agent Business Cards
Referral Idea #7: Offer a Reward
While Jeff's father used to proactively hand out apple butter as an incentive for referrals, some agents choose to offer a reward after the referrals are received.
While none of the sales pros here at New Horizons have done this, Luke says he knows several agents who offer a small coffee card if they get 5 referrals.
John agrees and says that some people do a $10 Starbucks gift card or something similar.
Sometimes a small incentive is all it takes!
Referral Idea #8: Treat Your Customers Right!
Russell, an agent that has been selling senior insurance for 43 years, explained to John that these days, all the new business he gets is referrals.
"If agents will just do right, treat their customers with respect, be honest, be consistent, visit with them, and show that they really care about their clients, they'll give you referrals!" John says.
Related: 5 Simple Ways to Support Isolated, Lonely Clients
After all, it's hard to get referrals if your clients don't like you.
While asking is obviously the key to getting more referrals, simply being kind and honest goes a long way. Many agents report never even asking for referrals, but they get them anyways because they offer excellent service and are genuine.
Referral Idea #9: Ask Consistently
"If you eat right, you'll be healthy. There's no magic to it. It's just doing the right thing over and over again. It's a brick at a time. You're always building," John says.
While some people are reluctant, the simple truth is if you don't ask, you won't get it.
More than anything, it's just doing it, and doing it consistently.
John advises, "It's just part of your whole thing. Ask kindly. Ask for help. Do the whole 'by the way' thing. If you did that every time, you'd have so many referrals!"
Luke's final word on the subject? "Just ask."
Other articles you might like: