Some methods of marketing just don't die. And having professional business cards is one of them.
Here's a quick guide to ensure you create and order professional-looking business cards to promote your insurance agency.
Originally published March 27, 2018. Updated June 11, 2021.
Why Do Agents Need Business Cards?
I'm sure you already know all of this, but having a business card, in general, can be a powerful way to help prospects remember you. People like to have something in their hand – being able to hold onto your contact information is much more useful than just telling someone to get in touch when they need your help.
This can also be a great tool for agents who are doing door-to-door sales. You can always leave a business card if someone isn't home, but you can also leave it if they don't want you to come inside. It might sound pointless, but it's actually worked for some of the agents at our local agency.

Michael Sams was training another agent, and they ended up on Mr. Margarita's doorstep. This is his story:
I stood there, and he just cussed us out. "I can't believe you *$%& would show up on my doorstep, and you're just here to &$%#, and I don't need any of your *@%#$ help..." and he just went on and on.

I had just come out of college basketball, so I was used to a coach being that way. So, I looked Mr. Margarita dead in the eye, and I said, "You need to know that you're on a major medical plan, and it is going to end when you turn 65. I know someone has told that you can keep your plan when you turn 65, but I'm here to tell you that you can't. You don't need to believe me now, but when you discover the truth, I want you to call me."

So, I left my business card with him and wrote his best option on the back.

Three months later, you won't believe who called me. Mr. Margarita.
So, even when the odds don't seem to be in your favor, something as small as a business card can be the tool that puts you back on the board.
Now, just having a business card is useful, but having a card that looks professional is extremely important.
If you're not very good with design software, and you don't know the first thing about designing a business card, here are some of our recommendations.
---
1. Vistaprint
Vistaprint is a great place to go if you need something custom-made for your business. Their business card selection is really nice, and you don't need any design background to choose a template that appeals to you.

You have the option to choose a shape – square, rounded corners, standard, or slim – as well as the type of paper.
One way to set your card apart is to choose a thicker paper stock – something sturdy. Some professionals even go for metal business cards with the idea that people will hesitate to throw away metal (though Vistaprint doesn't offer metal).
Another element to consider is whether you want your business card to be matte or glossy. In practical terms, matte cards are easier to write on, while glossy cards aren't. Think about going to a hair salon or barbershop – the back of those cards are purposefully matte so they can write the date and time of your next appointment.
You can get pretty carried away with the options since there's a little bit of everything – ultra-thick, folded, plastic, metallic?! – but keep in mind the price of the cards as well. The fancier you get, the more expensive they'll be.
Once you choose the shape and style of your card, you get to browse their library of business card templates.
You can browse through all of the options or sort by industry. There is a category for "Finance and Insurance," and you'll find that most of these cards look very elegant and simplistic. It's up to you – just be sure to choose something that represents you and that is easy to read.
Vistaprint almost always has specials on their products, but if you don't see anything being advertised on the website, do a quick Google search for coupon codes. You can often find codes that will take 20-50% off your order.
Average investment: $10-$20 for 500 standard business cards (depending on your coupon and how fancy you want them).
---
2. Moo
Moo's business cards also come in a few different options, though it's a bit less intimidating when compared to Vistaprint.

You can choose between:
Original business cards

Cotton business cards

Super business cards

Luxe business cards
From there, you choose the size of your card and whether you want square or rounded corners.
These cards are quite a bit more expensive than Vistaprint, but they do have a certain charm that's unique to Moo.
Moo also has templates that make it easy to customize the card without having to do any major design work.
Like Vistaprint, Moo allows you to sort the templates by industry, though there isn't an option for "Insurance." I think you'll find that the majority of the cards will work for any industry, though.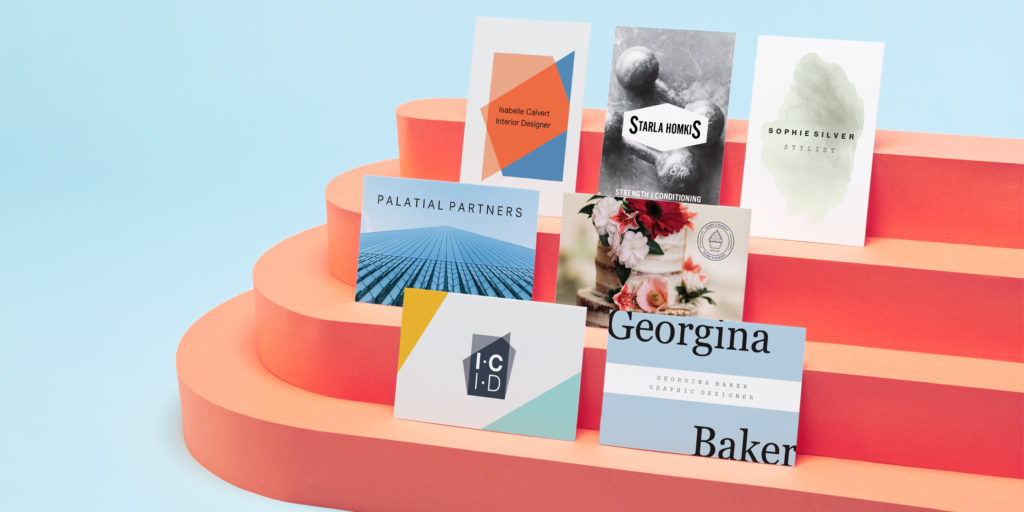 As you can see, the cards have a uniqueness to them that just isn't there with the Vistaprint templates. They're modern yet simple, they're vibrant, and they're just different from your typical business card. They make you look twice.
Average investment: $119 for 400 standard cards (no upgrades - upgrades can hike up the price to almost $200).
---
3. Hiring a Graphic Designer
If you don't have any design skills, and you want your business cards to be 100% unique to you, you might consider hiring a graphic designer.
It's important that you don't try to wing your own design because a badly designed business card leaves a worse impression than having no business card at all. We want your cards to be an asset – not a detriment.
If you don't personally know any designers, the easiest way to find a qualified one is to use a freelance website like Upwork or Fiverr. Our team personally prefers Upwork, though you can certainly browse around on both.
Hiring a graphic designer can be the most desirable option, because it gives you something unique to your business, and you can also go back to them if you need a supporting marketing piece with the same design.
Average investment: Entirely up to you, though you'll have the price per hour (or the fixed price) of the designer on top of the actual business card order. Most likely, you're looking at spending a few hundred dollars.
---
4. Staples / Local Printer
Another option is to use a printing store like Staples, or if you have a locally-owned print shop, by all means, support them! You can check out the business card page on Staples' website, and they also give you the option to browse some of their own templates.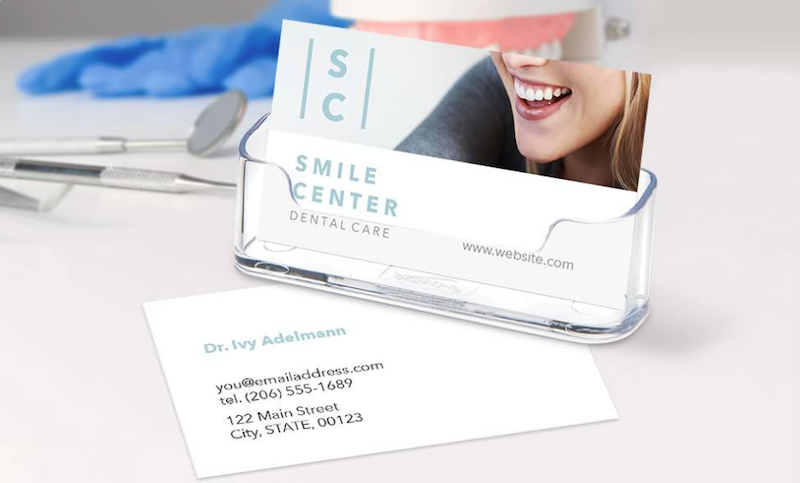 Their templates aren't quite as unique as Moo, but they are different from Vistaprint. This just gives you another option if you can't find a design that strikes you as "the one."
Perhaps the biggest perk of choosing a place like Staples is that you can pick up your cards locally, and you can even opt to get them same-day. You won't get that anywhere else.
Pricing for Staples business cards is quite similar to Vistaprint in that it's really affordable to get 500 of them.
Average investment: $15-$20 for average business cards
---
What will you choose?
To wrap it up, we have Vistaprint, Moo, hiring your own graphic designer, and local options. There are a ton of other options out there, but these cover the general bases when it comes to options.
As with most things, the more you spend, the higher quality your end result will be, but you can see that you don't have to spend a fortune to get business cards that look professional.
Have you ordered business cards in the past from any of these options, or have you tried something else? Let us know in the comment section below!