Medicare is always changing, and it can be hard to keep up with it all, so we've compiled all the major Medicare changes coming for 2022.
From the new Alzheimer's drug, Aduhelm, to increased Medicare premiums, here's what you need to know about Medicare in 2022.

2022 Medicare Premiums and Deductibles
Highlights:
2022 Part B premium: $170.10
2022 Part B deductible: $233
2022 Part A deductible: $1,556
2022 Part A premium: up to $499
2022 Part A coinsurance: $0 for Days 1-60; $389 per day for Days 61-90; $778 per day for Days 91 and beyond
The Medicare Part B premium is increasing by 14.5%, the highest premium increase to date.
In 2021, the Part B premium is $148.50. In 2022, the Part B premium will be $170.10, a $21.60 increase.
The Part B deductible is also increasing from $203 in 2021 to $233 in 2022.
Most people don't pay a monthly premium for Part A. For those that paid Medicare taxes for less than 30 quarters, the standard Part A premium is $499 in 2022. And for those that paid Medicare taxes for 30-39 quarters, the standard Part A premium is $274 in 2022.
The Part A deductible in 2022 is $1,556. The Part A hospital inpatient coinsurance is as follows:
Days 1-60: $0 coinsurance for each benefit period
Days 61-90: $389 coinsurance per day of each benefit period
Days 91 and beyond: $778 coinsurance per each "lifetime reserve day" after day 90 for each benefit period (up to 60 days over your lifetime)
Beyond lifetime reserve days: all costs
Also, the Income-Related Monthly Adjustment Amount (IRMAA) thresholds have changed for 2022. They went up slightly—the first adjustment tier is now greater than $91,000 (individual) and $182,000 (joint tax returns):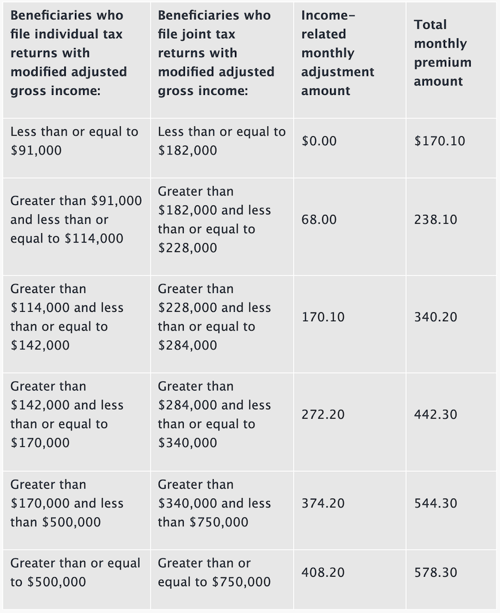 Help your clients understand their 2022 Medicare costs with customizable and fillable Client Guide to Medicare Parts A & B.
Aduhelm and Medicare
Many are shocked by the drastic 14.5% Medicare Part B premium increase, and CMS says it's partly because of the uncertainty of Aduhelm.
In early 2022, we expect to get a coverage decision from Medicare regarding the $56,000-per-year Alzheimer's treatment. If Medicare decides to cover it, it will be under Medicare Part B.
UPDATE: December 20, 2021: Biogen announced today they will reduce the cost of their $56,000 Alzheimer's treatment by 50% – or $28,200 (Yahoo Finance).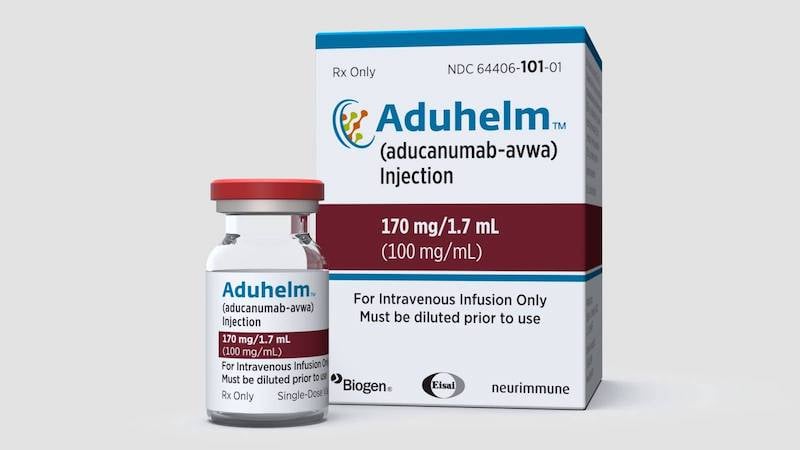 According to some preliminary estimating, if 500,000 people on Medicare were prescribed Aduhelm, Medicare Part B premiums would increase by about $97 per year, or $8 per month.
Medicare Supplement premiums would also likely go up, as these plans would pay for 20% of the treatment cost. We will keep our field force updated on any major Aduhelm updates.
2022 Medicare Advantage Changes
Medicare Advantage continues to grow with 2022 being its biggest year yet. For 2022, there are more Medicare Advantage options than ever before.
There are 3,834 MA plans available nationwide, an 8% increase from 2021. The average Medicare beneficiary has access to 39 Medicare Advantage plans in 2022, up from 33 options last year.
About 59% of MAPDs charge no premium (other than the standard Medicare Part B premium), and 98% of beneficiaries have access to at least one MAPD with no premium for 2022.
Stat source: KFF.org
CMS also reports that the average MA premium in 2022 is just $19 per month, down from $21.22 in 2021.
MA enrollment in 2021 was the highest it has ever been, with 42% of the entire Medicare population choosing a private MA plan as opposed to traditional Medicare.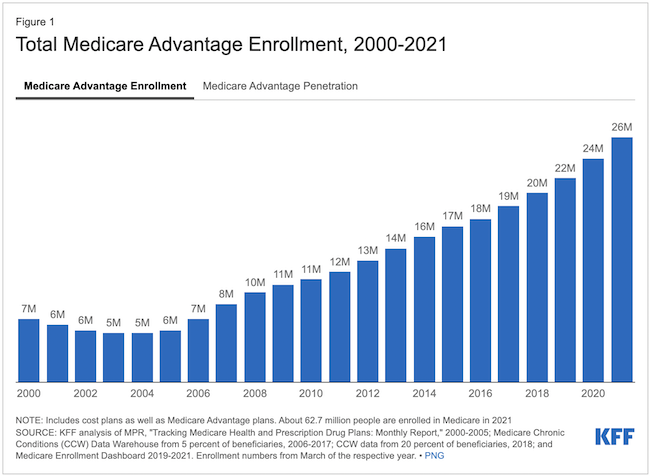 Chart source: KFF
The Congressional Budget Office projects that percentage will rise to about 51% by 2030.
2022 PDP Changes
CMS will continue to test the Part D Senior Savings Model in more than 2,100 plans in 2022.
As a reminder, the Part D Senior Savings Model offers extra insulin benefits through participating Part D plans. The maximum copay under these plans is $35 for a 30-day supply, a big savings for clients who need insulin.
Over 500 new Medicare Advantage and Part D prescription drug plans, and two new pharmaceutical manufacturers of insulin, are joining the model in 2022 to provide even more opportunities for eligible seniors to reduce their out-of-pocket spending on insulin.
The average 2022 premium for Part D coverage will be $33 per month, compared to $31.47 in 2021.
Finally, in 2022, the Part D (drug coverage) catastrophic coverage threshold will increase from $6,550 to $7,050.
Once clients reach this threshold, they're eligible for the catastrophic benefit period, where coinsurance is only 5% of the cost of the drug or $3.95/$9.95 (generic/brand name).
Medicare Benefit Changes In 2022
Medicare has added some new benefits to the 2022 Medicare & You Handbook, including:
More COVID-19-related items & services, such as booster shots and monoclonal antibody treatment
Cognitive assessment & care plan services to help beneficiaries detect early signs of dementia, including Alzheimer's disease
Blood-based biomarker testing, a screening test for colorectal cancer
Bariatric surgery coverage,

like gastric bypass surgery and laparoscopic banding surgery
Medicare Technology
Over the past couple years, we've seen Medicare make some major improvements to their technology, like redoing Plan Finder and releasing their What's Covered smartphone app.
We can expect to see more improvements and updates in 2022 as CMS continues its eMedicare initiative, though CMS hasn't officially announced what those changes will be.
They've only announced that they will continue to improve the online experience on Medicare.gov.
Conclusion
Medicare continues to evolve, and it's important that we stay on top of those updates so we can educate our clients.
To ensure you continue getting updates important to you and your book of business, be sure to subscribe to our email newsletter if you haven't already. Good selling!