Disclaimer: Interest rates change often. This article will be updated on a quarterly basis, but rates may change between those updates. At any time, you can review current annuity rates here, and you can download our 5-Year Annuity Tip Sheet, which is updated regularly, here.
---
As the coronavirus (COVID-19) spreads globally, the stock market has tanked and fixed annuity rates have also decreased.
Don't lose faith in annuity products for seniors; there are still some great options out there, and we're going to go over those today in this quarterly annuity update.
What's Happening In the Annuity Market During COVID-19?
The 10-year U.S. treasury bond is currently yielding about 62bps. To give some perspective, during the peak of the fixed annuity market last year, the 10-year U.S. treasury bond was up over 2.60.
Everything is down right now. Many have lost upwards of 35% in the stock market, and the banks aren't offering much interest at all. Your national average for a 5-year CD is only 0.63% (FDIC). Money Markets aren't any better than a typical savings account at a tenth of a percent.
While fixed annuity rates are low at around 3%, it's all relative right now. We have fantastic options that your senior clients will appreciate.
---
Fixed Index Annuities (FIAs) – Now Is the Time
In the midst of the stock market drop during this COVID-19 pandemic, it's actually an ideal time to get into Fixed Index Annuities (FIAs). Your clients are able to get in when the market is low, which gives them an incredible opportunity to capture all the gains when the market recovers.
If I'm an agent out in the field right now, I'm really hitting on the opportunity of a FIA with all of my clients.
Start With the
Equitable Teton™ FIA
My top recommendation is the Teton™ FIA from Equitable. It gained a ton of traction last year, and for good reason. It's one of the simplest FIAs to understand, senior clients get it, and the rates are competitive.
The Teton has a 7, 10, or 14-year option. The fixed rates are definitely down, but for clients who want to participate in the S&P 500, they have an incredible opportunity to make safe and competitive returns on their money.
[Check Current Interest Rates In the Equitable Annuity Portal]
The Teton annuity comes with some amazing perks (no fees involved), such as:
RMD friendly
Full account value at death
Home health, nursing home, and terminal illness benefits
5% accumulated value available after the first year
This is a great product to promote to people who want a chance at a bigger gain.
We also have developed some sales materials and tools for agents who want to get into the Teton product:
Plus, I do want to remind you that FIAs are a little more than double the commission of a MYGA. When looking at the 14-year, it's really almost four times the commission of a MYGA.
---
Our Top MYGAs
When you look at all your options, earning around 3% on your money is a fantastic option, particularly for the senior market.
In the MYGA landscape, our Top 3 without a doubt are Equitable, Sentinel, and ACL. That hasn't changed at all from last year.
We still hold KSKJ, especially for clients who appreciate all the "built-in" features such as the full account value at death. Even though their rates are a little lower at 2.75%, they have nice built-ins.
Here are a few details about these companies and why you should consider them as we get into 2020's second quarter.
Equitable's 5-Year MYGA – Secure Savings Elite
Equitable is still the leader for us. The Elite product is at 3.1%. This annuity doesn't have any withdrawal privileges unless you put in a rider, but clients that don't need access to that money can take advantage of the higher rate.
If your client does want the 5% penalty-free withdrawal after Year 1, the rider costs 0.6%. There are other riders you can add to the product to make it RMD-friendly as well as some other features your client might like, but of course those all have a cost.
Equitable's 5-year that has all the built-in features is down to 2.85%.
Sentinel and ACL 5-Year MYGAs
Sentinel and Atlantic Coast Life (ACL) are very similar in what they're offering right now. Both of their 5-year MYGAs are at 3.10%. ACL structures theirs a bit differently with a higher first-year rate, but when you average the 5 years, it's the same as Sentinel at 3.10%.
In addition, both carriers offer extra features like free withdrawals a la carte.
With Sentinel, you don't have to do the suitability, which saves the agent a lot of time and headache. Sentinel also has the e-App, which is another plus.
Get Contracted with Atlantic Coast Life
Shorter-Term MYGAs
Equitable's short-term MYGA is at 2.30% for only a 2-year term, so it's less of a commitment for your client, and it's at a great rate.
If you visit our Annuity Rates web page that's updated constantly, you'll see the best annuities highlighted, and that can help narrow down your options depending on which carriers you're contracted with and what's available in your state.
(Not sure on state availability? Just get in touch with me, Kirk Sarff, and I'll help you out. Call us any time at 888-780-7676.)
Use E-Apps for Your Annuity Business!
While we all practice social distancing and even sheltering in place, it's more important than ever that you get comfortable with e-Apps. Electronic applications eliminate a lot of mistakes and will help the speed of processing. Win-win!
Please know that I'm here to troubleshoot and answer any questions you might have along the way.
Some exciting news is that the Equitable e-App has been released since our last update. To access it, log in to the Equitable Agent Portal, click on "Products," and select the product you want. Then, click "Start eApp."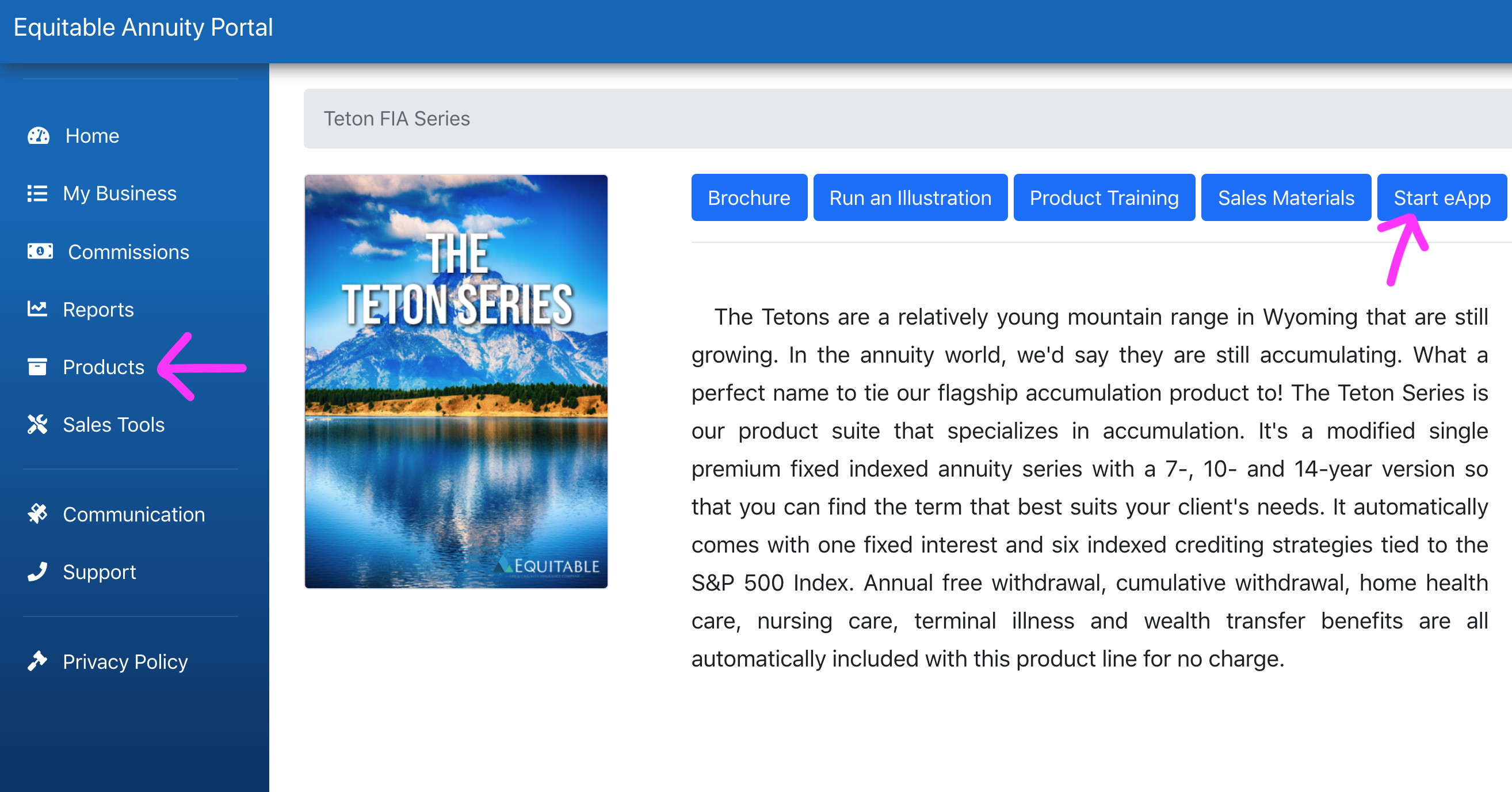 Future Outlooks
The first few months of this year really topped the charts for our FIA business. We hit some records here and are very thankful for the agents out in the field.
As far as where annuity rates are headed in the coming months, it would be a total guess given what our country is going through... this is new water for all of us.
The MYGAs are safe and guaranteed. The FIAs still provide an opportunity for a better return with the risk of losing 0 in the market. There are no fees/costs for either that we offer.

---
New to annuity sales?
Annuity sales are a huge opportunity for independent agents in the senior market. If you want to learn how to sell annuities to seniors, you've come to the right place!
Check out our complete guide here: The Ultimate Guide to Selling Annuities In the Senior Market