According to the National Nursing Home Study conducted by the Centers for Disease Control (CDC) in 2004 (the most recent study) nearly 44% of all nursing home stays are for less than 1 year.
There is a real need for short-term care, and what I really like about this option (also known as a recovery care plan) is that you have options. For example, with Aetna's Recovery Care Insurance Plan, you can go with a 90-day benefit, 180-day benefit, a 270-day benefit, or a 360 (1-year).
Comparing New Horizons Short-Term Care Insurance Plans
| | | | |
| --- | --- | --- | --- |
| Issue Age | 50-89 | 50-79 | 18-79 |
| Benefit Periods | 90, 180, 270, or 360 days | 180, 270, or 360 days | 120, 240, or 360 days |
| Elimination/Waiting Periods | 0, 20, or 100 days | 0 or 20 days | 0, 15, or 30 days |
| Daily Benefit Options | $10-$300 | $50-$300 | $100-$300 |
| E-app Available? | Yes | No | Yes |
| | | | |
| Issue Age | 50-89 | 18-85 | |
| Benefit Periods | 100, 180, or 360 | 180, 360 | |
| Elimination/Waiting Periods | 0 or 20 days | 20 days | |
| Daily Benefit Options | $50-$300 | $20-$300 | |
| E-app Available? | No | Yes | |
I just did a 270-day benefit plan with a 65-year-old at a $200/day benefit, and it was right around $800/year for the premium. It's not cheap, but it's affordable, and it's something that a lot of people don't have.
You might have read in a previous post that my father wasn't doing so well, and I never would've dreamed that a week later, he would be gone. But I do wish we had had something to pay when Medicare didn't.
I think that what's different for us old-timers that have been in the market a long time is that the hospitals would keep you a little longer. They were easier to get into… now it's just not that easy. I've talked to several doctors and my daughter who's a nurse, and you just can't hurt yourself at all by at least asking a person to consider a solution.
We had a guy in our office that sold this for years and he ended up having to use this service. Just ask your clients to consider adding on a short-term care policy to their Medicare supplement.
Initial Thoughts on Carriers
I like the Aetna option. I'm not saying it's better, but what I really like about Aetna is the brand.
I'm not knocking Medico, and I'm not knocking any other carrier. But the financial power behind Aetna — there's just no comparison. I can't forecast the future, but I do like Aetna.
How to Prepare
The application — you'll have a copy of it, and get comfortable with it.
If you know you're going to see someone, how easy is it to have some rates ready to go? I may not be doing it justice, but a rate card and an app will take it all the way.
You already know how to sell, and you don't have to do much research on how often people fall. The highest rate of claims was on fractures when we sold long-term care. STC is surely similar.
When you're talking about this to your clients, bring up common accidents like tripping over a throw rug, or in the winter, falling on some ice.
If people have a Med Supp, chances are they can get this, too.
Make sure they know that Medicare doesn't take care of this in most cases — Medicare may cover the cost of a short stay in a nursing home but only for 20 days. The next 80 days will cost them a copayment or their Med Supp will cover it (as long as they're improving). After that, Medicare doesn't pay anything for these services, so they're on your own.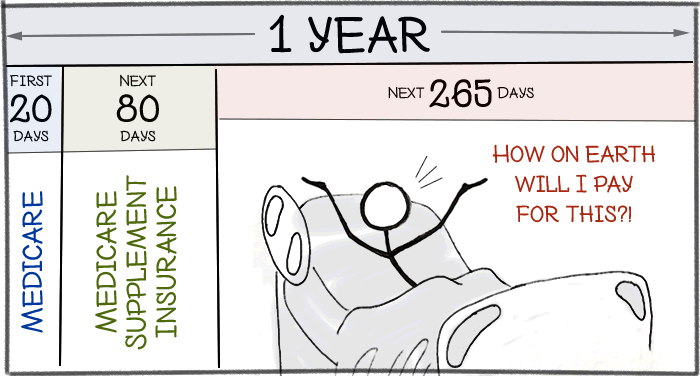 How to Bring it Up and Make the Sale
I would say something like this:
"You know, you have Part A of Medicare, which is your hospital, you have Part B of Medicare, which is all your physician expenses, and you have a Medicare supplement. Everything is pretty much covered except extended care and home-health care.

In our later days, whether it's an accident, a fall, or a stroke, you'll need some type of care. You may not ideally want to go to a nursing home, and if you do, it pays there, but here's what I want you to know: It's affordable, and some people just don't know about it, so I want to tell you about it."
It's also so important to make it resonate with your buyers. When I sold primarily long-term care in the 70s and 80s, I would often tell farmers the cost to be in a nursing home is an acre per month. It surprises me, but that is exactly where the average cost is today with farm land. It will run $8,000–$12,000 per month.
This is more meaningful to the central Illinois area, but the expense to live your final years is mind blowing. Make the cost resonate with your clients — compare it to something they know and love, and make the potential devastation real for them.
Another line I often used in talking to consumers is there will be more homes lost to long-term care costs than any fires. However, no one thinks about protecting their home from long-term care expenses, but you wouldn't go a day without homeowner's coverage.
A statistic that has always jumped out at me and that is 1 in 2 people past the age of 65 will need some form of long-term care or expenses not covered by Medicare in their lifetime. Most caregivers are spouses and second to spouses are daughters or daughter in laws.
You owe it to your senior clients to at least discuss the coverage options such as short-term care and potentially long-term care.
Short-Term Care Is Only the Beginning
If you sell your clients a short-term care plan, that doesn't mean you can't move them on in to long-term care — maybe with a 1-year deductible. If they buy a little bit, chances are you can always get them back later and sell them more.
I had clients ask me when I sold this a lot, "Is one year of benefits really enough?"
That's when you say, "No it's really not, but at the time, that's what you told me you could afford. If you can afford more, let me get you some prices, and we'll go from there."
I really believe you're doing your client a great service to let them know that you have it and that you're able to explain how it works.
You'll also be rewarded nicely, because the commission on this is a lot better than a Medicare Supplement.
Use this info and hit the ground running — get contracted with one of our STC carriers today.