We've all heard the advice.
Stick to one insurance niche. That way, you can become an expert with that one product, and you'll dominate.
We see it in LinkedIn discussions: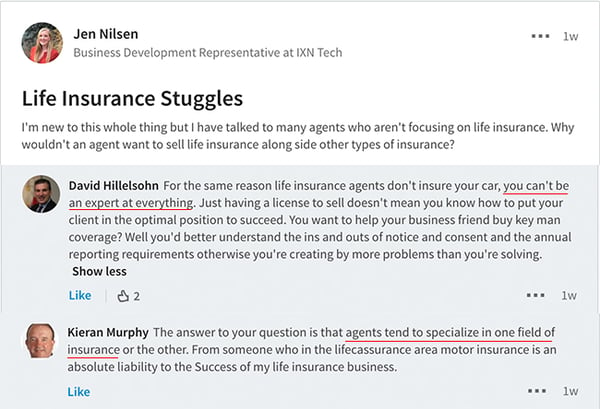 Agent forums: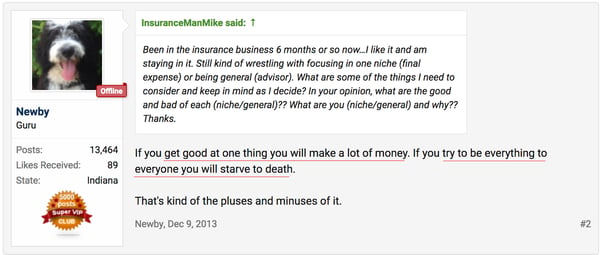 Even popular blogs: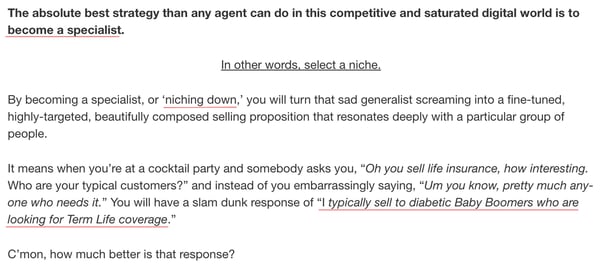 There's this idea out there that to be truly great, you have to focus on one thing and become great at it. Apparently, to the point where you're selling term life insurance to only diabetic baby boomers.
But I disagree, and I disagree astoundingly. Like shout it from the rooftops disagree. Go tell it on a mountain disagree.
I feel pretty strongly about this.
But I understand why this is being said, because this is what I thought 2-3 years ago. I would have said that yes, you should focus on one product and get really good it. I didn't know how to sell anything else, and I didn't know why there was a need for other products.
But now that I have a really good approach that helps me service all my client's needs, there's absolutely no reason why my client has to go to one agent for final expense, another agent for long-term care, another agent for Medicare Supplements… you get the idea.
When you know how to service all your client's needs, it's silly for you to pass up on that.
What do you mean by "insurance niche?"
Now, I do want to take just a second to clarify something. I'm saying that you shouldn't only sell one product and call that your "niche."
I do think you need to have a scope of products that serves a particular group of people. For example, most of us serve the senior market. But we probably wouldn't start offering car insurance, home insurance, and every other type of insurance out there.
So, I don't mean to say that you should be a one-stop-shop for every insurance. I'm saying that limiting your sales to 1 product is a terrible way to go about business for both you and your client.
So, here's me: I'm a Medicare specialist focusing on the senior market. But I don't just sell Medicare Supplements – I focus on all of the needs of Medicare-eligible seniors.
I have no problem servicing final expense, long-term care, cancer plans, annuities, and so on.
Why do agents only sell one product?
The reason why agents want to focus on one product is that they don't know a better way. Some disguise it by saying it's the only way to dominate the market or you can only become an expert if you limit yourself to one product.
But that's nonsense. In truth, they don't think there's a need for these products, they don't know how to sell it, and they're not comfortable changing how they've done business for the last X amount of years. And how do I know this? Because that was me.
But I've come to realize that I don't just sell insurance to make money. I'm meeting needs and making money at the same time.
How do I go from one product to offering a range of products?
So, we come to the million dollar question. Focusing on one product is nice, because you learn the ins and outs of it and feel really comfortable pitching it to clients.
But how can you go from one product to offering an entire range of products?
The answer is multifaceted: you need a better approach with your clients and you need support from other experts in this industry.
To make this easy to understand:
You need to start using a Client Needs Assessment.
You should consider becoming a part of the All-Star Program.
The Client Needs Assessment is a psychologically-charged set of questions that help you get to know your client on a personal level.
Each question will uncover a potential need for a senior-market product. If there isn't a need, or they can't get the product, at least you've talked about it and have fully serviced your client.
→ Get the Client Needs Assessment
Secondly, the All-Star Program is comprehensive program that will transform the way you sell insurance. It includes full training, one-on-one mentorship, access to all of our systems that increase revenue, and more.
Finally, you can always rely on our staff to help you!
For example, you find a need for life insurance. Call up Kirk Sarff, the head of our Life & Annuity department.
In our recent Life Insurance Training Kit, we explained that you can rely on us more than you probably thought. Here's a chart showing what you need to do and what we do for you when you're selling a life policy:
| What We Do | What You Do |
| --- | --- |
| Scrub your application | Complete application with your client |
| Submit your application to the carrier | Transmit to NHM (email, fax, or mail) |
| Order all requirements (exam, apps, etc.) | Receive case status updates |
| Keep you informed of case status | Check your bank account for your commission! |
| Overall, do all legwork needed to place your case | |
We are constantly putting together marketing materials, training kits, explainer videos, and even webinars to help you learn more and feel more comfortable offering new products to your clients.
Why would I change and start offering multiple products?
There are 2 simple answers to this question:
You're better serving your client
You're making more money (this is arguably the only way to become a $1 million producer)
If you don't talk about the need for these products with your client, who will?
And you might be thinking something along the lines of… "who cares?"
Recently, Jeff Sams, my dad, got a letter from a long-term care client. This was 12 years after he sold them an LTC plan. He had saved that family $180,000.
I had a client earlier this year who saved literally hundreds of thousands of dollars after his wife was diagnosed with cancer. Their Medigap plan picked up nearly all of the costs.
One of the agents I mentor recently sold a cancer plan, and one month later, the individual found out they were diagnosed with cancer.
These are real people and medical bills can be devastating. If we don't show them the need, are we really doing our job to the best of our ability?
Finally, on a realistic note, how will you scale your business if you only offer one product? The only way to become a 6-figure producer (and up) is to start offering multiple products.
Without a full staff and a well-oiled automation machine, there's no way you can service that many clients. But if you sell multiple policies to a select number of clients, you're making more money and you're still able to maintain a relationship with these individuals.
I'd challenge you to get out of this "insurance niche" thought process. It's not about becoming a superhero with one product. It's about how well you're servicing your clients.
And when you're helping people and making money doing it, I promise you're going to sleep better at night.