My wife, Kari, recently took our daughter, Amelia, to the pediatrician.
While they were there, she noticed the doctor asking the same questions she had asked during the previous visit (and virtually every previous visit, for that matter). That seemed a little weird, and sort of impersonal, but no big deal, right?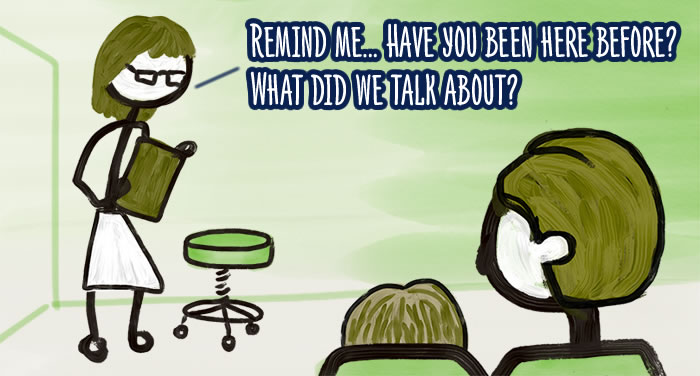 Well, by the end of the appointment, is was completely clear that the doctor was entirely inefficient. She was using tons of paperwork, she didn't seem to remember any details about our Amelia, and the worst part is that she's been seeing our daughter for three years. During those three years, Amelia hasn't always been healthy, and there have been times Kari has taken her to the pediatrician on a weekly basis.
Now, I realize that doctors see a lot of patients. Maybe it seems like too much to ask for the doctor to remember details of the last appointment or basic health records, but with all of the technology at our fingertips, it doesn't have to be that way.
And Kari's personal doctor is a testament to that. She says it's a night and day difference.
Kari's doctor can pull up her information in a CRM system and instantly see the history of her vital signs, notes regarding her last appointment, what happened, and so on.
These simple differences have a large impact on how we view these two physicians, and rightly or wrongly, how we perceive their quality of care.
If you're not using a CRM system currently, how do you think your clients perceive you?
What is a CRM?
If you're not familiar with it, CRM stands for Customer Relationship Management. The basic functions of a CRM program are:
Track sales
Automate interactions
Store customer information
There are 4 major advantages of having a CRM system in place.
1) Everything you need is now in one place. You don't have to sort through your filing cabinet to find out which policy you sold to Betty last year. You can now find any piece of information, and you can do it from anywhere.
2) It'll be easier to sell your book of business later on. As your book of business grows, it's value also increases. If everything is in one place — a CRM system — it'll be a lot easier to sell your book of business when you're ready to retire.
3) You'll do more work in less time. Every interaction you have takes time, and as you grow, you'll realize that you don't have enough time in the day to do everything you wish you could. A CRM system will automate certain things to make sure nothing gets missed and that everyone's needs are met.
4) You can run reports and find information quickly. If you want to learn something specific about your entire customer base, you can do it at the click of a button. You can also pinpoint when one client's birthday is, when a policy is about to hit its annual review, and so on. It just makes finding specific information painless.
Mainstream CRM Options
There are a ton of different CRM systems out there, and each one comes with different functionalities. (And with different prices.)
There are a few leaders in the CRM industry, but that doesn't necessarily mean that it's the best choice for someone in the insurance industry. We'll get to that soon, but first, here are those leading CRM systems.
1. Salesforce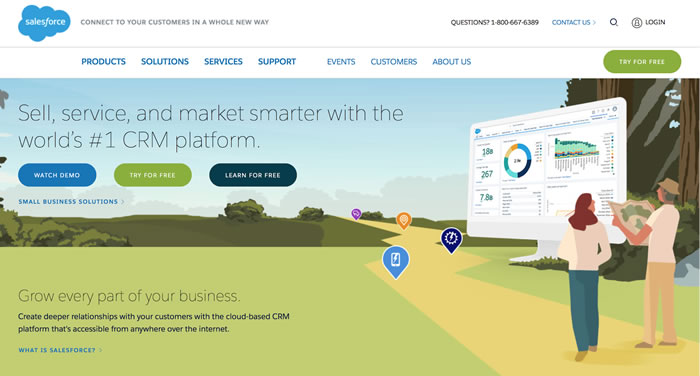 This company is worth $37 billion, making it the leader of the CRM industry. Salesforce has about 14% of the market, and it's a software that any sized business can use.
The price ranges from $5-$300 per month (per user), which depends on how many features you need.
Unlike most of the other leading CRM systems, many agents do use and swear by Salesforce. However, it does appear that you need to do a bit of customizing to get it to function well for use in insurance.
What's nice is that you do have the ability to customize it according to which fields you want, and it's also cloud-based, so you can access it from anywhere.
2. Oracle Sales Cloud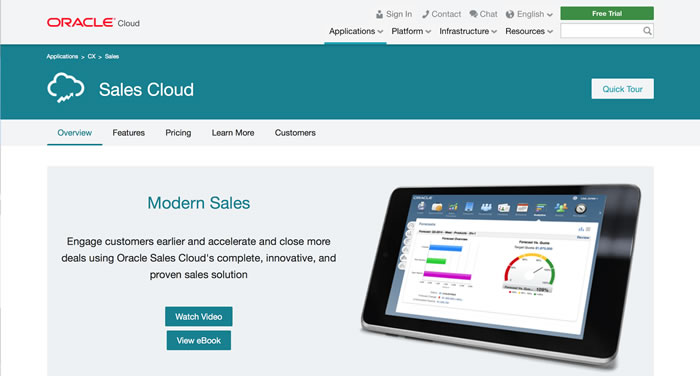 Oracle Sales Cloud has about 11.1% of the market, and many say that's attributed to its user-friendly interface. It has a lot of features to add on, and the price tag reflects that. This one will set you pack between $100-$200 per month (per user).
I was unable to find any information on agents who have tried this one out.
3. Microsoft Dynamics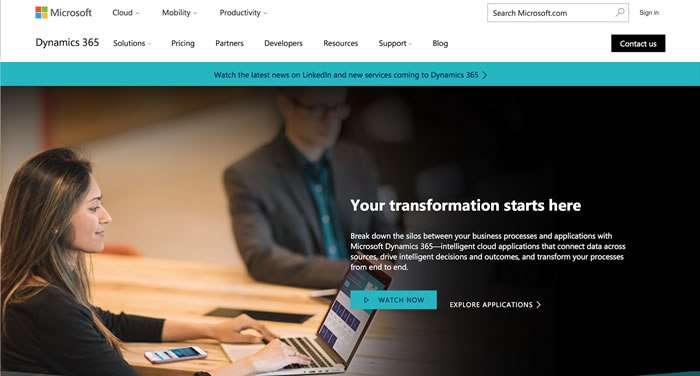 Microsoft is right behind Oracle Sales Cloud with 6.3% of the market, and a lot of people like it as it integrates with the rest of Microsoft's software. You can make it speak to Outlook and Office, and you can also use it on your phone.
This one costs around $65 per month (per user).
Again, no word on agents who have tried this one.
There are other players in the field, such as SugarCRM, Workbooks CRM, Insightly, Zoho, Nimble, and NetSuite, but none of them are specifically made for insurance professionals.
I will say that with Zoho, many agents like this one as it's cheaper than other options, and it has just as many features. It's also faster to start using since you don't have to do quite as much customizing, and the reporting features are really nice. However, Zoho is known for having bad customer support, and the interface is not exactly appealing to the eye.
Insurance-specific CRMs
The nice thing about the following insurance-specific CRM systems is that all of the fields that are there are going to speak to exactly what you need. There won't be a ton of "pre-work" that needs to be done in order for the software to function for you.
1. AgencyBloc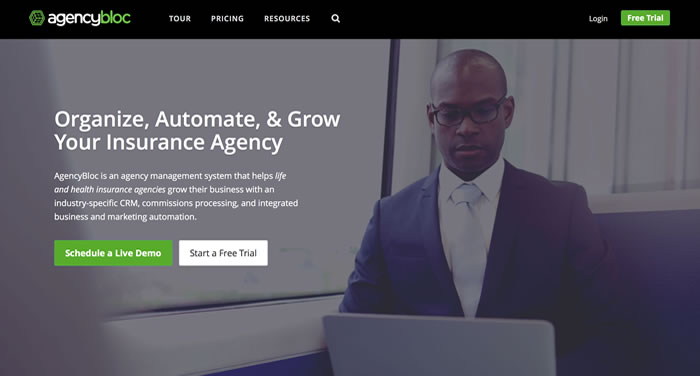 AgencyBloc is actually the CRM that the agents at our sister company, Sams/Hockaday & Associates, use. We find that the features are exactly what we need.
Some standout features are that you can import carrier statements, you can project future commissions, and you can set up follow-up emails that are automated.
If you have a website, you can capture leads there and funnel them right into AgencyBloc.
The search abilities are also really great if you need to find out, say, which clients have a Med Supp with Equitable.
There are a lot of little features that can change the way you do business.
The pricing for AgencyBloc is based on a "per user" basis. Here's a snapshot of how the pricing works.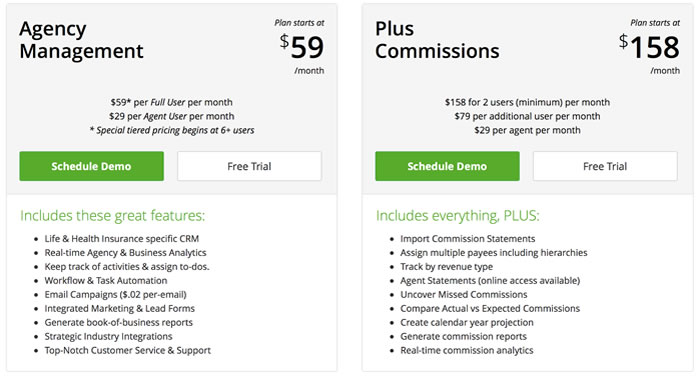 Website: http://www.agencycbloc.com
2. Radius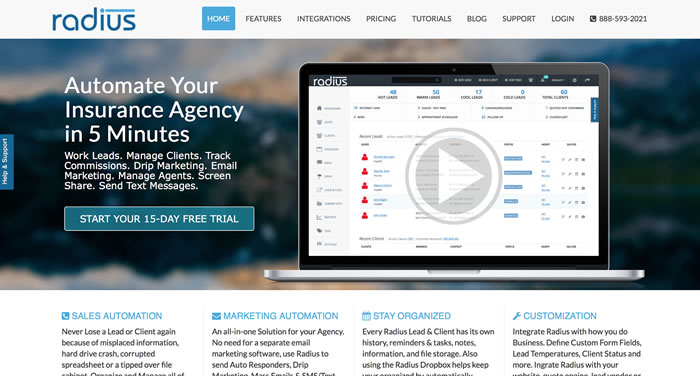 Radius is another CRM system that a lot of agents use. Like AgencyBloc, all of your client information is stored securely, and you have the ability to do automated marketing.
Radius is very organized, so every prospect and client that's in the system has your notes, basic information, and reminders attached to it.
You can also customize Radius with your website, lead vendors, quote engines, and other apps you might be using.
Radius does have pricing available for a single agent, so if you're running your own show, this could be a great option for you.
Here's a snapshot of their pricing: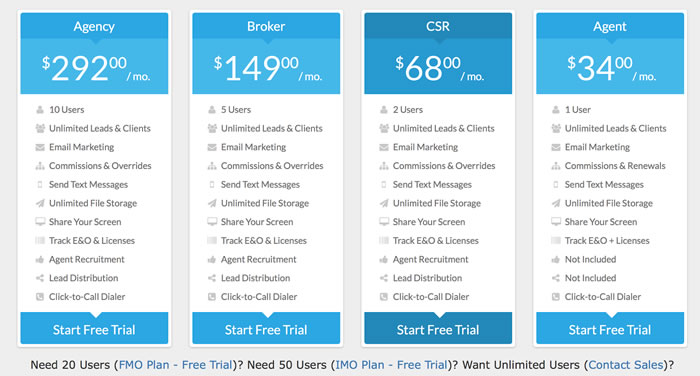 Website: http://radiusbob.com
At the end of the day, I don't think you can go wrong with a CRM system that's made specifically for insurance agents.
While it is a business cost, I think you'll see pretty quickly how much time you'll save, and as we all know, time is money.
And as for our daughter Amelia's pediatrician, I think it's safe to say we're open to the competition.