Medicare Supplement e-Apps can be intimidating at first, but there are so many perks to them... they're becoming hard to ignore.
If you're not exactly psyched about using e-Applications, you've come to the right place. We're here to share some motivation, some inside tips that'll make this WAY easier, and tutorial videos for our most popular carriers.
E-Apps don't have to be difficult. Here's everything you need to know about them.
Why Start Using E-Apps?
Paper apps are just fine, so why is everyone pushing you to make the switch to e-Apps?
For insurance companies, there's definitely a cost savings to e-Apps. However, the benefits for the writing agent are even more powerful.
Save Time
When you embrace e-App technology, you cut down the application process from over a half hour to around 10 minutes. But the time efficiency doesn't stop there – you also cut down on processing time, because there's no longer a need for a person to manually input your paper app into a system.
Oh, and... it doesn't stop there. If you make a mistake on an e-App, you'll know about it right away. The system will prevent you from continuing until you fix it. That saves all the hassle and time spent going back and forth fixing mistakes on a paper app.
But wait – there's more! Approvals are also faster when you submit an e-App. In fact, processing, on average, speeds up by 10-14 DAYS. You saw that right.
And, again, there's more – you don't have a ton of paperwork to do at the end of the day.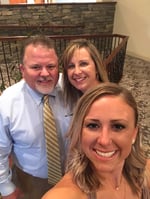 Brent, a producer out of Indiana, recently made the switch to e-Apps after 30 years of doing it on paper. His younger daughter, Kendall, joined his business and helped implement the e-App process as well as their CRM.
After 30 years of doing applications on paper, Brent was not thrilled about change. However, his daughter convinced him to give it a go, and he's never looked back.
"It's been a game changer for us. My last appointment would be done, but I'd still have an hour and a half of work at the end of the day. Now, there's no extra work after that last appointment." –Brent, independent producer
There are a ton of extra benefits to using e-Apps, but perhaps the most convincing one of all is the cash that can come with it.
Earn Extra Cash
Most insurance companies these days are offering cash bonuses for submitting e-Apps instead of paper apps. Why? It saves them money, so they pass that savings onto you!
It's really a win-win for everyone. You can check out the current incentives at any time here, but just to give you an idea, it's not unheard of to get an extra $100 per app during an e-App promotion.
Hey, I'll take a Benji and save time any day.
Plus, you'll get your commission faster, and best of all... you're saving the trees!
Instant Underwriting Decisions
If saving time and earning extra cash sounds nice, the possibility of an instant underwriting decision should seal the deal.
While only a select few Med Supp carriers offer this, they're certainly ones to get contracted with!
For example, Great Southern Life offers an instant underwriting decision, and you don't even have to enter any prescriptions on the application! It takes about 10 minutes, and when you're using the e-App, you can literally have an answer on the spot while you're still with your client.
We've interviewed 4 independent agents about the Americo/Great Southern Life Medicare Supplement, and all of them were completely blown away by the instant decision!
Here's what they had to say:
"I don't like to write a policy, wait 2-4 days, and then have underwriting call my clients and ask them questions. When I drive home after a long day, I know the 7 or 8 policies I wrote are approved and their other company is also cancelled. I know I'm getting paid on it. It's done." –Russell M.
"I see no advantage to doing the paper app whatsoever because you instantly know if the e-App is declined, and if it is, you can go somewhere else while you're still there with the client." –David T.
"A lot of people say they'll be on vacation next week and it's the end of the month. With the instant approval, we'll know that day, so it's not an issue." – Tyler N.
"If we brought somebody in, we could immediately find out if they've been denied or approved. If they were denied, we could go right to the next company, and try them with somebody else." – Tyler R.
Another company offering instant decisions on e-Applications is Capitol Life.
With Capitol Life, there's a red, yellow, and green light underwriting system. Red is declined, green is approved, and yellow is a short phone with the underwriter.
At the time of this writing, Capitol Life is fairly new to the field, but the fastest app on record is just 57 seconds! You can't get that kind of experience with a paper app.
We're just going to assume that you're on board with the idea of e-Apps at this point, but the next part is learning how the actual e-App systems work. We have tips!
Learning Different E-App Systems
The most intimidating part of e-Apps is that from the outside, it seems like you have to learn a brand new system for each company. And yes, we agree, that sounds nuts.
The great news is that many carriers use the same platform, so once you learn one carrier's system, you've learned several other carrier's at the same time!
Here are the carriers that share the same e-App platform technology:
Americo and GSL
CSO, Everest, and Lumico
ACL, Sentinel, and Oxford
WULA and Manhattan Life
Aetna, Accendo, and Capitol Life
As you can see, if you learned these 5 e-App platforms, you've just learned how to write electronic business for 13 different Med Supp carriers!
Understanding E-App Signature Options
One of the more intimidating parts of doing an e-App is the signature. When you're doing paper, it's easy – just point and tell your client to sign!
With e-Apps, the options are obviously different, but once you understand how they work, they're just as simple.
Electronic Signature/Email Signature
The electronic signature option is generally the most popular option across the board. As long as the applicant has internet access, they just review the documents, sign electronically, enter their credit card information, and they're done.
Depending on which carrier you're writing, the client may receive the application via email, and they will likely be given a website to visit where they'll view and sign their documents.
Some carriers require the client to have an email address (Great Southern Life or Everest), while others have workarounds (Mutual of Omaha).
In any case, this a great option if you're selling remotely, because the client can handle signing the documents from their computer.
Voice Signature
The voice signature typically involves the client calling into a provided 800 number, listening to some disclosures, and then speaking their voice signature. Sometimes, it ends there (as it does with Mutual of Omaha).
Other carriers have extra steps to the process, such as Aetna, who gives the client a confirmation number at the end of the call. The client then calls back and enters the confirmation number to complete their signature.
Sometimes, there's even the option for the agent and client to call in together, and the agent can collect the confirmation number at the end.
Voice signature is pretty easy (very easy on Lumico!), and just about every e-App has this option.
Signature Pad
If you're doing an e-App with the client in front of you, you can utilize the Signature Pad option as long as your device supports it. (Note that some carrier's e-App platforms don't support Signature Pad.)
The applicant reviews the application and signs the documents using your touch screen device. They can typically even sign with the mouse or touch pad on your laptop. Easy as pie!
Wet Signature
If you want some of the benefits of using an e-App, such as making sure there aren't any errors as you fill it out, but your client wants to sign it by hand, you can do a wet signature option.
Just complete the app using the e-App system, and print a copy for the applicant to sign. You can submit the app via mail or fax.
Med Supp E-App Video Tutorials
We've done a ton of e-Application video tutorials for many of our most popular Medicare Supplement carriers. Several of these we've updated as of 2019 to account for changes in the technology since our original tutorial videos.
Medicare Supplement E-Application tutorials available:
Aetna
Americo/Great Southern Life (GSL)
Capitol Life
Cigna
CSI Life
Everest
Lasso Healthcare
Lumico (remember: same platform as CSO and Everest)
Manhattan Life/WULA
Medico
Mutual of Omaha
Sentinel (remember: same platform as ACL and Oxford)
We'll include these tutorials here in alphabetical order for easy access, but if you don't see one you wish we had, leave your suggestion in the comment section below!
Aetna Senior Products E-App (New!)
Aetna Senior Supplemental Insurance includes all products underwritten by American Continental Insurance Company (ACI), Continental Life Insurance Company of Brentwood, Tennessee (CLI), Aetna Health and Life Insurance Company (AHLIC), Aetna Life Insurance Company (ALIC), and Aetna Health Insurance Company (AHIC).
In this quick tutorial, I walk you through Aetna's e-App for senior products, and in this example, we specifically cover the process for writing a Medicare Supplement policy.
Americo/Great Southern Life (GSL) E-App
The Americo Financial Life and Annuity Insurance Company (Americo) family of companies includes United Fidelity Life, College Life, Great Southern Life, National Farmers Union, Ohio State Life, Investors Life Insurance Company of North America, and Financial Assurance Life.
In this webinar from Americo, you'll learn how to use their online app to get instant decisions on your Med Supp cases.
Capitol Life E-App (New!)
Capitol Life, sister company of Liberty Bankers Life, has a very easy e-app with a red, yellow, and green underwriting system.
In this tutorial, I walk you through the Capitol Life's e-App for their Medicare Supplement policy.
Cigna E-App (New!)
There are many subsidiaries of Cigna Corporation that offer a variety of health insurance and related products to customers around the world. Here are a few you're sure to become familiar with as a senior market agent: Cigna-HealthSpring, Cigna Health and Life Insurance Company (CHLIC), and American Retirement Life Insurance Company (ARLIC).
I'll walk you through Cigna's e-App for senior products, and in this example we cover the process for writing a Medicare Supplement policy.
CSI Life E-App
Since its founding, CSI Life Insurance Company has insured millions of individuals with their specialty life, disability and unemployment products as well as traditional products such as Medicare Supplement insurance (Medigap) and life insurance.
In this e-App tutorial, I'll walk you through the CSI Life electronic application for Medicare Supplements.
Everest E-App
Everest is not your typical new Medicare Supplement entrant. Their focus is to enter the market as a long-term, viable, and fierce competitor. Agents can talk directly with an Underwriter, and there's no co-morbidity underwriting – one rate only.
Let's go through the Everest e-App for Medicare Supplements.
Lasso Healthcare E-App
I know this e-App tutorial isn't for a Medicare Supplement, but the Lasso MSA is a great product for Med Supp producers to consider offering. Steve Spinner walks you through the Lasso e-App for their Medicare Medical Savings Account.
Lumico E-App (New!)
Lumico has incredible rates along with great commission and predictable underwriting. Here's a quick tutorial for the Lumico e-App for Medicare Supplement policies.
Manhattan Life/WULA E-App (New!)
ManhattanLife has the easiest e-App we have ever worked with – plus, there's no email required. Here's a tutorial for the MLIC / WULA e-App for Medicare Supplement policies.
Medico E-App
Medico Insurance Company has been meeting insurance needs for more than 80 years and been offering Medicare Supplement insurance since 1975. Here's a tutorial that walks you through the e-App for Medico Medicare Supplements and other Medico products.
Mutual of Omaha E-App (New!)
Mutual of Omaha is a true leader in Medicare Supplements. The Mutual of Omaha family of companies includes United of Omaha, Companion of New York, Omaha Insurance Company, and United World. They offer a full range of insurance and financial services products which allows you to provide the right solution for your clients.
In this video tutorial, I'll walk you through the Mutual of Omaha e-App for Medicare Supplement policies.
Sentinel E-App (New!)
Sentinel is a company out of Salt Lake City, and we have a great relationship with the people behind this company. They come from a Final Expense background – the company was started by funeral directors. Now, they have a very competitive Med Supp product.
Sentinel will write a Med Supp and Final Expense on the same app with no additional health questions! The app is incredible simple (they go back 2 years for heart and 2 years for cancer). There's a lot of give and take on the underwriting, which a lot of carriers have gotten away from.
Here's a tutorial for the Sentinel Security Life e-App for Medicare Supplement policies.
Ready to Start Writing E-Apps?
Making the switch from paper apps to electronic apps will save you time and hassle, it has the potential to earn you some extra cash, you can partake in instant underwriting decisions, and once you get the hang of it, it's downright easier!
Learning anything new is a challenge, especially when you've been doing business the same way for decades. However, I really do encourage you to practice in the Sandbox mode (Mutual of Omaha is a great one to try out), and push yourself to write your first e-app.
A New Year's Resolution perhaps?
It might be a learning curve at the beginning, but once you start doing it week-in and week-out, it'll be one of those things... you'll wonder why in the world you haven't done it sooner!
Before you go, we'd love it if you'd share your feedback in the comment section below: which carrier's e-app platforms are your favorite, and which ones would you improve?
Other articles you might like: