Beyond just saving trees, e-Apps provide a truckload of benefits to you, the agent. Even if you're a pen and paper kind of guy, using e-Apps can save you a ton of time.
Here are 9 reasons why you should start writing e-Apps.
1. They're faster to fill out
The actual process of filling out the application is much faster.
From beginning to end, it generally takes about 10-15 minutes. The only exception is if there's a long list of medications, but 9 times out of 10, e-Apps save you a ton of time. (Also, some carriers don't even require you to enter medications!)
E-Apps are also going to save you time when it comes to double checking your work and mailing or faxing them in at the end of the day.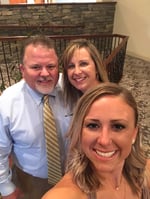 Brent, a producer out of Indiana who made the switch to e-Apps after 30 years of doing paper explains, "My last appointment would be done, but I'd still have an hour and a half of work at the end of the day."
Now? The apps are done when you do them – there's no extra work after that last appointment.
2. Faster processing time
When you fill out an e-App, you're skipping a step in the processing cycle. With paper apps, you fill it out by hand and send it off. Then, a person sits down and hand-types your paper application into the system.
By filling out the e-App, you cut out this step completely, which means your processing time will be much, much faster.
With Cigna, the difference is massive. About 30 minutes after you finish the e-App, your client gets a phone call for confirmation. By the end of the day, they get an email that the app has been approved. This would obviously never happen with a paper application.
3. You make less mistakes
While it's not foolproof, I find that I make less mistakes when using an e-App. If I forget to fill out a section, the system won't let me go on to the next page.
During AEP, things can get frantic, and I can rush through apps. Using e-Apps can save your behind by making sure an app doesn't get rejected because you forgot to fill out something.
4. Quicker approval
Not only is the processing time faster, but the approval is as well.
On average, I've found that e-Apps speed up the entire process by about 10-14 days.
That can make a huge difference, especially for your clients. 10 days could be the difference between them backing out or staying on board.
At the end of the day, every insurance company is getting flooded with business during the AEP season. Things will get backed up, so you have to do the quickest method available to you. E-Apps fit the bill.
5. You can pre-qualify clients
Quite possible one of my favorite features of e-Apps is the ability to pre-qualify clients. For example, with Cigna, you can pre-qualify a client by going through the health questions on the application.
If you use the Express App in the agent portal, you can choose your Medicare Supplement and click "Qualify Now."
(Tip: Get the full list of agent portals here.)

Once you click that, the underwriting questions appear, and you can go through them to pre-qualify your clients.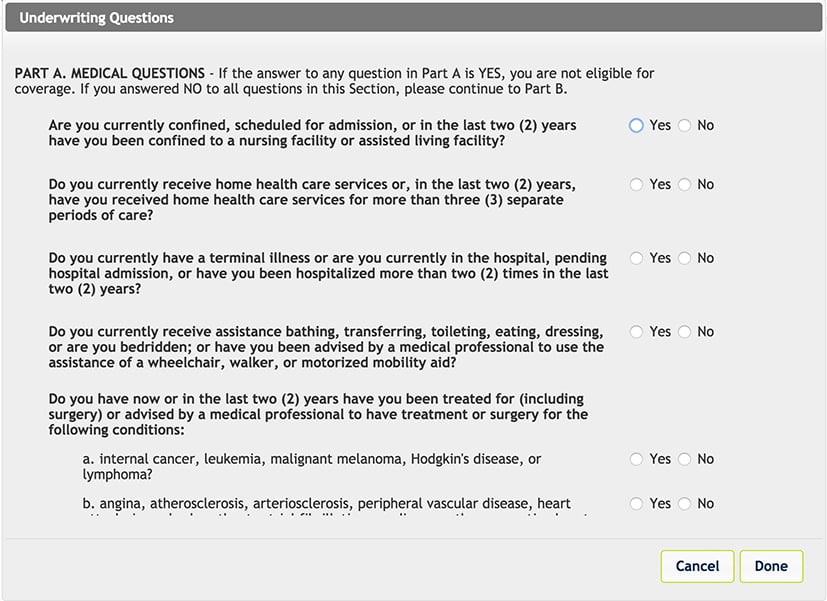 This saves a lot of time as you don't have to sift through underwriting guides to see if you client is eligible for coverage.
6. Reach contest goals faster
Many carriers have contests and bonuses where you get extra points – or cash – for using an e-App. It saves them work on the backend, and you get rewarded for it.
Many carriers offer up to $100 per app just for submitting the application electronically.
You can see all the current incentives here.
7. Do multiple apps at once
While there aren't a ton of carriers on board with this yet, we're seeing a real push towards one application for multiple products.
Mutual of Omaha offers a 2-in-1 application with a Med Supp and a dental plan. Cigna has the sleekest system at the moment, allowing you to do a Med Supp, Final Expense, and Cancer policy with one application.
It's as easy as checking a box. The quote immediately appears, and you can also see the grand total for all the products combined.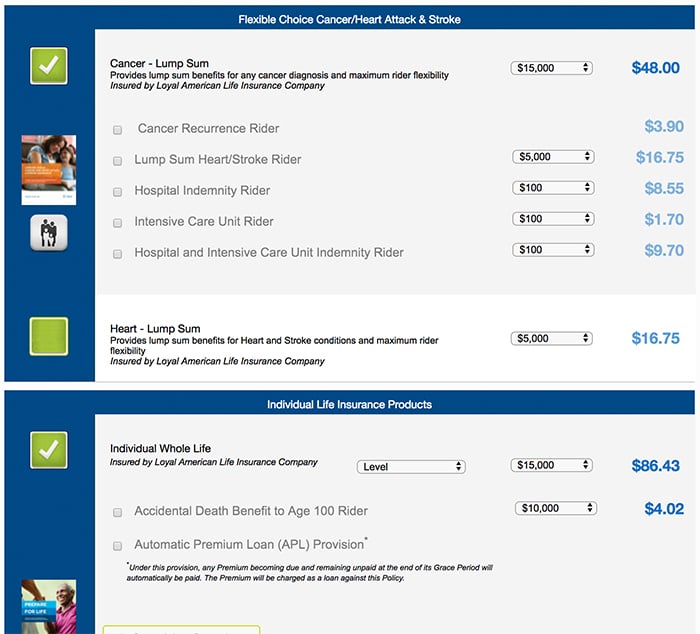 The other big upside to doing multiple apps at once is that it's simpler for your client. To them, knowing that their 2 (or 3) insurance policies are with company is just easier to understand.
I've lost sales because the client didn't want to have insurance policies with multiple companies.
Even if Cigna doesn't have the best rate for a Med Supp plus a Cancer policy, the convenience factor can be a game changer.
8. Keep up with the times
Carriers are slowly but surely shifting from paper applications to e-Apps. For example, AIG's final expense product is e-App only. Mutual of Omaha's Med Supp is e-App only unless you specifically request a paper application.
It wouldn't surprise us if most carriers made the switch to e-App only over the next decade or so. It's less work on their part, we make fewer mistakes, and the process moves along more quickly.
Brent explained to us that learning e-Apps would not have been possible without his younger daughter, Kendall. She recently joined him and worked on implementing the e-App process as well as AgencyBloc, their CRM.
"I did not learn this on my own," Brent says. "I want to encourage older agents like me to have young people in their business – it makes life easier, and we don't take the chance of 'falling behind' in the workplace."
If you aren't already comfortable with filling out e-Apps, we'd challenge you to give it a try. Before long, you might not have a choice!
9. You can sell remotely
E-Apps are the solution to selling insurance remotely. Whether it's a global pandemic or clients that live in another state, being able to sell insurance remotely is a huge benefit.
We recently wrote an article on how to sell insurance from home. If you're serious about reaching more clients, e-Apps can help get you there.
Learn how to do e-Apps (tutorials included): Everything You Need to Know About Medicare Supplement E-Apps