If you're an insurance agent and you're not yet on LinkedIn, I'd encourage you to set up a profile.
Even though LinkedIn is geared more towards B2B, it's still a huge opportunity for you to present yourself to the senior market.
LinkedIn has a Moz domain authority of 100 – that's a perfect score. What that means is that Google loves LinkedIn, and LinkedIn profiles are very likely to show up high in search engine rankings.
If you have a LinkedIn, Google your name. It's highly likely that your LinkedIn profile is showing up in the first few results!
Often times, it's a client's first impression of you when they search your name online.
When you create a LinkedIn with a thoughtful profile summary, you're giving yourself another place for a client to read about you, and you get to control their first impression.
Why not take the opportunity to build credibility and nudge a prospect towards a first encounter with you?
What Is a LinkedIn Profile Summary?
A LinkedIn profile summary is the large area of text that appears towards the top of your profile. You can think of it like the "About Me" section of your website.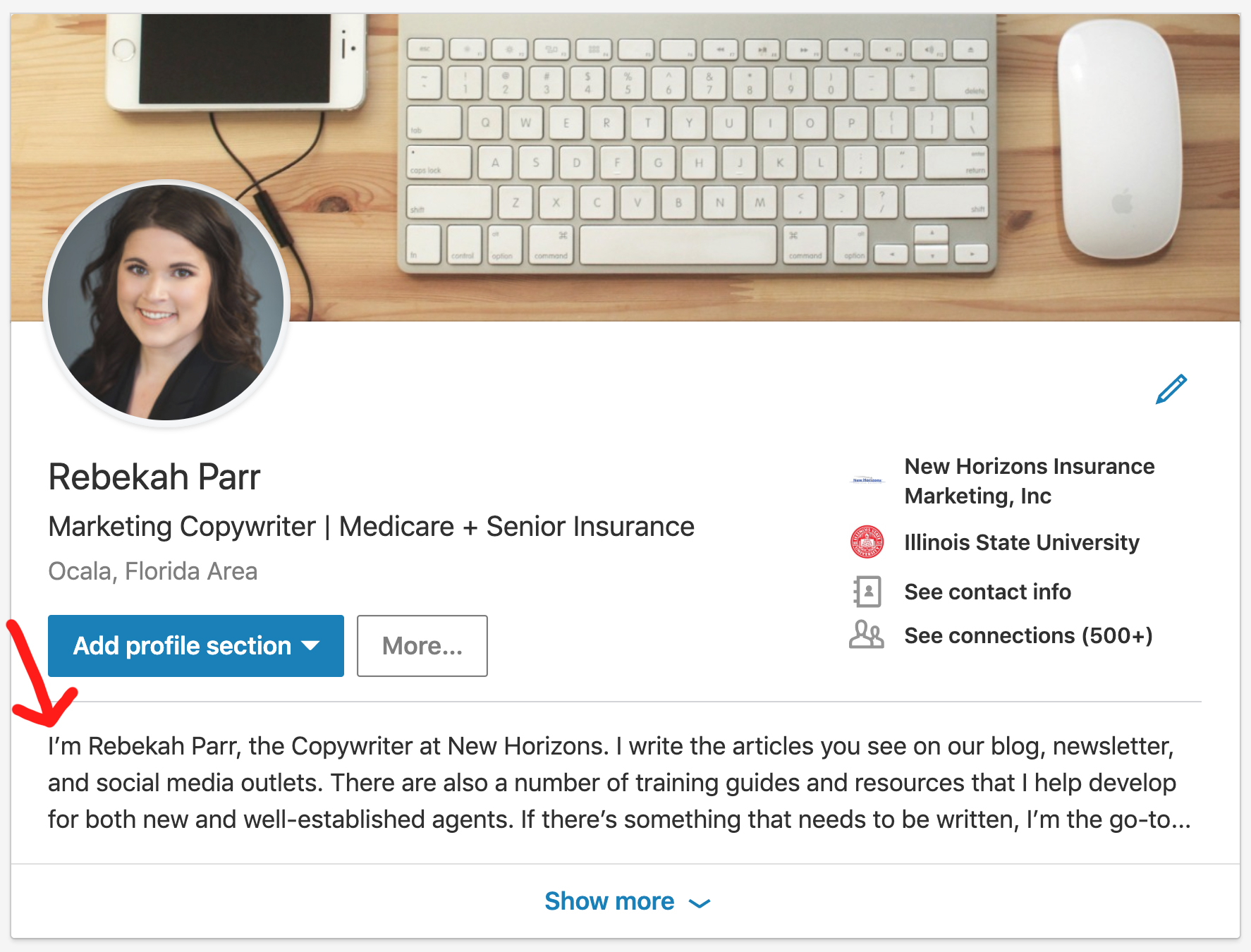 A first impression of you would start with your photo, move along with your "title" and location, and most people will then read what your profile summary has to say. (Or at least skim it.)
Essentially, you're given a 2,000 character space to answer some basic questions about yourself:
Who are you?
What do you do?
Why should I care?
Even though it's called a profile summary, it should really be treated as a sales page. Testimonials and reviews are fantastic here, and a call-to-action is strongly encouraged.
After all, you're using this space to convince prospects that you're an awesome agent. Don't let them leave without telling them how to get in touch with you!
LinkedIn expert William Hall says, "If you've developed a magnetic profile — one that answers the question 'Why choose me?' then you're on your way to a real lead."
While having a LinkedIn profile isn't all about leads, they certainly don't hurt!
Two Tips for Writing Your Agent LinkedIn Summary
When you sit down to write your LinkedIn profile summary, you should keep two things in mind:
A longer summary is more readable when you keep paragraphs short.
Write how you speak, so that you come across as authentic and personable.
If you've ever visited someone's LinkedIn page and read a 3rd person summary, it feels distant. That's probably debatable, but in my opinion, your LinkedIn summary will feel more authentic and personable if you write it in the 1st person and inject your personality.
Consider these two examples:
Rebekah Parr is the Copywriter at New Horizons. She writes the articles you see on the blog, newsletter, and social media outlets.
I'm Rebekah Parr, the Copywriter at New Horizons. I write the articles you see on our blog, newsletter, and social media outlets.
It's a very subtle difference, but which one feels more personable?
Also, big, chunky paragraphs are no good. When people skim, they generally read the first sentence of each paragraph. Flashback to college! Seriously though, use that information to your advantage. If you keep paragraphs to a couple sentences each, it's more likely they'll read more of the information.
That also means that the first sentence of each paragraph should really pack a punch.
Skim your own profile summary instead of reading the entire thing – how did it make you feel? Would you contact yourself based on what you read?
Another quick tip is to read your entire summary out loud when you're done. Make tweaks if something sounds forced or unnatural for you. That'll help you write like you speak.
7 Things to Include in a LinkedIn Profile Summary
The character limit for the LinkedIn profile summary is 2,000 characters, which is about 350 words. In our experience, you want to utilize all the space you can, but the more daunting question is: what should I write?
Here are 7 things you will likely want to include in your agent LinkedIn summary:
Briefly tell us who you are – name, profession, etc.
Explain why you do what you do: what motivates you to be in this career? Why do you have a passion for it?
Now's the time to brag on yourself – showcase your expertise and build your credibility.
Explain what makes you different from every other agent out there. Why should I choose you?
Mention the product lines you offer and a blurb about why it's important.
Share a bit about yourself, including your family and hobbies you love.
Include a call-to-action for your ideal reader.
Your ultimate goal is for the reader to come away knowing exactly who you are, what you sell, and why they should get in touch with you.
And there's no rulebook saying those 7 things have to be in a certain order. You'll see in our examples here shortly that putting the call-to-action at the beginning can be refreshing. Do what makes sense to you and your story.
If you use those 7 points as a guide for writing your summary, you're well ahead the majority of agents on LinkedIn who either don't have a summary or only have a few sentences.
I mean, would you feel confident enough to contact this agent?

Insurance Agent LinkedIn Summary Examples
Seeing some LinkedIn summary examples from other insurance agents can help you figure out what works and what doesn't. I've done some searching and have identified 3 insurance agent summary examples.
I'll first explain what I like about the summary and will then offer up a few suggestions to make them even better.
Agent LinkedIn Summary Example #1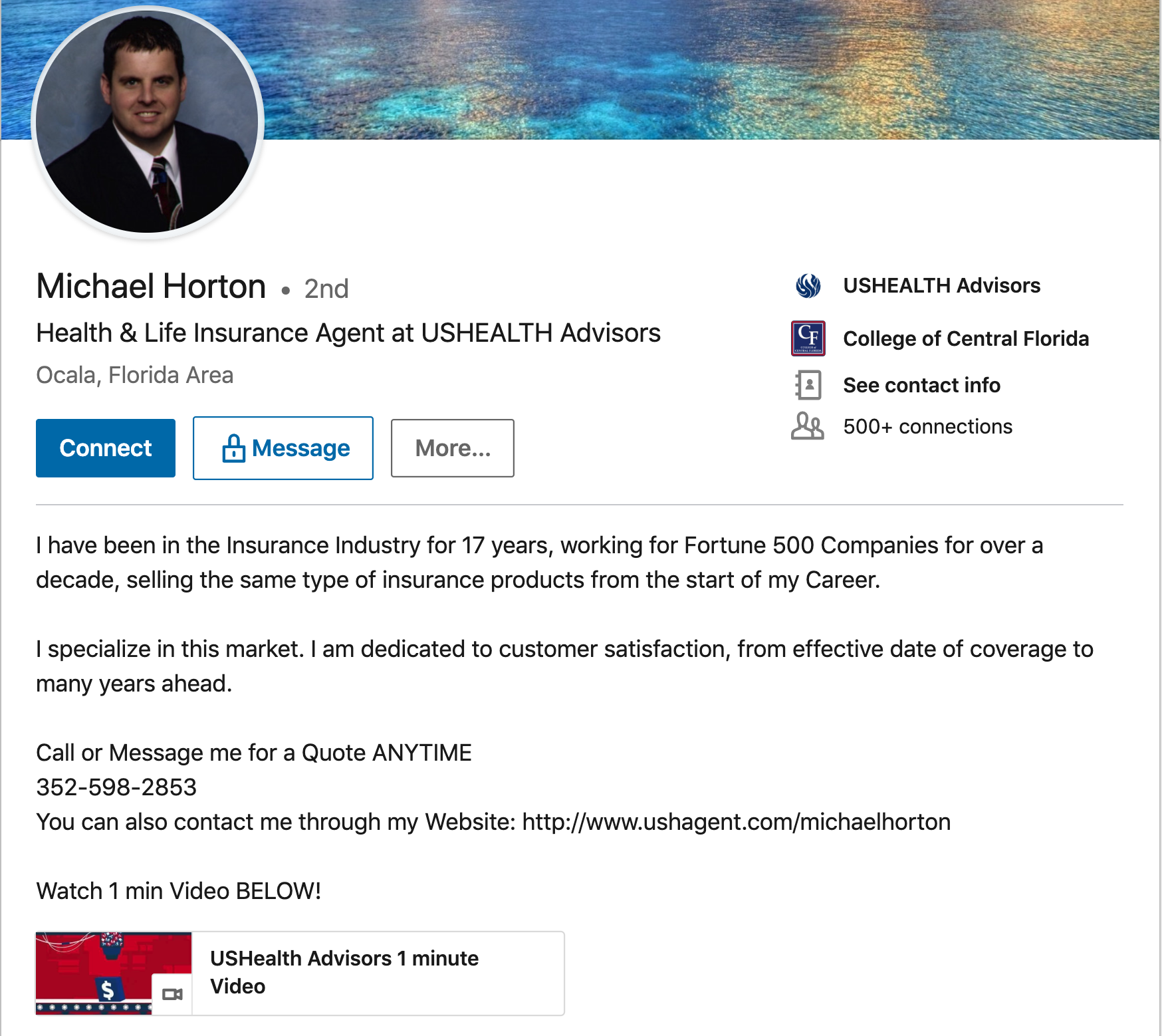 What's nice about this summary is that we get some instant credibility with his 17 years of experience. He also gives a little information on what sets him apart – he is focused on customer satisfaction and will stick around to help after the sale.
He has a call to action, which is to call or message for a quote, and he lists a phone number and a website.
He also has a video that explains more about the company he works for.
Those are all great things to include, but there are a few things we're missing that would make this even better:
We know he is a Health & Life agent, but what products does he sell? He says he has been selling the same type of products for years, but he doesn't mention what they are.
We don't get a story, and if you've been in this business for long enough, you know that facts tell, but stories sell! Why is he in this business? Does he a have a passion for this?
He doesn't let us in to his life. Does he have a family? What does he like to do in his spare time?
We don't necessarily need a whole life story, but by letting the reader in just a little bit, you encourage them to open to you, too. You suddenly feel less like a sales guy and more like another human being.
Agent LinkedIn Summary Example #2
This next summary gives us quite the opposite of the last one – there's much more personal information and less about what is offered.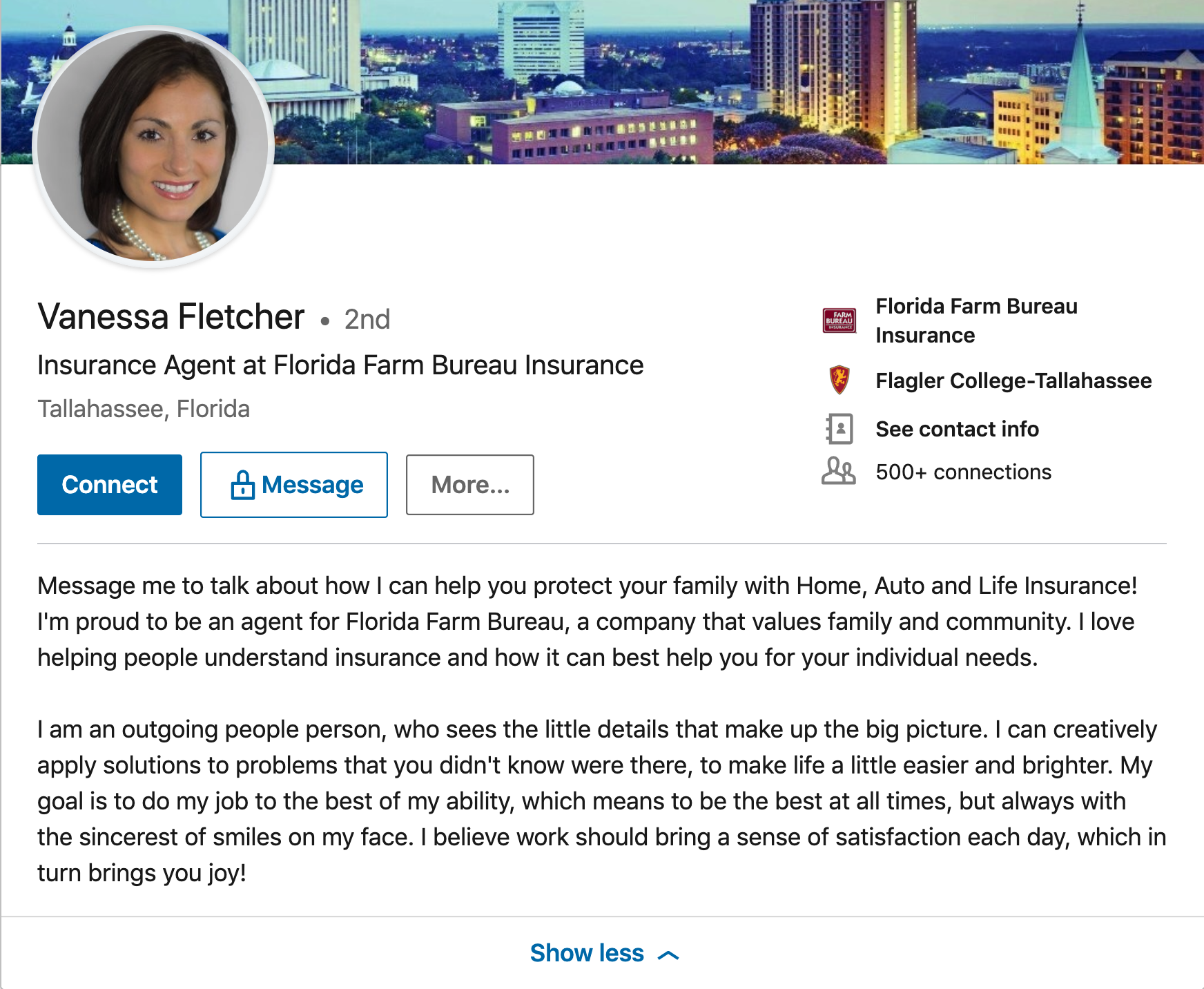 It's actually a bit refreshing to get the call-to-action right out the gate. Additionally, it's less about her and more about the reader. "How I can help you protect your family" is much more compelling than "Get a quote."
We also get to know her – she's outgoing, loves people, has a sincere smile, and wants to make her clients happy.
When you read this summary, it makes you feel good!
We get everything we need to know about why she's in the business and why we'd love to do business with her. What we don't get is credibility.
Testimonials, years of service, certification or license information, number of clients, or other supporting information to build her expertise in the insurance industry would help elevate her profile even further.
We have all this space we can use – why not use it to your advantage?
Agent LinkedIn Summary Example #3
This next agent summary is a bit longer, which is great!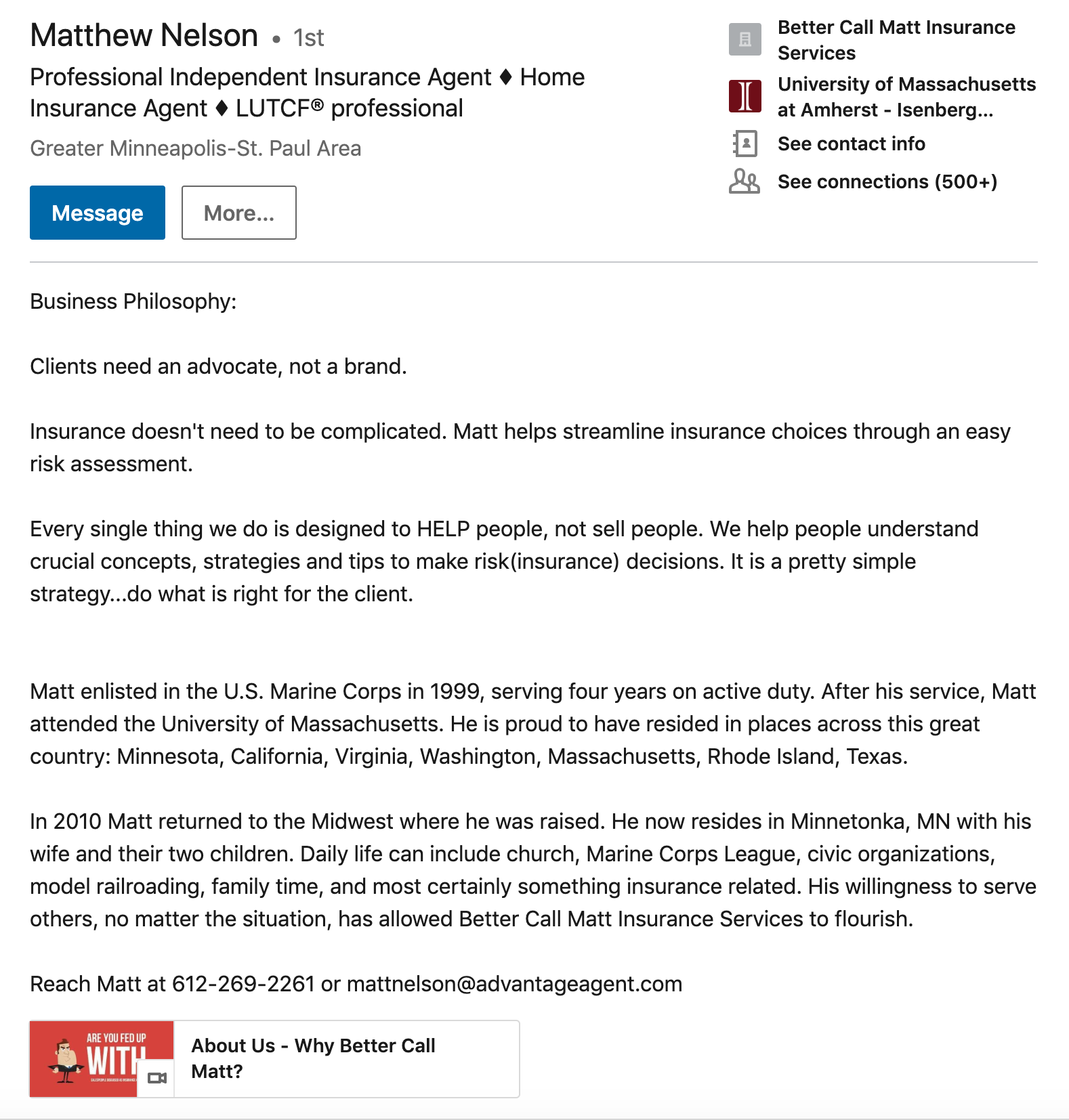 Right out of the gate, we learn what's in it for us. If you've dealt with the complicated world of insurance, this summary speaks to you immediately. If you don't like the feeling of being sold to, you're warming up to the idea that this agent is in it to help you, not sell you.
Towards the end, we learn why this agent is motivated to be in this career – he has a willingness to serve others. We get a bit about his history, we learn what makes him different, and we have a call-to-action at the end with a phone number and email.
The only thing missing is some more information on what types of insurance he offers. We do see "home" insurance in his title, but he also lists his LUTCF (Life Underwriter Training Council Fellow) designation, so we might assume he sells life insurance, long-term care, and group insurance as well.
Spelling out the product lines you offer and perhaps a little blurb about what they are and why they're needed sets the stage for how you can help your prospects in the future.
Write Your LinkedIn Profile Summary!
While we may have given you information overload here, at the end of the day, having a LinkedIn summary is better than not having one.
When researching for this article, I found that the majority of agents on LinkedIn either had no summary at all, or it was just a sentence or two.
Even if you don't think a single soul will find you on LinkedIn, you should be prepared. We live in a world where we can now go online and research someone before getting in touch.
Let's say one of your existing clients refers a friend to you. Before calling you, there's a good chance they'll look you up online! Prepare your LinkedIn profile for this opportunity by giving prospects every reason to contact you.
Related content: