Why do you think people buy insurance from you?
A quick thought might lead you to something like: "Well, they need it." or "I have a competitive price."
I decided to uncover every possible reason clients buy insurance from you. And I got a pretty decent little list going, but then I realized something pretty obvious.
A lot of those reasons are why people buy insurance. Not why they buy insurance from YOU.
People buy insurance to protect their finances. They want to be secure, to reduce risk, to avoid loss.
They want to protect their families.
Some buy insurance to attract envy or because everyone else has it and it seems like the thing to do.
Others buy it to make money or to save money.
Many of us will buy because it was recommended, perhaps by someone we trust or from our own research.
And a lot of us will buy to have peace of mind. We don't want to worry about the "what ifs."
However, none of those reasons have anything to do with why someone would buy specifically from you.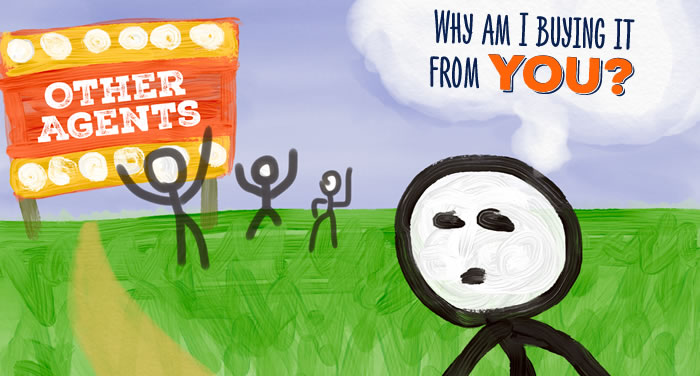 And that's where a lot of salesmen fall short.
Sure, you want to sell on the fact that insurance is protection, it's financial security, it's peace of mind, and all of those good things.
But any insurance salesman can do that.
People buy insurance from you because of the relationship.
They trust you, they like you, and they feel connected to you.
To test this out, I ran a report on all of the Sams/Hockaday testimonials (that's over 500) for the most popular words.
Here's what the top 20 are minus the word "insurance" and staff member names:
Help
Feel
Helpful
Good
Knowledgeable
Great
Like
Friendly
Appreciate
Care
Time
Service
Personal
Helped
Explained
Friends
Happy
Recommended
Caring
Excellent
It's clear that clients value the relationship — many of these words have to do with a connection between client and agent.
So, what if a competitor has a cheaper price or a better deal than you?
According to a 2010 survey, almost 90% of us would pay more for something if it meant better customer service.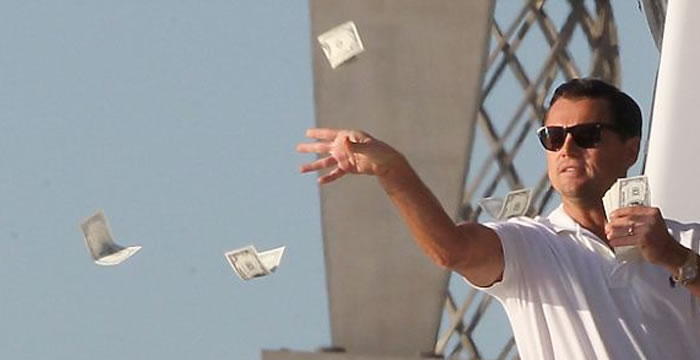 This could be a good thing or a bad thing for your business.
If you give great service and treat your clients well, they'll stick with you, even if your prices aren't the best.
But if you don't make that connection with your clients, they'll jump ship. Even to someone who can't beat your prices. Which sounds ridiculous, but it's true.
With all that said, here are 10 things you can do to foster a relationship with prospects and clients:
1. Have a website
Having a website is moreso for potential clients than existing ones, but it's useful all-around.
Your website helps your client to get to know you from components like:
An About page
A FAQ section
A photo of you and/or a video of you explaining your services
Links to your social media
Testimonials/reviews
Helpful content and insurance-related articles
All of this helps to develop a connection between you and prospects. They get to know you without committing to anything.
Don't just take my word for it, either — check out these 10 case studies, and definitely don't miss out on our mega-study of 50 independent agent websites.
If your website can deliver on your behalf, you have a chance to do the rest of the things on this list.
The added bonus is that sometimes, a prospect can be sold on you just by looking at your website. It can act like a full-time marketing director if you include the right information!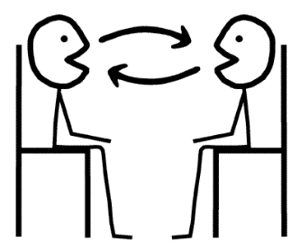 2. Meet with them face-to-face
Whether you're doing this via a first impression (learn how to door knock effectively here) or via a scheduled appointment, try to get in front of the client.
A phone call or video chat can always work fine, but nothing beats a face-to-face meeting.
Sharing a physical space with someone is the first step toward building a great connection.
3. Engage in small talk (and do it every single time)
Small talk can be a bore, but it's an essential part of building rapport with your book of business.
On the first meeting, aim for 20-30 minutes of small talk, and on subsequent meetings, aim for 5-10 minutes.
If you don't know what the heck to talk about, here are 11 key strategies for keeping the conversation flowing naturally.
4. Fill out a CNA in front of your client
Nothing develops a client/agent relationship better than giving outstanding, personalized service.
And a Client Needs Assessment (CNA) is the answer.
Not only will this increase your sales, but you're better serving the client.
Make sure to physically fill this out in front of your client so that it's clear that you're tailoring your service to the clients' specific needs.
5. Follow-up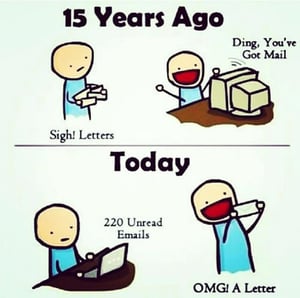 When you meet with a client and have completed all of these extra steps, you're halfway around the track. But to get across that finish line, you have to stay in touch.
If they've purchased a policy from you, keep them in the loop. Let them know if things are moving along, if there's a holdup, if they've been approved, and so on.
If they have not purchased from you, call them and follow-up. One of the agents at Sams/Hockaday will even send a handwritten letter the day after a presentation thanking the client for their time and a small personal pitch with a few testimonials.
6. Send holiday cards
At this point, I think we all know how courteous it is to send holiday cards. It shows clients that you're thinking of them, and it makes them feel like they're a real friend.
After all, who do we send Christmas cards to? Friends and family.
7. Call on their birthday
Besides just being an extremely thoughtful thing to do, calling on a client's birthday shows that you took the time to remember when their birthday was.
There are agents that do this with every single client, and when I asked one if he ever got caught on the phone, he said the calls are always just a minute long or so. There are also easy ways to wrap up the conversation if you need to, such as saying, "Well, I hate to take up any more of your time, but have a fantastic rest of your birthday!"
Birthdays are also a great time to sell policies that increase in price by age.
8. Do an annual policy review (every year that a policy is in force)
Again, this is something that most agents are already doing, but there do come times when we fall off.
Perhaps a client only has a Med Supp, and you know that Med Supp is still the best price in the state. Why meet with them?
Well, things change, and people's priorities change.
For example, if your client's mother just got cancer, she's going to be much more receptive to getting some kind of cancer plan in place.
So, what seemed like a useless meeting has now turned into an additional sale, and you also get that time to reconnect with your client.
If you've never done an annual policy review or would like a thorough brush-up, check out the ultimate guide.
9. Send newsletters
This is not necessary, but it's a great way to keep your name fresh in a client's mind throughout the year. It will increase your chances of getting referrals, and it will continue to create that loyal bond with your client.
Oh, and the cherry on top is that you're consistently establishing yourself as an expert in the insurance industry.
You can send physical newsletters, or you can send an email newsletter. In either case, you need to have some kind of content to share.
This is a good guideline to follow:
A few articles about topics related to Medicare,
A couple articles of general interest, and
1 small article about what's going on with you or your agency.
Even if you don't have full-on articles, you can bring in content from other sources. There's nothing wrong with saying, "Hey, I saw this, and I thought it might help you or be of interest."
10. Become friends with clients on Facebook
I was surprised that so many agents swear by this.
Michael Sams, a frequent guest poster and product trainer for New Horizons explains, "It is a game changer. Everything I post, I think of my clients."
Before you know it, clients are liking and commenting on your updates, you see what's going on in their lives, and at your annual policy review, you have something to talk about other than the weather.
A quick disclaimer, though: Don't put anything about politics on there. And delete any photos of you that aren't professional.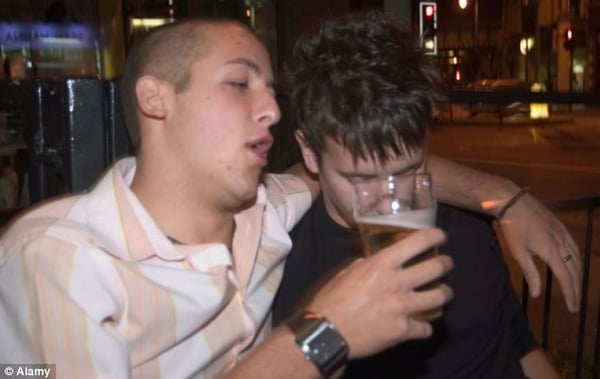 And while you're at it, check out New Horizons on Facebook. We share our new content, but we also share other interesting things we come across. And it's all meant to help you.
As always, we appreciate everything you're doing, and good selling!