This article is for agent use only.
A Medicare Advantage (MA) sales seminar is a surefire way to educate your community and complete plan enrollments on the spot. The tricky part is fully understanding compliance.
When holding an MA sales seminar, you must follow certain marketing guidelines set by the Centers for Medicare & Medicaid Services (CMS). All of the guidelines are meant to ensure everyone at that seminar fully understands the plan you're presenting and is confident in their decision to enroll (or not).
Beyond the compliance hurdles, you also need to ensure you can fill the room. There's no sense in doing all of this planning to hold a sales seminar if you can't fill the seats.
Courtney Stowe, Broker Relationship Manager at Humana, held an incredible webinar with us to clearly lay down the rules and regulations you need to know and abide by as an insurance agent.
Good news: we took notes, and we're here to ensure you're ready to hold successful, compliance Medicare Advantage sales seminars, and just in time for AEP!
---
What Is a Sales Seminar?
There are three types of seminars:
Educational

Informal Marketing

Sales Seminar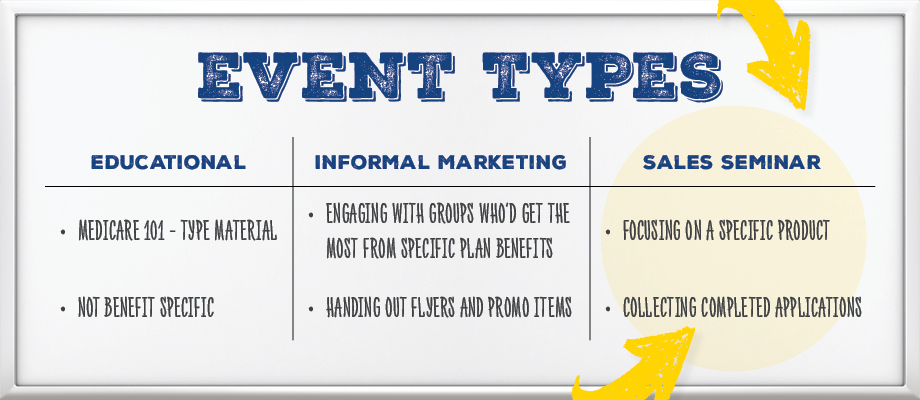 Agents who want to do sales seminars should consider doing all three.
Educational Seminars
Educational seminars are meetings that don't talk about any specific plan benefits, and no selling is happening. These are most often your Medicare 101-type seminars. It's a great way to introduce yourself to your community and provide some education.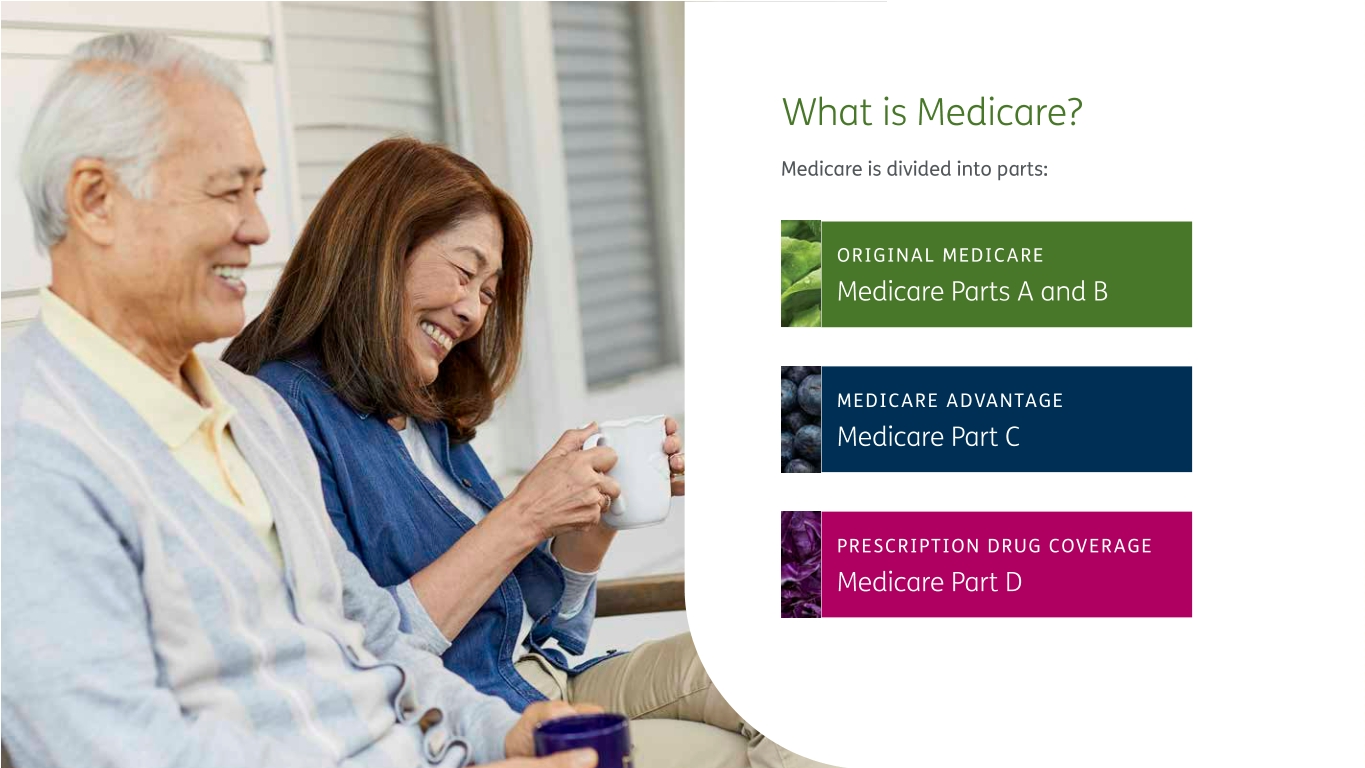 This is a sample slide from Humana's "Medicare 101 Education Presentation – Generic." Once you're appointed with Humana, log into Vantage (the agent portal) and click the link to Marketing Resource Center. You'll find this presentation there!
Humana actually has about 70 different "programs-in-a-box" that agents can use for educational seminars. The topics go beyond just Medicare:
Protect yourself from scams

Healthy sleep

Rate your plate

Ten tips to boost your energy

Simple steps to boost your immunity

Decompress from stress

Cooking for one

Caregiver survival tips

Give your brain a boost
These seminars help draw in the senior audience, and they can help you get more engaged with your community. You can even bring in doctors and nurses to assist you if you're not an expert in the content matter.
Informal Marketing
Informal marketing events allow you to talk about specific benefits, but you're not actually enrolling anyone in a plan.
These often take place at a venue that will let you have a booth, such as a health fair, a food pantry, or a veterans group. These are filed events that allow you to talk about specific benefits, but you're not selling. You can hand out marketing flyers, promotional items, and you can collect information to contact people, but you're not selling a product.
Sales Seminar
What we're focused on today are sales seminars. A sales seminar is an in-person or virtual presentation to a group of people that focuses on a specific carrier's MAPD product, like an HMO or PPO. You cannot present more than one product in a sales seminar.
In a sales seminar, you can collect completed applications and actually enroll seminar attendees in a plan.
Related: 10 Reasons You Should Seriously Sell Medicare Advantage
To be able to present in a sales seminar environment – at least with Humana – is certifying to present in a seminar.

Here's a screenshot of the Agent Seminar Authorization Course in Humana's MarketPoint University. Once completed, meet with the Broker Manager or Senior Manager to conduct the face-to-face portion. There is no guarantee of approval. This is also not required if you certified last year.
---
Filing a Sales Seminar
Once you're all certified, you need to file the event. Typically, you need to file a sales seminar at least 21 days in advance. You'll need the date, time, location, and presenter name.
Virtual events need a meeting URL, and you can't start marketing the event until it's filed.
The carrier will actually file your seminar for you, so just get in touch with your broker manager when you know your dates!
Many agents like to plan out all of their sales seminars through AEP and then file them in July and August so they're all set. Mid-July is typically when MA carriers start announcing their MA products for the following contract year, and you can evaluate which plans you'd like to present.
By planning everything in the summer, it gives you plenty of time to get your sales kits, which should be ordered well in advance.
---
Materials You Need
To do a compliant sales seminar, you must have certain materials with you, including:
Sales kits (this includes many of the other items in this list)

Sales presentation video – REQUIRED

Summary of Benefits – REQUIRED

STAR Ratings – REQUIRED

Scope of Appointment (SOA) – not required for sales seminar attendance, but need to use if someone wants to schedule a follow-up appointment.

Provider directories (can also use Physician Finder/Find a Doctor online look-up tool)

Drug formularies (can use online tools)

Applications

Pre-paid envelopes (for use during Pre-AEP)
The sales presentation video should be shown at the beginning of your sales seminar. It hits on most of the points that are required for you to say in the secret shopper checklist. As long as you show that video, you're pretty good to go!
---
How to Prepare the Space
Some of this might be obvious, but always arrive early – around 45 minutes ahead is ideal.
Set up your computer, the projector, any speakers or screens, and test everything to ensure it's working.
You can also use an optional sign-in sheet, but it has to be optional. You can't force people to sign in when you're doing a sales seminar.
Finally, it's nice to put out some light snacks. Examples of light snacks include crackers, donut holes, nuts, or cookies.
You cannot serve a meal at a sales seminar – that is against CMS marketing rules. Avoid any food that could be perceived as a meal. For example, hot dogs might seem like a snack, but not to everyone.
---
Dos and Don'ts of Sales Seminars
Here are the dos of hosting a sales seminar:
DO clearly identify which plan you'll present
DO file at least 21 days in advance
DO use only pre-approved marketing materials
DO ensure you have the proper equipment, such as a laptop, projector, speakers, and benefit materials (every single attendee needs benefit materials, so make sure you have plenty)
DO present the plan in its entirety
DO explain how attendees can look up their provider and drugs
DO offer to schedule follow-up appointments
DO complete an SOA if follow-up is requested
DO provide refreshments and light snacks
And here are the don'ts of hosting a sales seminar:
DON'T require registration – you can have a sign-in sheet, but it must be optional
DON'T require prospects to complete a Scope of Appointment
DON'T ask for referrals
DON'T use unapproved marketing materials or comparison documents
DON'T ask health questions – that could give the impression of cherry-picking
DON'T use absolute statements, like "this is the best plan"
DON'T claim the plan is recommended by CMS
DON'T use pressure or scare tactics
DON'T give gifts as an incentive to enroll
DON'T call $0 premium plans "free"
---
What to Cover In a Sales Seminar Presentation
When you're ready to start your sales seminar, first identify yourself and explain the agenda so prospects know what to expect.
Then, play the Sales Presentation Video. Do not skip this! If there is a secret shopper in the room, the video will ensure you check their boxes. If you don't play the video and forget to say something, you could get in hot water with CMS.
If something happens with technology and you can't play the video, pull it up and go through slide-by-slide to ensure you talk about everything in the video. Humana has flip charts that are a paper version of the video. They aren't preferred, but if you can't get audio or video to work, they will work in a pinch.
Here's an example of a PPO Sales Presentation video:
The bulk of your seminar will be explaining the plan. Here are the bullet points to ensure you cover:
Premium, deductible, MOOP
Are referrals required?
Covered medical and hospital benefits
Prescription drug coverage, including prior authorizations, coverage gap, formulary, and network
Extra benefits
Optional supplemental benefits
Network
Finally, you need to talk about the Star Rating. Explain how it works and what the overall star rating is for the plan.
Compliant close options include:
"If you are ready to enroll, I will help you complete the application."
"All I need is your Medicare card, and I can enroll you now."
A seminar can go anywhere from 45 minutes to 2 hours. If it's a large group, there are a lot of questions, and they can last longer. After the 45 minute-2 hour presentation, you'd start your enrollments.
Make sure you block off enough time in your schedule!
---
What to Know About CMS Secret Shoppers
CMS Secret Shoppers could be Medicare aged or they could be younger, pretending to be there for their parents or grandparents.
No matter what, you should always make sure you cover everything to ensure you are fully compliant.
Here are some other things secret shoppers are looking for:
You started on time.
You only used compliant marketing materials and enrollment kits.
The video played in its entirety – you didn't skip sections.
You didn't use absolute statements, like "Humana is the best."
You didn't use pressure tactics.
You fully covered the Summary of Benefits, drug coverage, network, and enrollment periods.
You spoke in a clear and understandable manner
Whatever you do, do NOT forget to show the sales presentation video in its entirety. It hits on most of the points that are required for you to say in the secret shopper checklist. As long as you show that video, you have your bases covered.
---
How to Fill the Seats at Your Sales Seminar
If you're going through all this effort to put on a Medicare Advantage sales seminar, you definitely want to make sure your seats are filled! Here are some tips from Courtney Stowe of Humana.
Host Your Seminar at the Right Venue
Where you host your seminar can determine how much traffic it gets. Choose a place to partner with or at least choose a location that will help drive attendance.
Some examples of good seminar venues and people to partner with include:
Library
Food pantry
Places of worship
Tax professionals
Large employers (17% of people retire at age 66)
Realtors
Senior centers and housing communities
Provider groups
Community-based marketing is a great way to bring people into the room.
Related: How to Market Medicare Advantage Plans
Use Multiple Marketing Methods
Use mailings, email, and social media marketing when promoting a seminar. Don't just focus on one marketing method.
Medicare Advantage carriers have tons of pre-approved marketing pieces in their agent portals that you can easily customize and use to promote your event.
If you haven't done so yet, take some time to look at your Medicare Advantage carrier portals to see what marketing materials they have.
When it comes to Humana, there's almost an overwhelming amount of approved content. If you need help finding something specific, just reach out to Courtney and she'll help you find it.
Use Social Media
Of all of the people on Facebook in the United States today, 46% are over age 65. It's hard to believe, but seniors are on Facebook, and most carriers have the tools you need to market your sales seminar on Facebook.
If you haven't already, create a Business Facebook page. You must have a personal Facebook page in order to create a Business page.
Here are some tips to ensure your Business Facebook page is compliant and successful:
If you don't have an agency name, title your page so you can be found – Example: John Smith, Insurance Agent
Do not use phrases like "Medicare Expert" or "Medicare Guru" – you must call yourself a compliant name, such as Insurance Agent or Sales Agent
Add a profile picture and cover photo that identifies you and your business (your logo, your headshot, your office, your city's skyline)
Be accessible – include contact information such as your phone number, website, location, office hours
Add an About section and describe what you do. Use keywords such as Insurance Agent, Financial Advisor, or Broker Agency – focus on words that will give you opportunity for greater exposure. Describe your services, credentials, and experience in the business or your community.
Once your Business page is all set up, encourage others to Like your page. Share information on your page that will interest your target audience, such as articles from Medicare.gov, information about local community events, and original posts from you.
---
Frequently Asked Questions About Sales Seminars
Q: Who do I go to in order to file my sales seminar?
A: The carriers will file your sales seminar for you. Just go to your broker manager and they will assist you. In the case of Humana, you can go to Courtney Stowe and either she will assist you or she will connect with the manager in your state.
Q: When should I order materials for my sales seminar?
A: Prior to September, order your sales kits for AEP. You want to ensure you get the kits early!
Q: What if someone at the seminar asks me about another plan? Can I talk about it?
At a sales seminar, you cannot talk about another plan. If someone wants to talk about a different plan, you need to do an SOA and set up a separate meeting in a different room. You're only authorized to talk about one plan at a sales seminar.
Q: Is the rule hard and fast about only being able to present one plan at a sales seminar?
A: Yes, it's hard and fast. You can only present one plan at a time. If you want to talk about multiple plans, do an Informal Marketing seminar. That allows you to talk about more than one plan, but you can't sign anyone up.
Q: Is it better to do an educational seminar to present an understanding of all the Medicare solutions an agent offers?
A: Yes, doing an educational seminar is an excellent strategy for marketing, especially leading up to AEP.
If you're not doing educational Medicare seminars today, we highly recommend it. It's great for branding yourself as the Medicare expert in your community. In addition, there are a staggering number of people who need Medicare education!
Q: Is a sales seminar worth the effort?
A: Yes, doing a sales seminar is well worth the effort! It can feel intimidating, especially when it comes to staying compliant, but we're here for you.
Q: Do I have to do a sales seminar by myself?
A: No, if you feel like you need extra support, Courtney from Humana said she or one of her colleagues can be there to help you present. If you're really worried, they can even present for you. If you're planning to present another carrier's MA product, just reach out to your broker manager!
Q: Can you split commissions if there are multiple agents at the sales seminar?
A: Yes, you can split commissions. You can either enroll everyone at the seminar under one agent and then split the business after that on your end. (Humana doesn't split commissions – you'd have to do this on your own.)
The other option is splitting the enrollment applications. One agent could take half the room, and the other takes the other half. As long as everyone is seminar certified, you are good to go.
---
Webinar Recording: How to Hold a Sales Seminar
Courtney Stowe, Broker Relationship Manager at Humana, teaches you everything you need to know about holding a successful and compliant MA sales seminar.
---
Conclusion
Holding a Medicare Advantage sales seminar is a great way to educate your community and complete enrollments in one fell swoop.
Many agents choose to do a Medicare Advantage sales seminar when they need to roll many clients over to a new product. For example, if you have 30 clients who would benefit from enrolling in a new Medicare Advantage plan, you could invite them all to your sales seminar, educate them all at once, and complete applications while you're at it.
It's a highly efficient way to do business during AEP, especially if you have a very competitive Medicare Advantage plan in your area.
If you have any questions, leave a comment below!