Independent agents across the world swear by software to help them manage their clients. We've been writing about Customer Relationship Management (CRM) software for years, and for good reason.
It's one of the most critical pieces of technology for any agent or agency. It saves you time, it makes you more efficient, and it allows you to focus more of your efforts on sales – not the busywork.
Learning how to use CRM software can be a challenge, because these systems can be very powerful! There are a lot of little tips and tricks we've learned over the years, so here are 5 simple ways Medicare agents can get the most from their CRM.
Note: All of the specific examples in this article are AgencyBloc-specfic. However, most CRMs will be able to handle the same functions.
1. Manage Policies and Clients
Allison Babberl, Marketing Content Specialist at AgencyBloc, Inc. explains that policy and individual management is a key part of making a CRM work for you.
With a CRM, you can track policy types, carriers, policy details, history... everything!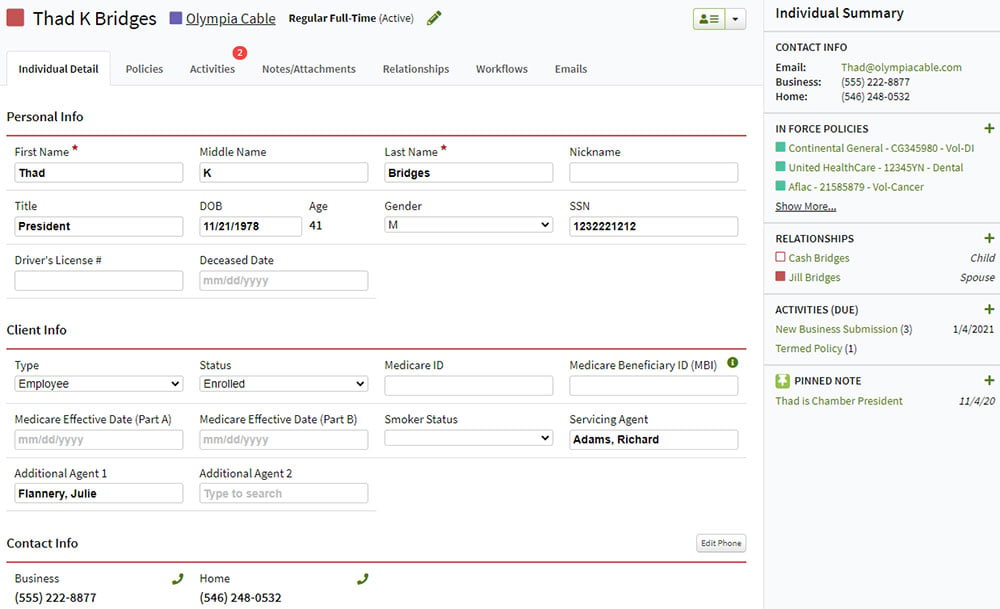 For those agents who have a lot of clients, a CRM helps you get a clear picture of who your client is. You can:
See their history
Read notes from previous visits
Look at which policies they have
When you have this kind of information in the system for all your clients, you can then do a detailed analysis on the policy types and carriers you write business with across your entire agency.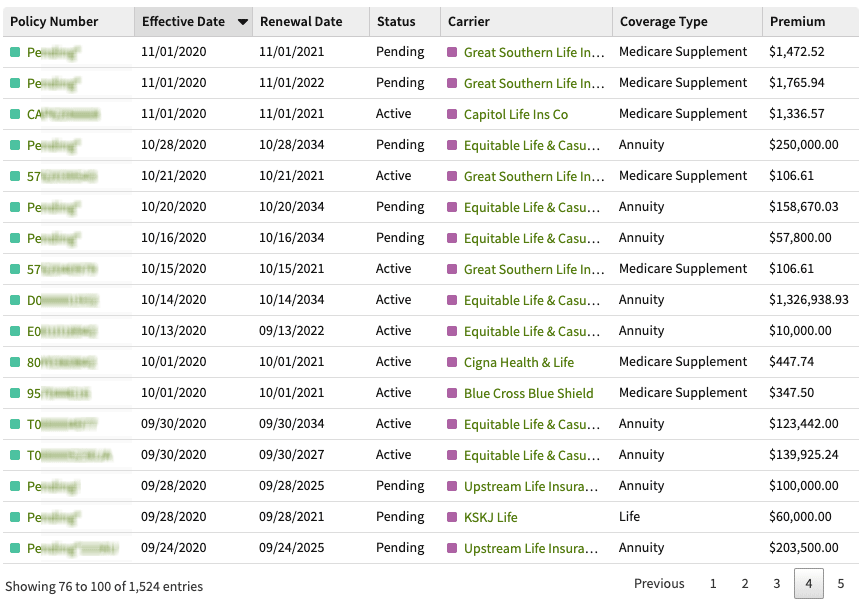 If you're a one-man show, it can point out your strengths and weaknesses, and it also helps you get a faster valuation when you consider selling your book of business.
Another benefit of using a CRM is being able to manage someone's entire journey from lead to client. You can keep them engaged while also creating a detailed scope of who they are. With notes and activities, you can manage your communications, meetings, and interactions with any individual to help you stay up-to-date with who they are and what they need.
"For example, you can put a note in a file that they're soon to be a grandparent. That way, you remember to ask about it the next time you chat," Babberl explains.
2. Automate Your Process
Many CRMs have workflows included, meaning you can set up a process that runs in the background.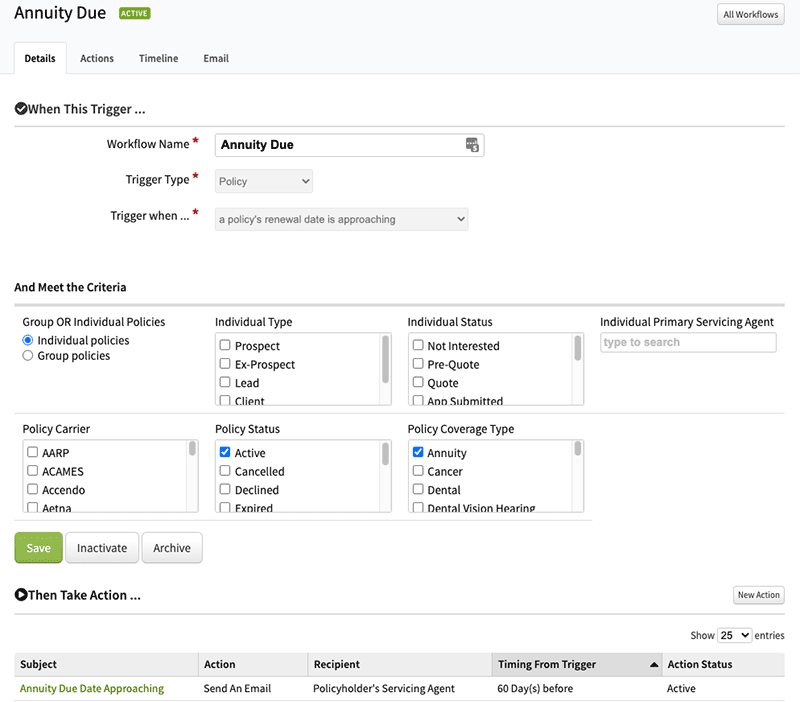 Once you outline your process for interacting with leads, prospects, opportunities, and clients, you can automate it! This makes you more efficient, and it ensures you're provided consistent communication.
Babberl says workflow automations gives you a chance to create lead management, boost client retention, and create a standard for your client experience.
In addition, you can set up fun automations, like birthday and holiday emails, which senior clients love!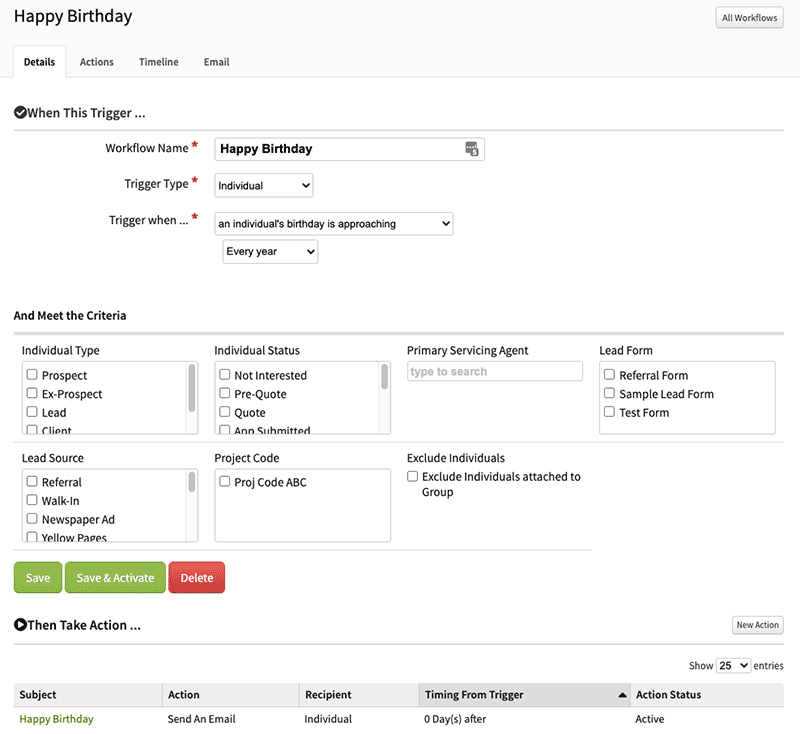 3. Use Saved Searches to Monitor Important Information
What kind of information is the most important to you? Chances are, you can set up advanced and saved searches to quickly gather that information.
By using this tool in AgencyBloc (other generic CRMs should have this capability as well), you can monitor your clients and policies with in-depth tracking.
Here are some examples of popular saved searches in senior market sales:
When clients will age into Medicare
When a Medicare Supplement policy anniversary is coming up
When a fixed annuity is coming up on the end of its contract
When a birthday is coming up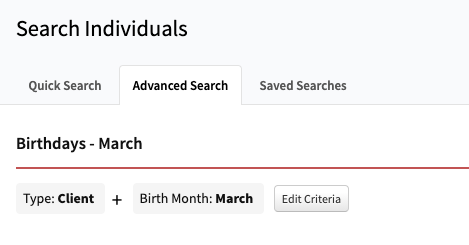 If a company takes a big rate increase, you can search all of your clients that have a policy with that company.
When a Part D carrier has an important Annual Notice of Change (ANOC), and your clients will need to take action, you can search for just those clients and set up an email communication.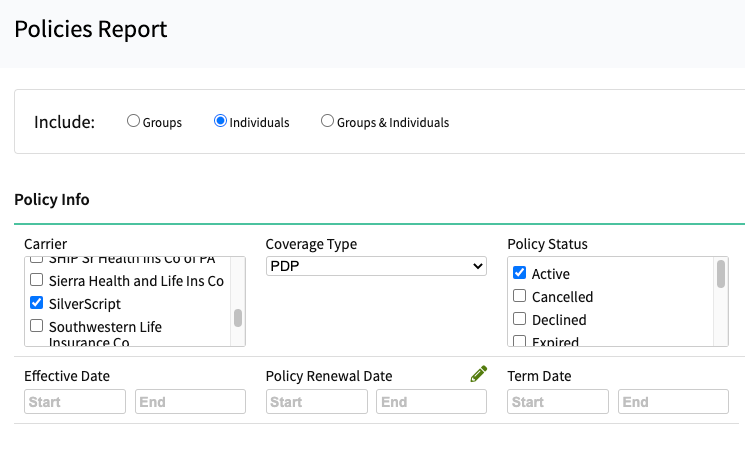 It's so much more efficient than physical paperwork, file cabinets, and even Excel spreadsheets.
4. Run Reports for Working Renewals
Spreading your business out over the year is all based on working renewals. During fourth quarter, you want to be entirely focused on PDP and Medicare Advantage.
The rest of the year can be all about those policy renewals.
Our local agency loves using AgencyBloc to run reports for renewals. Each month, the agents run a report of everyone that's 60 days away from a policy renewal.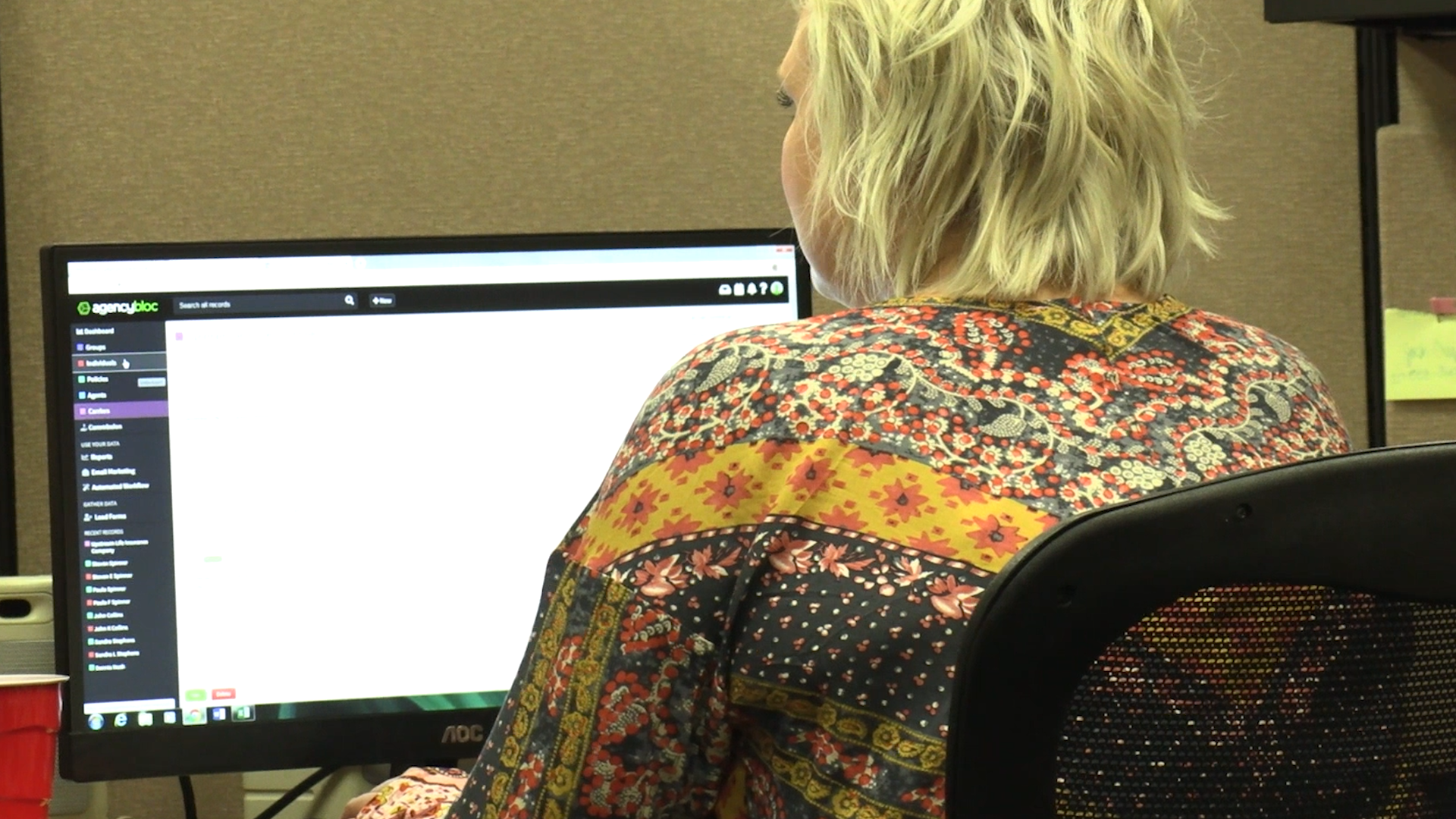 They can quickly see:
First and last name
Whether they prefer in-home or in-office appointments
Notes
Date of birth
Home and cell phone numbers
City
Carrier their policy is with
Product type (Plan F, G, N, etc.)
Effective date
Current premium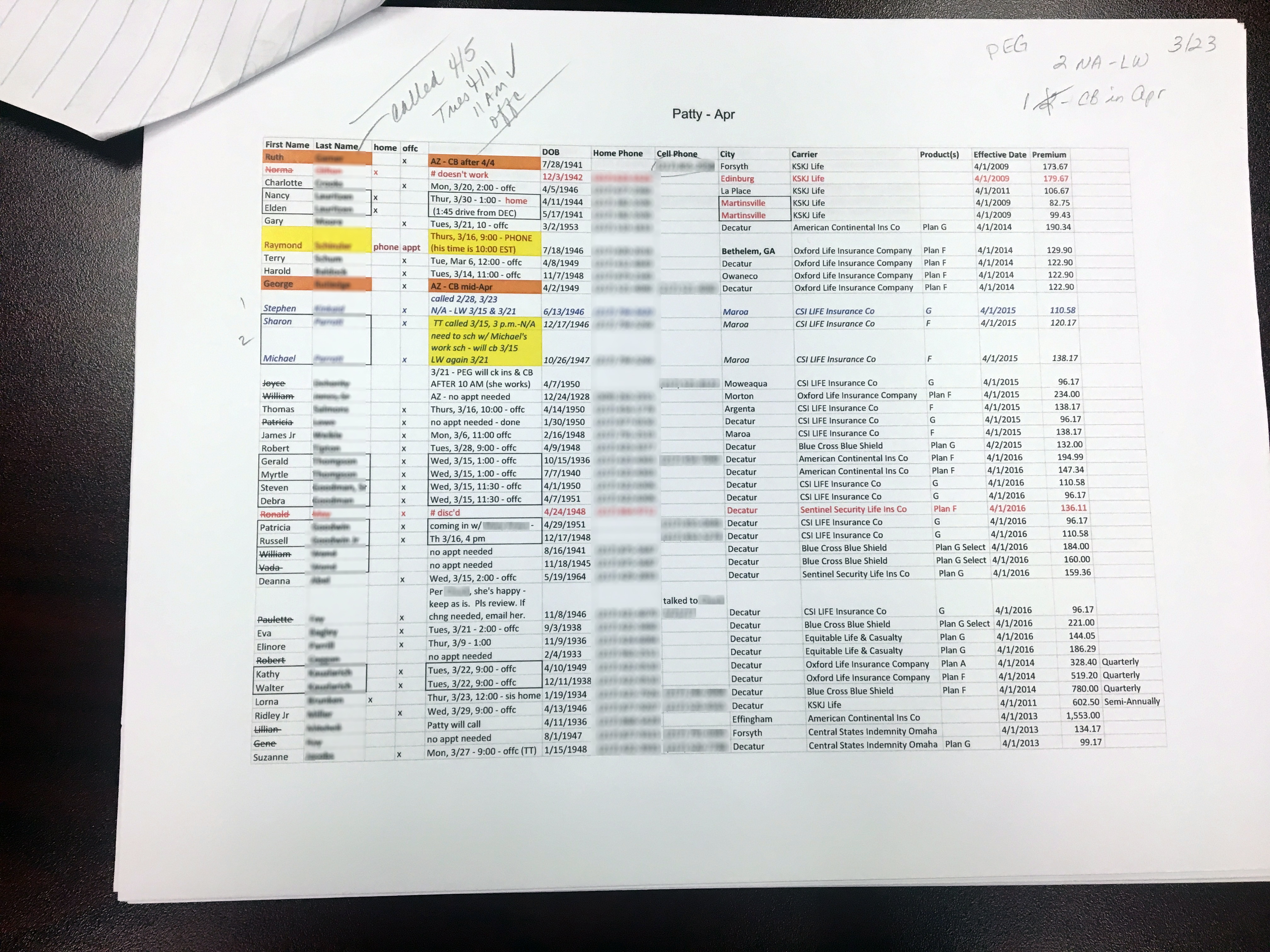 The agent prints out that report and does some preliminary work, such as crossing off any clients they've just seen for whatever reason. Then, they give the list to an intern who schedules the renewal appointments.
If this wasn't all organized in a CRM, this would be a major project every month. In fact, if we're being honest, the agents would probably do a bad job of actually meeting with their clients every year.
Everything is more efficient when you're organized, and your clients can sense that professionalism.
Related:
5. Store Notes and Documents From Your Last Appointment
Finally, one of the best features of any CRM is being able to store any appointment notes and documents from your last appointment.
Everything from small talk to a completed Client Needs Assessment can be added to your contact records.
"Our clients love how they can drag and drop client documentation into AgencyBloc to help them go paperless and ensure they have all of the necessary information even when they're on the go," Babberl explains.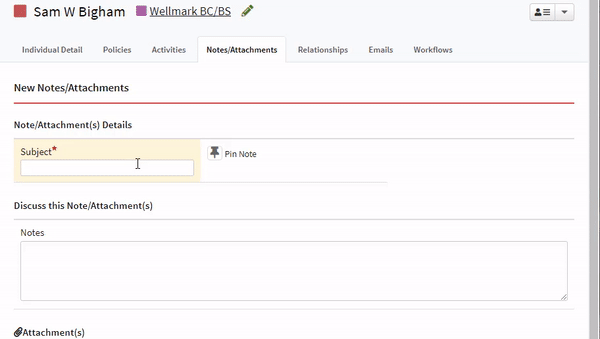 Conclusion
Organize your book of business and automate some of your procedures to get more done in less time. That's the beauty of a CRM.
In fact, many $1 million+ insurance producers say they wouldn't be able to grow without a killer CRM.
If you're still doing everything on paper, you can download our client spreadsheet template to get the process started. Once you digitize that information, you can import it into a CRM when you're ready.