Are you a Medicare agent looking for a free, user-friendly CRM?
Look no further than MedicareCENTER, a powerful quoting and enrollment platform. Store client information, set follow-up reminders, and even start a quote directly from the MedicareCENTER CRM, available at no cost to contracted agents.
Here's everything you need to know about the Customer Relationship Management (CRM) system available in MedicareCENTER.
What Is MedicareCENTER?
When you're a Medicare agent, time is a precious resource. MedicareCENTER is a robust sales and marketing platform designed to help you make the most of every sales opportunity.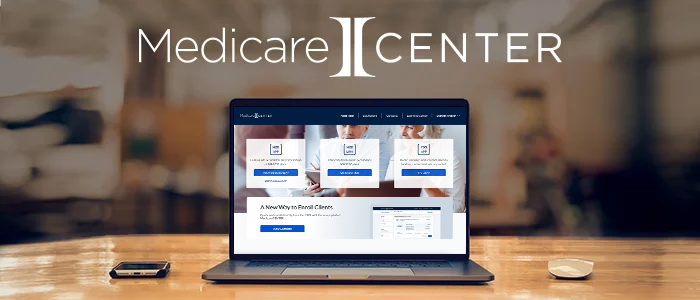 The MedicareCENTER platform allows you to:
Digitally manage clients
Quote and compare plans instantly
Submit applications
Track prescription drug lists
And so much more
You can use dashboards to see where clients are in the application process, and you can even text your clients compliantly from start to finish.
One feature that's an agent-favorite is you no longer have to remember multiple carrier logins. Now, you have one universal login.
The entire MedicareCENTER system is free to contracted agents.
The MedicareCENTER CRM
A key part of MedicareCENTER is the CRM, where you store your client information such as email, phone number, address, scope of appointment, client notes, pharmacy preference, and prescription drug list.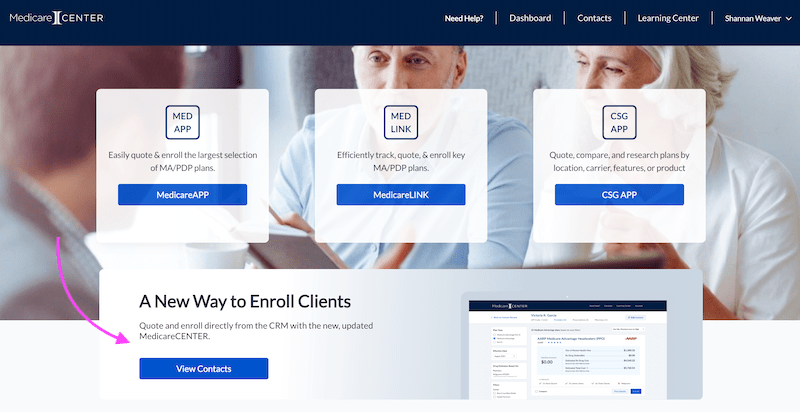 To get to the CRM area of MedicareCENTER, click on "View Contacts" from the homepage.
Once you create a new contact in MedicareCENTER, you can:
Add follow-up reminders
Send compliant texts
Store client notes
Roll right into quoting and plan enrollments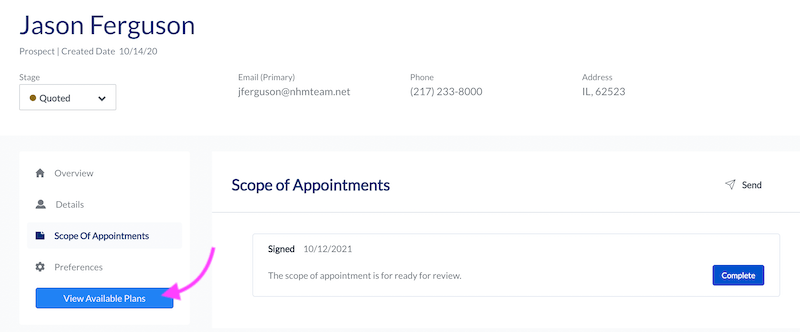 From a contact's profile, you can click on "View Available Plans" to go directly into quoting and plan enrollment.
MedicareCENTER is one, simple location where all of your client information is easily accessible. The user interface was designed to be easy and approachable – never overwhelming.
The simplified design does mean the MedicareCENTER CRM isn't as robust as other industry CRMs, such as AgencyBloc. However, this CRM is available to contracted agents at no cost, making it a great option for agents just starting out or agents who need to digitize their book of business.
If you need to get your client information into digital format – which can be imported to MedicareCENTER – be sure to download our spreadsheet template:
A Tour of the MedicareCENTER CRM
To get a full picture of what you can do in the CRM portion of MedicareCENTER, check out this training video, starting at 2:25:
The video will walk you through the contact management area, adding and editing contacts, importing contacts, adding reminders and activities, adding detailed contact notes, sending SOAs, and more.

A look at the Contacts section of MedicareCENTER
And remember: once you have a contact in MedicareCENTER, you can also enroll contacts directly into a plan. The latest version of MedicareCENTER, MedicareCENTER 2.0, added MedicareAPP integrated enrollment, making the entire sales process that much faster.
MedicareCENTER Dashboard
Another new version in MedicareCENTER is the Dashboard, where you can get quick stats on what stage your contacts are in.
Select your date range and view how many clients are New, Contacted, Quoted, Applied, and more.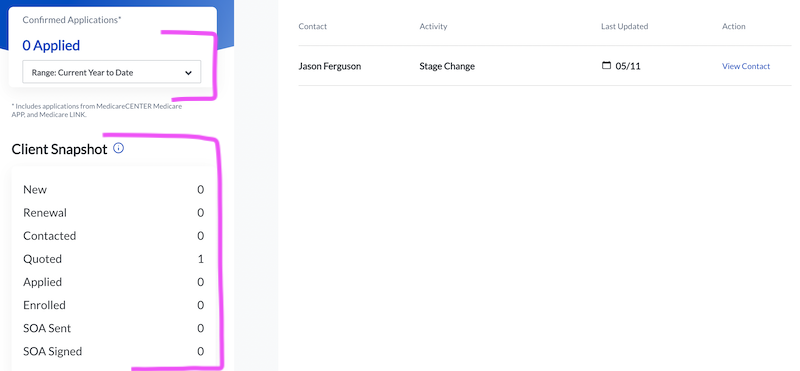 MedicareCENTER CRM FAQs
Here are some common questions and answers about the MedicareCENTER CRM.
Q: Are my SOAs stored in MedicareCENTER for each client?
SOAs are stored in MedicareCENTER. However, every time a new SOA is completed, it does overwrite the previous SOA in MedicareAPP. You can reach out to MedicareCENTER Support to request any previous client SOAs for your records.
MedicareCENTER stores the SOA files for 10 years for compliance purposes. For best practices, it is recommended that you access and download each SOA as it is submitted to store for your records.
Q: How do I get free access to the MedicareCENTER CRM?
In order to register an account with MedicareCENTER, an agent must be contracted with an Integrity partner. This means that an agent could be working with an agency or as an individual entity, as long as they carry contracts through Integrity.
Any agent who has at least one contract with New Horizons is eligible for no-cost access to MedicareCENTER and it's CRM.
Q: Can I import my client Book of Business?
Yes, you can import client data through the Client Management tool within MedicareCENTER.

Q: Can I export my client Book of Business?
There is not currently an option to export any information from the system due to compliance standards.
Conclusion
Save time and produce more with MedicareCENTER.
If you're a contracted agent with us, be sure to take advantage of the free CRM included with MedicareCENTER.
Related Materials: