The Client Needs Assessment is the foundation of my sales process. When people ask me how I did over $6 million in annuity sales last year, I tell them there is no "secret." I'm just using the Client Needs Assessment.
If you want to start using the needs assessment, but you feel like you need a little more guidance, I have 10 tips to get you started.
1) Don't be afraid to start using the Client Needs Assessment with existing clients.
It can be tough to start using the Client Needs Assessment with existing clients. They may be thinking something like, "He's never used this with me before – is this just a new way to sell me more insurance?"
Here's my suggestion for a "script" you can use:
"Hey, your drug plan is right where it needs to be. Your Medicare Supplement is right where it needs to be. But there are a couple additional questions I need to ask to make sure I'm not leaving anything out.

I'd love to ask you some questions I may not have asked before. We'll have a conversation we may not have had before, but it'll ensure we're not leaving anything uncovered."
The very first meeting might feel uncomfortable, because you're trying something new. I remember when I first introduced the CNA to my existing clients, I was so anxious that they would be skeptical, but no one ever questioned it.
And as soon as I got past that initial awkward feeling, it became second nature.
2) Do a Client Needs Assessment with every client.
Complete a CNA with every client at every appointment. Even if I just saw a client 12 months ago, I'm completing a brand new CNA with them.
Things change!
Maybe a beneficiary needs to be updated. Perhaps they just witnessed a close friend go into a nursing home, and now they're more open to talking about long-term care insurance. Or maybe they won the lottery (this happened to me this year!).
If nothing changed since last time, then great! But you'd be surprised at how different your conversation can be after only a year's time.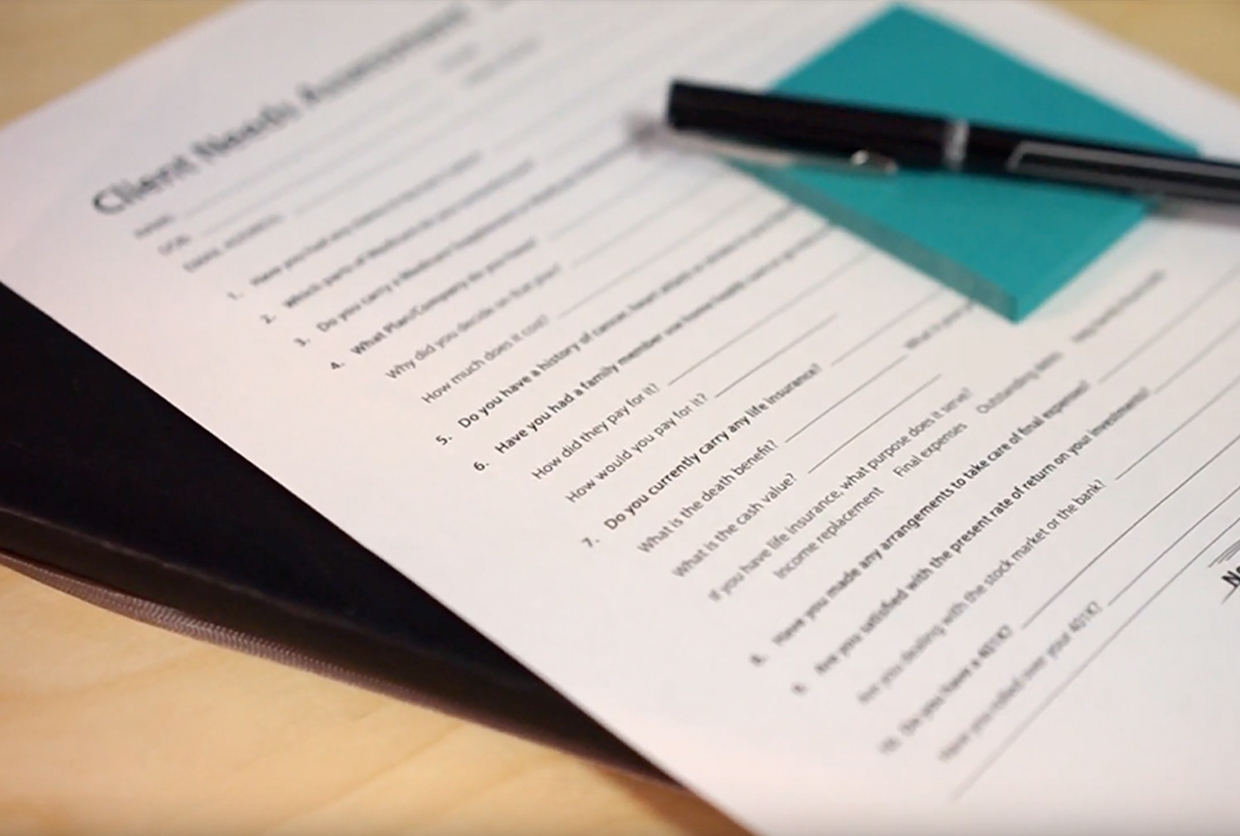 3) Ensure you have product training and contracting before using the CNA.
Yes, you can download the CNA and start asking the questions today. But if you're not contracted and prepared to sell to the needs you'll uncover, you'll just leave money on the table.
My recommendation is to pin down at least one competitive carrier in each product category and get contracted.
For me, that looks like SILAC for annuities, Aetna for cancer insurance, AIG and Foresters for final expense, and so on.
For you, it really just depends on what companies are the most competitive in your region. You can reach out to our team here at New Horizons for recommendations and product training.
Related: Training & Tip Sheets
4) Complete the entire Client Needs Assessment before talking about any products.
If you were to stop in the middle of the assessment and start presenting a product based on an uncovered need, it would disrupt the entire flow of your appointment.
I recommend asking all of the questions on the assessment, and don't stop! Just write down your findings or ideas as you go, and circle back when you're finished.
It's really awkward to start a presentation halfway through and then pick back up where you left off.
5) Do several practice sessions with your family and friends.
I'm a big fan of roleplaying something new before you do it live with a client. Whether it's practicing a new presentation or introducing this needs assessment, smooth out the process with some practice sessions.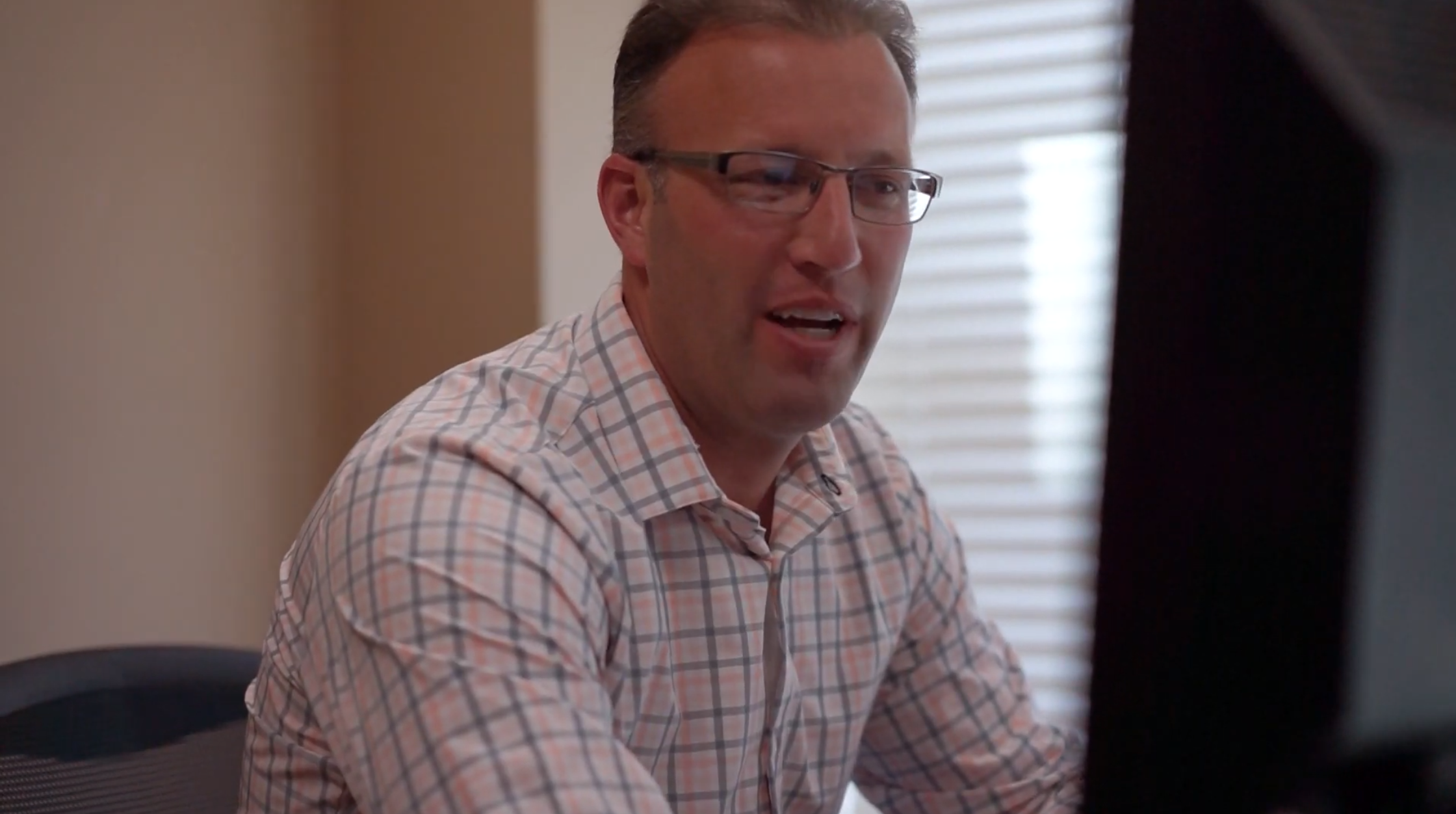 Even if you just practice with your spouse or friend, it'll help you feel more comfortable. When you're comfortable, you gain confidence.
Related: The Best Way to Get Better At Selling Senior Insurance (Roleplaying)
6) Adjust the wording and order of the questions to fit your style.
If you find that a certain question doesn't feel natural to you, change it!
Many of our agents have adjusted questions in the CNA based off of what feels best and what has seen better results for them personally. We encourage you to experiment and let us know what's working for you.
We've made several universal changes to the Client Needs Assessment over the years based on agent feedback and success stories.
Plus, if you're an active producer with us, the marketing team can add your logo to the bottom of the assessment.
7) Lean on our team for product support (you don't need to know everything!).
When I uncover a need for life insurance, as an example, I don't feel this pressure to know everything about it. We have a support team for that!
The New Horizons Life Insurance Department, run by Kirk Sarff, exists to support us agents. I know if I can just gather information from the client, such as the need for their life insurance or an existing life insurance statement, Kirk and his team will help me.
They'll find the best product fit, and I can take that recommendation back to the client.
So don't feel like you need to be an expert on every type of insurance before you can bring it up to your clients. Lean on your FMO for that support and specialized knowledge.
8) Don't try to meet every need in one appointment.
This is definitely a concern for a lot of agents who are just starting to use the CNA. The CNA is going to bring up additional needs, and that means that you're going to be recommending more products to your client.
And that might make your client feel that you're just trying to sell them everything in the book.
I'm establishing from the beginning that there are a couple of needs – or more than a couple of needs – that need to be addressed.
You're going to tell your client this:
"It's a little overwhelming to address all of these needs in one setting, and the most pressing need is going to be [Insert Product Here], and that's why we're starting with this."
But there's an establishment up front that there are multiple needs, and we're just taking this one step at a time.
That prevents the issue of client's saying, "What the heck! Every time I see Michael, he's just trying to sell me something new."
No – we got this CNA out at the very beginning, and we know what you need the most.
9) Fill out the assessment, by hand, in front of your client.
When you physically fill in the Client Needs Assessment in front of your client, it has an impact.
It lets them know you're catering your service to their needs, and you're not just doing some standardized pitch to every client.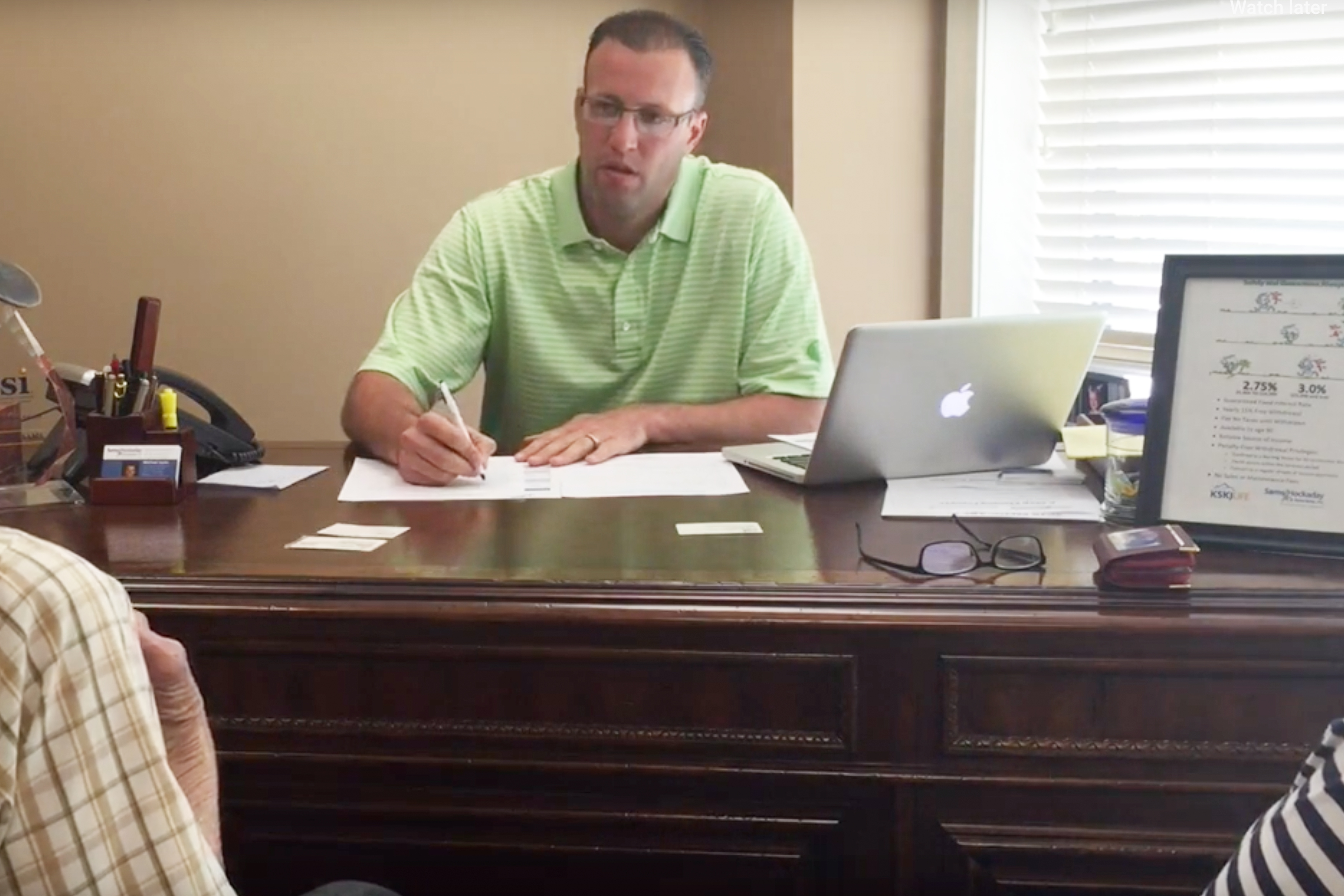 10) Scan the finished needs assessment into your CRM.
Make sure to scan the completed needs assessment into your computer so you have a digital copy to refer back to. If you have a CRM, upload the scanned copy to that client's record.
Here's an example of a filled-out assessment: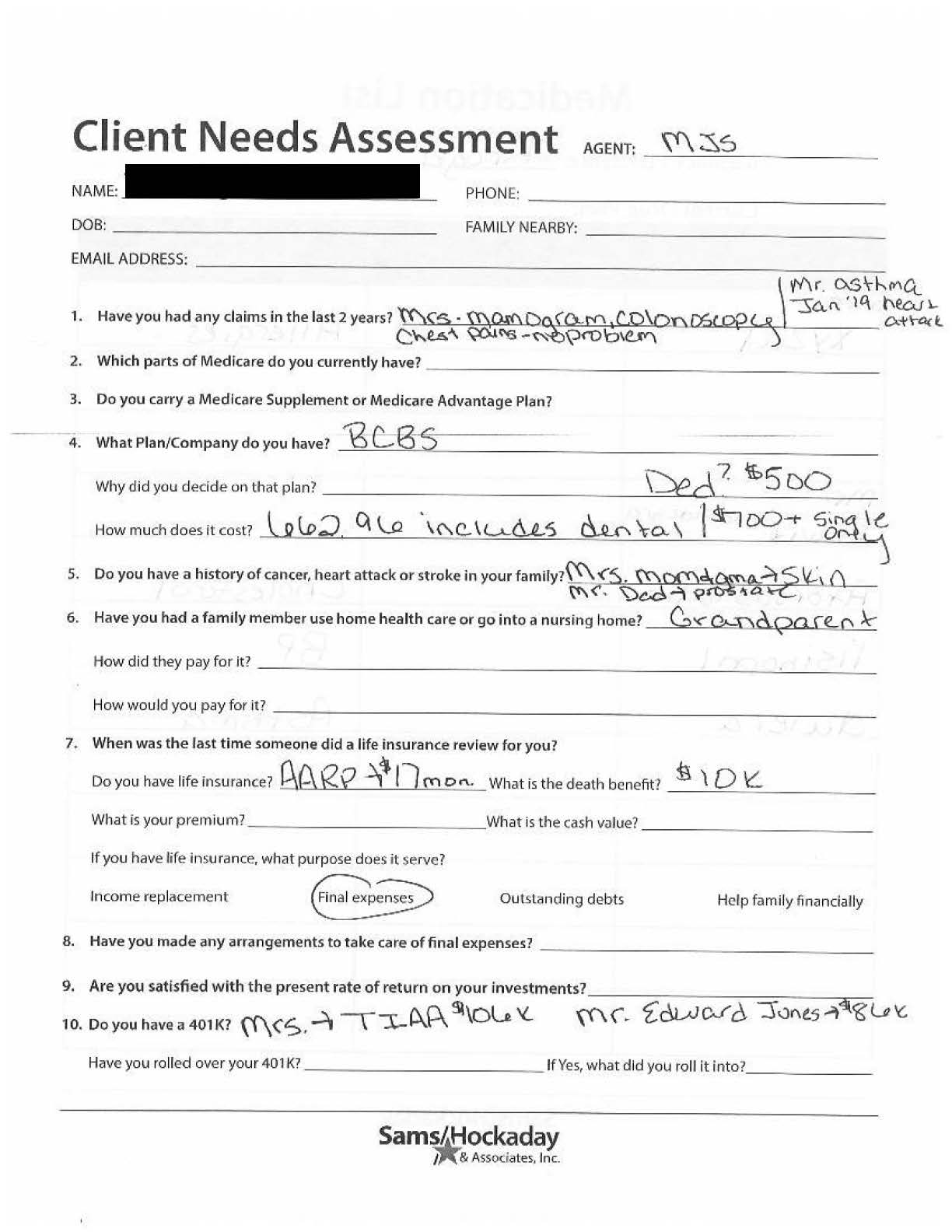 If you don't have a CRM yet, check out our article: Best CRM Software for Insurance Agents In the Senior Market
Conclusion
I hope this helps you get started with the Client Needs Assessment! It has transformed the way I sell insurance and makes the flow of my appointments very natural and stress-free.
I never feel like I'm selling anything. I'm just talking with my clients, uncovering their needs, and helping them.
Do you use the CNA or something similar? I'd love to hear about it in the comments section below!
Related Article: The 8-Step Closing Process: How to Go From Stranger to Happy Customer