If you are looking to recruit more agents for your agency, LinkedIn could be a great place to invest some time.
LinkedIn is built for business networking, and many business professionals use it to establish thought leadership, connect with others in the industry, improve their reputation, and even to recruit talent.
We use LinkedIn for our own agent recruitment efforts here at New Horizons, so I'd like to invite you behind the scenes, so to speak, to show you exactly how we do it – and why it's worth spending time on it.
---
Check out the full blog series, Cover Your Bases, which explores topics for agency owners.
---
What Is LinkedIn?
If you're not very familiar with LinkedIn, it's a social networking site for business professionals. People use LinkedIn primarily to find jobs and to connect with other professionals in their field.
LinkedIn allows you to join groups, write articles, post photos and videos, and even organize offline events.
LinkedIn offers a free membership to anyone who wants a profile, but there is also a Premium subscription that grants you access to marketing, recruitment, sales, and educational features. The upgraded account is called Sales Navigator Pro, and it costs about $80 per month.
What we're going over today is all available in the free version – the Sales Navigator tool is entirely different can of worms!
Why Use LinkedIn for Agent Recruiting?
LinkedIn is "the world's largest professional network with 706+ million users in more than 200 countries and territories worldwide."
LinkedIn exists for a very specific reason and this is illustrated through their noted vision and mission statements and also through the tools available on their website that allow businesses and entrepreneurs to hire, market, sell and learn.
While search engines, Facebook, and some other social media sites are great for marketing and getting in front of many consumers, LinkedIn makes it possible to get your message in front of a highly targeted B2B segment of the population online.
LinkedIn also gives you a more professional "home" for you to house your business information, list career opportunities, and share and write thought-leadership articles. When I personally go to LinkedIn to look at a company, I learn a lot just by looking at their feed. The topics the company writes about and what they share opens up a window into what they're like and what they stand for.
People who use LinkedIn are likely there for one reason and one reason only: to further their careers. That's why it's just a great place for agent recruitment.
Create an Article From Your LinkedIn Profile
One of the best ways to attract your target – in this case, agents – is to give them valuable information. This is called content marketing, and it consists of "creating and distributing valuable, relevant, and consistent content to attract and retain a clearly defined audience" (Content Marketing Institute).
It's what we do here at New Horizons – we invest a lot of time and resources into our blog and free downloads. It's definitely the long play, not the short one. If you're used to buying leads, this whole idea is probably really foreign to you. But I'd argue leads that come from content marketing are hotter leads than those you can buy.
Content marketing is all about nurturing your target audience over time so that eventually, they convert into a customer. These leads are so much more qualified than ones you can purchase from a lead vendor, and that comes with its own host of problems, including the fact that you're probably sharing those leads with a dozen other competitors.
You can do content marketing on LinkedIn by writing, publishing, and distributing articles. I'm going to show you today the steps you can take to create articles on your LinkedIn profile. If you haven't optimized your LinkedIn profile yet, do that first!
Step 1: Click on "Write an Article"
While logged into your LinkedIn account and in the same section where you would create a new post, click on "Write an article."
LinkedIn seems to be changing the way things look by testing different icons, so it could look like either of these options:
Option 1: Write an article on LinkedIn

Option 2: Write article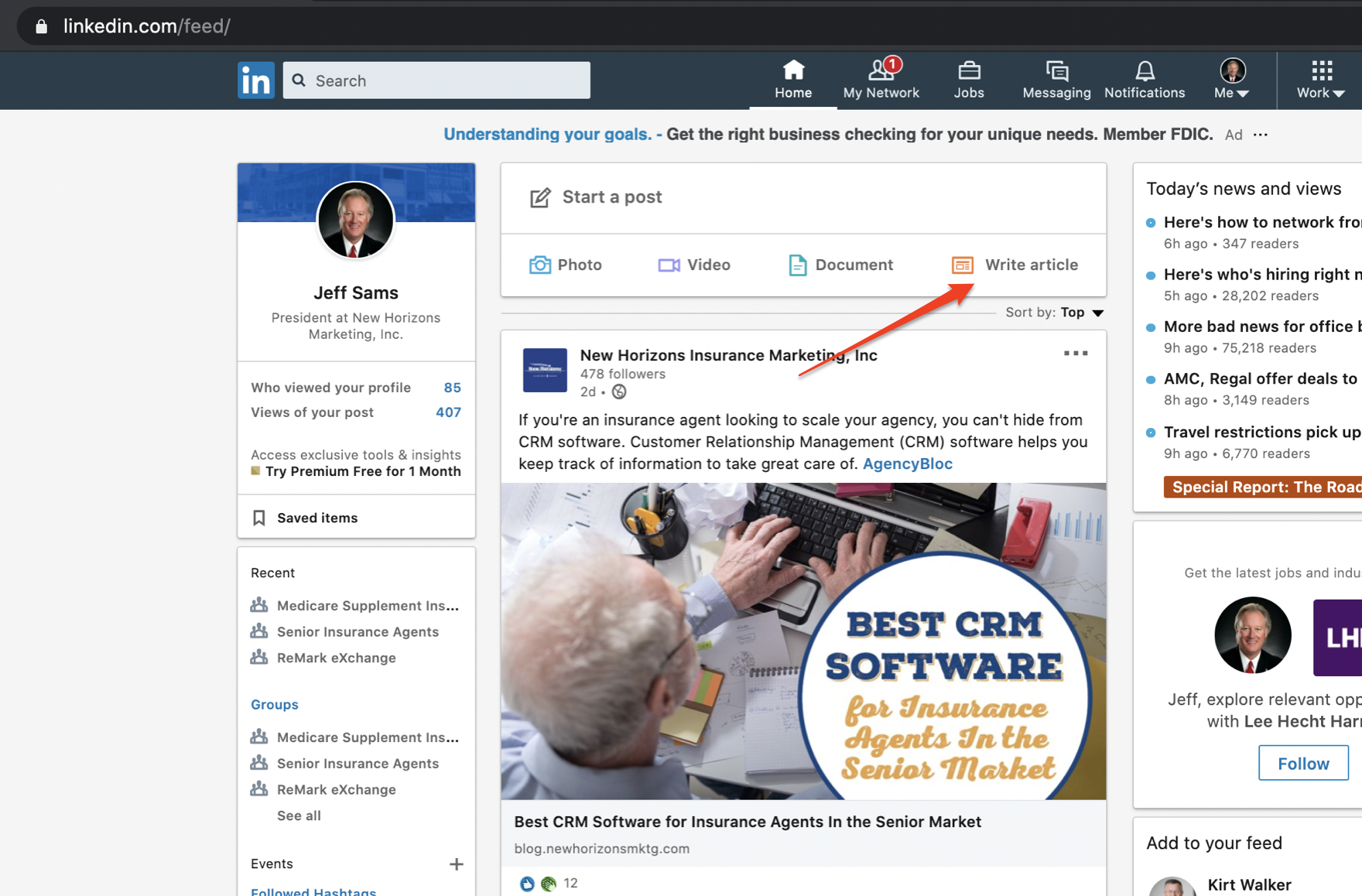 Step 2: Add Your Content
You'll need an image, a headline/title, and the content of your article.
To add the image, click the + button in the header. Add your headline in the Headline space and write your article beneath that.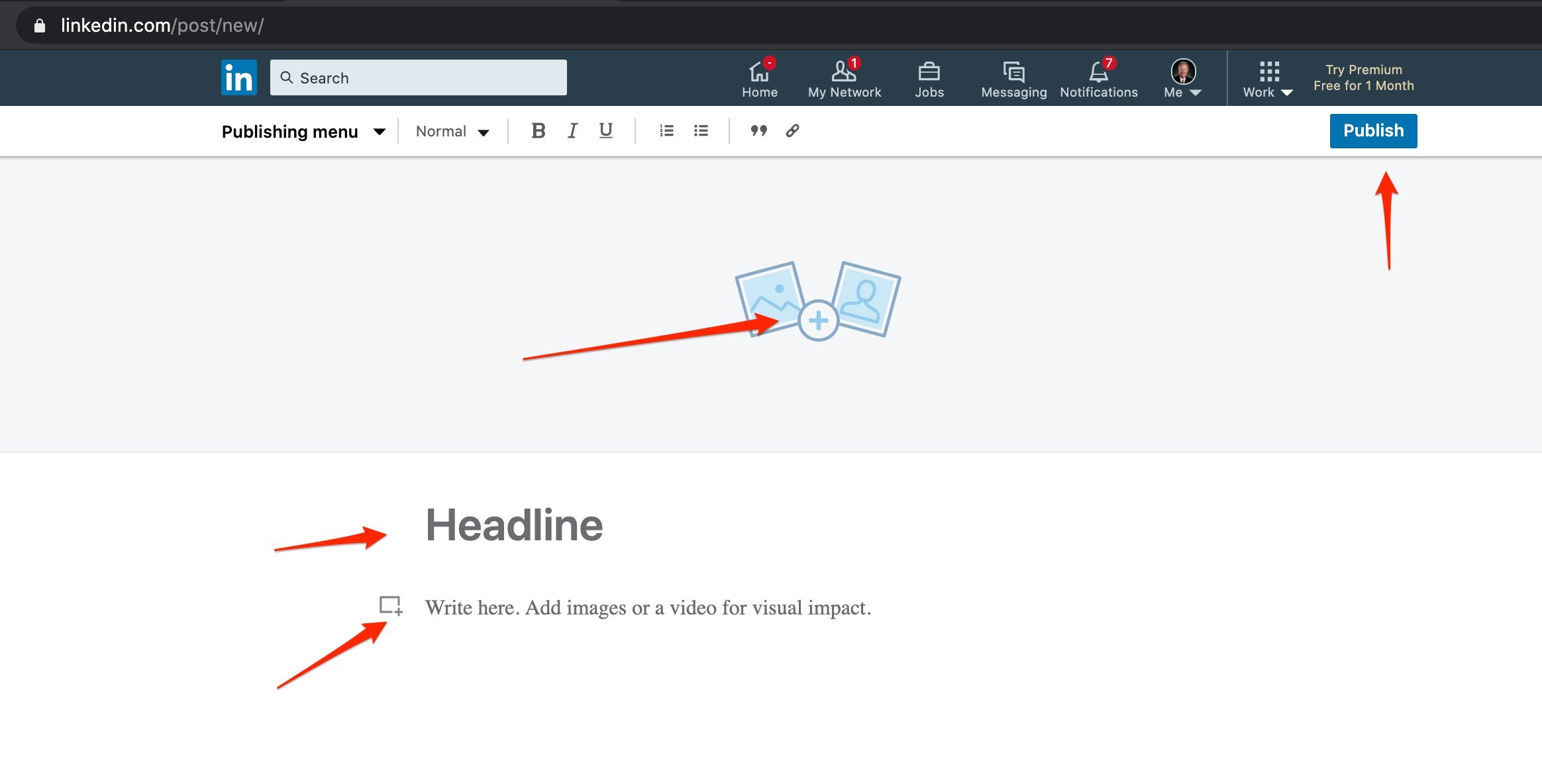 There are several formatting options for the header image. After you've clicked the + sign and selected an image for your article, you can size it with two options: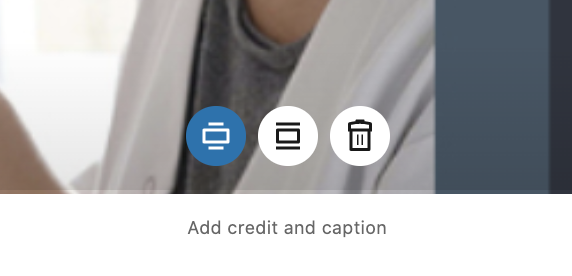 Depending on the image and if it has text on it, you may want to select the middle option. That is what we select most of the time. Or, you can trash the image and choose another one by selecting the trash can.

You can also add text information below the image by entering text in the "Add credit and caption section." Just click in that section and begin typing.
When you are ready to title your article, click in the Headline section and begin typing.
The article content area gives you several options.
The easiest way to start is to copy and paste the content from the website (or other document) where the article is located. Then, you can edit, complete any additional formatting, and add photos and/or links as appropriate.
Some of the images and/or videos located in the article may copy over if you copy/paste, but most of them do not and need to be added individually.
You may notice the + on each new line: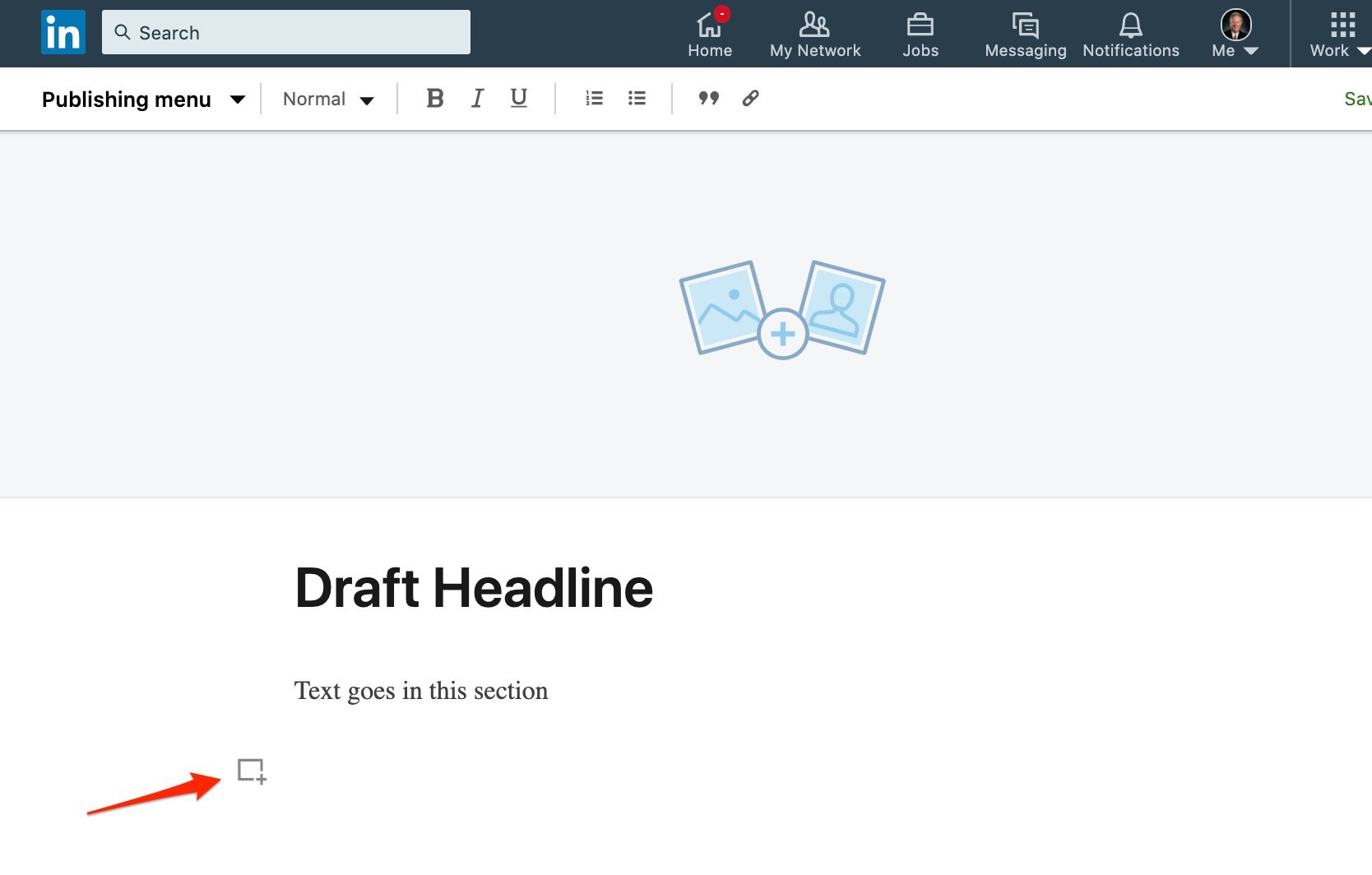 Click the plus and you will see you can add an image, video, slides, links, or a snippet.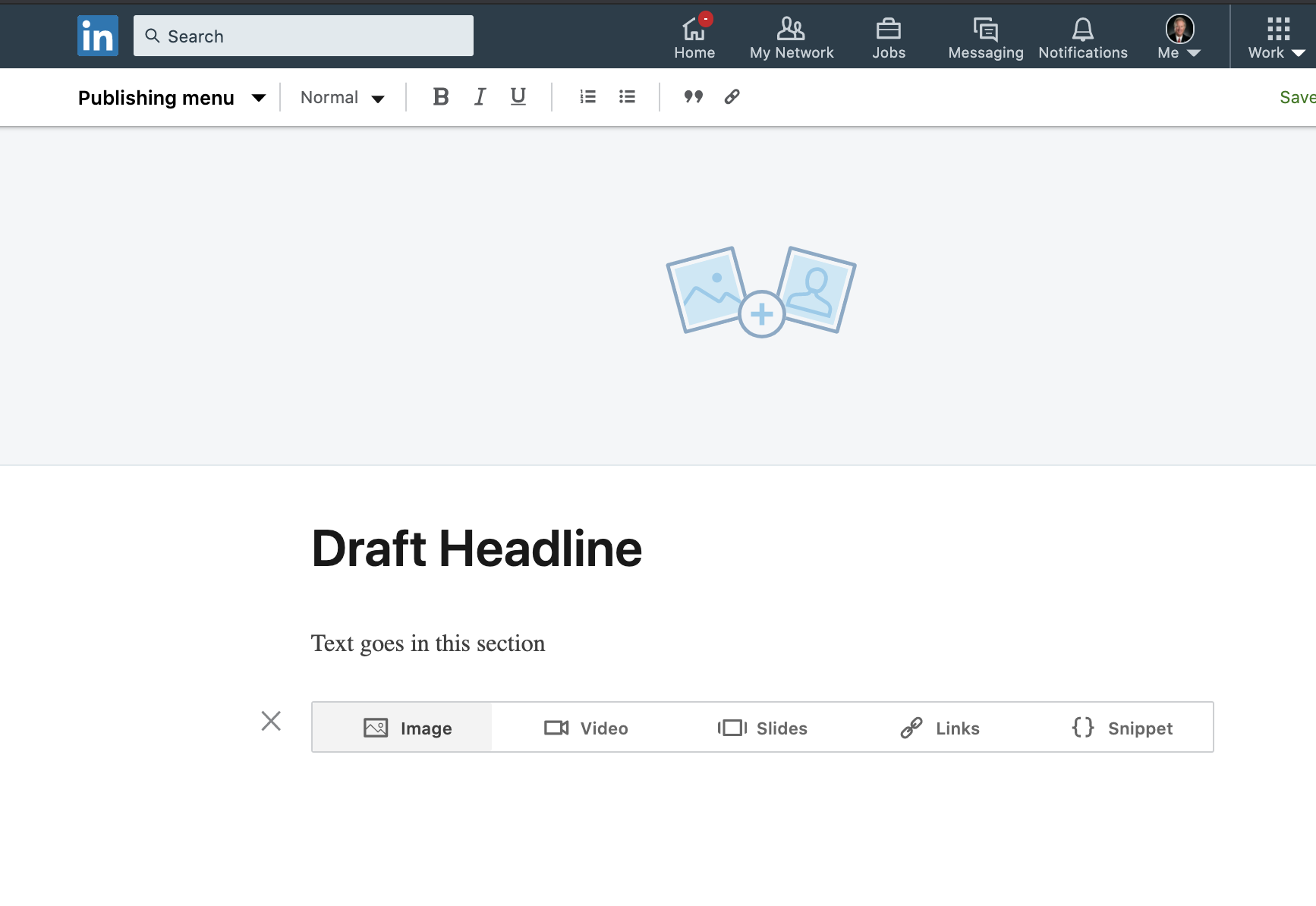 It's a very simple interface, and nothing is public until you click publish, so you can continue to edit until you're happy with the article.
Additional text formatting options are located at the top in the publishing menu. In that menu, you can access your drafts, published articles, or create a new article.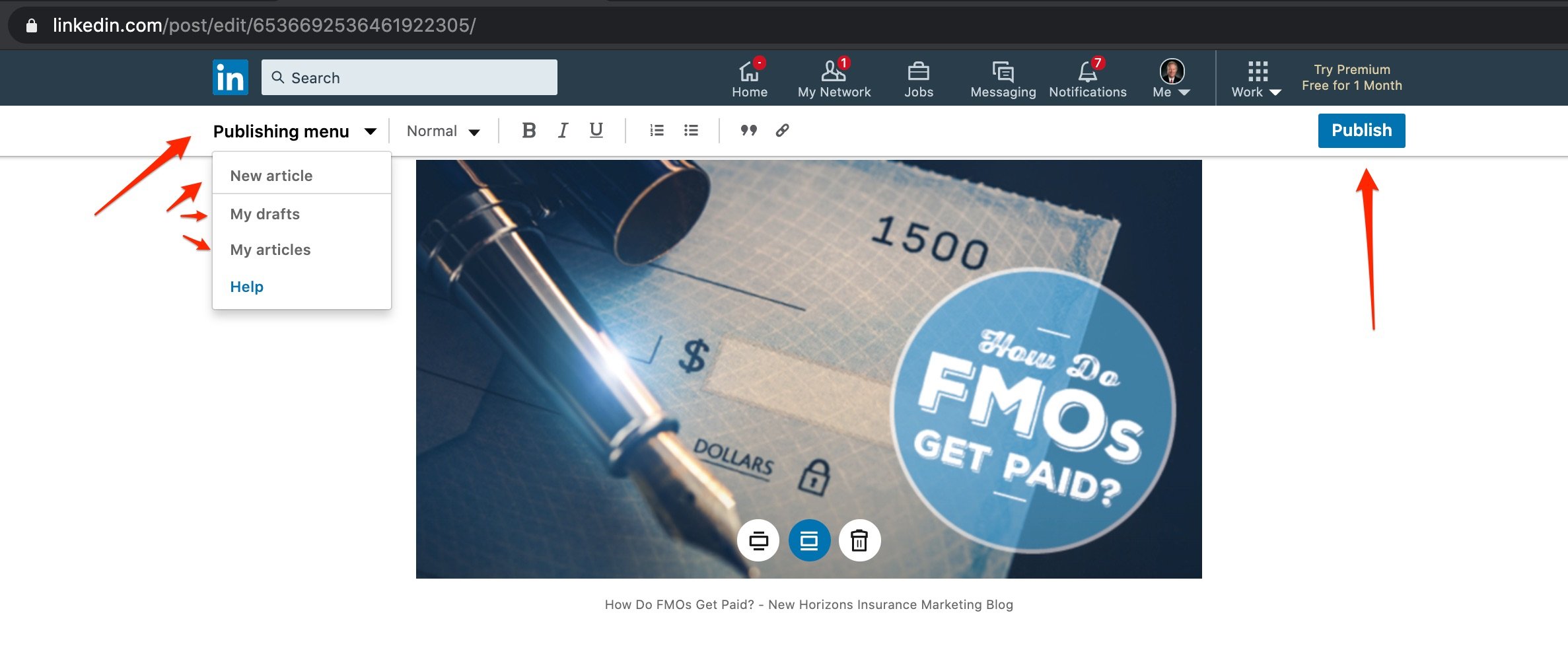 Step 3: Click "Publish" and Share
After your article is ready, click publish and you will see a pop up that allows you to enter an announcement or message that will be shared on your timeline and with your followers.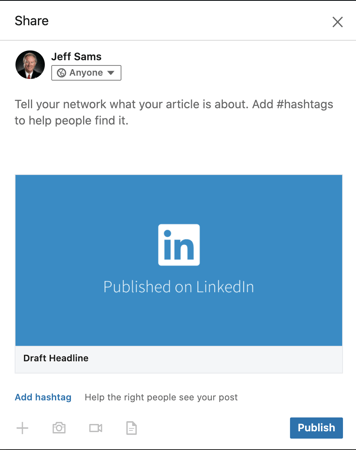 The next screen allows you a few different options. You can either copy the link to the article or share on other social media profiles.
Depending on how your followers have their privacy settings customized, they may receive an alert in the next couple of days in their LinkedIn alerts section that notifies them you published a new article.
Some of them may be notified of your new article in an email, in-app alert, or just a notification in the LinkedIn interface.
Feature Your Articles On Your LinkedIn Profile
OK, my article is published – what next?
You can feature articles on your LinkedIn profile by adding a new profile section and selecting which articles you'd like featured in that section.
First, click "Add profile section."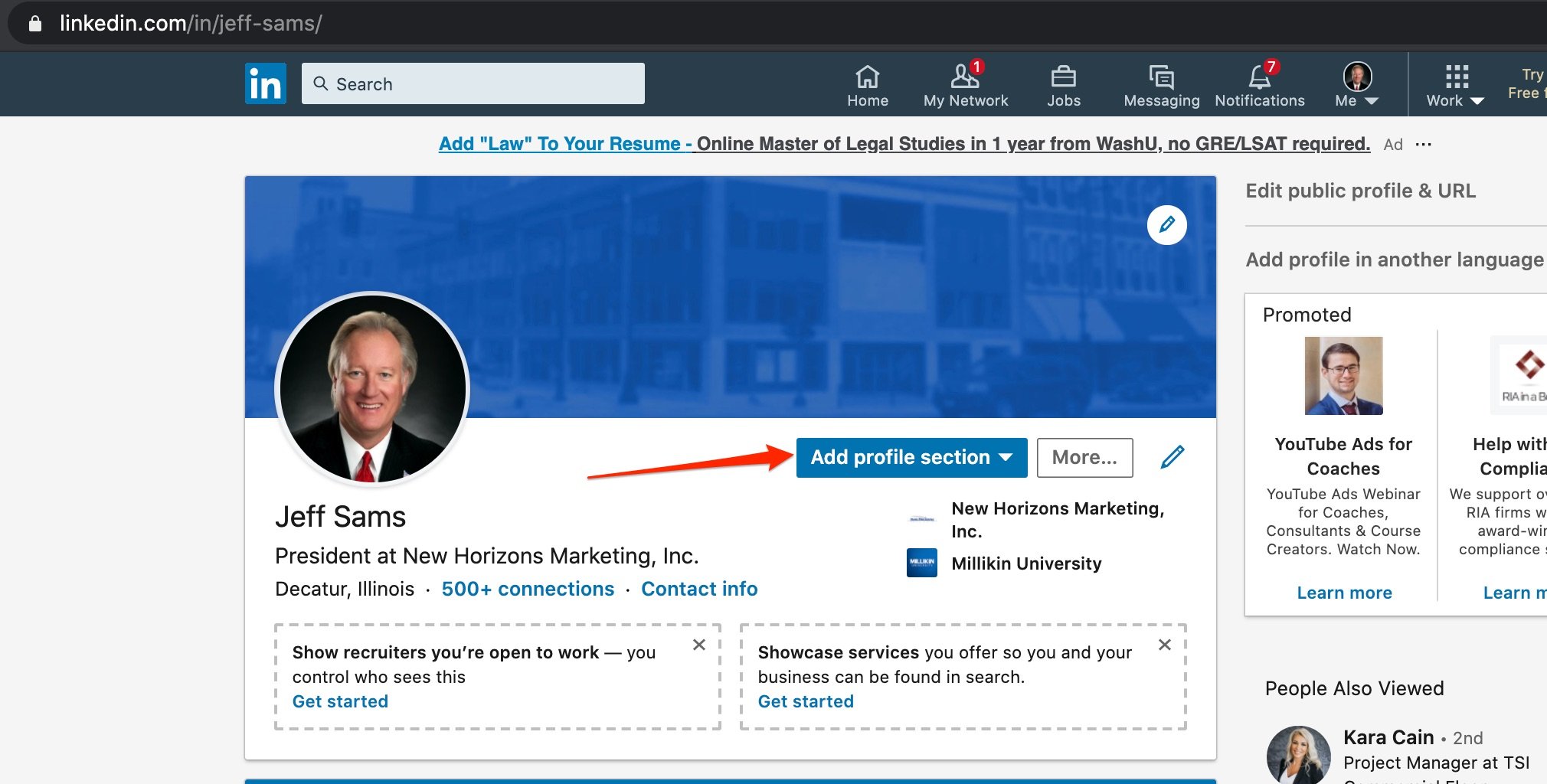 Then select "Featured" and choose "Articles." There are several other customizations, but for now, we'll focus on articles.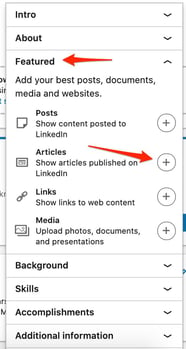 After you have a couple articles published to your profile, you'll see them here, and you can feature them on your profile by selecting the star feature (as seen below). You can also deselect the star feature to remove from being featured.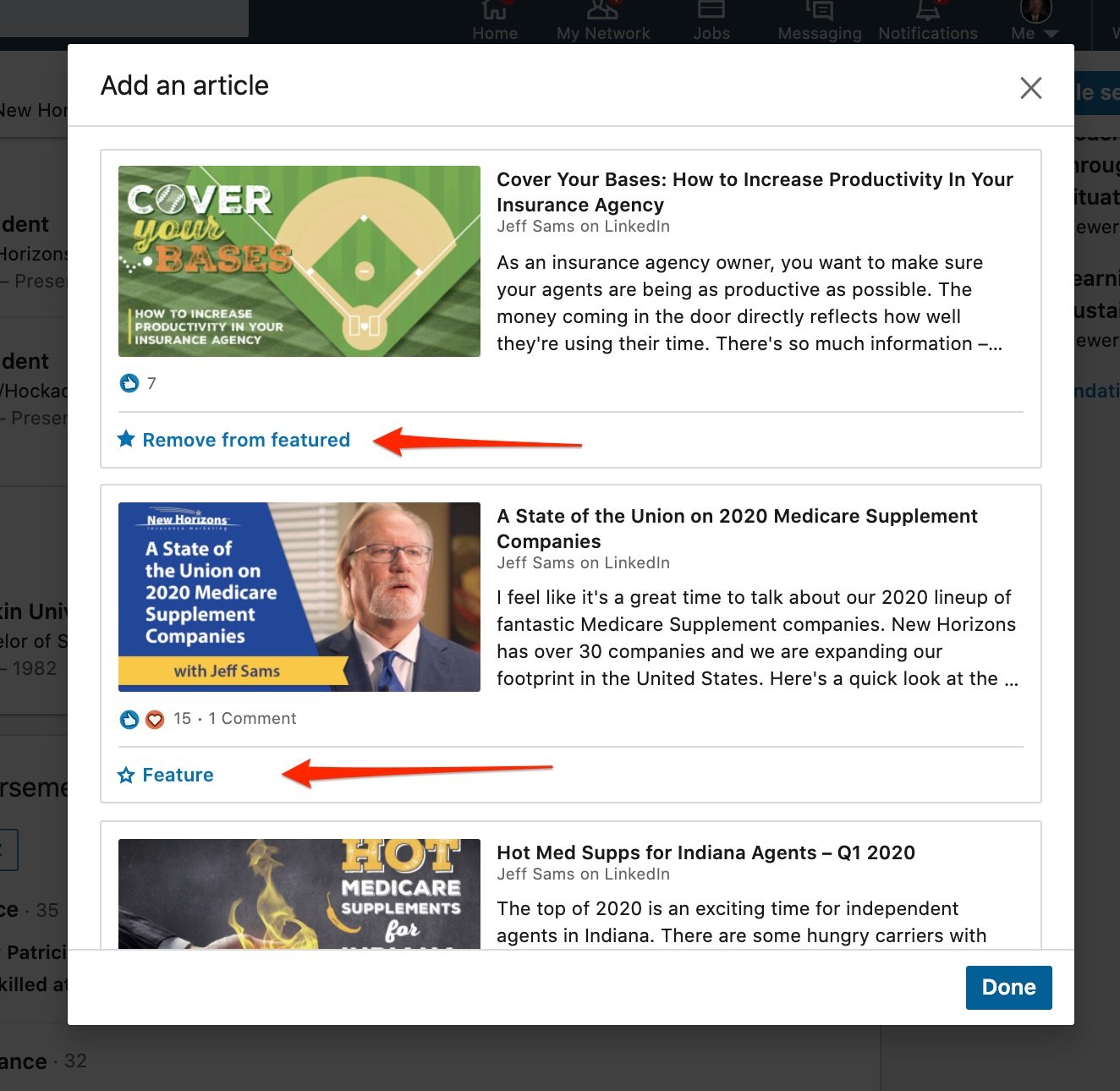 Here is what the new featured section will look like on your profile when you're done: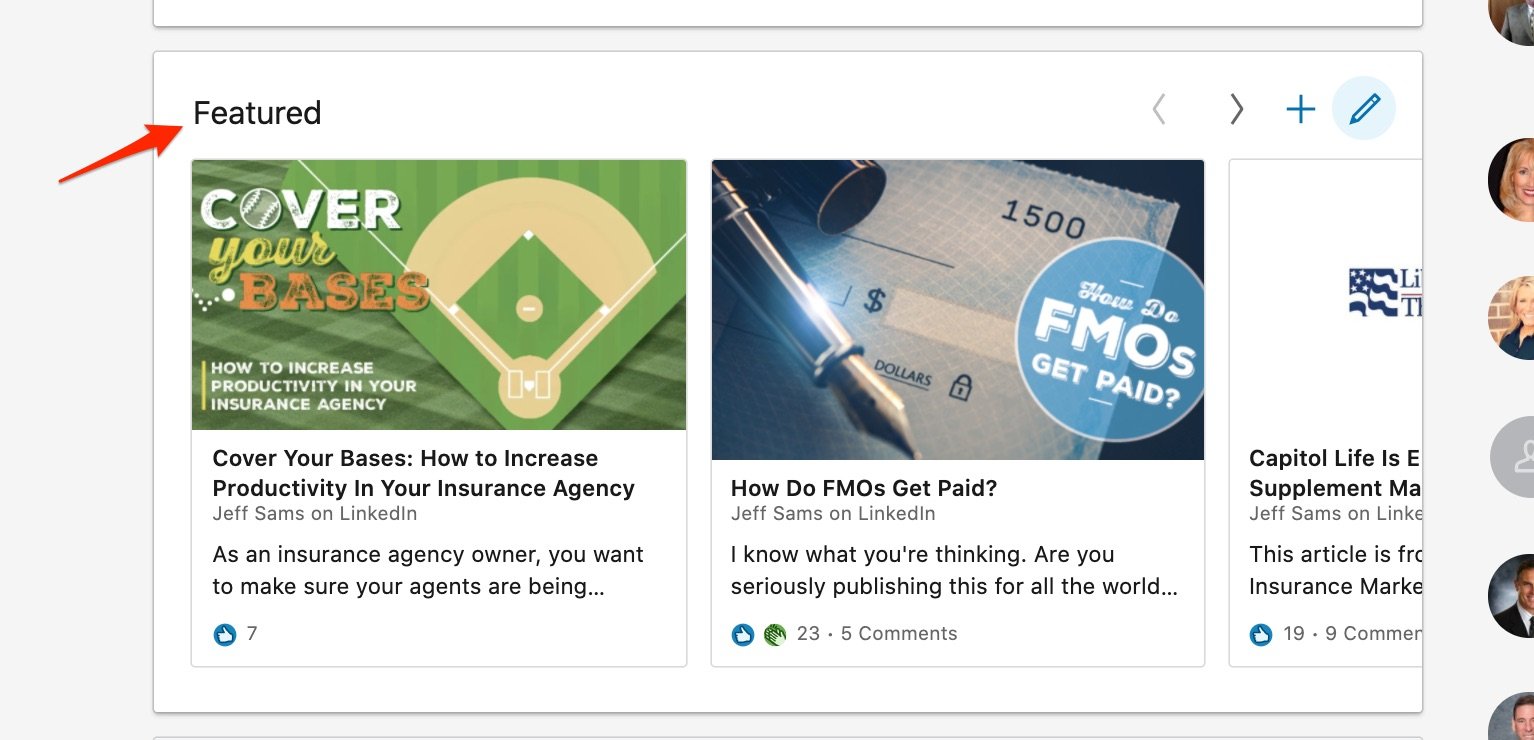 To 'See All' or scroll through your featured articles, you can click on the left and/or right arrows, and in order to add to or edit the order of the featured articles, you can select the plus (+) sign or the pencil icon to edit the order or remove from featured.

To see all of this in action, here are a couple links to articles Jeff has published:
At the bottom of each article, you can add links to other articles that may link out to your website or other property promoting your content.
A Brief Note on SlideShare
LinkedIn also owns SlideShare, a sharing platform for business documents, videos, and presentations. Scribd just acquired SlideShare and will be taking over September 24, 2020. We're investigating if this change will alter the way we upload presentations, but for the time being, we're continuing business as usual.
SlideShare is an ideal place to put out even more content to attract your target audience. Many visitors find SlideShare content via search and you can also embed SlideShare presentations on your website.
Create

a Presentation On SlideShare
Presentations can be used to drive traffic to your website by uploading them to SlideShare for distribution. You'll need your presentation to be a PDF document.
It is recommended to put enough information into the presentation to gain interest with the goal of getting the user to click over to your website. There, you want them to consume more content and eventually, convert into a customer.
Step 1: Visit SlideShare and log into your LinkedIn account
Go to https://www.slideshare.net/ and click "Login."

Proceed with your LinkedIn credentials: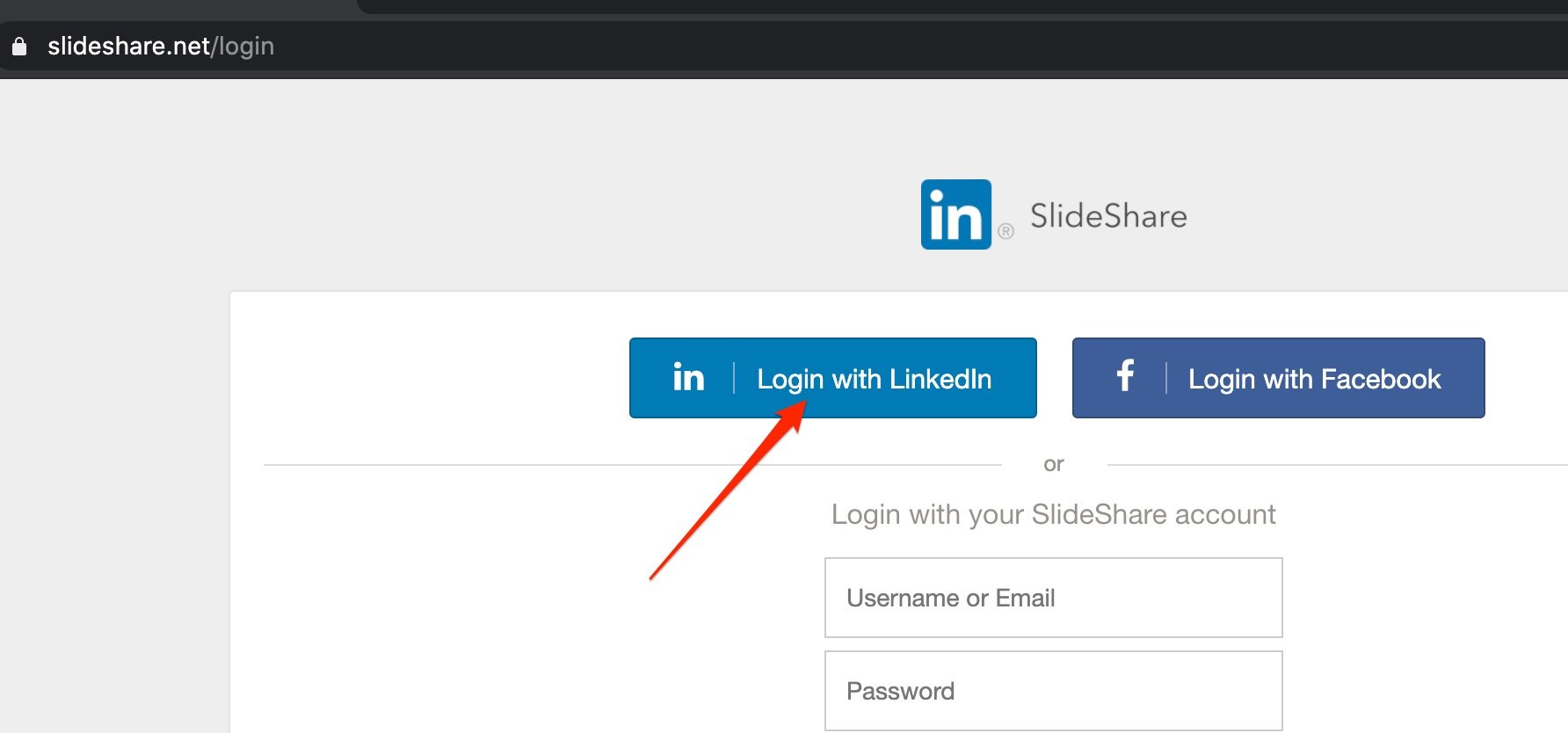 Step 2: Upload Your Presentation
Before you upload, make sure your PDF has all appropriate links over to your website and all appropriate contact information. When you're ready, click "Upload."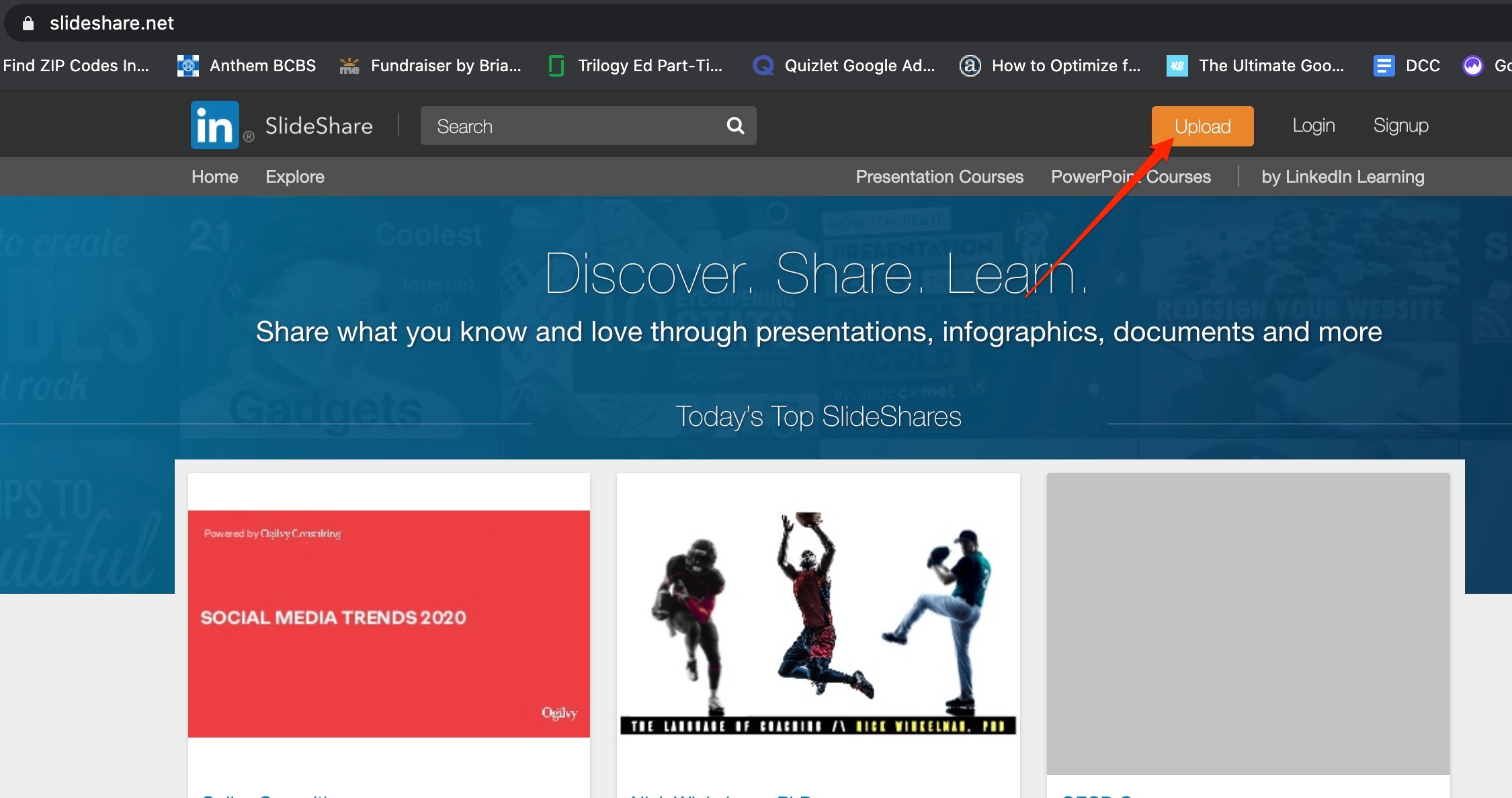 Follow the upload PDF prompts, and viola!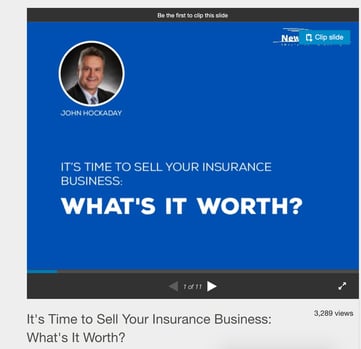 Here are some examples of how we've done SlideShare presentations:
What Should I Write About?
TopRank Marketing polled LinkedIn users and found 40% of them unfollow brands because they post poor quality content. So if you're going to write content and use it for agent recruiting, make sure it's high-quality. You want your content to be educational, informative, and in-depth.
Determining what to write about can be somewhat paralyzing, but when you break it down, anyone can do it.
We take several things into consideration when determining what to write about, including our goals, our target, and what questions they're asking online.
1. What are our goals?
What do we want people to do when they read our content? Do we want agents to get contracted? Do we want them to sell their book of business to us? Before we do anything, we map out our goals, which informs what kinds of topics we'll write about.
2. Who is our target audience?
When we plan out content, we want to make sure we're writing for our target audience. We also may have several target audiences. For example, what kinds of agents do we want to attract? Perhaps we want to attract agency owners, but we also want to attract agents looking to retire. We map out these goals and back into the content topics from there.
3. What questions are our target agents asking online?
Once we've defined our goals, we try to figure out what questions our ideal agent is asking online. In other words, what kinds of questions or phrases are they typing into Google?
We try to find out this information by doing some search engine research, talking to agents to learn what questions they have, and utilizing existing site data to tell us what's already working.
We want to write about anything that answers the questions people are asking online. If they type in a question, we want them to find us! The beauty of publishing articles on LinkedIn is they tend to rank pretty well.
LinkedIn has a Moz domain authority of 100, which is a perfect score. That just means LinkedIn pages are more likely to show up higher in search engine results.
Start Simply
All of this may sound daunting, but you can approach the process simply by asking these two questions:
What type of agent do I want to recruit?
What questions and problems does that agent have?
Once you have those answers, you should have several topic ideas you can write about.
A few basic topic ideas might include:
Questions you should ask an insurance agency before joining
[Case Study] Why this agent loves working at [our agency]
What senior market agents should look for in a great agency
You might also have a goal of establishing yourself as a thought leader in the insurance industry. In that case, you might want to write opinionated articles like this one: Our Thoughts on Walmart's Medicare Insurance Agency
Conclusion
LinkedIn is the ideal social media platform for agent recruitment efforts. The platform is built for business professionals, and it offers a way to establish yourself as a thought leader in the industry.
Writing, publishing, and sharing articles on LinkedIn is a great way to attract agents and ultimately recruit them for your agency. Follow the steps in this article, and you're well on your way to having an awesome team of agents. To see examples of how we use LinkedIn and SlideShare for our own agent recruitment efforts, check us out:
Follow New Horizons Insurance Marketing on LinkedIn:
If you have any additional questions, leave them in the comments below!
---
Check out other articles in the Cover Your Bases series: