Are you searching for an FMO? Whether you're brand new to senior market insurance sales, want to switch FMOs, or are interested in consolidating your contracts, picking the right one is a huge decision.
Here's some advice for how to pick a senior market FMO/IMO (or at least narrow down your search!).
What Is an FMO?
FMO stands for Field Marketing Organization. You'll also see people refer to FMOs as an IMO (Independent Marketing Organization) or NMO (National Marketing Organization).
Whether you call it an FMO, IMO, or NMO, organizations like ours are here to serve the independent insurance agent. We work for you! FMOs should provide a ton of support, including servicing your contracts, giving you access to industry-leading technology, and assisting with your overall growth.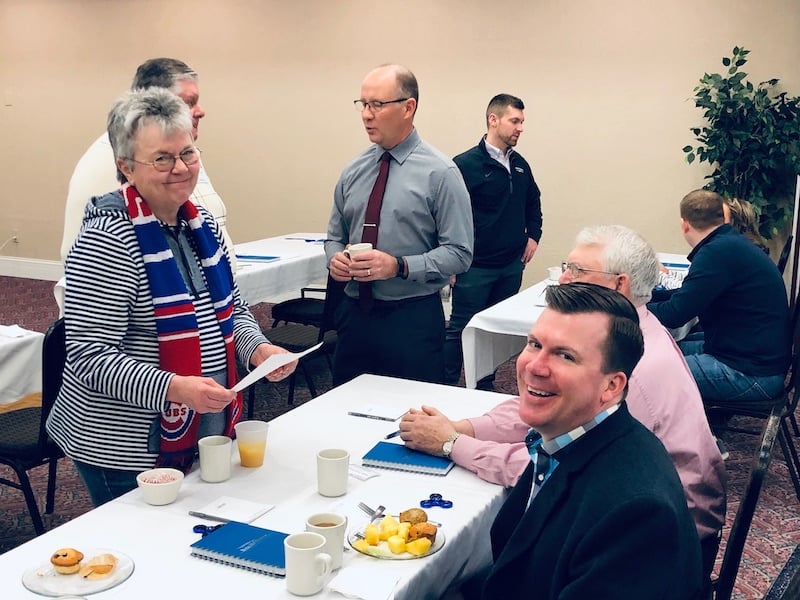 Photo of top independent producers mingling and networking at a New Horizons invite-only event
When you're independent, you get to choose which FMO you want to work with. You can put all your eggs in one basket or spread out your contracts with as many FMOs as you like.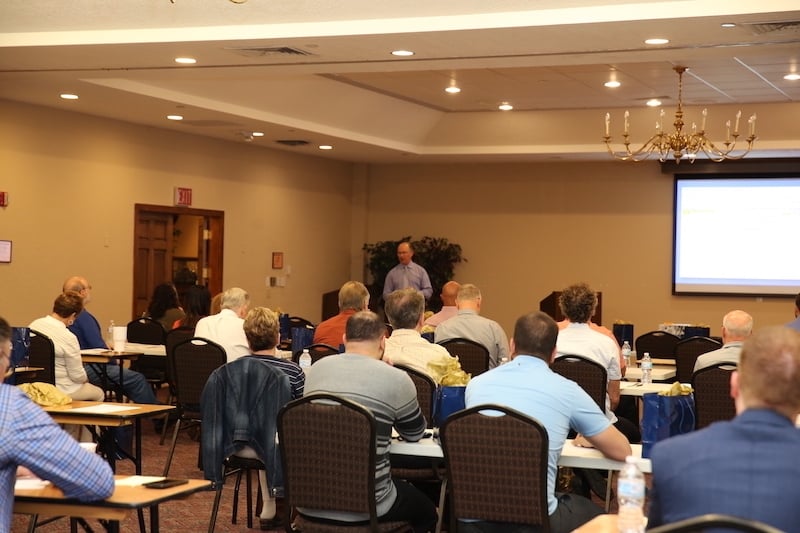 Photo of top independent producers in a training session at a New Horizons invite-only event
How Many FMOs Do You Need?
Any FMO hopes an agent will put all their business with them. But I still think there's wisdom to the old line, "don't put all your eggs in one basket."
We certainly want all of your business, but for most agents, it's not a bad idea to do business with a few FMOs. You can get a feel for what it's like to work with each one, and maybe over time, you decide to transition more of your contracts to your favorite. In fact, that's probably the strategy I'd recommend to most new agents. Play the field!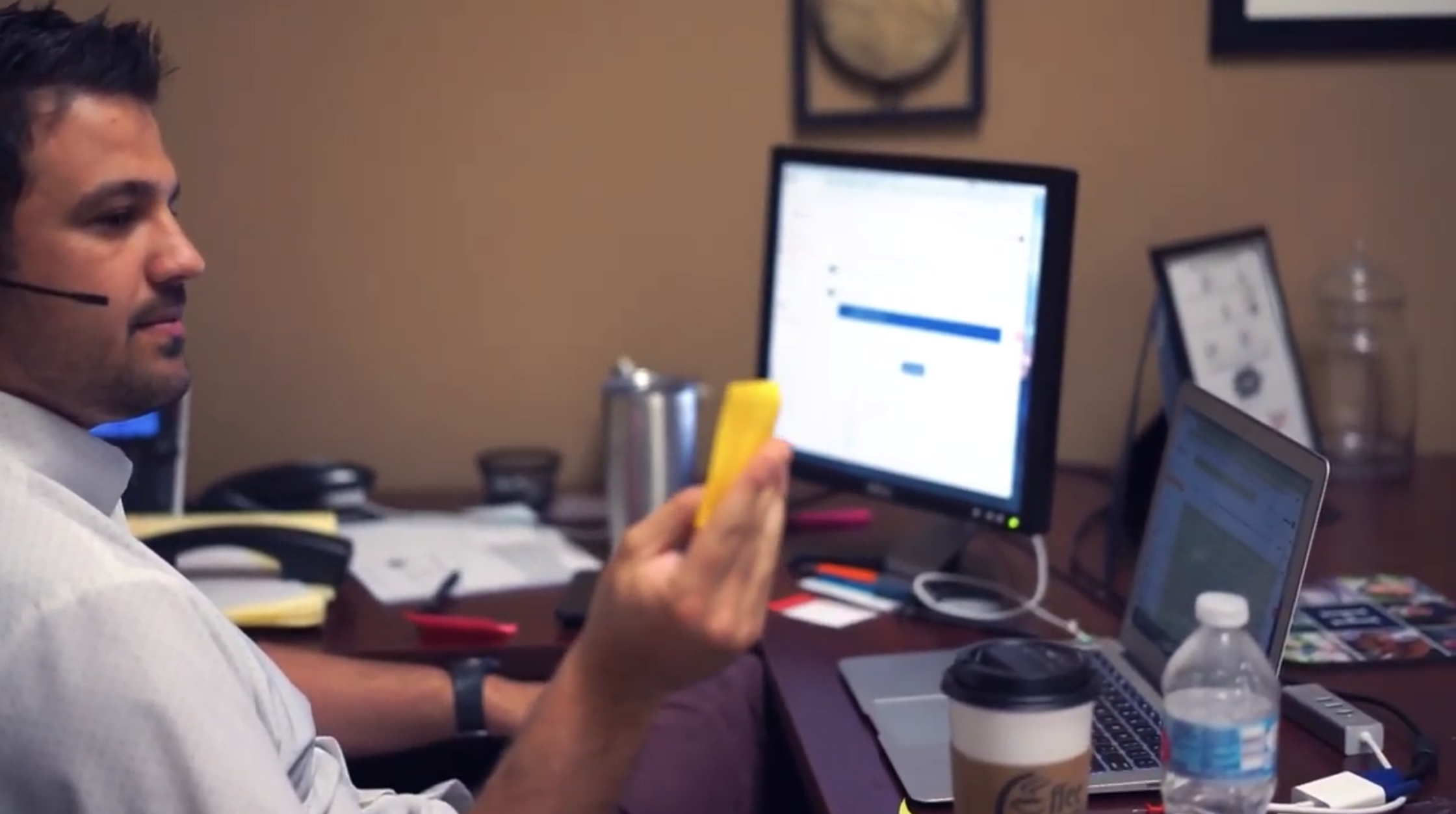 Luke Hockaday, Director of Medicare Supplement Sales
And every agent is different.
We have agents that put all of their business with us, and then there are seasons where they will go somewhere else. It keeps us hungry and reminds us we cannot take our agents for granted.
If you decide to get contracted with many FMOs, it can get a little chaotic. In addition, spreading out your business too thin can work against you. Bigger producers get more hands-on support, because the FMO can afford to do that. So that's something to consider.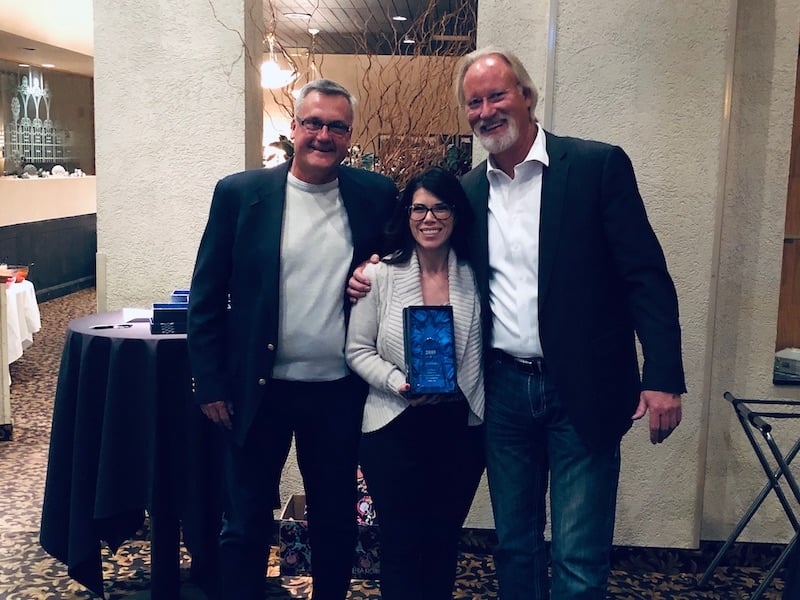 Photo of John Hockaday (far left) and Jeff Sams (far right) handing out an award to a top-producing agent for New Horizons
In sum, you can have as many or as few FMOs as you want. That's the beauty of being independent!
Read More: Can You Be Contracted With Multiple FMOs?
How Do You Shop for a Senior Market FMO?
These days, most agents shop for an FMO online. You can start doing searches and find contenders that way. There are also forums and Facebook groups dedicated to independent agents in the senior market. Those can be good places to go to join the conversation and ask for advice.
As you're researching, look around on the FMO's website. What sets them apart?
To be transparent, most FMOs are offering the same things. We all service your contracts and provide support to help you grow your business.
That's why it can be so hard to shop and compare, but look for that "it" factor or one that you click with. Maybe it's better technology or simply a better phone conversation.
Many agents also narrow down their list based on perks like software and technology. Then, they call the FMO to see if it's a good fit.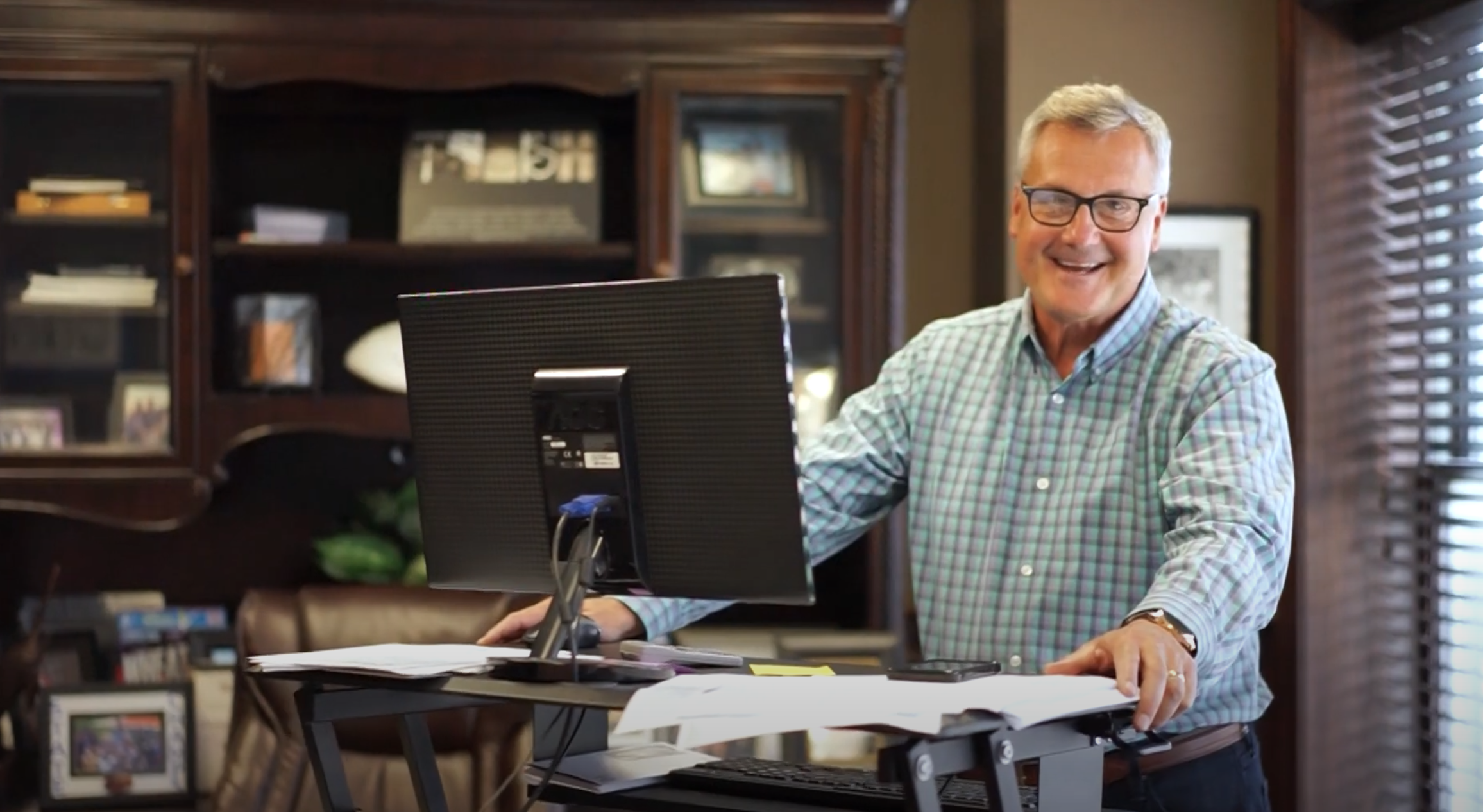 John Hockaday, Partner at New Horizons
How was the communication experience? If the FMO needed to follow up with a second phone call or email, did they do it? Responsiveness and follow-through is critical.
Important Questions to Ask When Shopping FMOs
We've already put together a list of 10 questions you should ask an FMO before contracting. You can check that out here: 10 Questions You Should Ask a Field Marketing Organization (FMO) Before Contracting
Some important topics to cover include tools and technology, customer service, release policy, training, and commissions.
Whether you're looking for an FMO to get started or you're considering moving contracts, we've put together a downloadable checklist to help.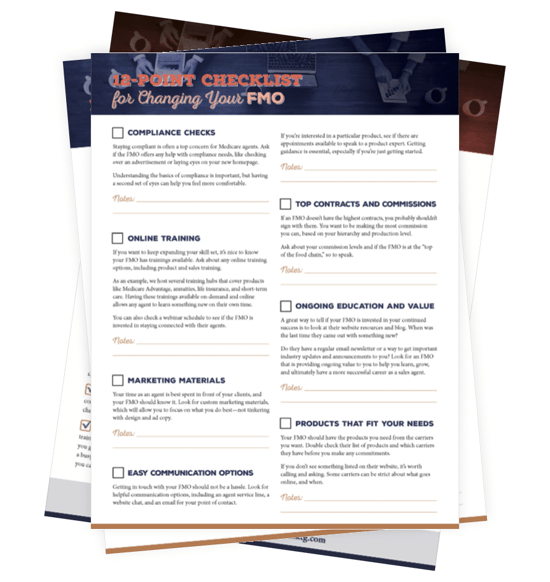 This will ensure you don't forget anything, and you can even make notes and check things off digitally.
You could also save multiple copies of this checklist and organize it by FMO. Download that checklist by clicking the banner below:
Moving Medicare Advantage (MA) Contracts
If you want to change Medicare Advantage FMOs or consolidate your contracts, the first quarter is the time to do it.
MA carriers have a cutoff for making changes to contracts, and it's typically right after first quarter. A lot of agents don't really look at their Medicare Advantage contracts until closer to AEP, but by then, you're stuck and cannot make any changes.
Now is the perfect time to shop around and ensure your contracts are right where you want them.
When it comes to Medicare Advantage FMOs, look for things like:
A dedicated point of contact for Medicare Advantage questions and support
Medicare Advantage marketing materials
Assistance with compliance checks
Help with identifying and selecting MA carriers in your sales regions
Medicare Advantage training (if needed)
Medicare Advantage enrollment technology (like MedicareCENTER)
We can't help but brag on Steve Spinner here, our Director of Medicare Advantage Sales.
He is your go-to guy and can help with all MA questions, from product support to county-specific data. Our marketing team also helps with compliance checks, though we do reserve this level of support for agents with production.
We also have MA marketing materials and a full, on-demand training series open to any agent.
And of course, we provide no-cost access to MedicareCENTER, the industry-leading software for senior market agents. Enrolling clients in MA plans has never been more efficient.
Should You Change or Consolidate FMOs?
For established producers, you likely have a good sense of whether an FMO is serving you well. If you're unhappy, it's time to shop around and see if another outfit can provide you with better support and access to the tools you need.
If you're going to go through all the trouble of getting releases and moving your contracts, you want to make the right decision.
Make sure you choose the best FMO for you by using our 12-point checklist.
Conclusion
There's nothing wrong with signing up with several FMOs. Your agreement isn't with the FMO—it's with the carrier. From there, you can see who's doing the best job for you. There's nothing wrong with that!
And don't forget to use our new 12-point checklist for changing FMOs. Whether you're brand new or are considering an FMO change, we hope this helps you narrow down the options.