I've been working on the marketing team here at New Horizons for over 6 years, and while I'm not a personal producer, I'm surrounded by the best of the best.
From all of the interviews I've done with agents to daily conversations with some of our top performers, I've amassed this wealth of knowledge about sales. And to be honest, I'm not the one who needs this information!
That's why I decided to finally sit down and share the most prominent Medicare sales tips I've learned from a wide variety of incredible agents and leaders.
Here are 5 Medicare sales tips you need in your arsenal.
Tip #1: Don't niche down.
Some of the best advice business people get is to niche down, niche down, and niche down again. But in senior market insurance sales, that advice is not going to serve you well.
One of the fastest ways to grow your business with minimal effort and cost is to cross-sell. In fact, we did a massive survey a few years ago and found that agents who make more than $200,000 annually offer six or more products.
Beyond the financial impact on your book of business, cross-selling creates loyal customers. The more policies you have in a home, the less likely that customer is to move their business elsewhere.
Don't get me wrong: we have plenty of agents who make a fantastic living and even dominate the production reports by selling just one or two products in the senior market. But think about how much more those agents would make if they added just one more product into their portfolio! It's an untouched goldmine.
Out of our Top 25 agents from 2022, 68% of them sold at least 3 different product types.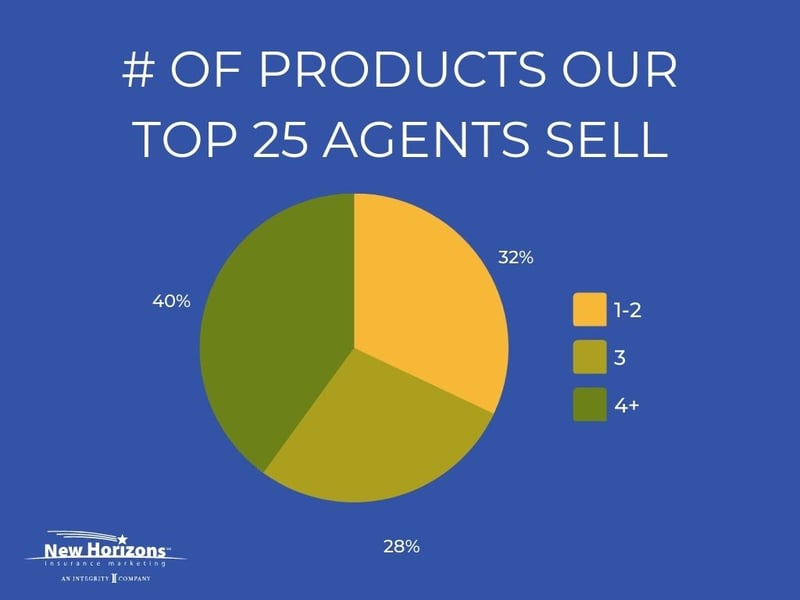 I think it's pretty clear that offering a full range of products in the senior market is an indicator of success, but how exactly do you go about it? That leads me into our second sales tip.
Tip #2: Use the Client Needs Assessment.
I have personally heard from many agents that their production substantially increased – sometimes even more than doubled – when they started using the Client Needs Assessment.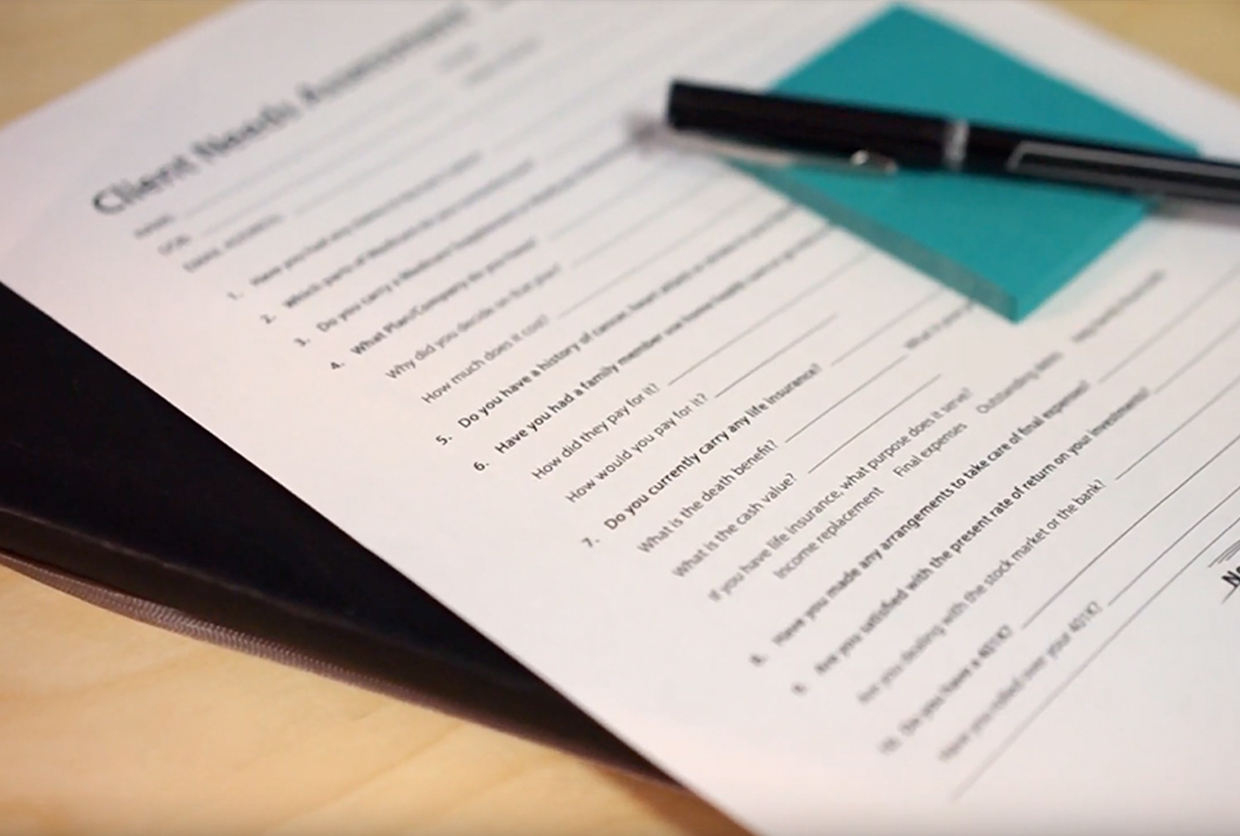 That's part of the reason why we put so much effort into promoting and educating on this simple, 1-page questionnaire. Check out this webinar recording for a full walkthrough with lots of helpful tips.
One agent in our local agency saw her sales increase by 88%. Another agent uncovered a life with long-term care policy that earned her a $21,000 commission check (read her case study here). Another agent saw immediate results after using the CNA for just a couple of days (read his case study here).
The reason this simple piece of paper is so effective is that it removes all of the selling and forces you to focus on that client's individual and unique needs. There is no selling or sales pitch at all – it's a simple process of uncovering needs and presenting possible solutions.
Whether the client takes you up on those solutions is up to them. But you've done your job, and the incredible successes I see from agents all over the country tells me this is a winning system.
Related: The 8-Step Closing Process: How to Go From Stranger to Happy Customer

3. Take great care in developing a system for referrals.
Quite literally 100% of the high-earning agents I talk to say that nearly all of their new clients are from referrals.
When all of your new business is referral based, that means you don't have to spend any time or money on marketing, and that is a beautiful thing.
The report we did a few years ago showed that of agents who make $200,000 or more per year, 80.95% said their #1 lead source is referrals or word-of-mouth.
When I think about the topic of lead generation and referrals, I distinctly remember something Bobby Richardson of McNerney Management Group said on episode 51 of the Integrity "Inspire" podcast:
"When you get 400 clients, you should never ever have to worry about spending another dime on leads. You should be able to use that number of clients to keep getting referrals and building your business from there."
If you're curious about the different approaches agents use to generate referrals, I talked to several agents to bring you a variety of ideas: 9 Ways to Ask for Referrals to Grow Your Insurance Agency
4. Embrace new technology.
I may be young, but I'll be the first to admit that I do not like new technology. I've officially graduated to the age where new smartphone apps and new features on my phone mystify me, and I'll ignore them until I can't ignore them anymore.
That said, I think most of us can agree that when we finally bite the bullet, we're awfully glad we did. That's definitely the case in the senior market.
E-applications
I think most agents have ditched the paper apps and are now using e-apps, but if you aren't, this is definitely something to do as soon as possible.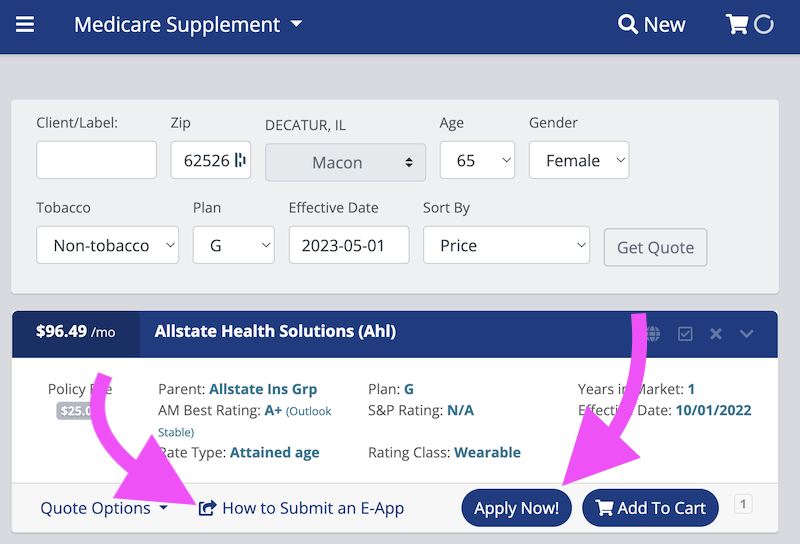 You can submit e-applications for a number of carriers right from CSG APP, which is available in MedicareCENTER.
E-apps speed up the entire application process for everyone involved:
You can fill out the form faster.
The system will let you know if you've accidentally left a field blank.
When you fill out a paper app, someone still has to type all of that information into a system. When you've already done this, it cuts out that extra step, speeding up the processing time.
The application is always up-to-date – you don't have to worry about ensuring the one you've printed is the current version.
In addition, many carriers are starting to only give their cash bonus incentives for e-applications, which is definitely an incentive to make the switch!
Need more convincing? Check out this article: Not Using E-Apps Yet? Here's 9 Reasons Why You Should
MedicareCENTER
Another massive development in the senior market tech space over the last few years is the introduction of MedicareCENTER.
This technology does so many things that it can be confusing at first, but once you poke around in the platform and try it out, you'll realize why it's revolutionary.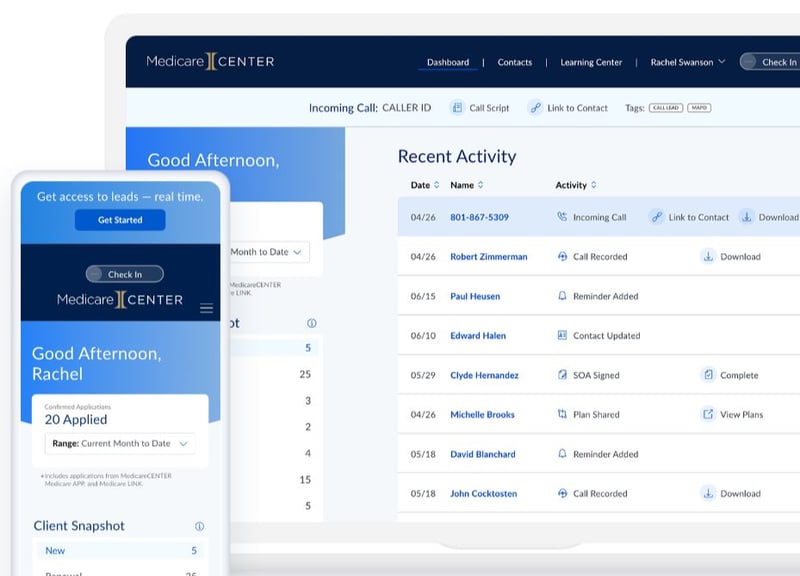 MedicareCENTER includes all of these functions in one place:
A simple CRM
Medicare Advantage quoting and enrollment (MedicareAPP and/or MedicareLINK)
Medicare Supplement quoting and e-applications (CSG APP)
HIP, DVH, and Final Expense quoting and e-applications (CSG APP)
Integration with LeadCENTER to help you purchase and manage high-quality Medicare leads
Key compliance features, like call recording and texting scope of appointments
A personal agent website link where consumers can enroll themselves in a plan and you still get the commission
New features are constantly being added to MedicareCENTER, so I would actually point you to MedicareCENTER's Vimeo page to browse their latest training videos to help you get started.
5. Get involved in your community.
If you want to dominate the Medicare sales space in your area, you have to get involved in your community. The goal here is that when someone is turning 65, they immediately think of your name.
Billboards
One of our top agents utilizes billboards in his area to do this. He has a very catchy phrase on there (we won't include that here to protect his privacy). But that catchy phrase sticks when people so that when they're preparing for Medicare, they immediately think of this agency.
Seminars
Other agents hold educational seminars in their area. Some agents do this in senior centers, at the library, or even a private venue. Michael Sams, the No. 1 producer here at New Horizons for several years now, holds educational seminars at his ranch.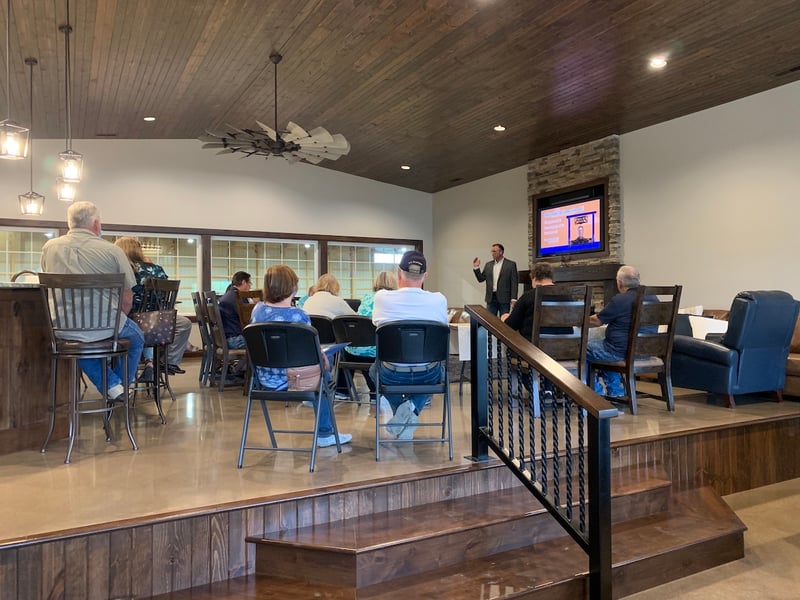 We promote these events to local seniors (primarily on Facebook), and he is even starting to get some referrals to these seminars. Once someone attends and realizes that it's entirely educational (and very helpful!), they can't wait to tell their friends about this resource.
You can get lots of tips about holding an educational seminar here: 15 Tips for Hosting an Educational Medicare Seminar
Affinity groups
Another strategy is getting involved with affinity groups. Affinity groups are a group of people who hold a shared interest or common goal.
We know lots of agents who build their business thanks to their local country club, a hobby club like knitting or chess, a group of working parents, veterans, religious groups or gatherings (like small groups), and so many more. Many agents also build their businesses thanks to their association with their church.
In many cases, people want to support and get help from someone they trust, and if you hold a shared interest with that individual, it goes a long way in building that relationship.
Local pharmacies
Manning a station at a local pharmacy during AEP is also something to consider.
It puts you in front of the local community – many of which are seniors – and you can provide a valuable service that could set you up for future success.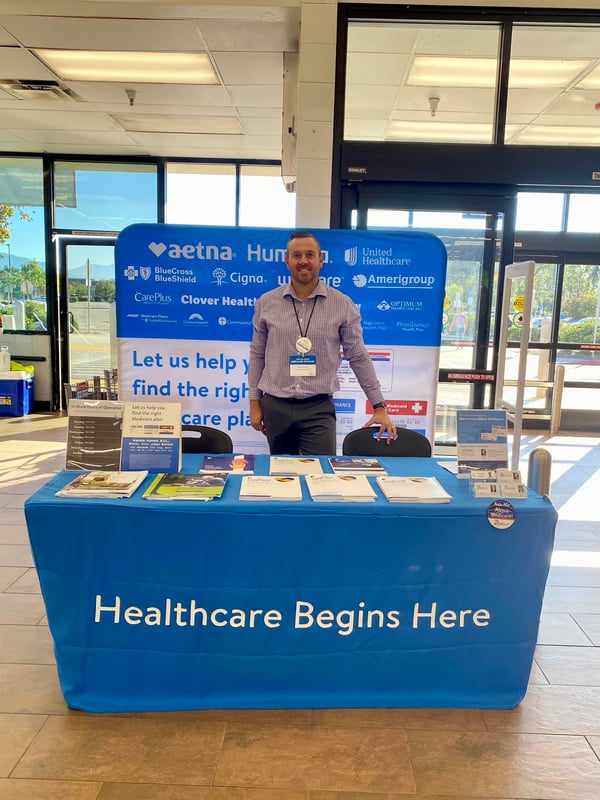 Photo Credit: Medicare Steve (Facebook)
There's a lot to learn on this subject, so check out The Independent Agent's Guide to Prospecting at Local Pharmacies for more information.
A perfect location
A lot of independent agents don't have a physical office space, but if you plan to, it pays to choose an optimal location.
I personally work from home in central Florida, and there are agents who set up shop in the heart of 55+ communities, such as The Villages or On Top of the World. All of those seniors live right next to a Medicare insurance agency – it's a natural and convenient choice that requires minimal marketing.
It's success by proximity.
Conclusion
Obviously, there is a lot to learn in the Medicare sales space, but if someone told me to spit out the Top 5 things I've learned over the years, this is what I would say.
Please don't gatekeep your amazing sales tips – leave your thoughts in the comment section below!